Welcome to our home, please leave your coat by the front door on our tree shaped hat stand. There is a funny story about that hat stand which you can read about
here
. You can also see I have always been obsessed with entry hallway's, having made three posts about them back in 2008
here
,
here
and
here
(FYI Henry broke my beloved Jenny Kee vase featured in that last hallway post). I guess why I am so obsessed with the entrance of a home is because its the first thing you see when you walk in, and I want mine to have that wow factor. You may recognise the white metal shelf, that piece used to sit in our kitchen in our
Melbourne home
as a display of all my favourite (at the time) red kitchen stuff, and it used to be much taller. Then in our 1st Sydney home it was in my office as extra storage for all the mess working as a stylist generates. The great thing is the shelf is adjustable and comes in two pieces so we were able to make it two shelves instead of just the one so it could work with our new Sydney pad. The first section sitting in our hallway and the second on the balcony as a plant stand.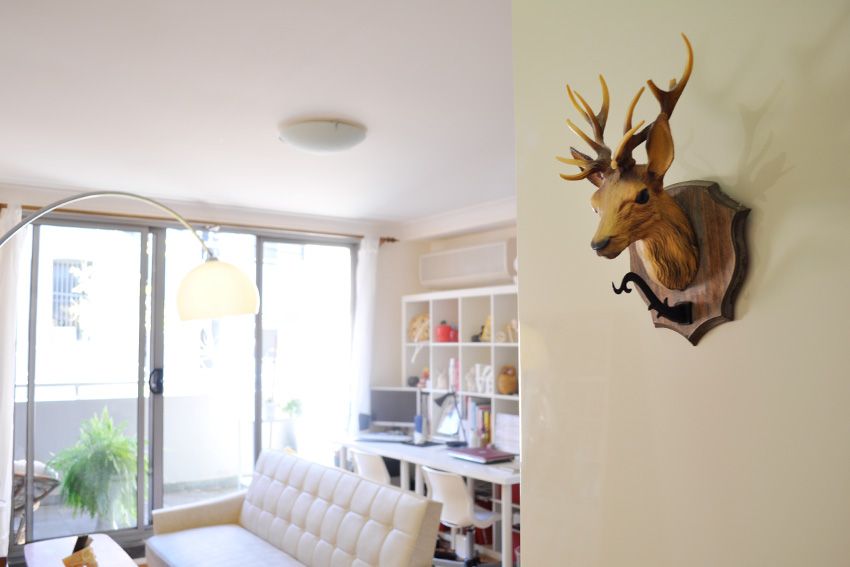 If you follow me on twitter then you would know we recently had to move house as our lease was up (never again will we sign a 9 month lease, but being new to Sydney at the time we didn't know any better and needed a place ASAP). Well the new place is absolutely tiny, about a third of the size of our
last place
and a lot smaller than our old Melbourne apartment, but what initially scared us about this place has made us fall in love with it. By placing furniture in defined zones, downsizing a few items and keeping to a clean white colour palette I think we make the most of the tiny amount of space available. In a way its a very Japanese way of living, our apartment wouldn't look out of place in Tokyo (but the rent in Tokyo would be much cheaper, much much much cheaper!).
Vintage Danish Sideboard bought in Melbourne at Clear iT on Brunswick Street back when it used to also sell vintage furniture, for around $300. Vintage Danish Coffee Table bought on ebay for $5. Ikea Flakati rug $39.99. Vintage white sofa bed from ebay for under $100.
As you can see we have split the small living space into three sections. Living, Study and Kitchen which helps optimise the space. Our furniture is mostly from our Melbourne place which we got trucked up here (moving from Melbourne to Sydney was cheaper than moving from one end of the street to the other, yep when we moved we moved to the same street, and no this is not the first time I have lived on the same street more than once, if it ain't broke don't fix it I say) The only major change is the dining chairs as our old chrome chairs took up too much space so we sold them on ebay and replaced them with classic
replica Eames dining chairs from Matt Blatt
for $79 each
.
The white stool in the mirror is a new buy from Kmart, and for only $5. I have one in the bedroom as my dressing table stool and we have one outside on the balcony as a plant stand.
The mirror is a tried and true decorators tip to help make the space seem larger. We bought the mirror for our
last place
as there were no full length mirrors in the house and it sat in our bedroom. I'm glad we could make it work in our new space as that thing was a total bitch to take home on the train from ikea, haha. The key to renting and living stylishly is to buy pieces that will fit in with all your other furniture no matter where or how it is positioned. So try to buy matching items in colour, tone or size. Another tip is don't get too attached to a piece because moving around can mean it wont work at all even if you have tried to keep to the aforementioned rule of buying only things that match.Thanks to
ebay
and
gumtree
getting rid of unwanted items is easily done, but it can be sad to see much loved items go (on the plus side you get some money for new stuff).
As the space is so small we only have two dining chairs, but we do have four white ikea folding chairs that sit in the gap between the fridge, utilising empty space and perfect for when guests come over.
The new place didn't have a pantry, or any room for our microwave, so we bought this cute little
Ikea Bygel kitchen trolley for $49
.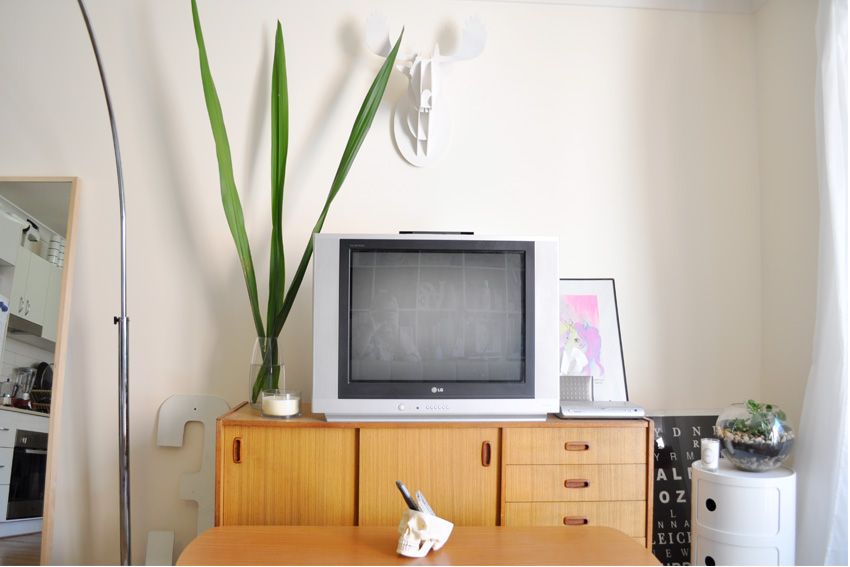 Our tv is a few years old and non digital so we have a set top box set up, not very pretty but functional.
The skull that holds our tv remotes is from one of those children's collect the whole series to create the full set thingys from a newsagency. It was the 1st in the series and us such was at an introductory price of $2 and was the only piece we wanted, score!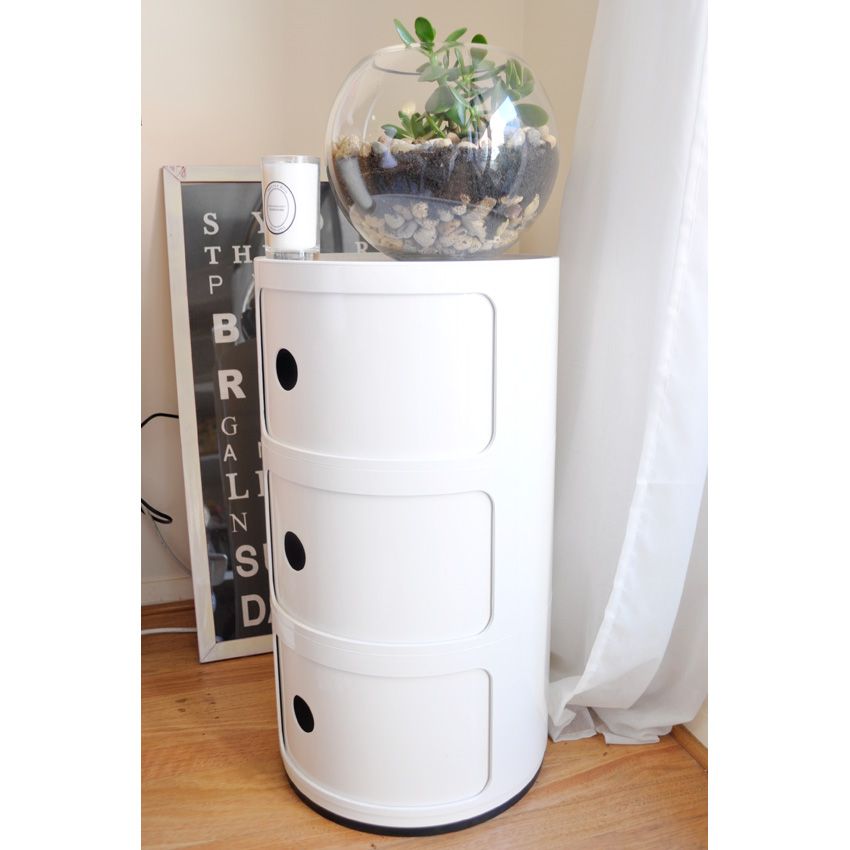 We made the terrarium (instructions on how to make one yourself coming this week) and it sits on a
replica Kartel Componibili shelf from Matt Blatt for $99
.
My sister gave me the Sydney bus destination scroll as a house warming gift.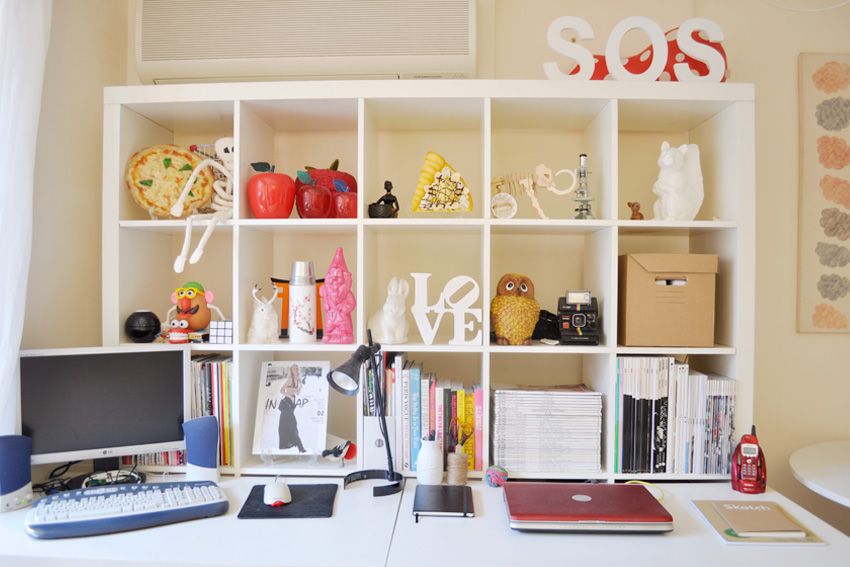 Our study area is bright and full of little pieces of inspiration from our travels.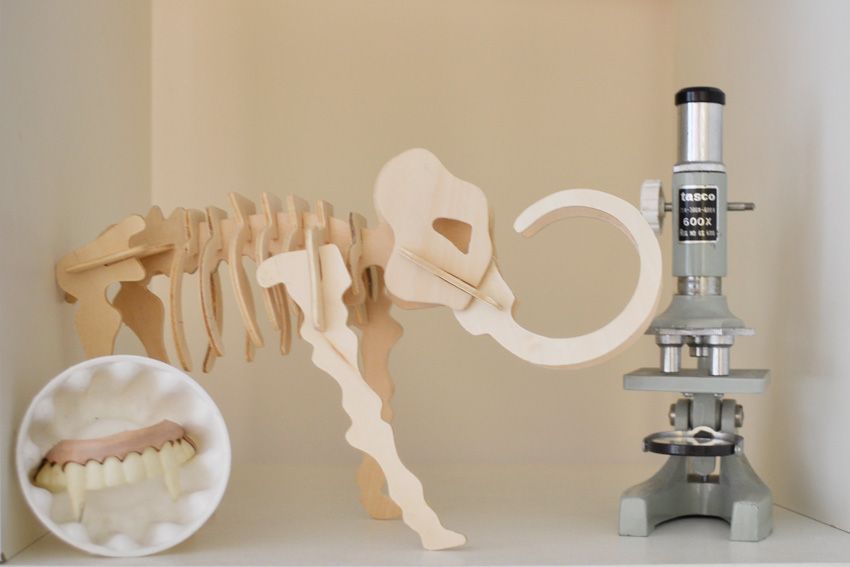 The teeth in cup is from an art event I held in art school called Swap Shop where the idea was to swap pieces of art for other pieces of art, and this is what I ended up with. The wooden Elephant is from a newsagency (I find some cool things at newsagencies it seems) The vintage Tasco microscope is from
Savers
.
Missing a few issues here and there but still a great collection of my fave mag, Russh.
The bunny is from Tokyo and the mini replica Robert Indiana Love sculpture is from
Typo
. Henry and I have seen the sculpture in person in both New York and Tokyo so this is a nice little reminder.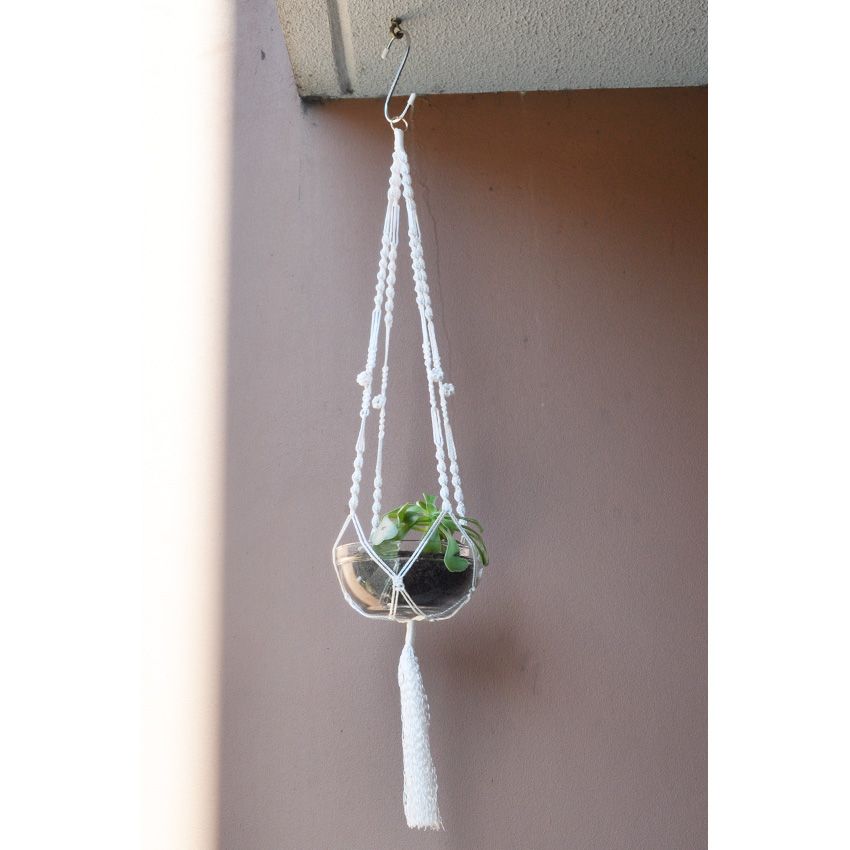 This macrame hanging plant holder is my first ever etsy buy, and I love it. It was a custom order from
The Scarf Tree: Modern Macrames
and it only cost me $16! My only wish was that the hook was on the other side of the balcony as it sits on the "ugly side" above the air con unit. As renters we're not allowed to put any new hooks in.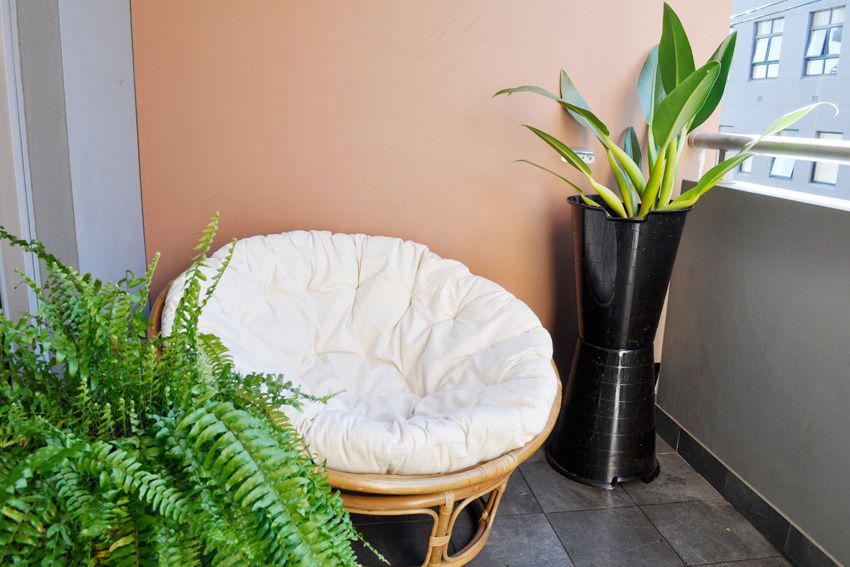 Here is the "pretty side" of our balcony. The fern and giant cane Papasan chair are both
Surry Hills Markets
finds, the later for only $100. The chair is so comfortable, its like sitting in a hug.
So that's our new home, and its sure to evolve and change over time just like my personal style. Already compared to our home in
Melbourne
its a lot more grown up, there are less bold hits of red and the colour palette is more subdued. I love interiors just as much as I love fashion, and often get jealous of my husband who works as an Interior Architect. I want to spend my days choosing tiles and finding the perfect chair for a client. Mind you he also does tricky architecture stuff I don't know anything about, I just like the decorating side of things. Well I hope you enjoyed the post and if you have any questions about where things are from that I may have missed I'll answer you in the comments below. xoxo