As a Melbournian it's against the rules to say that the food is better in Sydney, but I'm sorry but it is. That's the first self imposed rule I broke this weekend, the second is further down in this post. Henry and I had brunch at one of our favourite cafes in Sydney, Kawa on Crown Street in Surry Hills with Vanessa, my Junior Fashion Editor at
On The Streets of Sydney
to talk through some upcoming shoots. Vanessa also has a fabulous blog,
The Monday Issue
which you should check out. Our food was fresh and fabulous, and whilst not being Melbourne cheap, Kawa is cheap for Sydney so it gets a huge tick from me. Plus the place is decorated so darn cutely, I love all the indoor plants and hanging ferns.
The second self imposed rule I broke this weekend was my rule about not wearing pants (
see rule 4 of this post from 2008
). Look at me as happy as larry above in beautiful Hyde Park wearing my new
ASOS
palazzo pants. Rules be damned, I'm going to wear what I god damned please from now on without fear or fight. Also why didn't anyone tell me just how comfortable pants are? I've been missing out for years.
I'm also wearing my new
ASOS
trench with leather accents, bought on sale for $102 (its still available at that price in some sizes and in the other colourway:
clickity click
) A girl ran after me today asking me where it was from, that's how awesome it is!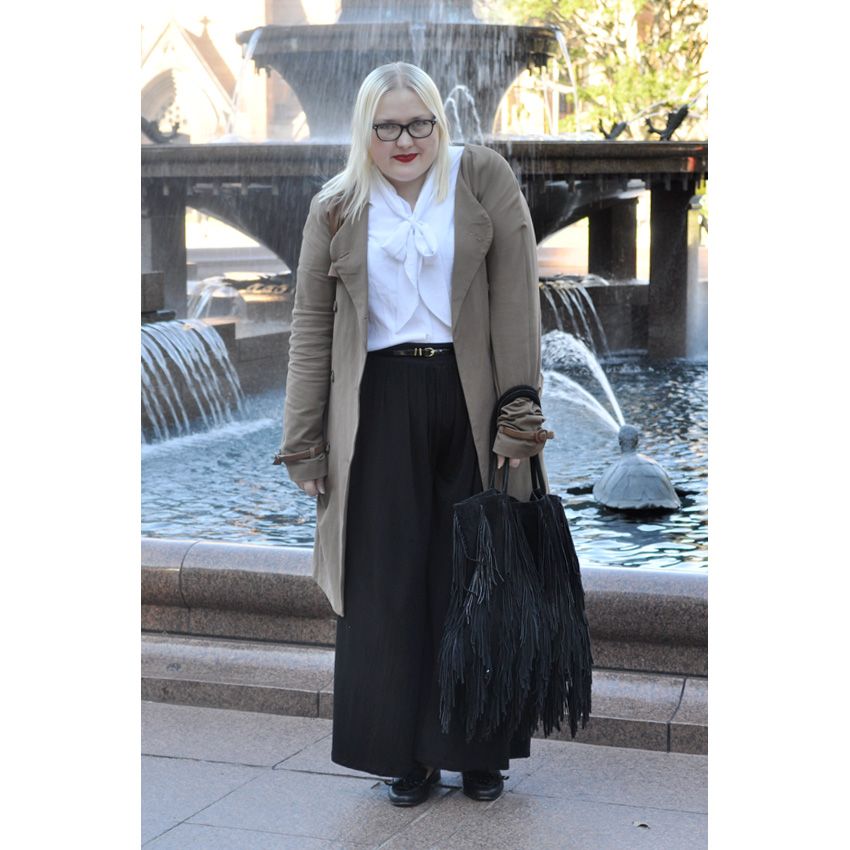 My white pussy bow blouse is another re-found oldy from my time teaching English in Japan. I bought it at Savers for about $3 and it fast became a favorite in my working wardrobe. Unfortunately the pussy bow element of the blouse often got me in trouble at Nova as I looked too "maid style". This was at the time of Marc Jacobs retro secretary phase and pussy bows featured in many of his collections, so when I wore my blouse that's what I was thinking of, definitely not visioning looking like a sexualised otaku maid...only in Japan. The red lippy is Mac Russian Red, which I also haven't worn since I lived in Japan (but this tube is new, I'm not wearing five year old lipstick guys!) There was a stage where I had black hair and wore red lipstick every day and only ever wore red, black and white. That stage lasted about four years until my style transformed into what has been documented on my blog over the years, you know the leggings + dress + waist belt + blonde bob with fringe + my infamous giant glasses with virtually no exceptions in between. I seem to be going through another style transformation at the moment and I'm not sure where I will end up. Its weird that I change like this about every four years, but all the changes have occurred whilst living in different cities so maybe that has something to do with it? Who knows?
Trench
ASOS White leather trim mac $102
Pussy Bow Blouse
Savers
$3 (God I miss Savers, hurry up and open in Sydney already)
Palazzo Pants
ASOS Curve
on clearence for $30 (No longer for sale)
Belt
ASOS Curve
black skinny belt $20
Bag
Sporsgirl
Fringe Bag $99.95
Loafers
Sportsgirl
on sale for $39.95
Floppy hat
Ebay $30
Red Lipstick
Mac
Russian Red $36
We spent the rest of the afternoon at the
Art Gallery of New South Wales
, checking out the amazing contemporary art collection donated to the gallery from art collector
John Kaldor
. The collection includes pieces from Jeff Koons, Ricky Swallow, Christo amongst many other world renowned artists. An amazing collection to have been donated to the gallery, and is definitely worth checking out. Another exhibition held in the galleries temporary space is
Unguided Tours
, a video and installation exhibition of my favourite kind of art, humorous, playful and in a way almost slacker art. Unfortunately unable to take any photos in the gallery, but take my word for it and check out both exhibitions if you can. xoxo