Welcome to 2011. I had a wonderful but short break in Melbourne and have been back at work since Monday. Being back at work so soon has been made that much easier thanks to a total wardrobe makeover/organisational revamp that is finally complete. The wardrobe itself, while larger than any I have had in previous homes, didn't have any shelving or drawers. So off to ikea it was to pick up the
Antonius wire basket drawers $70
and the
circle scarf hanger
$8. The two shoe racks (upper and lower) are from
The Reject Shop
, and hold my 50 + pairs of shoes (most of which are covered in the lower section by clothes) $25 and $20 each. Over the door is a
Howards Storage World
door hanging rack $25, and on the pole are three hooks I found at a local $2 shop, $3 for the set which are perfect for hanging hats, belts and over sized bags in a space that would have otherwise been unutilised.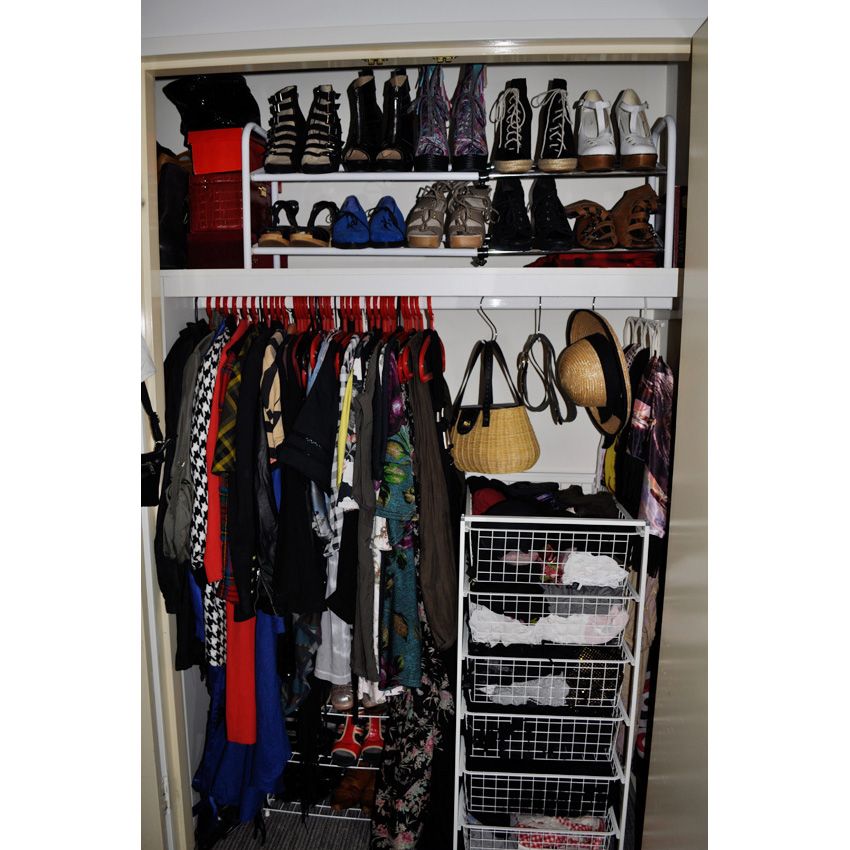 I can't believe I ever shared a space less than this size with Henry for four years!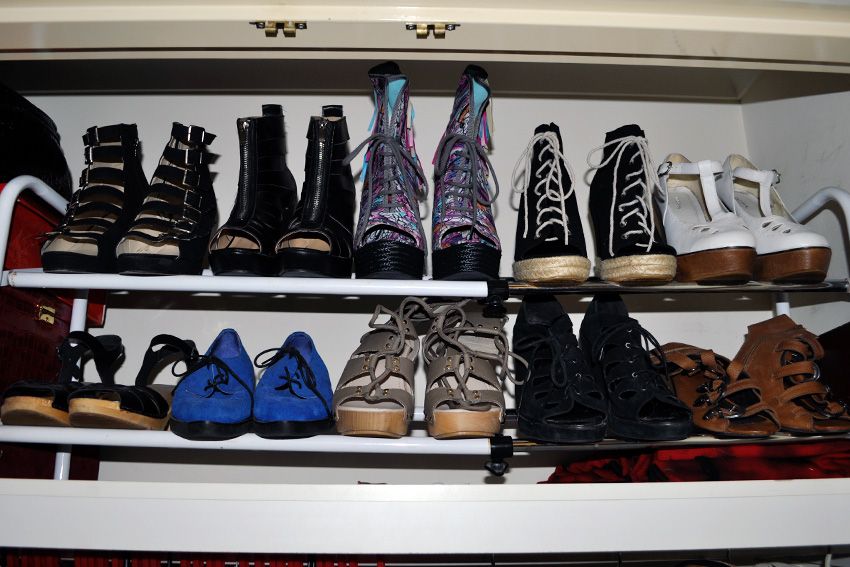 My favourite and most worn shoes all go on display on the top shelf. From Left to right, top to bottom: NEW
Rubi Shoes
buckle wedges $39,
Nu + Nan
zipper wedge $90, Tsumori Chisato fringed wedges from
Opening Ceremony
$650, NEW
Target
Espadrill Wedges $25 on sale,
Chloe
shoes which were worn to my wedding (price unknown as wish not to think about it),
Rubi Shoes
clogs $35, Jeffrey Campbell creepers $110 from
Nasty Gal
,
Wittner
clogs $139,
Urban Outfitters
wedges $100,
Topshop
buckle wedges $100.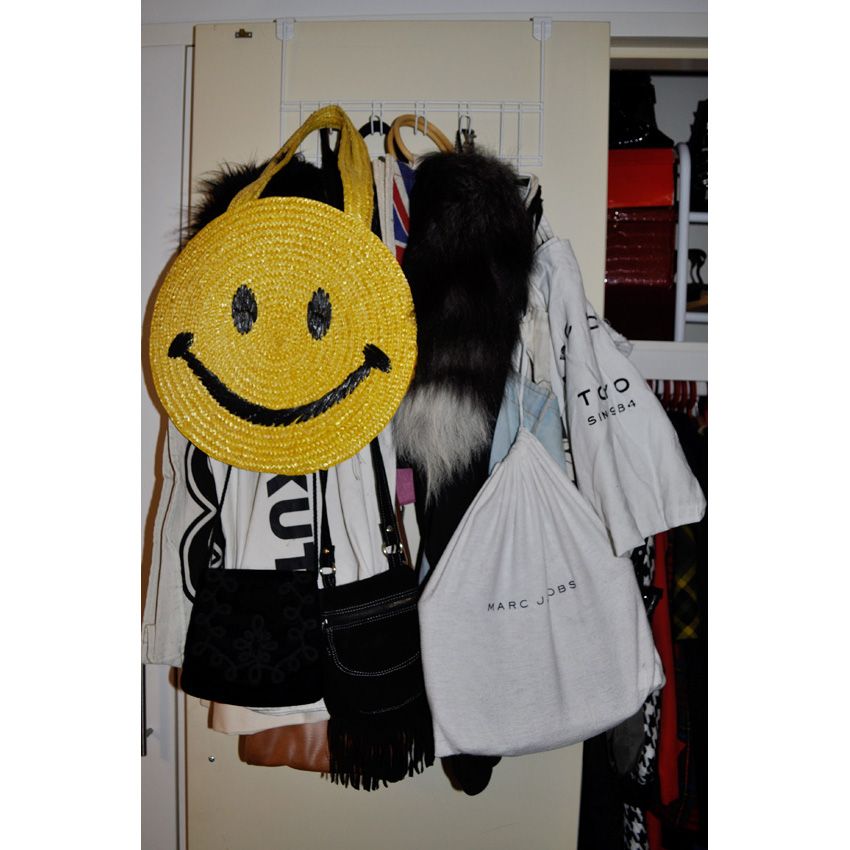 My bags hanging from the
Howards Storage World
door rack. The fur tail is fake fur and was a gift!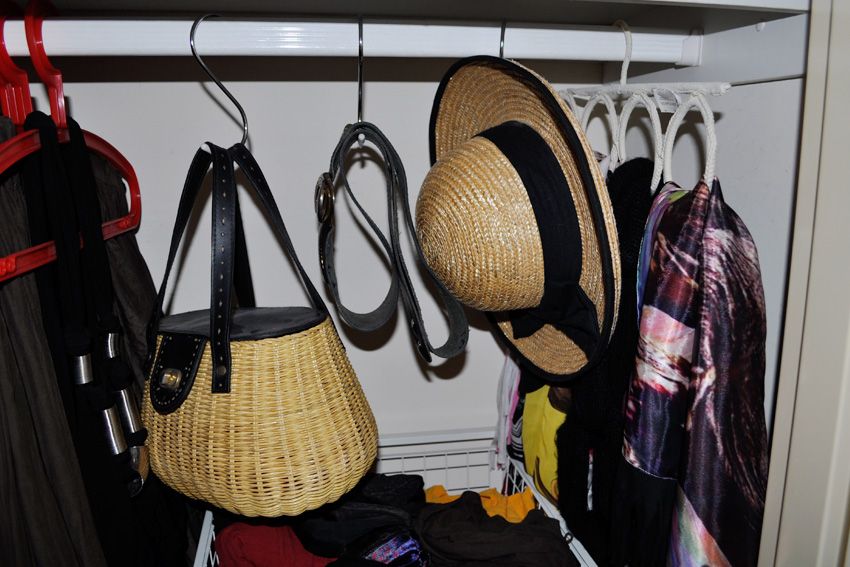 Awesome find of the year, $2 shop hooks working their organisational magic. Ikea circle scarf holder doing what it does best, holding scarves.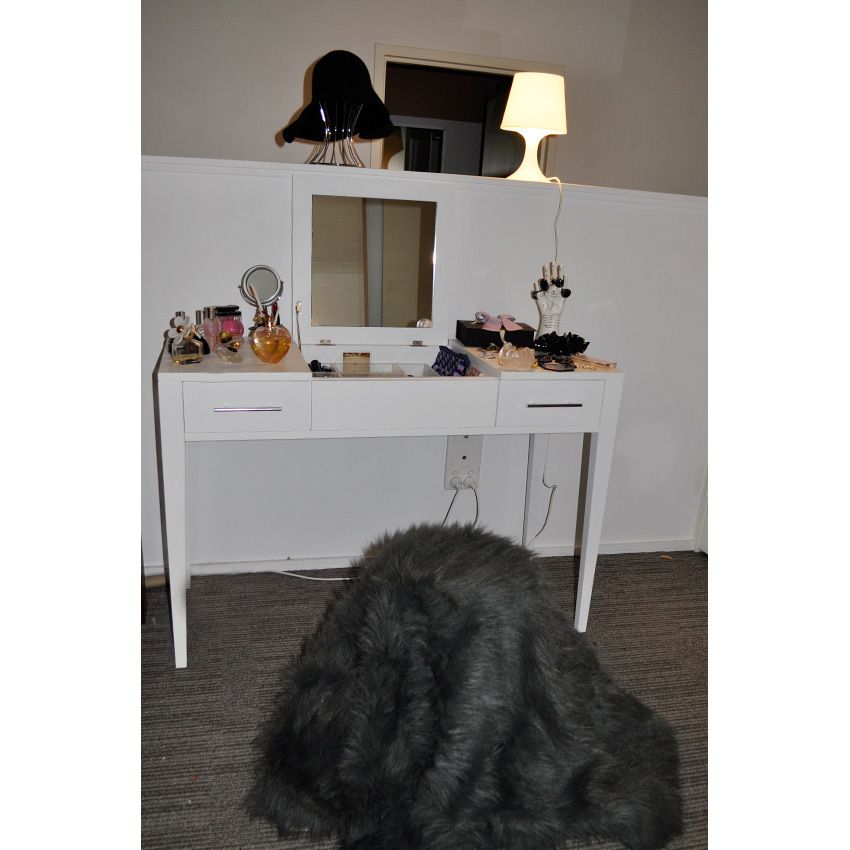 My new dressing table was found on ebay and I love it. It deceptively manages to hold nearly as much as my large old 1950's dresser did, but is more compact and chic and Henry is actually able to open his wardrobe door. I'm still looking for the perfect dressing table chair, so am covering a $9 ikea bucket chair with a fake fur blanket we had lying around for the moment. Our bedroom is at the back of our apartment, and as such gets virtually no natural light even with the strange half walls we have (so annoying as there is no privacy when guests are here) hence the lamp. The half wall, whilst ugly, is handy as it doubles as a shelf, we are thinking of putting some indoor plants on it to make it less stark and give us some more privacy.
My jewellery is normally kept in its dust bags/boxes but I took it all out to show you all. My
Estelle Deve
necklace,
Drown
refraction necklace,
Marc Jacobs
pin from first trip to NYC,
Shu Uemera
feather eyelashes,
Make Believe
flower necklace,
Does Not Equal
arrow necklace,
Alpha60
Owl pin,
Gala Curios
bow necklace, Hand ring holder from Urban Outfitters in NYC with assorted
City Chic
rings.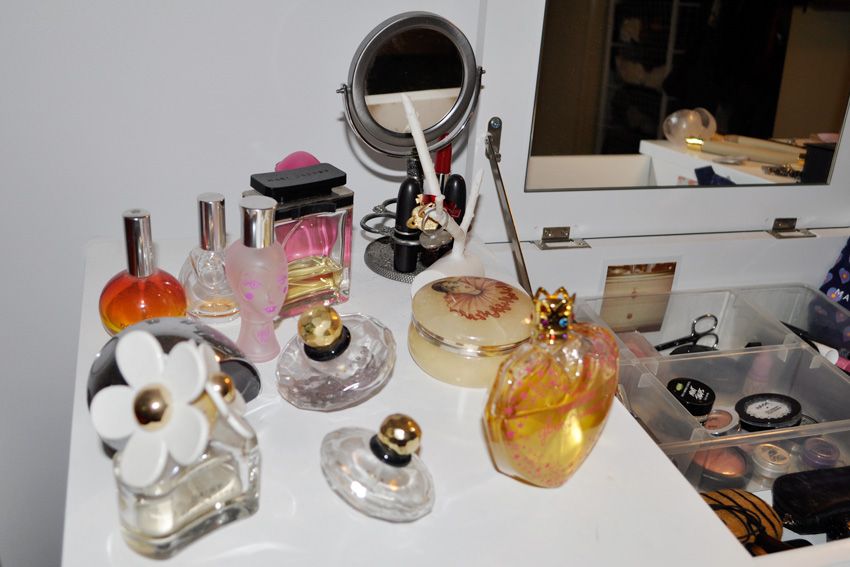 Too many perfume choices. My current fave is Vera Wang Glam Princess, which has a pretty ugly bottle but is my idea of the prefect scent for summer.
Make-up is kept in a desk tidy from Ikea, with assorted jewellery, sunnies and hand mirrors all stored here.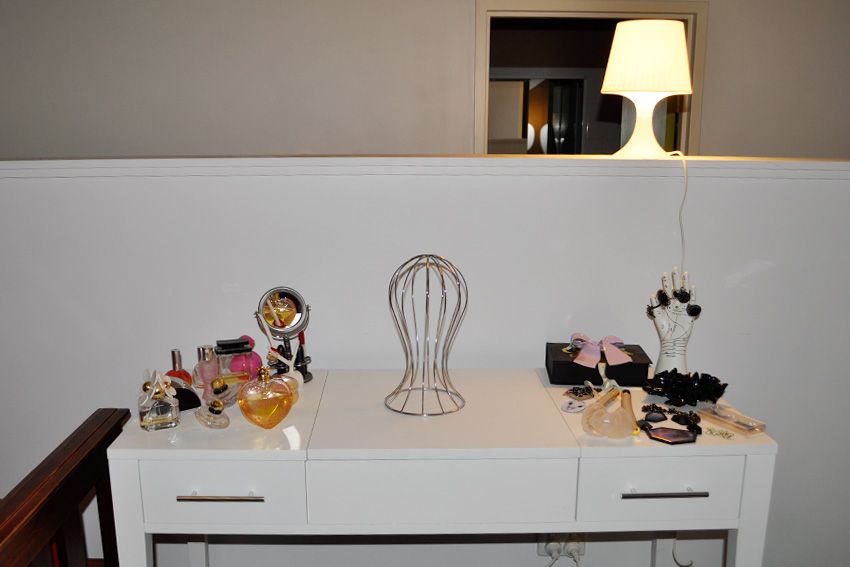 The best part of the dressing table is you can flip the mirror down and hide all the make-up mess. The dressing table reminds me a little of Betty Drapers on Mad Men as hers had this function too.
All up this make over cost about $300 including the dressing table. Pretty good don't you think? Its such a pleasure getting dressed in the morning with so much space and everything in its spot.