Can't believe its 2010! 2009 was such a good year for me and 2010 seems like its going to be even better. Let's break it down shall we?
Highlights of 2009
Spent February in Tokyo with my sister getting snapped by street fashion photographers and having a blast with old friends.

Worked hard building up my styling portfolio with exciting projects being the Sportsgirl Super Stylist Comp, The WHO shoot with Miranda Kerr, Ruby Rose and Megan Gale (um that was amazing!), the Swensk windows, the TV lookbook shoot and all of my personal creative projects with Pocketto and Melbourne Street Fashion.com, oh and more recently styling the band Miami Horror.

Having my street photos exhibited at the Melbourne Street Fashion.com exhibition as part of Spring Fashion Week with a huge turn out of amazing people (including Bryan Boy) at the opening, that was a truly dream come true for me. As a teen I would attend all the Spring Fashion Week events and never in my wildest dreams did I ever think I would be part of it.

Having my street photos published in Grazia UK, Taiwan Harpers Bazaar, Brigitte magazine Germany, Fashion Trend Magazine Australia, The Times UK, online at Sportsgirl's Street Snaps site and many more but I forget, ha.
Met more street photographers including Phil Oh from Street Peeper, Rei Shitto from Style from Tokyo formally of Fruits magazine, Daisukue from Dropsnap.jp, Scott Schuman from The Sartorialist and his girlfriend Garance Dore, Mark The Cobrasnake and also caught up with Yvan Rodic from Facehunter for the second amazingly hilarious time.
My Sydney trip was both a highlight and a lowlight but it really was a fantastic trip and an eye opener into Sydney style, which I always get asked about but never before really had an answer. I still have so many photos to blog from the trip too.

Making new amazing friends thanks to my blog, it really has opened up so much for me both professionally and personally and I love everyone who I met or worked with this year.

Whats instore for 2010???
A few new exciting styling/blogging projects are in the works.
7 WEEKS IN TOKYO from March 20 where I will be attending Japan Fashion Week and working on some creative projects with amazing lovely people.
A proposed trip to New York for yet another project.
HAPPY NEW YEAR!!!
I wore a new dress that is a little bit risqué but I love it. I'm proud of my curves and want to show them off. 2010 is going to be the year of me taking more and more fashion risks and embracing and showing off my curves!
Dress:
City Chic
$80
Leggings: Kinji Tokyo $6
Sandals: Target $20
Belt: Zara Tokyo $50
Bag: Gift from my mum
Necklace:
Lola & Bailey
$55 from
Alegorie
Bangle: Ishka $10
Flower headpiece: Actually a necklace on sale for $5 from Diva
I spent the night at Rooftop bar in the city dancing in the warm balmy rain wearing a free plastic rain poncho waiting for the rumoured to be cancelled due to lightning fireworks to go off. They did go off with a bang and we had the best view in the city of the "Melbourne Moment" fireworks display.
It was kinda scary though being on a rooftop during a lightning storm.
(photo from the Herald Sun)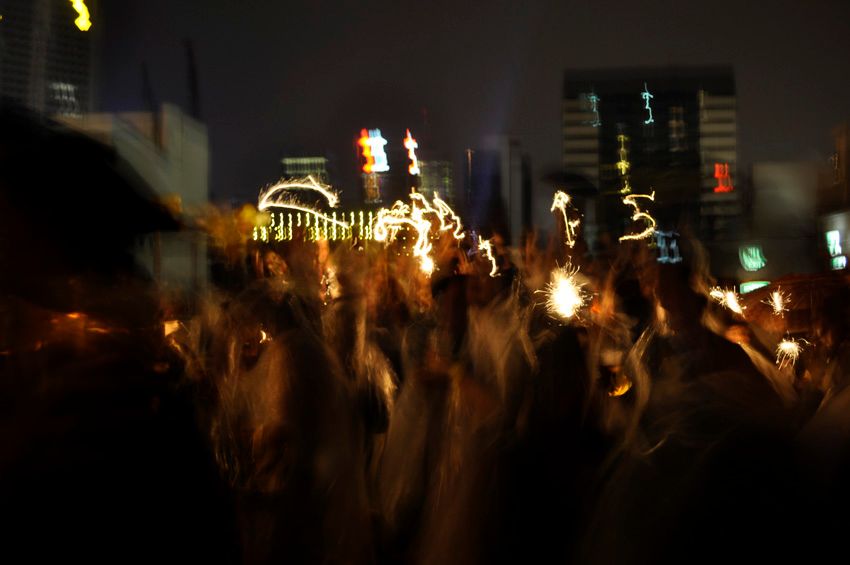 Midnight madness.
I hope you all had a fantastic night and that 2010 is all that you hope for xxx