I was commissioned to create the band Miami Horror's stage costumes for their gig tomorrow night at the Falls Festival in Lorne. They are doing the New Years countdown so they have to look amazing. The thing is I was kinda told about it yesterday, ha. Well that's not exactly true I had known about it for a while as I styled some of their press images a couple of months ago and we talked about it then but then it wasn't spoken about again till yesterday. Anyway the important thing is I got it done, I stayed up till 3am cutting and sewing and am exhausted now, but its done and looks amazing! They wanted sort of a grungey nomadic look with references to nature, so to me that meant fur, feathers and fimo, ha.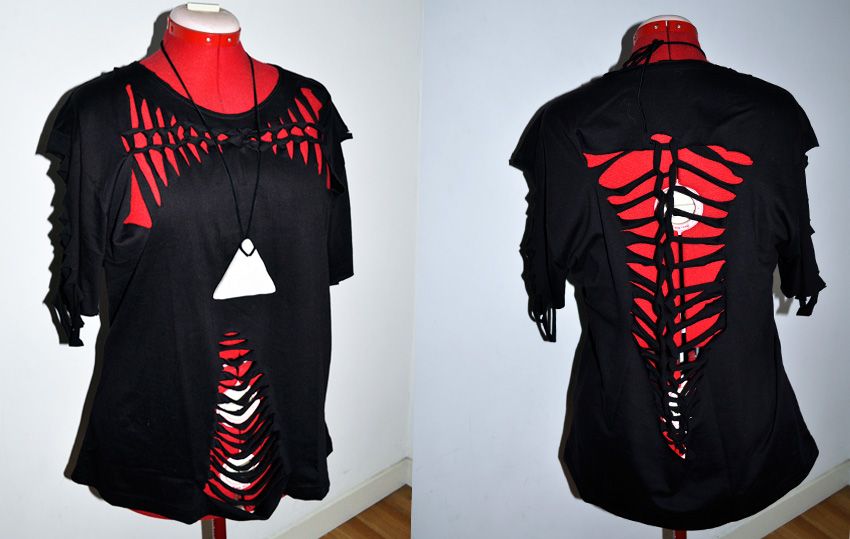 Black t-shirt with cut outs (such a simple technique for such an effective look don't you think?) and white fimo triangle necklace for the guitarist.
Black faux fur cape with faux fur fox tail shoulder detail, a shredded t-shirt (that takes fucking forever to do people!) and a brown fimo necklace for Ben the keyboardist.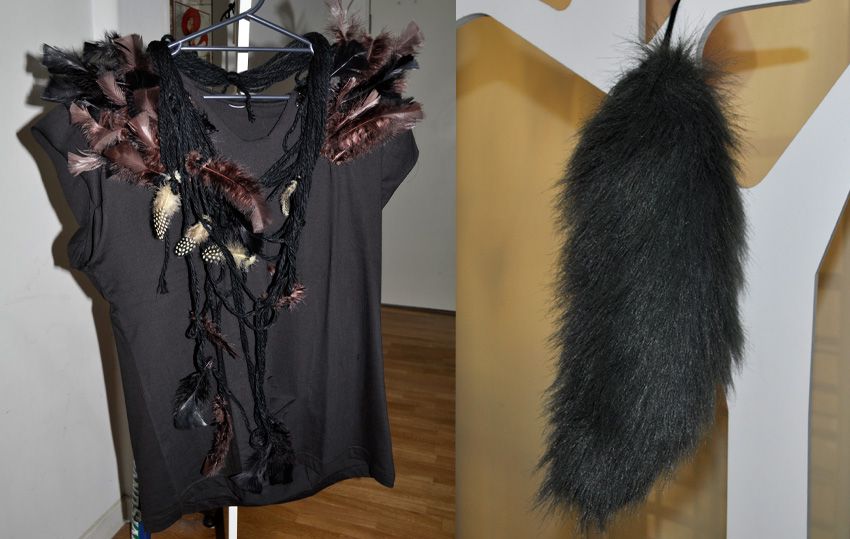 Black t-shirt with feather shoulders and a woollen feather neckpiece for the lead singer. The drummer is going to wear his own t-shirt, a fimo necklace and a faux fur fox tail attached at the side of his jeans.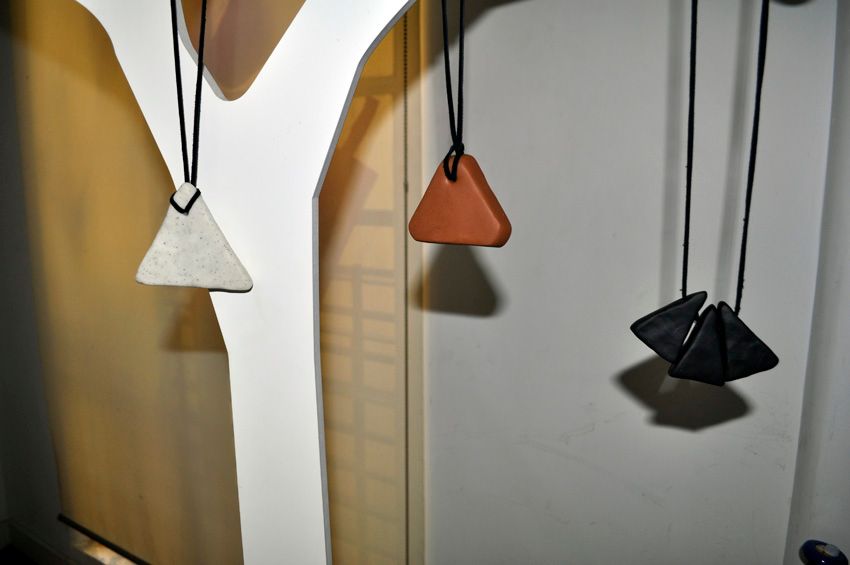 Fimo is amazing! I really like that they look like primative cave men jewellery. All you do is mold the fimo to the shape you want and then bake it for 30 minutes so essentially it is shape and bake jewellery, awesome.
Ben just came and picked up the clothes and he loved it, yay! He said he didn't think I could do it in time but I did and he doesn't know anyone else who can do that and do it so well, so yay what a complement. Unfortunatly I'm not going to Falls so I wont get to see the costumes up on stage but I'm getting photos of it which I will post on here ASAP. If any of my readers are going can you please take photos and send them to me? Thanks xxx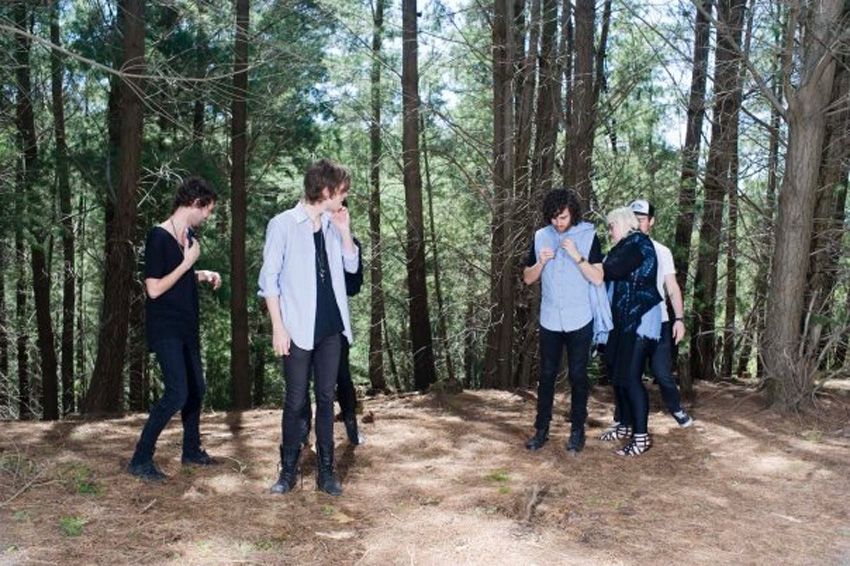 Here are some behind the scenes shots of me at work on the shoot we did for their press images. The denim vest I am putting on Ben is from
Comeback Kid
. Behind me is the record company exec who flew down from Sydney to oversee the shoot which was stressful. I had never styled a band before and perhaps I did come at it in a very fashion-y way. It was kinda funny as I brought what I thought were kinda regular normal clothes, well apparently macrame vests aren't normal, ha. We pulled it together in the end, getting some "out there" shots and some regular normal band shots too. The band who wanted the crazy stuff was happy, the record exec who wanted the normal stuff was happy and I was just plain exhausted, ha.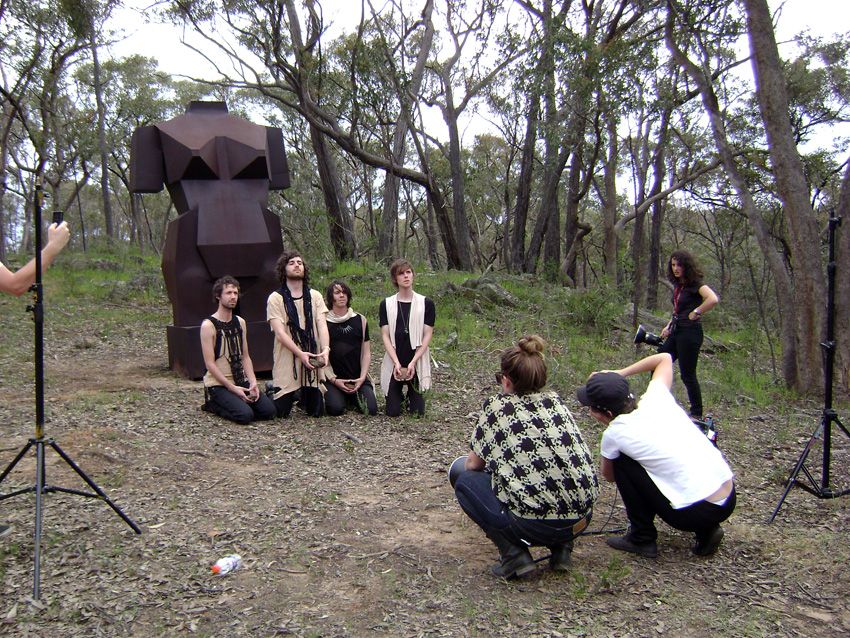 I love that sculpture at
Mia
, the photographers mums house. Perfect location.
The black t-shirts and macrame vest were from
Trimapee,
the cream t-shirts and vests were from
Kirrily Johnston
and the rope accessories by
Leo Greenfield
.