We all met at the interstate contestants/judges flash hotel to get driven to Chadstone. This is us walking to the minivan. Sadly it wasn't a limo. From left to right are fellow contestants Kate Stein, Lisa Twomey, Lauren Dietze and me! Behind is contestant Clare Byrne, and judges Kym Ellery (designer) Anouk Calantoni (Grazia magazine Market Editor who I found out studied my course at the Sydney campus) and Dee (blogger from
Deelightful
). My sister, Ebony, took all these photos for me.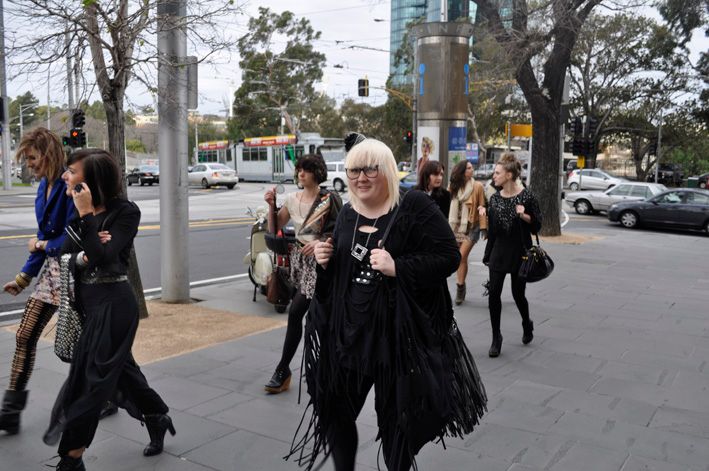 People stopped in their tracks when we walked past. I guess its kinda unusual to see 8 crazily dressed women walking in a group!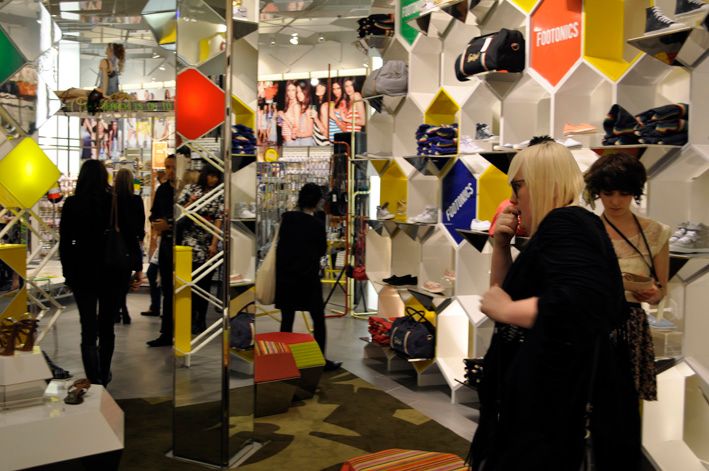 We arrived at Sportsgirl Chadstone and were given some time to get out bearings. Here I am concentrating intensely in the shoe department.
Clare and Kate check out the vintage.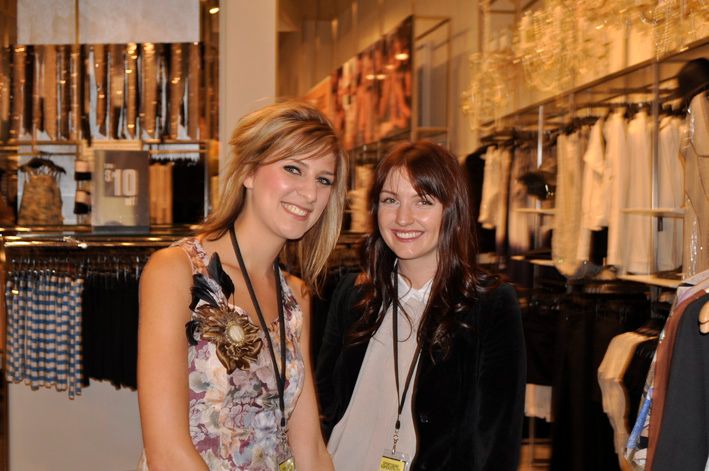 Because we needed size 9 shoes for our models and they may not have the sizes we got to choose them first, rather than during the 10 minute "supermarket dash".
The judges had a bit of a shoe try on.
The catwalk and our stations. I chose my lucky number 3.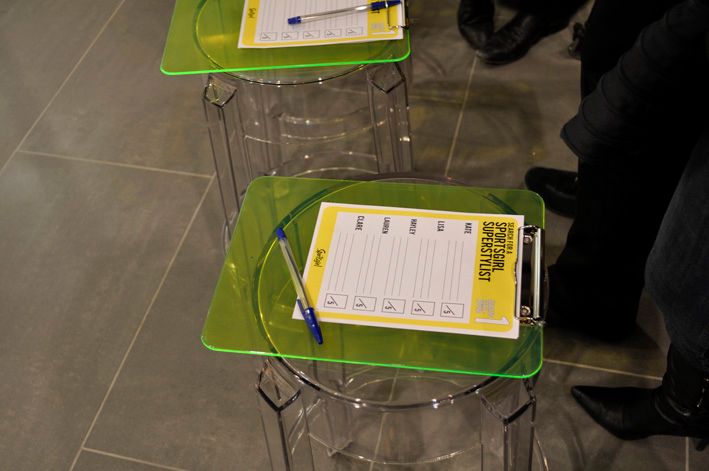 Score cards.
While we were in the style me studio the store filled up with family, friends and people who had won tickets to watch the contest.
We got interviewed by Benji, the MC. He had an English accent and was quite the host.
Here I am saying something witty I'm sure.
Suddenly the 10 minute race was on. My game plane was to hit the accessories first, whilst everyone else ran to the clothes. We had to push past the audience. I just charged at them, apparently I'm not the only one who did so...
Hitting the accessories.
Dumping my stuff below my rack.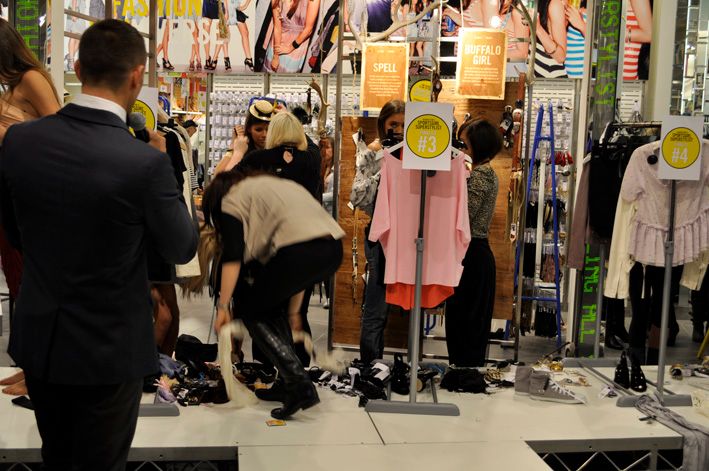 Once the 10 minutes was over it was time to style. For this we had a total of 7 minutes! I want to apologise to my model, Analyse, I don't think I was very nice to her at all. "Put this on, quick" etc... Sorry honey.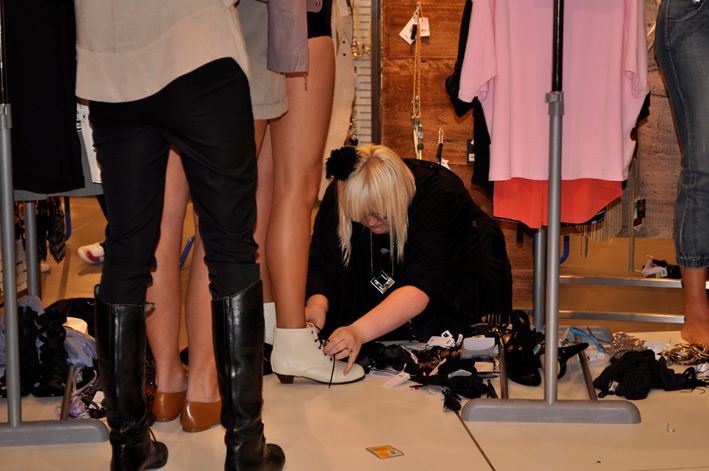 My god-damn shoes weren't laced. So I spent forever fumbling nervously with them. Honestly my fingers just wouldn't work!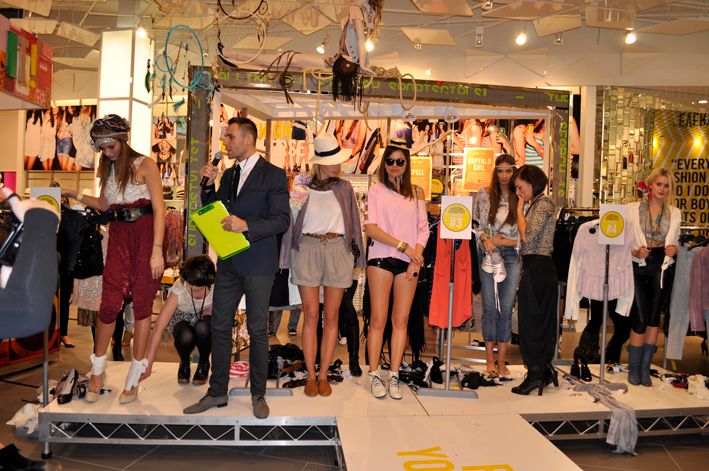 Times up. Time for our models to walk the runway.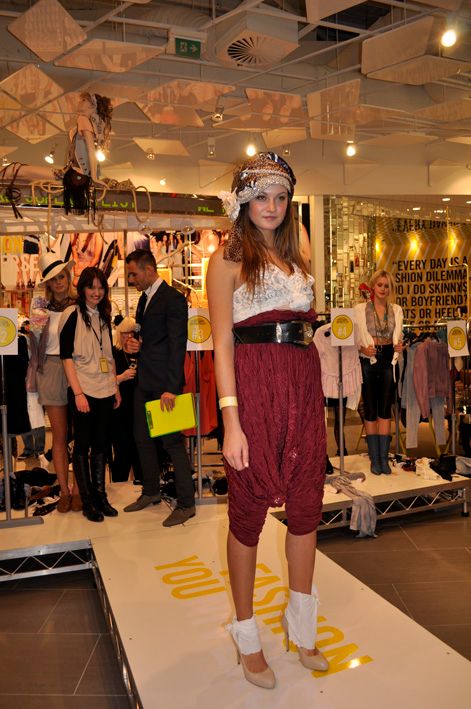 First up was Lisa Twomey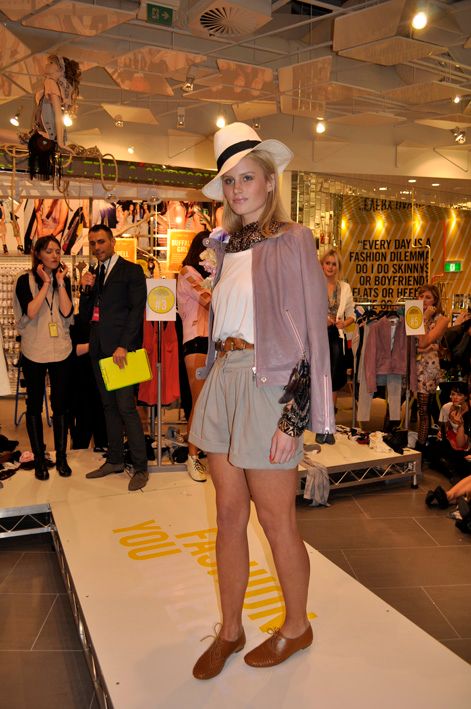 Then Clare Byrne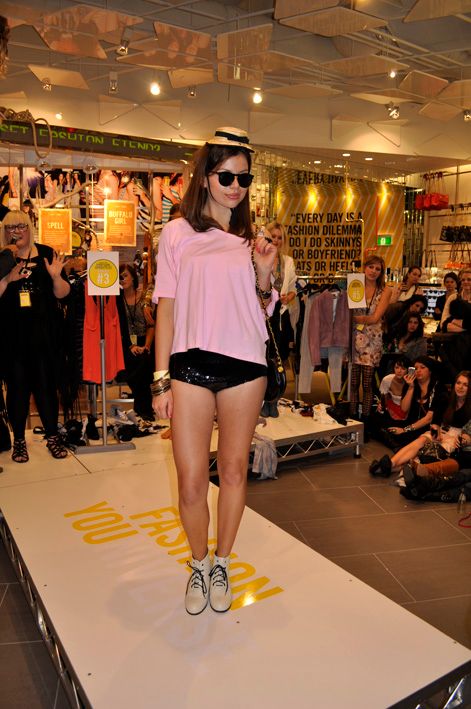 Then me! We also had to talk to Benji about our looks. I think I said something about Harajuku, Boombox parties and the beach???
Da da daaaa (stripper music)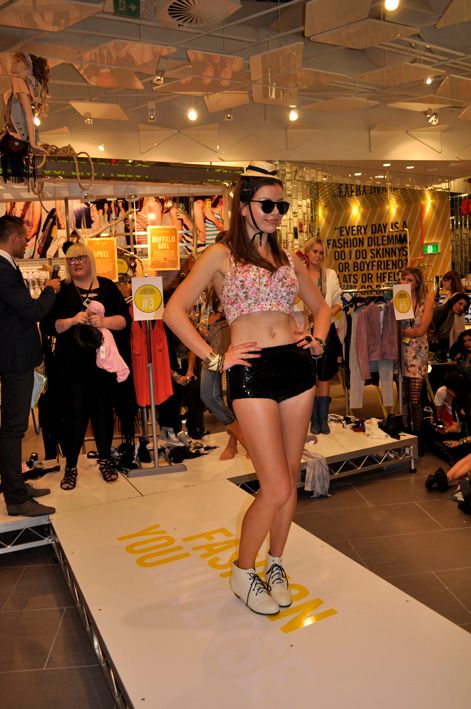 Lady Gaga-esque sequin hot pants with a floral bustier...I like mixing florals in unusual ways not just the normal boho way. I also used a mini kawaii boater hat and Karen Walker-esque circular sunnies and those cute as cream boots. How cute would this look in the Sportsgirl mag? So fun yeah??? That's what I was trying to do, fun and cute with a little bit of sex appeal i.e the Sportsgirl look.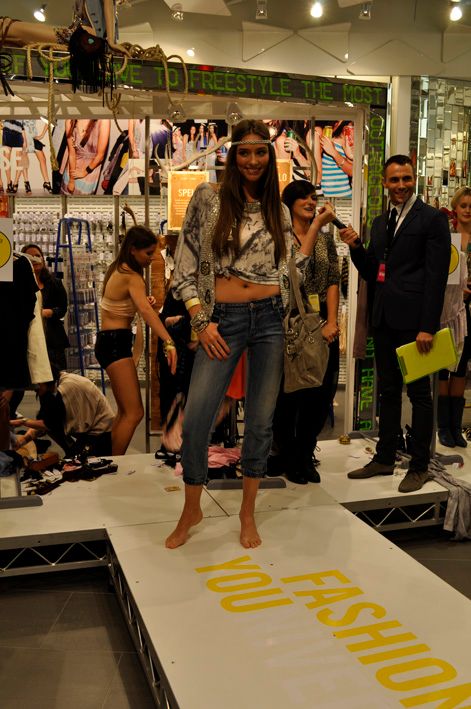 Next was fellow Melbournian Lauren Dietze
Lastly we had Kate Stein. Her model is Jade, who I have worked with before on a shoot, she is so lovely.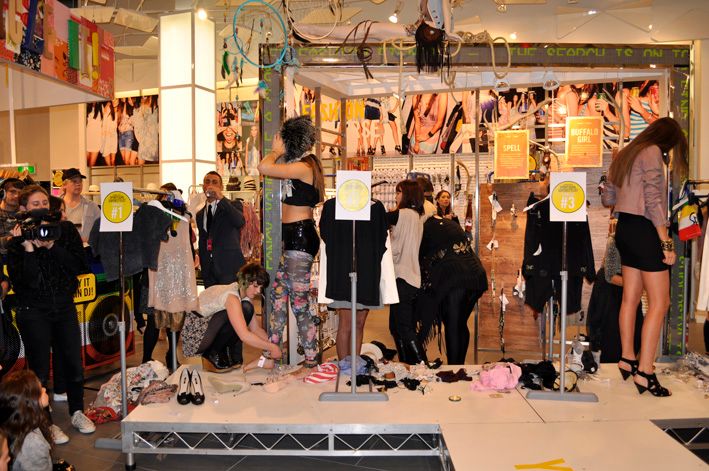 As soon as our model was back from walking the runway we had to style our 2nd and final look. Mayhem ensued.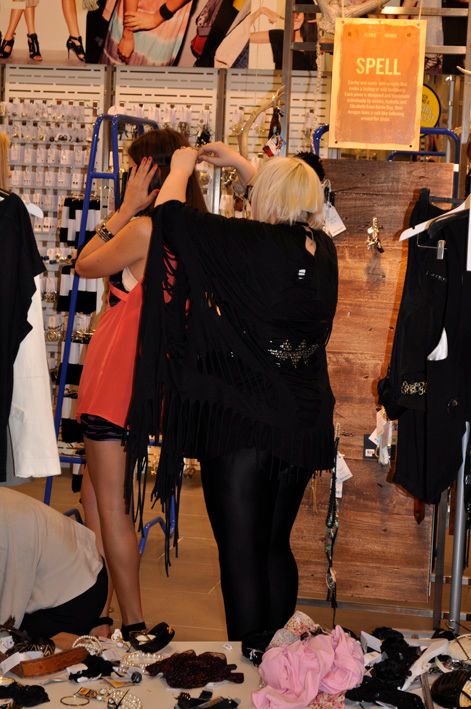 Here I am styling it up.
Once again it was time to model the looks. Lisa Twomey went first.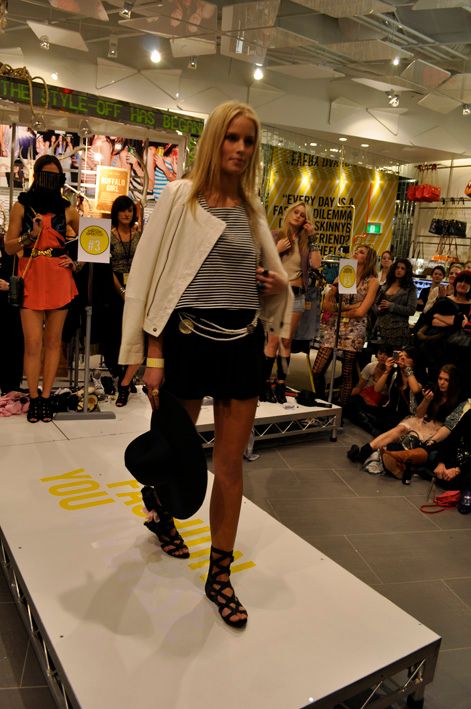 then Clare Byrne.
Then me! Flower headbands as a neckpiece inspired by
Make Believe
and Anthony Capon, fringed necklace over sunnies for a futuristic modern look, orange dress backwards over a skeleton printed singlet, the orange dress is meant to emulate the look of the skeleton, vintage gold belt, awesome cut out shoes and the very Sportsgirl overuse of bangles. I think it looks awesome!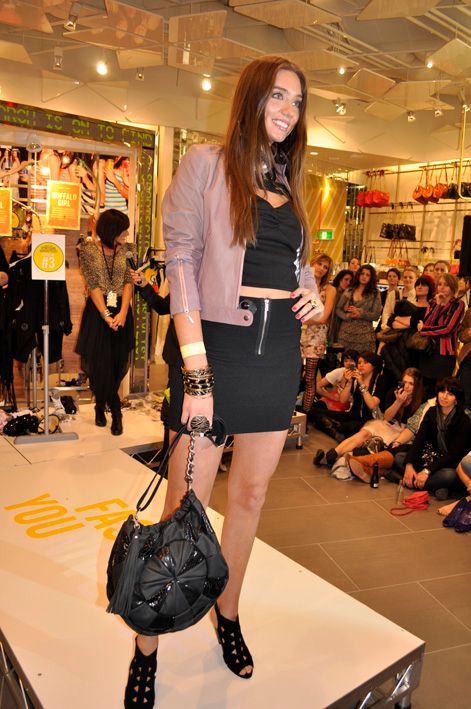 Next was Lauren Dietze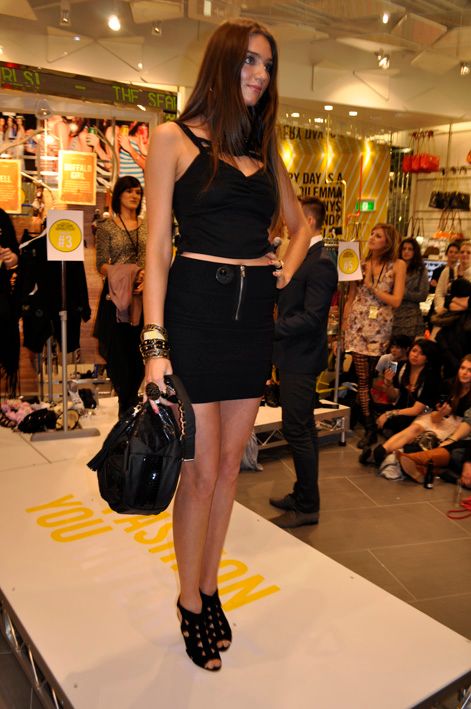 Lauren Dietze's model without the jacket.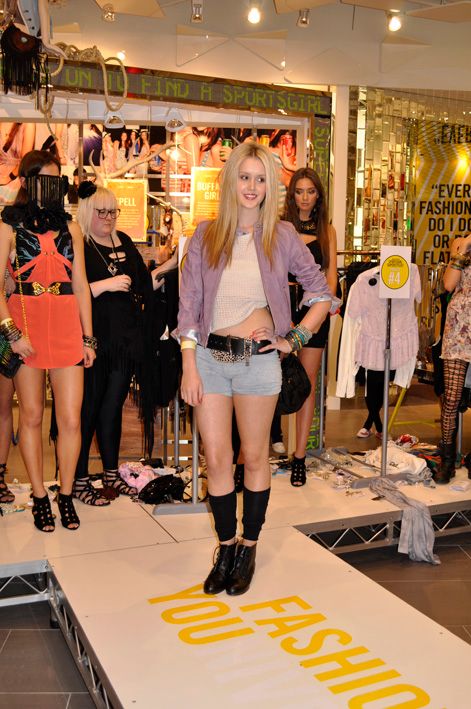 and last but not lest Kate Stein.
The judges deliberated.
Finalised their decision.
Spoke to Benji about how hard it was to come up with the winner.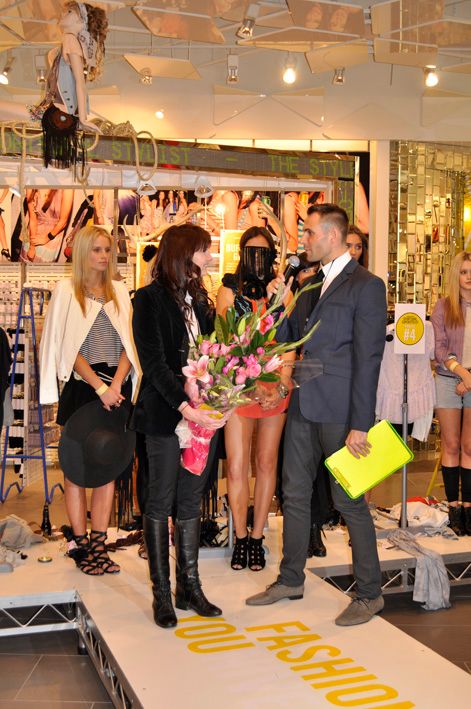 Then Benji announced the runner up, Clare Byrne.
Then he announced the winner, and we all look towards her.
Lisa Twomey is Sportsgirls Superstylist. In the background you can see me giving her the death stare, hahah. Nah, she is actually really sweet and totally deserved to win. While it would have been nice to win, I still had fun and I got to keep the fringed necklace, so score! Apparently over 450 people entered, so to make it to the final 5 is an achievement in itself. We only officially found out who came 1st and 2nd, but a friend of mine saw the score card and apparently I came 3rd. So that's cool...it seems a bit weird though. Rack number 1 came 1st, rack number 2 came 2nd and rack number 3 came 3rd? I wonder if the trend continued down to numbers 4 and 5 too? Damn it I should have chosen rack number 1, ha.
Congratulations Lisa!!!
What do you think? Whose looks do you like the best?