Sponsored Post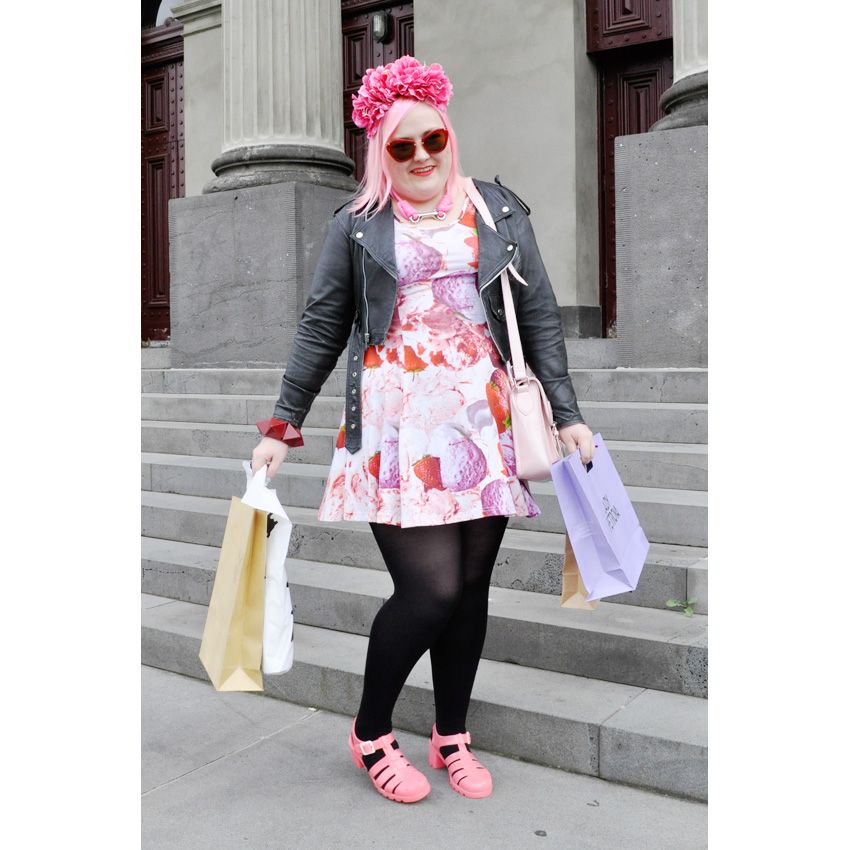 Berlei
sent me a few pairs of their new
Dig-Free legwear
to test out on a $500 shopping spree that was on them. The thing with the tights is they're not like other tights, they have a special smoothing waistband and are designed without a front seam, the idea being that they smooth out your lumps and bumps and don't need to be adjusted all day. Now I didn't actually believe their spiel before I tried out the tights because my experience of tights is that the packet always lies. Extra Tall means doesn't go up past my knees and no rip means they tear within seconds of me putting them on. Also how many of you ladies are always pulling at your tights the whole day? The only fix being putting on an extra pair of knickers over your tights to help them stay up? This is actually why I'd stopped wearing tights in recent years as my husband complains to no end when I'm constantly stopping to pull them up (it could also be living in Sydney meant it never really got cold enough). Anyway I was surprised, no shocked, that these tights did actually stay up, there was no digging around
at all
for the
whole day
!!! I wanted to test out the other smoothing spanx like benefits to full effect so I wore a dress I've avoided since buying even though I love it because I felt frumpy in it. Well again they worked as advertised, I didn't feel exposed, like my belly was on full view jiggling all over the place, because the tights held me in. While I am quite confident and body positive I do still want to look my best and when I feel exposed in an outfit I tend to avoid it. But now I can wear this cute strawberry print dress throughout winter with these new tights, my only wish was that they came in colours other than black or even some fun prints or designs.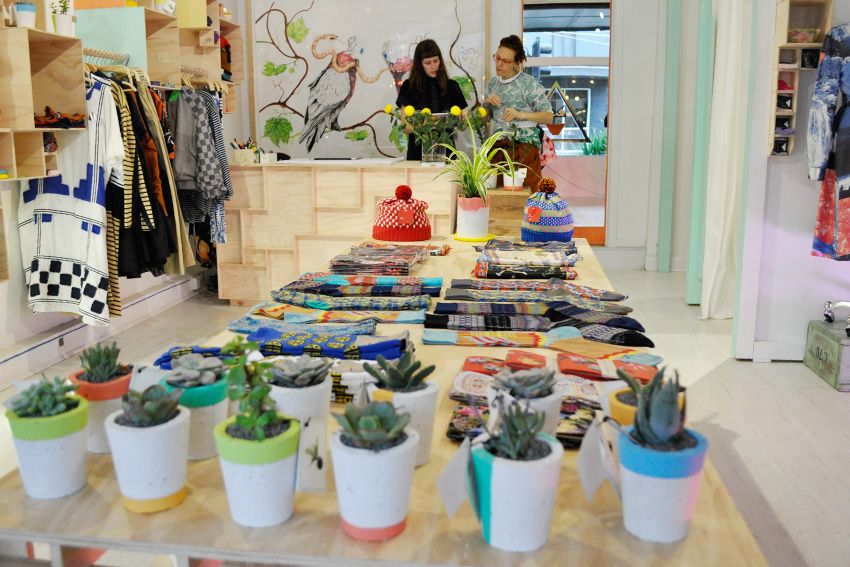 I decided to visit some of my favourite independent Melbourne boutiques on my $500 shopping spree. Top on my list was
Dagmar Rousset
on Gertrude Street, Fitzroy. You may remember I
blogged
about them at their previous location in Brunswick but in my time away they opened up in Fitzroy and have become a much loved fixture in the area, hosting French lessons and local artists exhibitions.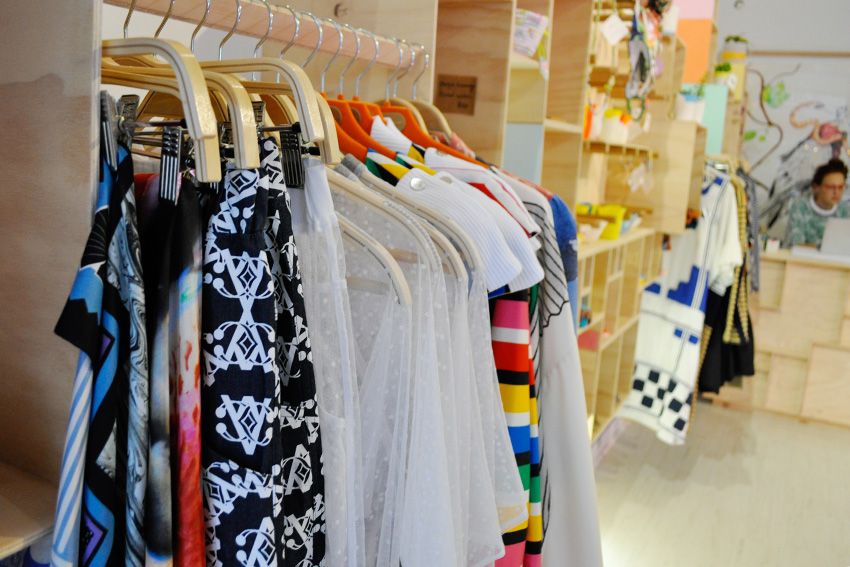 Clothing by cult labels such as PAM, Jean-Charles de Castelbajac, Andrea Crews, Kinoak and ALL knitwear line the racks.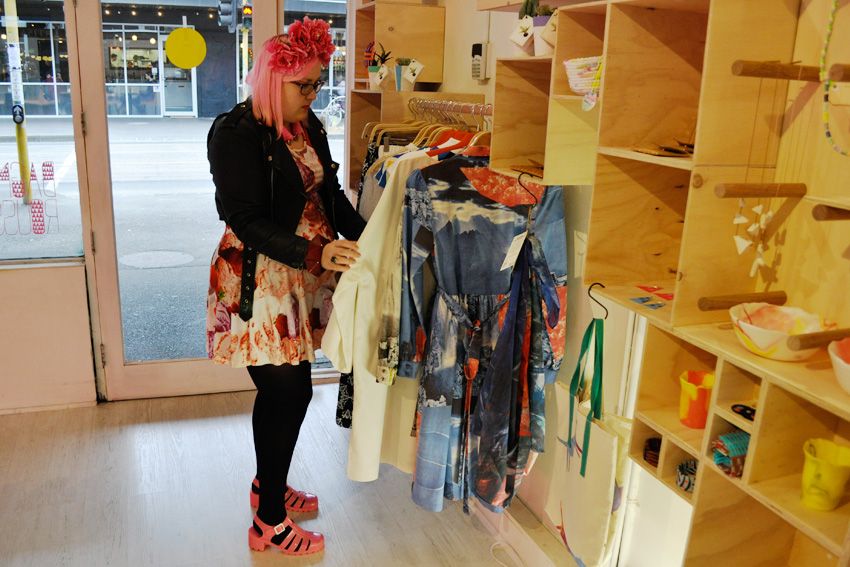 Drooling over some PAM.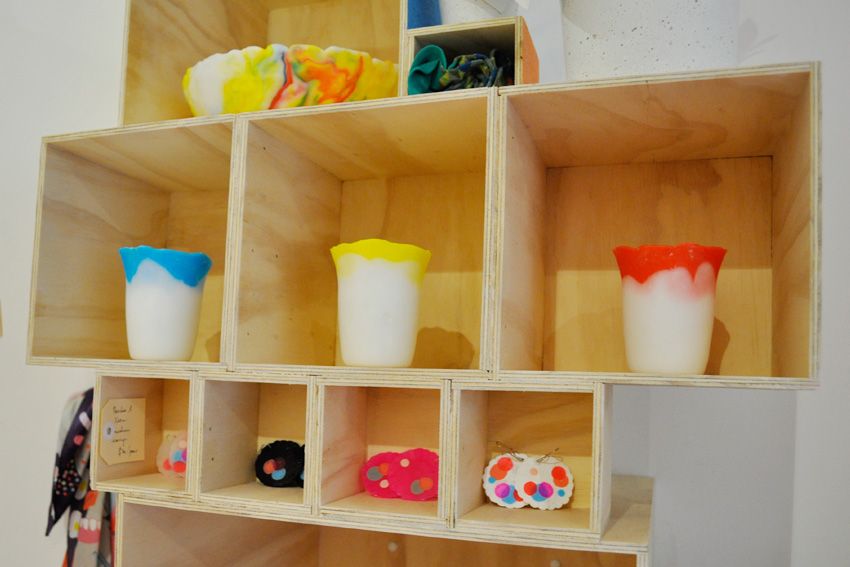 Yay colour!
It really is such a beautiful space that Julia Pound has created. Her love of colour and quirky design is evident in every nook and cranny of the shop. A must visit when you are in Melbourne!
Dagmar Rousett
157 Gertrude St, Fitzroy VIC 3065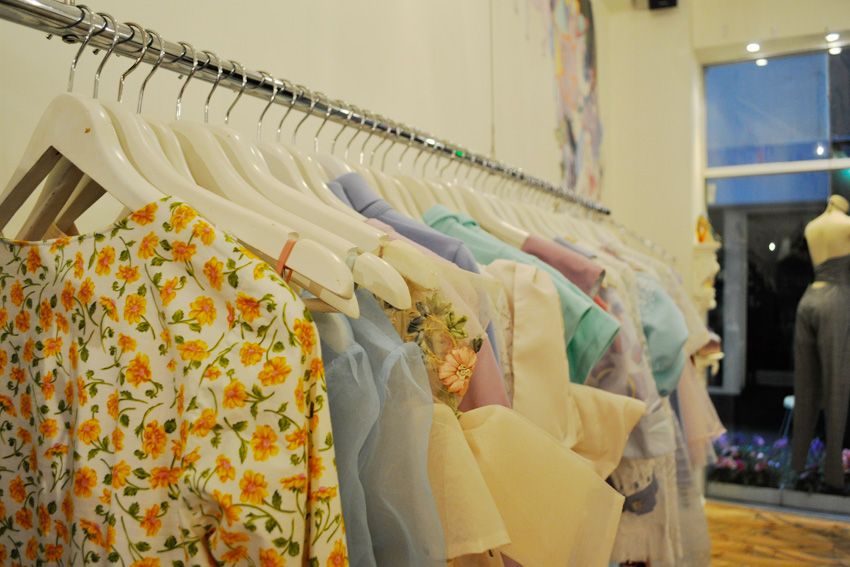 Visiting
Lady Petrova
is like stepping into a little girls bedroom with its cute pastel toned clothing and sparkly -well everything. I've been a Lady Petrova fan since way back and its always nice to stop by and have a chat with the lady herself. Located down Scott Alley, just off Flinders Lane, the store is a welcome spot of kawaii and colour in the city.
Petrova has some amazing new designers in at the moment, like these awesome sequin pieces by House of Cards.
These shoes omg.
This is where I buy all my Lime Crime cosmetics too, and boy do I love Lime Crime.
So much cute in one room.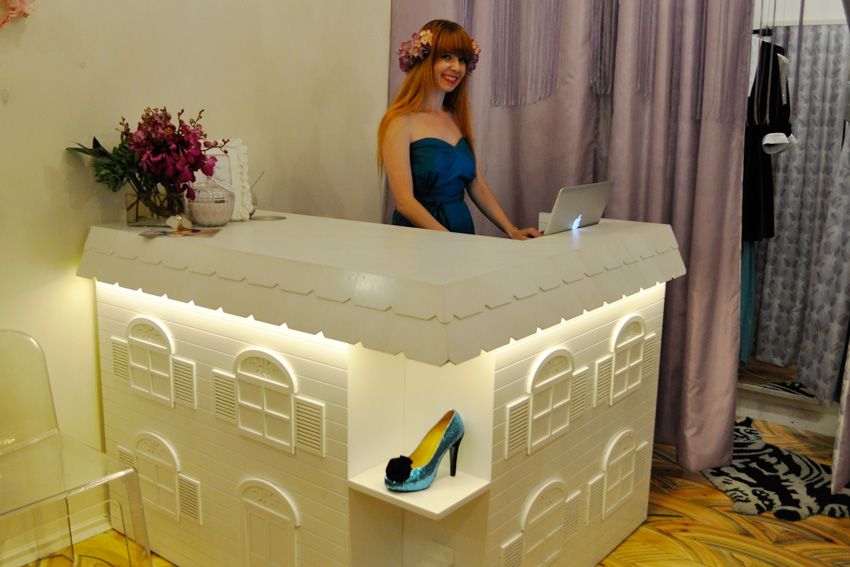 I bought the cutest clutch from Lady Petrova, here she is ringing up the sale.
Lady Petrova
3/237 Flinders Ln Melbourne VIC 3000
I've blogged about
Corky Saint Clair
a fair amount but I truly love it down there. Yes down, as the store is located in the Degraves Subway, its like a dungeon down there. Chris the owner is a great friend of mine, I never tire of his hilarious stories of crazy customers or his buying trips abroad.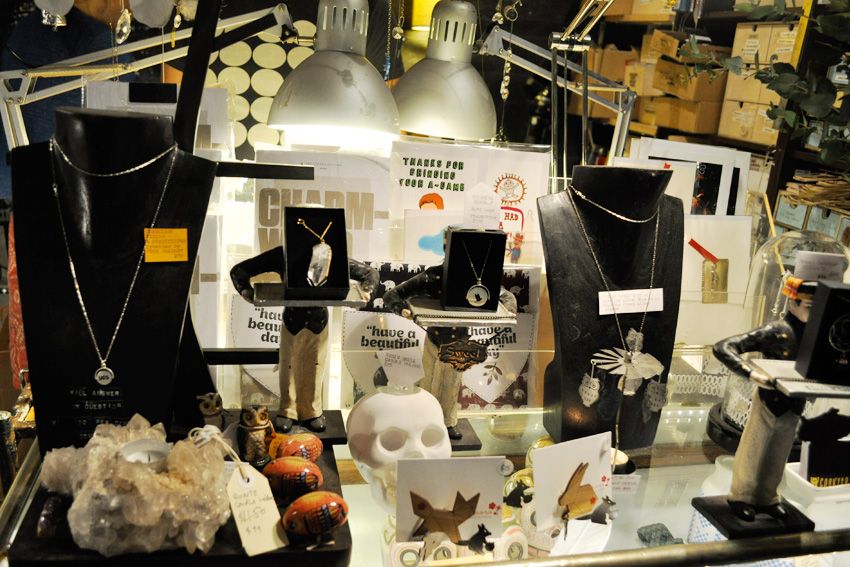 The jewellery is all hand made either by Chris's own in-house label Corky or by local and international jewellers.
Loving the eyeball pieces.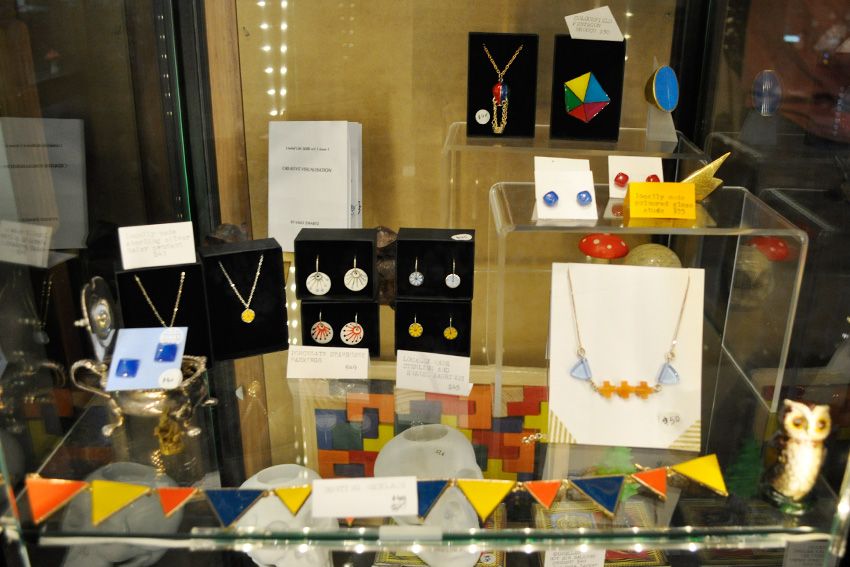 Look at the cute colourful bunting necklace.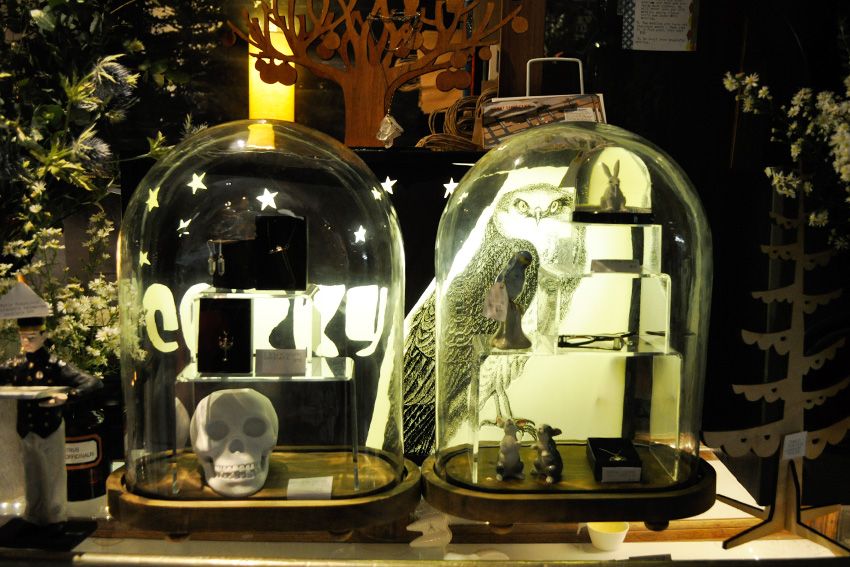 Some great pieces for your home too!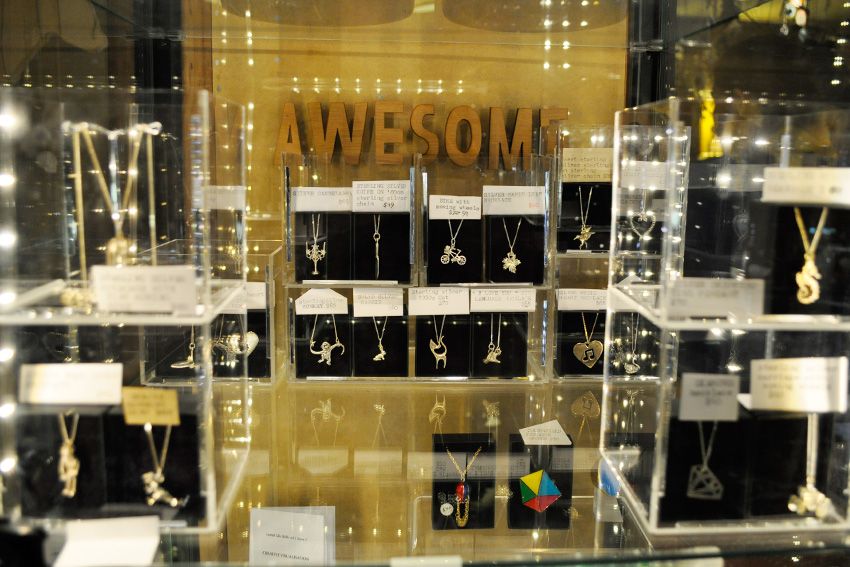 Statement making unique necklaces.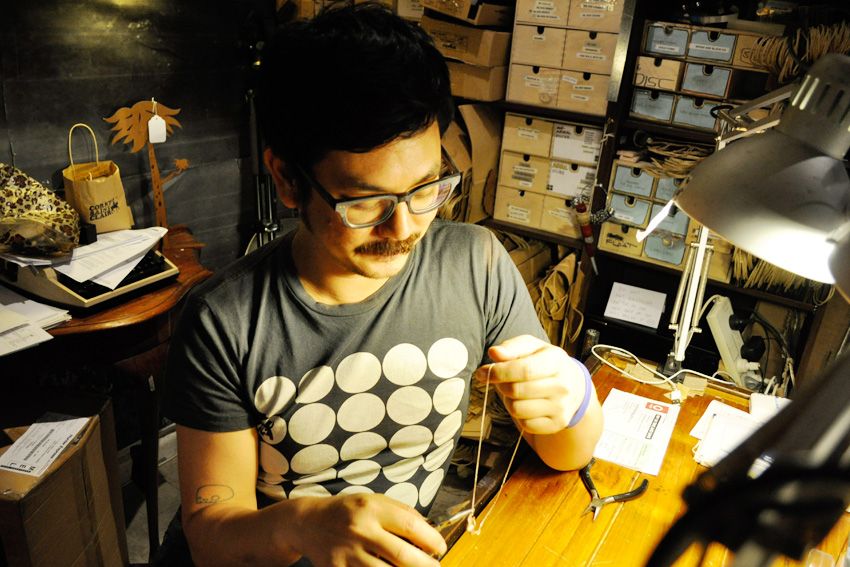 Chris working away on a new piece for me.
Corky Saint Clair
3 Degraves St Subway Melbourne VIC 3000
Lenko
is where I go for bright streetwear and fun accessories. I love how the shop supports local up and coming designers but has a mix of the more established too.
Bright clothes by Somewhere, Lazy Oaf, Limedrop, Evil Twin and more there is always something on the racks that calls out to me.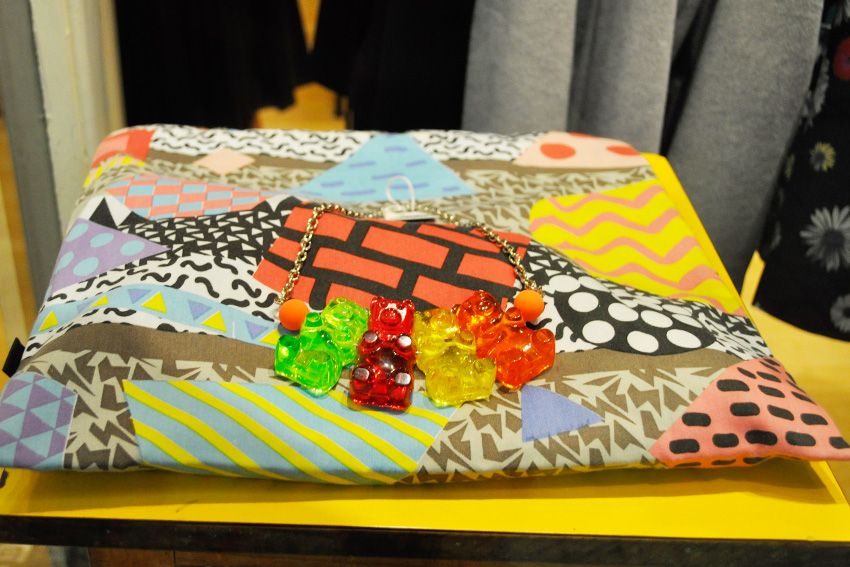 Eat Me Do jewellery looks so life like, like you could just suck on those gummy bears.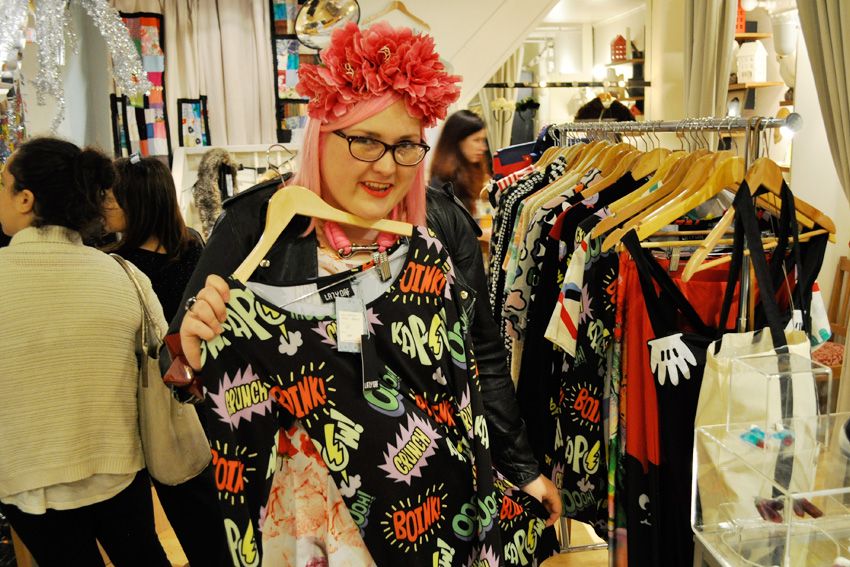 Madly in love with this Lazy Oaf dress.
Symantha Rose jewellery is my latest obsession.
The ever lovely Dana ringing up my purchases.
Lenko
5/37 Swanston St Melbourne VIC 3001
I bought so much on my shopping spree, I can't wait to share with you over the coming weeks. Here is what I wore on my shopping spree.
Outfit details
Strawberry sundae dress
Pulp Kitchen
Leather biker jacket
Vintage
Tights
Berlei Dig Free
Pink jelly heels
Juju Babes
Pastel pink satchel
$2 shop find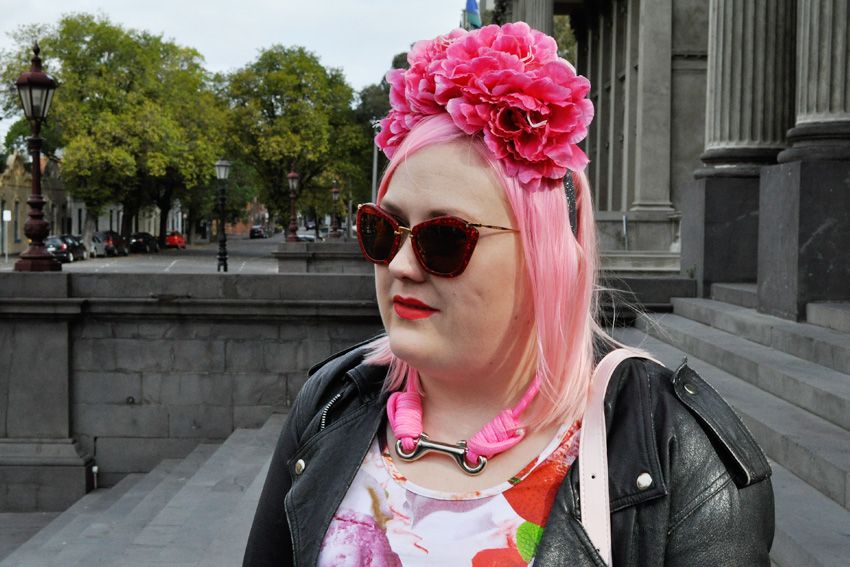 Sunglasses
Miu Miu Noir's from
Vision Direct
Nekclace
Fashiondacci
Flower headband
DIY
Lipstick
Lime Crime Velveteen gloss in Suedeberry from
Lady Petrova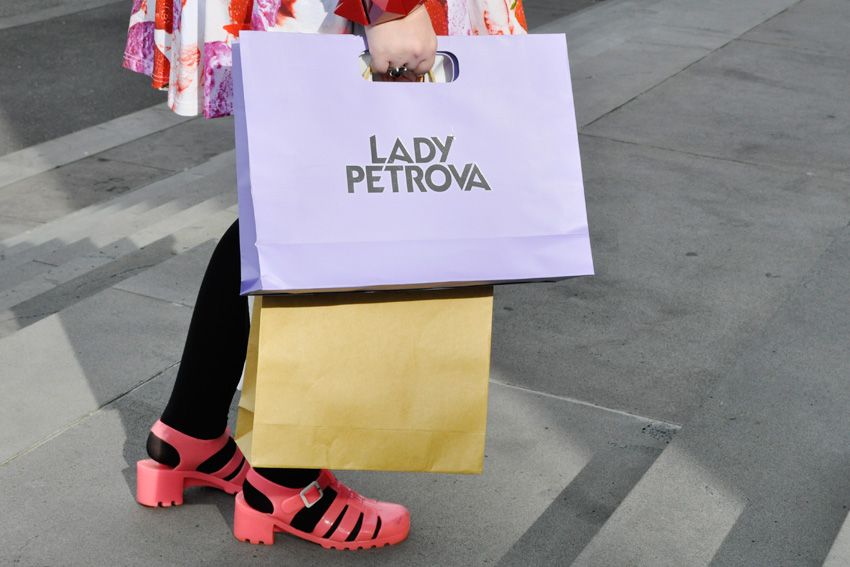 So much shopping!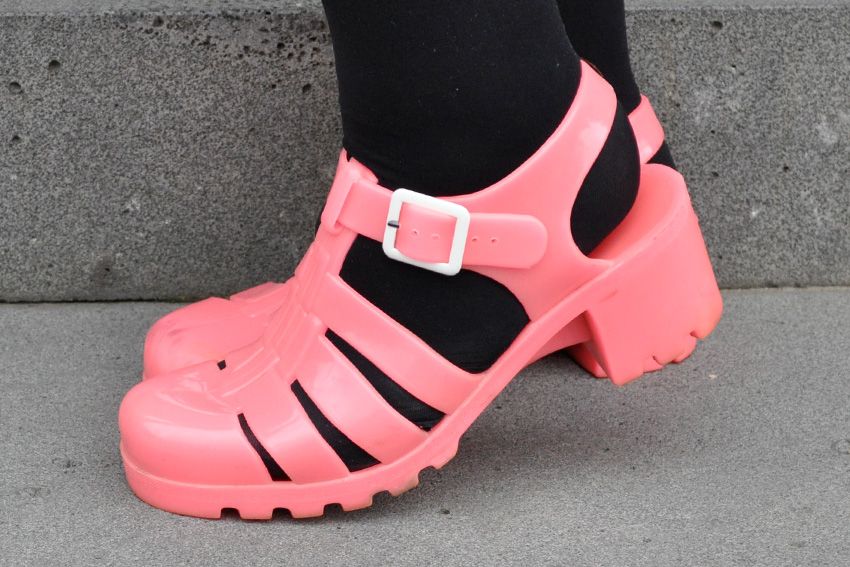 I love the look of tights and my jelly heels, perfect way to keep wearing my beloved jellies throughout winter.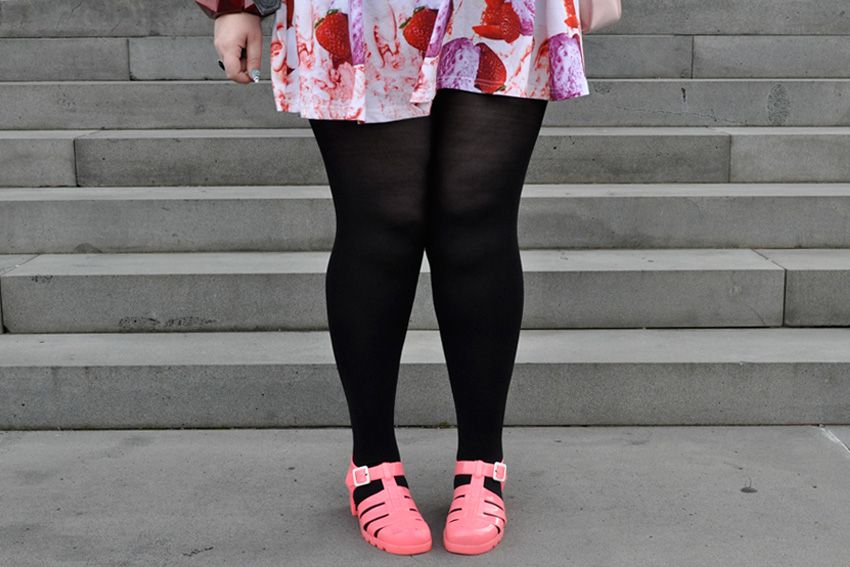 I had so much fun on my shopping spree and now YOU can
WIN a $1000 shopping spree
to spend on whatever you like
PLUS some Berlei Dig Free Legwear for yourself!
Simply share your favourite 'off' day go-to outfit in the comments below.
Read the competition
terms and conditions
. Competition closes Friday 10th May 5pm AEST
Good luck xoxo.
This is a sponsored post for Berlei but all opinions are my own.