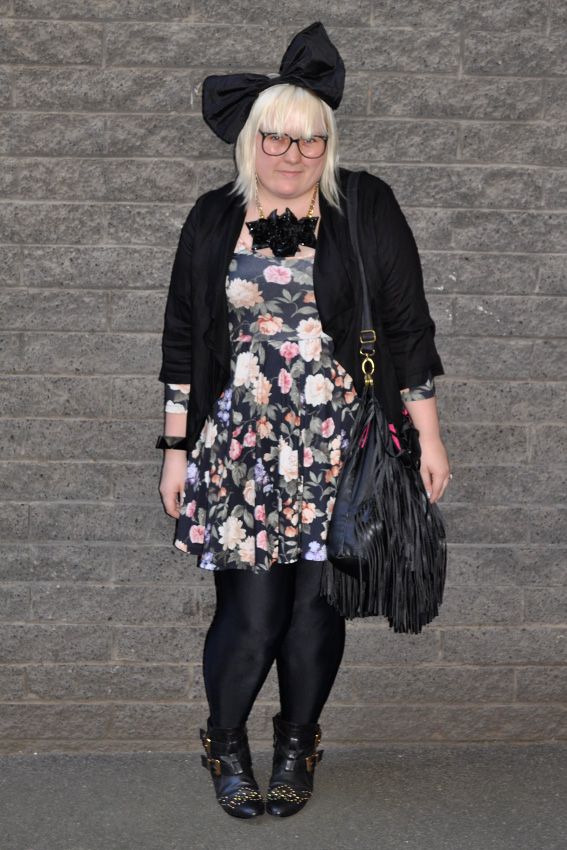 Outfit Details:
Dress: Topshop from Incu in Sydney
Jacket:
City Chic
Boots: Forever New
Bag: Gift from my Mum
Bow: Hopeless Hotel from
Dagmar Roussete
Bangle: Ishka
How good is new stuff? Makes an old fave outfit all that much better when you add new things to the mix. The boots are the new ones from Forever New that I blogged about in my last post, and in Melbourne's recent rainy weather they have been a total godsend. $109.95 well spent if you ask me. When I first saw the price I thought gee wiz that's a bit pricey for Forever New, but then I thought "um Hayley the whole of 2009 you spent like no money on anything because you were flat broke and now you have some money you are allowed to go crazy for a while, ha". So yes $109.95 is "going crazy" for me so don't expect to see me in Acne wedges anytime soon (a girl can dream though can't she?).
The other new stuff is the awesome black asymmetrical collared blazer from
City Chic
. Now as a blogger with a semi large following there are a few perks that come with the territory. I'm talking gifts. So yes, the blazer was a gift from City Chic who have also hired me as their resident blogger and stylist. The blog isn't up yet but should be this week which is really really exciting, its all been in the works since November, with my Sydney trip also being a business trip with a meeting at City Chic's head office. So happy I can finally tell you all, its been so hard to keep it secret for so long.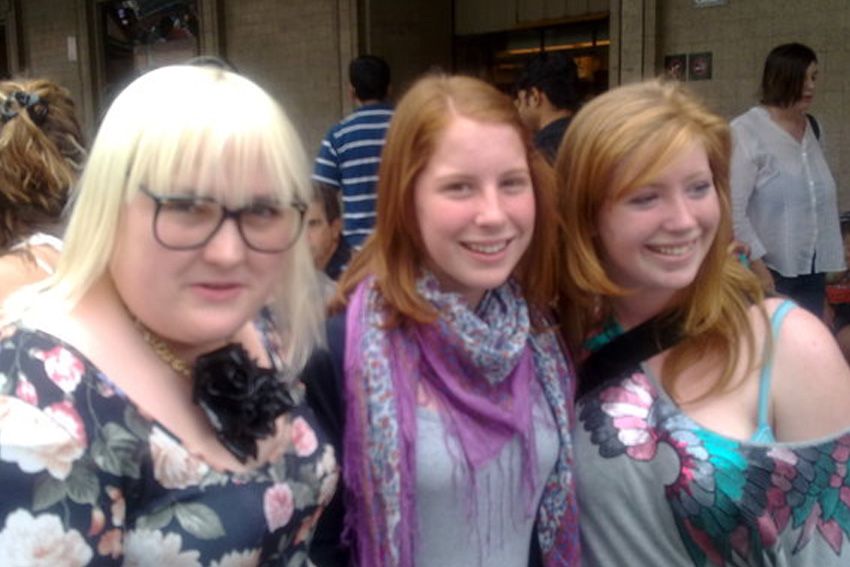 Another thing that happens when your a "semi famous" blogger is meeting "fans" on the street which is all kinds of embarrassing but fun too. Its so weird when people recognise me because, to me I'm just me if you know what I mean. I really never wanted to be famous or anything, not that I am really, but I really don't think I am all that exciting. As Henry says he just doesn't get why people read my blog (gee thanks Henry, ha). It was never meant to be like this but I am so so so grateful that it is because, well its so much fun. I do love blogging and meeting readers and all the opportunities my blog has offered me. Take for instance the above "fan photo", well it was taken on my new NokiaN97 that I was sent to test out which has meant that I can twitpic from anywhere and constantly check my emails while out on the town which is so so so handy especially when organising shoots like I have been this week. I'm going to do a proper review of the phone in another post though. The point of this was today I met the lovely Anna and Rachael while at the Vic Market with Henry and it made my day. Thanks for saying hi and it gave me an idea, from now on if people do say hi I'm going to take photos and make a monthly collage to share. I've been trying to work out what to do when people say hi, Henry joked that I should carry signed photographs, but um no that's not happening, and a friend suggested giving out lollypops but that could get annoying so yeah a photo to share on here. Is that a good idea?
Today I finally went down to
Dagmar Roussete
in Brunswick which I've been meaning to visit forever and finally managed to do so. I'm sourcing for a shoot and Julia was so helpful, I picked up some amazing pieces. The store is a treasure trove of fresh fun and cute things, just take a look at my photos. Oh and the giant bow I'm wearing is from there too.
Such a cute window display.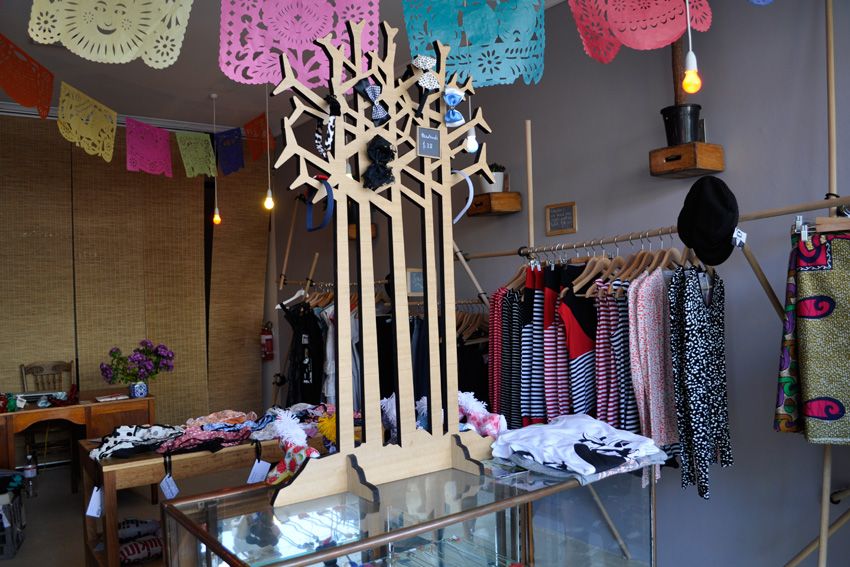 Lots of awesome clothes by designers like Limedrop, Donna Sgro and Hopeless Hotel.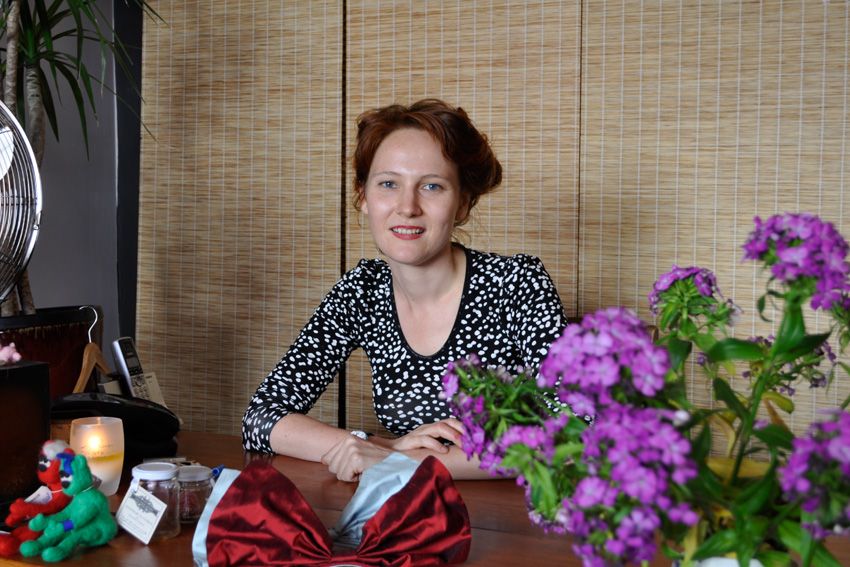 Beautiful Julia in her store wearing a top by Donna Sgro. Oh an look bows in other colours, kawaii.
Love this crafty medical dummy.
My friend Cassie n Sydney would die for this. She has a "burger corner" in her room with kawaii burger sofites and the like proudly displayed. Why are burgers so cute when plush?
Amazing jewellery for sale. I love the resin animal rings, they are so cute its almost painful.
Dagmar Rousset
is at 343 Sydney Road in Brunswick. Check out the
online store
too.
Going to Brunswick made me want to move back there. Growing up in the area it was nothing like it is today. Sure there are still a few remnants of that time, namely the crazies like the guy today who told me my glasses make me look like a kangaroo (was not wearing bow at the time, no idea how my glasses could possibly make me even remotely resemble a kangaroo but I took it as a compliment, ha), but boy yeah there are some cute shops and nice cafe's down that way now, and the crazies just make it all the more fun.