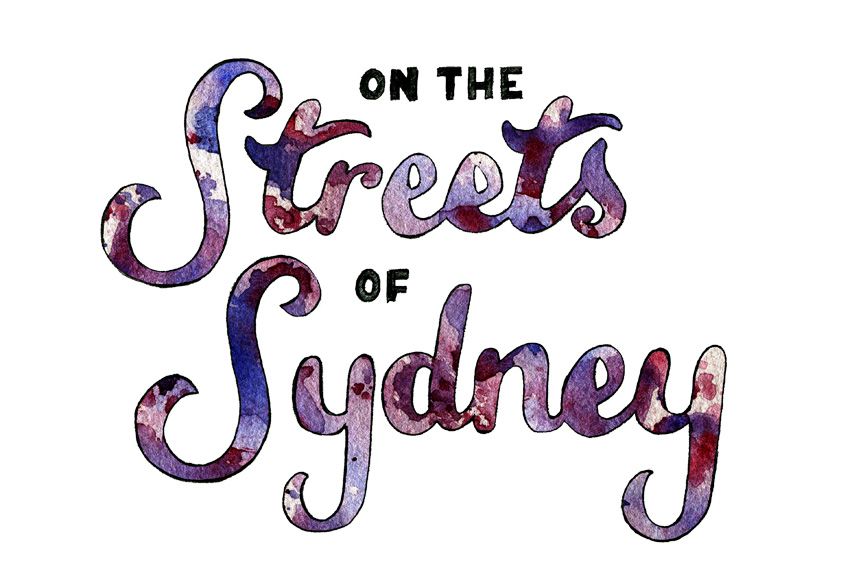 I can finally reveal my big secret project (well not so secret if you follow my
tweets
). For the last few months I have been working on
www.onthestreetsofsydney.com
, my new online magazine which aims to discover the bright new creative next big things right here in Sydney. The lovely logo was designed by
Natalie Perkins
, a very talented artist and
blogger
whose work I have admired for a long time. She perfectly met the rambling brief I sent her, taking my confused and wordy emails in her stride, and the result is beyond perfect. To say I love the logo is an understatement. The site itself was built by my good friend Alicia, from
Sea of Ghosts
, who at one point studied web design which is obvious when you look at her blog, its so well designed. Well she has outdone herself with
On The Streets Of Sydney.com
, its clean and simple, easy to navigate with all the design elements I requested...and then some.
Yes,
On The Streets Of Sydney.com
is going to have street photos, how could it not? I've been taking street photos since 2001, and I'm not about to stop now. I love the whole process of street photography, and so many people who I have photographed have gone on to become my friends, so what better way to meet people in a new city than to do this?
Not only will the site have street fashion photos, it will also have daily Monday to Friday
original
content. Be it an editorial shoot or a studio visit, we will be bringing you the best that Sydney has to offer in terms of style on a daily basis. Yes I did say we, I have an amazing team of people working on this with me, you can read all about them
here
. I'm so lucky that everyone who I have met or spoken to about this has been very positive. It seems Sydney was in need of a site like this, and I'm just so excited by having this way to showcase and find all the hidden pockets of creativity in Sydney. I'll be learning and discovering along the way too, how good is that?
If you like and comment on our
facebook page
before 5pm on the 10th of December you could win a $50
Alegorie
voucher. Read more about the competition
here
.
I would like to thank everyone who made this all possible. First off I would like to thank you, my readers, who have made everything possible with your support from the start. Thanks for putting up with my absence these last few months, its been a bit hectic to say the least. Secondly I would like to thank Alicia and Natalie for working on the building and design of the site, you guys have perfectly realised my vision, thanks and you know I love you. To my team
@ontheSOS
(how cool is our twitter name btw?) thanks for all your hard work at pulling the content together, without you this wouldn't be possible. Lastly thanks to my husband for putting up with the stress, the constant mess of shoots and people streaming in and out of our home (my office) almost daily.
So what you waiting for? Check out
On The Streets Of Sydney.com