I've been so busy lately it's kinda insane, if you haven't heard by now I'm now the Plus Size columnist for Shop Til You Drop magazine - which has just gone to a fortnightly mag from monthly. I am so excited to have my name in print in the largest fashion magazine in the country - talk about dream come true! Seriously, I've bought STYD mag since it's launch and for me to be writing for the mag and writing a plus size column at that is something teenage me would faint over. Plus size fashion was never in any of the mags I bought as a teen, if this column in any way helps someone build confidence like it would've helped me then it's worth all the stress. Talking about shop til you drop, boy did I ever shop til I drop over the weekend! This whole outfit is practically new, the Alpha60 pinafore dress was on sale at Alphaville and as I've been looking for a midi length pinny for a while I bought it on the spot. Unfortunately it gets wrinkly fast, but maybe with a less thick top underneath I can control the wrinkles a little? The tie-dye top is by my most favourite Japanese label ever - Mercibeacoup, who I first saw at Tokyo Fashion Week way back in 2007. Every trip back to Japan I try to buy a piece but now thanks to Pet Shop Girls, a new-ish (new to me, it opened while I was away) boutique in the city that stocks all the best of Japanese fashion, I can do so from Melbourne. Gotta love this city.
Sunnies
Nasty Gal $20
Pinafore dress
Alpha60
sale down from $220 to $155
Tie-dye cardigan
Mercibeacoup from
Pet Shop Girls
$265
Pink bag
Marc By Marc Jacobs 'Preppy Sia' bag in Rock Lobster from
Reebonz
which you can
WIN
details below
White flatfroms
Jeffrey Campbell Mayview from
Zomp
$135
Neon pink socks
Gift from
Fashiondacci
Necklace
Symantha Rose available at
Lenko
Pom pom bangle
Glebe Markets $10
I wore this out on an art gallery hop with my sister over the weekend. There are so many amazing exhibitions on at the moment but not enough time to see them all.
I actually really want to replace these cheap white sunnies with an even better pair by Tsumori Chisato that are more oversized and cat eye that
Pet Shop Girls stock
, but for now these will do. The expense adds up when you take into account I need to put prescription lenses in all my sunnies, I already have two I need to do as it is.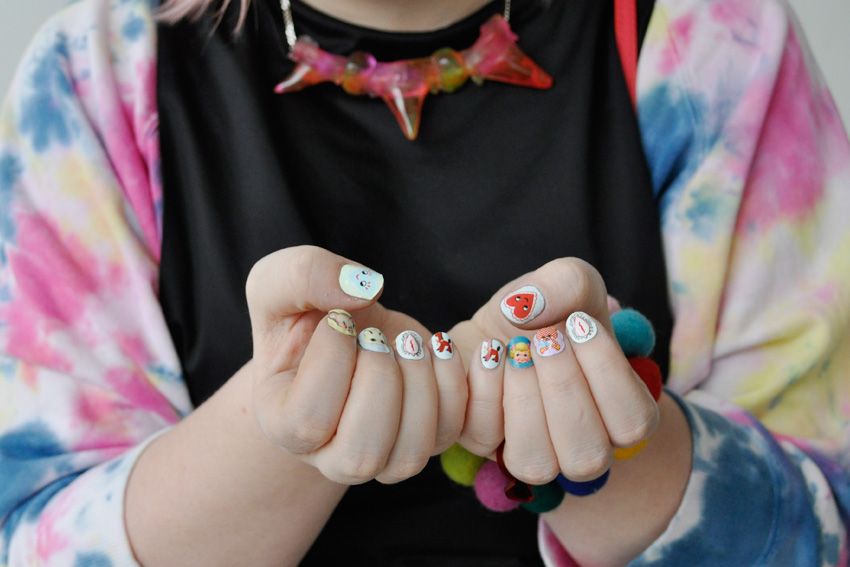 I've been wanting an excuse to wear my Meadham Kirchhoff SS12 nail wraps for so long, I didn't want to waste them. Well this week Walter Van Beirendonck - one of my all time favourite designers, is coming to Melbourne for an exhibition and series of talks at the newly opened RMIT Design Hub so what better time than now? I love the cute vintage motifs from Meadham Kirchoff's SS12 collection and that there is also a vagina nail.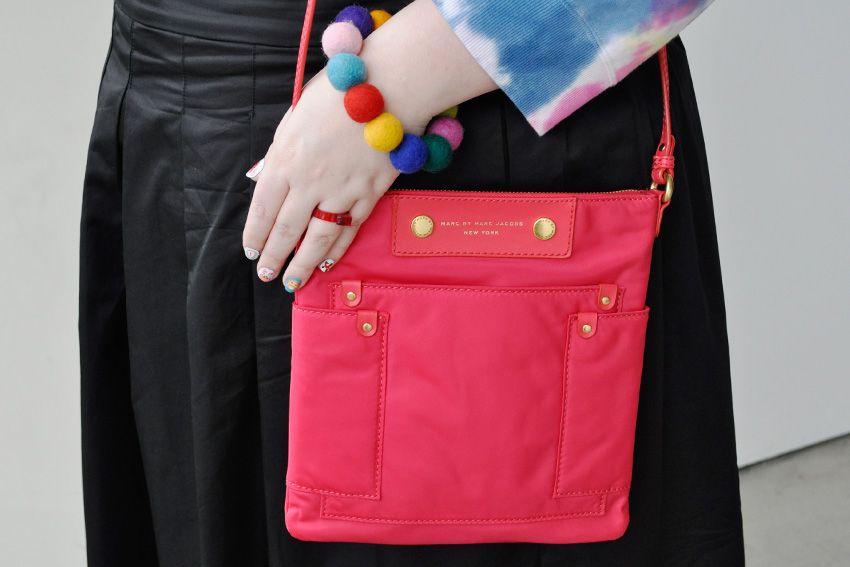 I'm so excited to be partnering with
Reebonz
to give away this cute over the shoulder nylon Marc by Marc Jacobs 'Preppy Sia' bag in rock lobster. I love the sporty feel of the bag but I feel that it can be styled in so many different ways. I decided to rock it with this architectural sporty pink outfit but you can tone it down or dress it up as it really is a statement piece.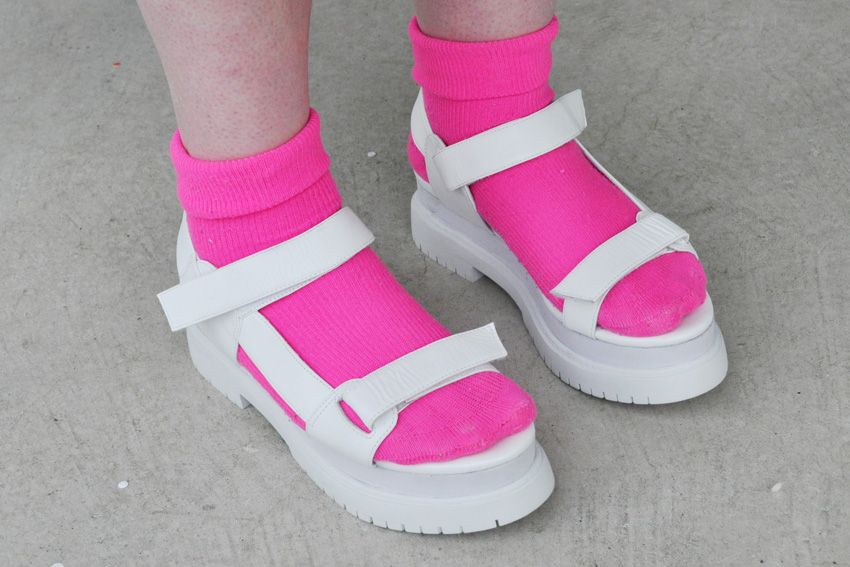 My new Spice Girls inspired white velcro flatforms by Jeffrey Campbell. I remember wanting a similar pair so much when the Spice Girls were around, so excited to be able to rock them now.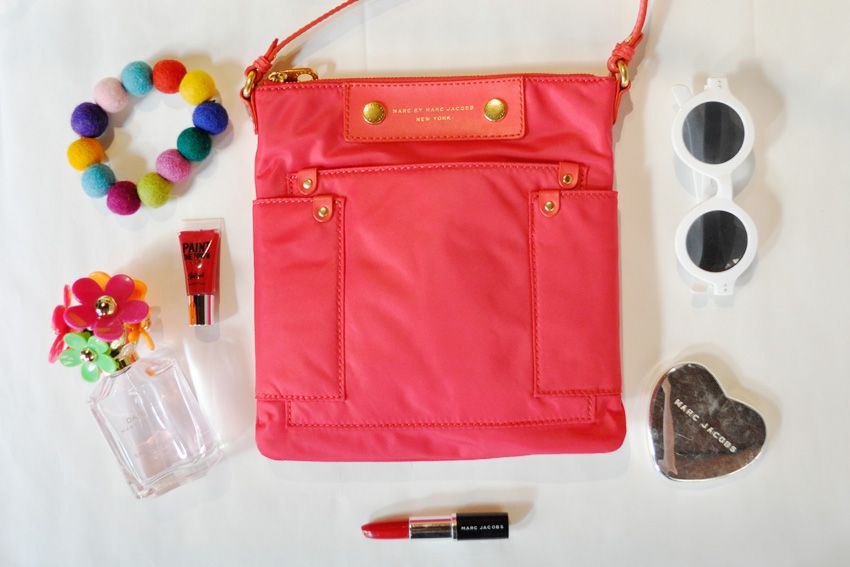 Pom Pom bangle
from Glebe Markets |
Gloss
Sportsgirl Paint The Town |
Perfume
Marc Jacobs Eau So Fresh Sunshine |
Bag
Marc by Marc Jacobs 'Preppy Sia' in rock lobster from
Reebonz
|
Lipstick Pen
Marc Jacobs from Tokyo |
Sunglasses
Nasty Gal
|
Heart Mirror
Marc Jacobs from Tokyo
Reebonz's
online store was established in Singapore in 2009 and has fast become the go-to for fashionistas world wide for luxury brands at discounted prices. At up to 70% off guaranteed designer bags from over 120 brands such as Prada, Miu Miu, Givenchy, Chanel, Dior and of course Marc Jacobs, you can see why. Reebonz also looks after the whole lifecycle of a handbag and offers a one-stop-shop purchase experience, the first of it's kind in Australia. From the moment you purchase the handbag, to bag maintenance and reselling of the bag, Reebonz take care every detail of the purchase experience. Their vintage offerings are great for finding that more unique hard to find piece. 2013 saw the opening of Reebonz's first Australian flagship store in Sydney, a must visit if you're ever in town.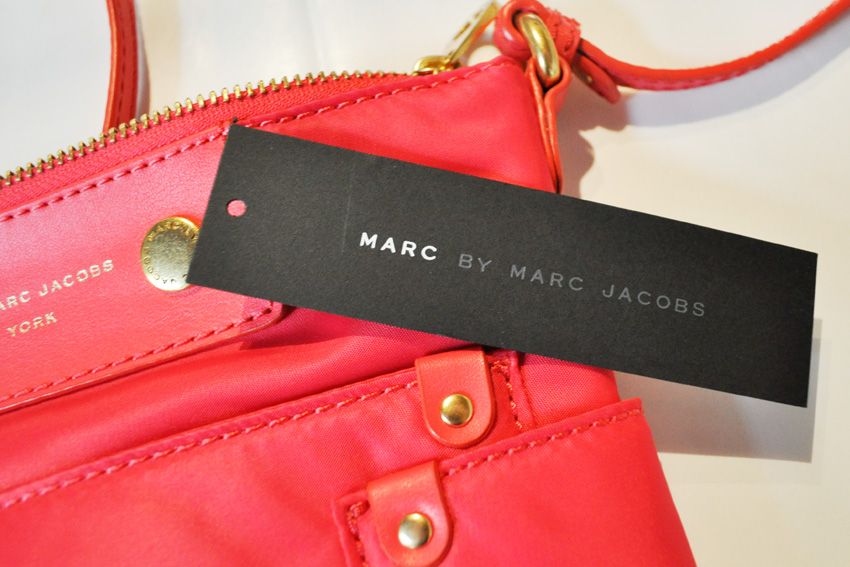 Logo embossed gold hardware and original swing tag.
Inside the lining has the Marc by Marc Jacobs logo and there are two pouches and one zipped pocket - perfect for your phone, keys and lip gloss.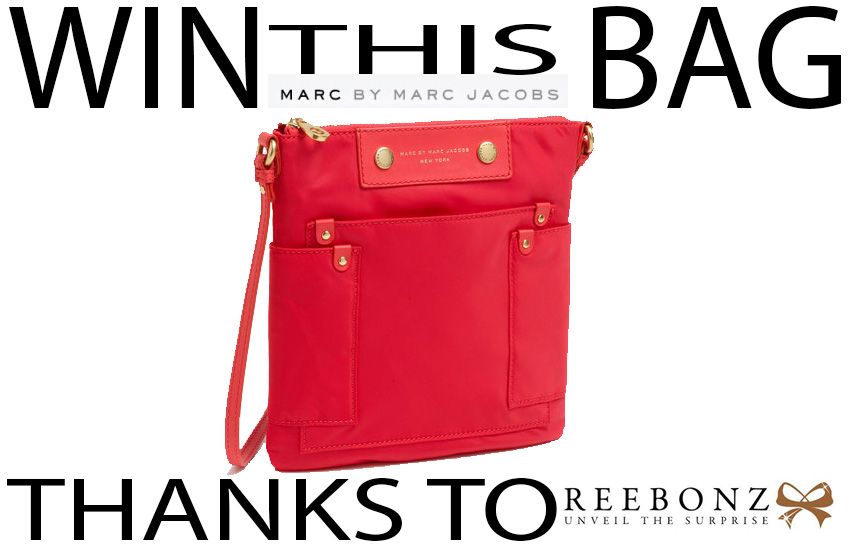 The prize
Thanks to
Reebonz
you have the chance to win this amazing Marc by Marc Jacobs 'Preppy Sia' bag in Rock Lobster valued at $300AUD (Reebonz price is 20% off so $240AUD)
To enter
First create an account with
Reebonz through this link
which also gives you $30 credit to spend online (amazing!) Then simply like Reebonz on
facebook
and follow them on
instagram
and
twitter
(if you have) and comment on this post with your favourite designer brand.
The winner
will be chosen at random using random.org.
Competition
is open
to Australia and New Zealand only.
Competition closes
Wednesday 31st July 2013 at 5pm AEST.
Winner
will be announced that evening via twitter and contacted via email.
Good luck xoxo