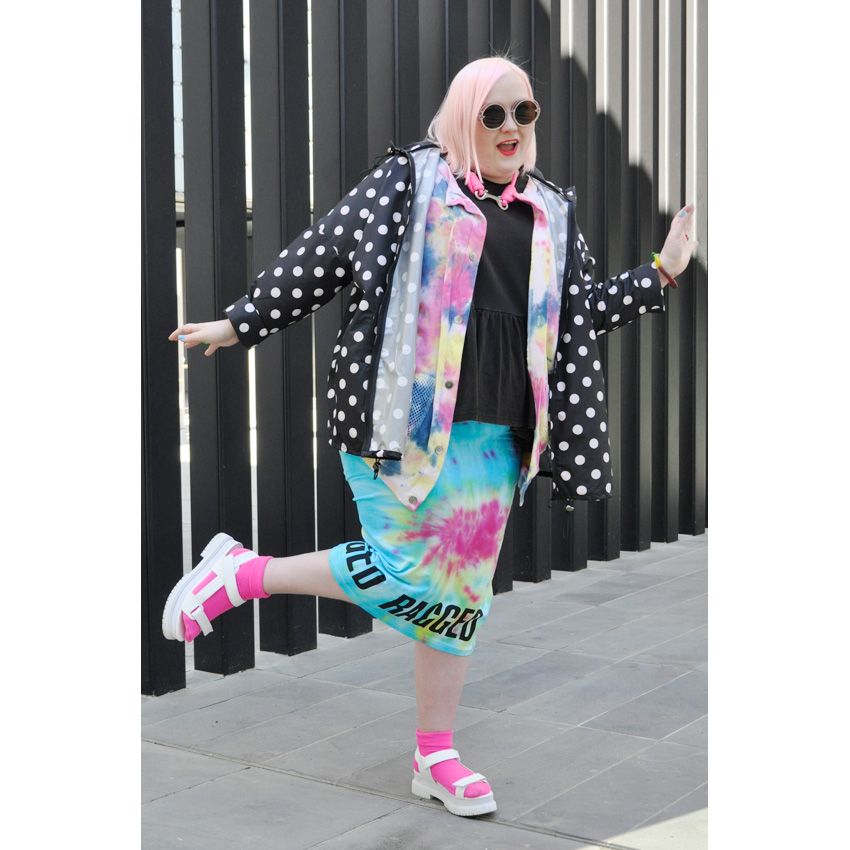 If you've been following me on
twitter
and
instagram
then you'd know that this week in Melbourne an amazing exhibition,
Walter Van Beirendonck: 'Dream the world awake'
opened at
RMIT's Design Hub
. Walter Van Beirendonck is one of the famed Antwerp Six, a group of influential avant garde fashion designers who graduated from Antwerp's Royal Academy of Fine Arts between 1980-1981 which includes the likes of Ann Demeulemeester and Dries Van Noten. I was affectionately calling the week 'Walter Week' with a series of talks, openings and media previews filling up my diary daily - leaving me feeling inspired beyond belief. Well while I was lucky enough to attend all the events Henry missed out as he just started a new job and doesn't get home till after 7pm. So we planned to visit the exhibition together today, a Sunday. Well take my advise and don't try to go on a Sunday because as we sadly found out the exhibition is closed on Sunday's, and we weren't the only ones caught out, we bumped into
Limedrop
designer Clea also hoping for a second look at the amazing exhibition we saw on the crowded opening night. I can't wait to share with you my images from the exhibition but I'm still editing them as I took over 500 photos. So instead here is what I wore today when I tried to revisit the exhibition. Luckily the Design Hub itself is enough of an architectural attraction to entertain us for a while, and it made the perfect backdrop for some outfit photos. Designed by Sean Godsell with Peddle Thorp as the project architects the building is another example of RMIT's signature design stamp making it's mark on Melbourne.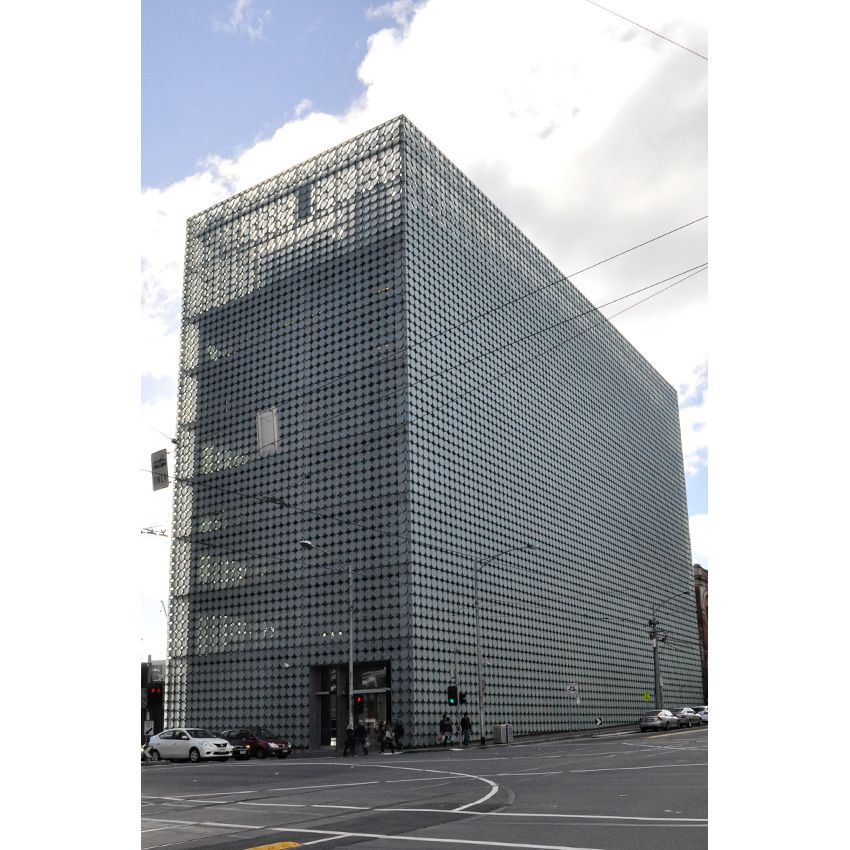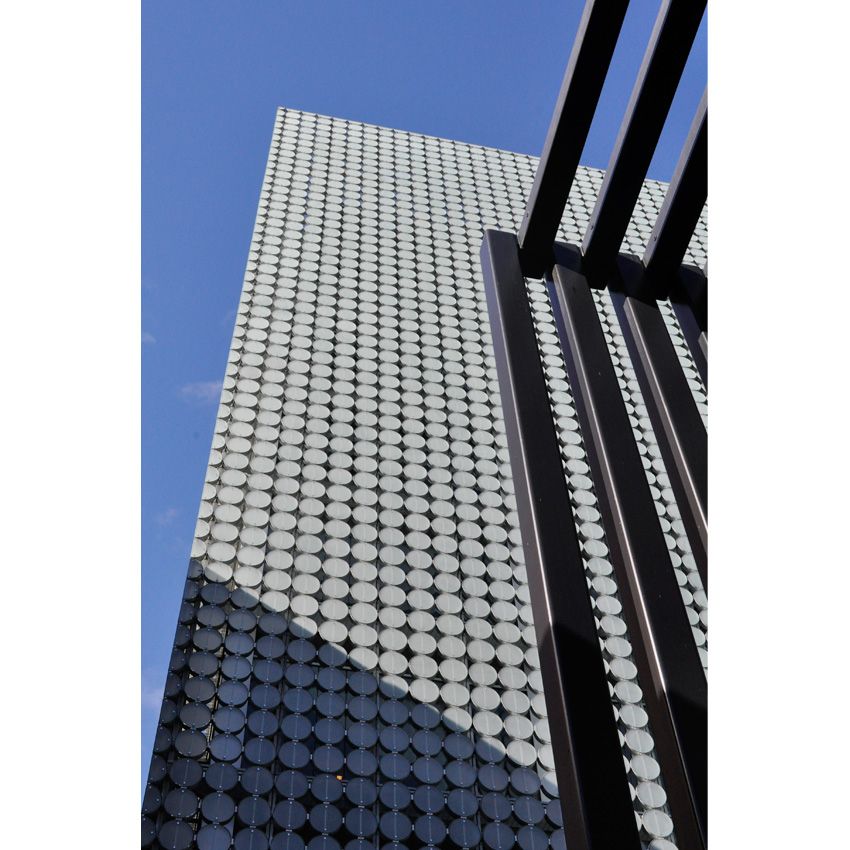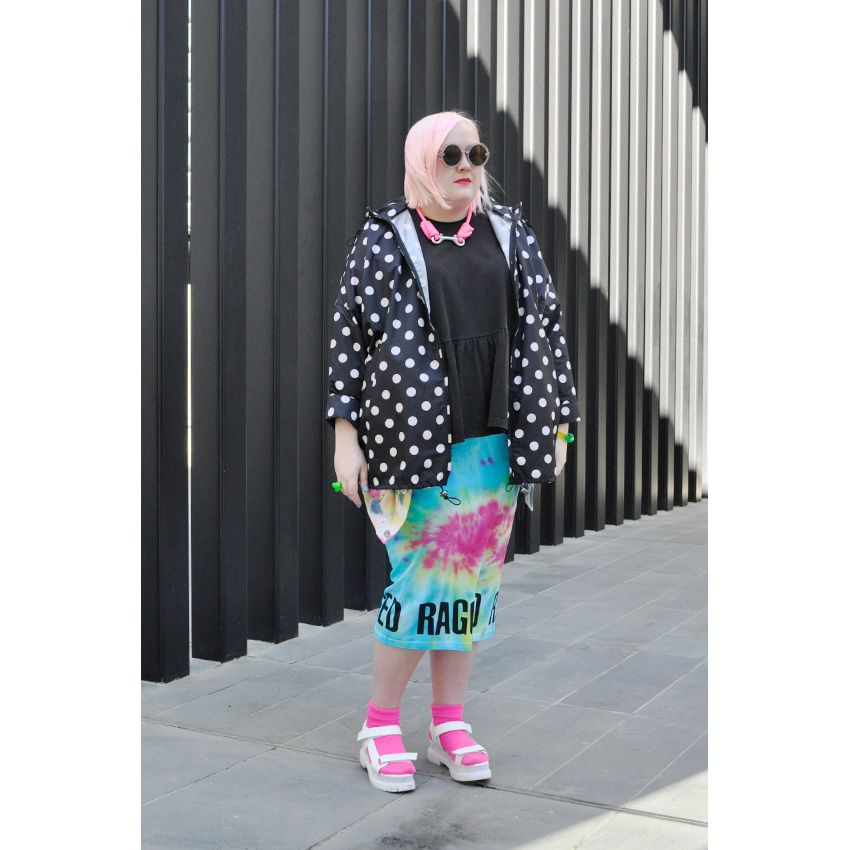 I'm currently digging layers and creating new shapes with midi length skirts and oversized tops. It's a little out of my comfort zone to not define or highlight my waist but I'm really enjoying moving away from safe dressing, my own safe bubble, and onto something new.
Outfit details
Poka dot raincoat
Gorman
Tie Dye Cardigan
Mercibeacoup from
Pet Shop Girls
Peplum t-shirt
ASOS
Tie Die 'Ragged' pencil skirt
The Ragged Priest via
ASOS
Sunglasses
Karen Walker Orbit in Crystal Pink from
Eyegoodies
Neon pink necklace
Fashiondacci
Neon pink socks
Fashiondacci
White flatforms
Jeffrey Campbell Mayview from
Zomp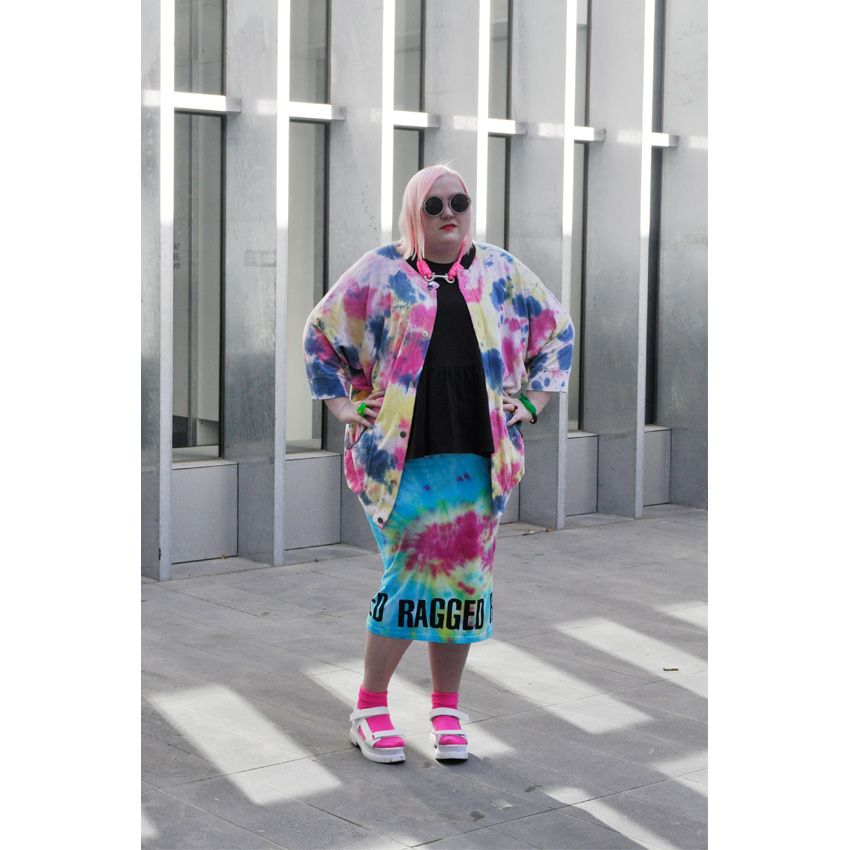 Stripping back the layers to reveal more of my new oversized Mercibeacoup cardigan which I'm so happy I bought. It's my new favourite piece, I've been wearing it almost daily.
Tie Dye Cardigan
Mercibeacoup from
Pet Shop Girls
The Ragged Priest pieces popped up on ASOS a few weeks ago and instantly a few pieces went into my saved items bag. I wasn't sure if their size M/L which is size 12-14 Au, would fit me. But, I've learnt since I bought my Kapow comic book print skirt from Topshop - which I bought in a size 12 - that stretchy pencil skirts in smaller sizes actually work on me, and work better as they don't end up baggy and saggy like one in my size might, these skirts perfectly hug my curves. So now I own about 7 size 12-14 stretchy pencil skirts and this new tie-dye Ragged logo skirt is my most recent.
Tie Die 'Ragged' pencil skirt
The Ragged Priest via
ASOS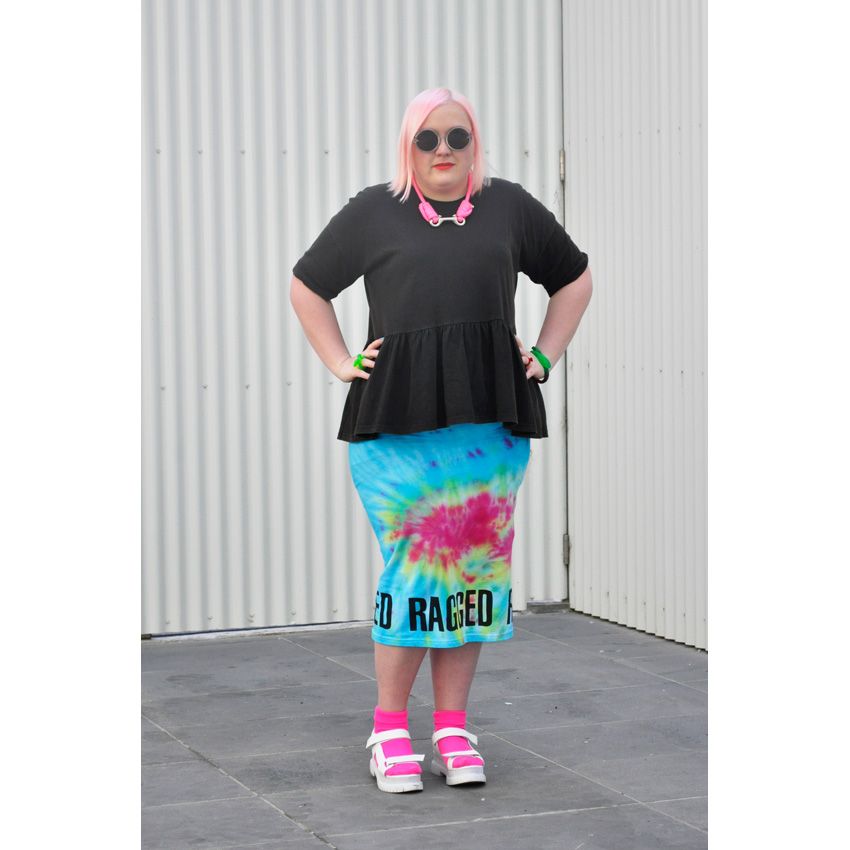 The oversized t-shirt peplum top is a little more safe for me in terms of defining my shape - but it is still quite oversized and baggy. I bought the size 14 when normally I'm an 18 at ASOS but I'm glad I did as this is pretty much the level of oversized I can handle, haha.
Peplum t-shirt
ASOS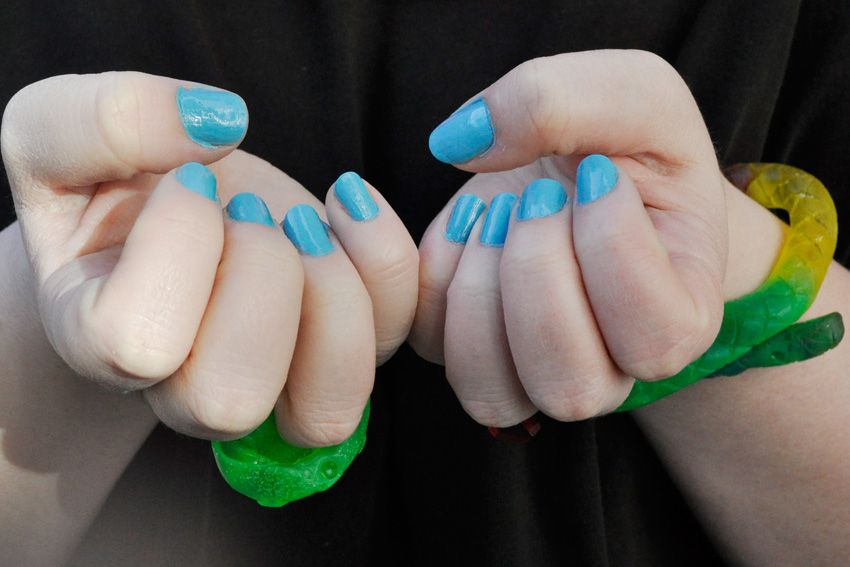 Wearing old Sportsgirl nail polish (I think sadly it needs to be thrown out as the mixture is not what it once was, so sad as I love this colour). Also wearing my Eat Me Do Snakes Alive ring and Killer Python bangle.
Snakes Alive ring
Eat Me Do
Killer Python bangle
Eat Me Do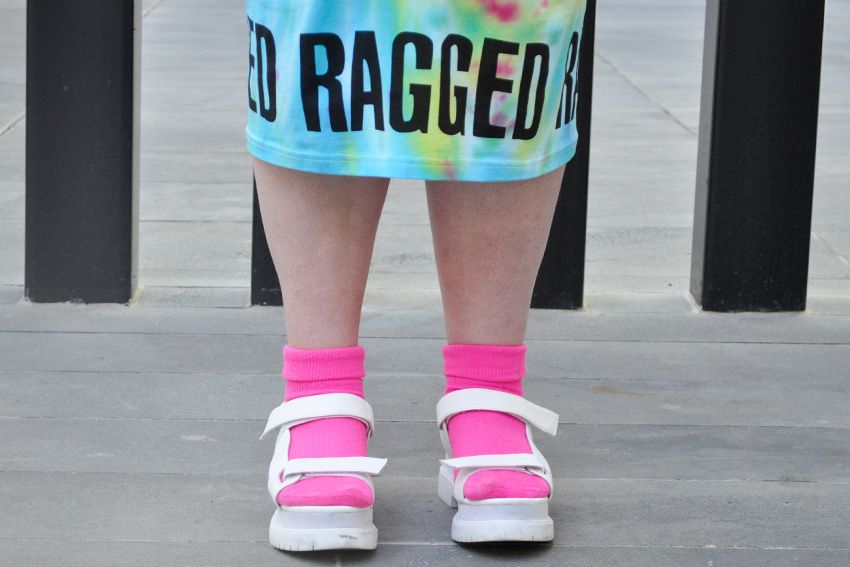 Love the logo on the skirt, so 90s hip hop sportswear.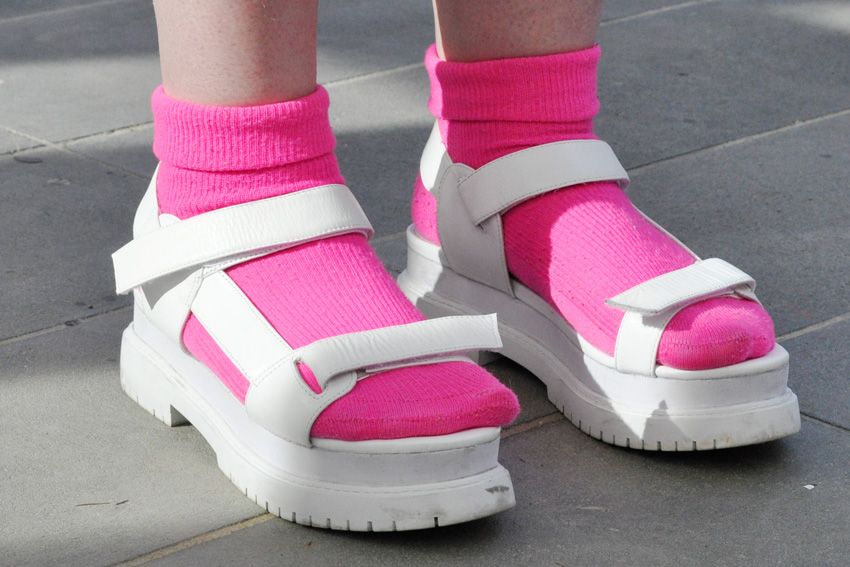 These shoes are so comfortable I've been wearing them nearly every day. I'm gonna try and get a few more flatforms at this height because I can actually walk in these no problems. So happy with them.
White flatforms
Jeffrey Campbell Mayview from
Zomp
Shop the look!!!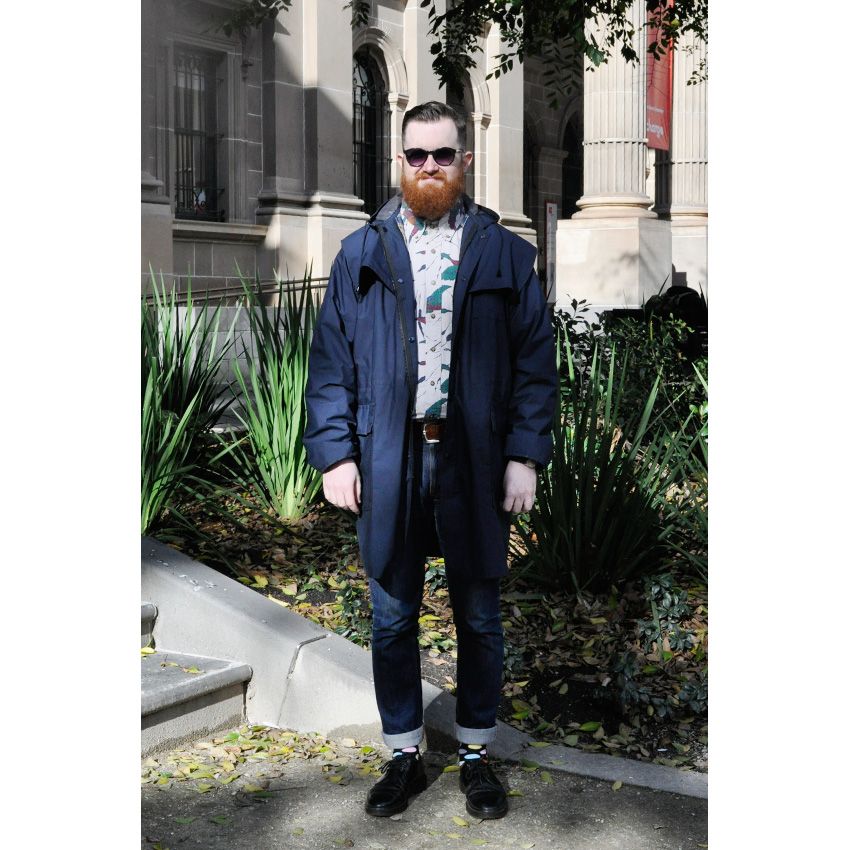 Bonus menswear!!! I thought Henry looked pretty spesh today in his new parka we found at Savers yesterday for $15 so I convinced him to let me photograph him for my blog - which is always a little difficult to do. His vintage almost Ivy League style (the book) was more suited to the National Gallery background than the contemporary architecture of RMIT's Design Hub even though contemporary architecture is Henry's passion (also his job). I think Henry could be popular on Tumblr if he just got some tattoo's, his style is very much the hot Tumblr boy look of vintage threads + 50s hair cut + beard. Throw in the fact that his beard is ginger and you've got all the qualities of a Tumblr hotty right here.
Outfit details
Parka
Savers
$15 (similar
here
)
Vintage duck print shirt
Cream
in Newtown$35 (similar
here
)
Jeans
Nudie Jeans
Polka dot socks
Happy Socks
Dr Martens
Savers
$50 (similar
here
)
Sunglasses
ASOS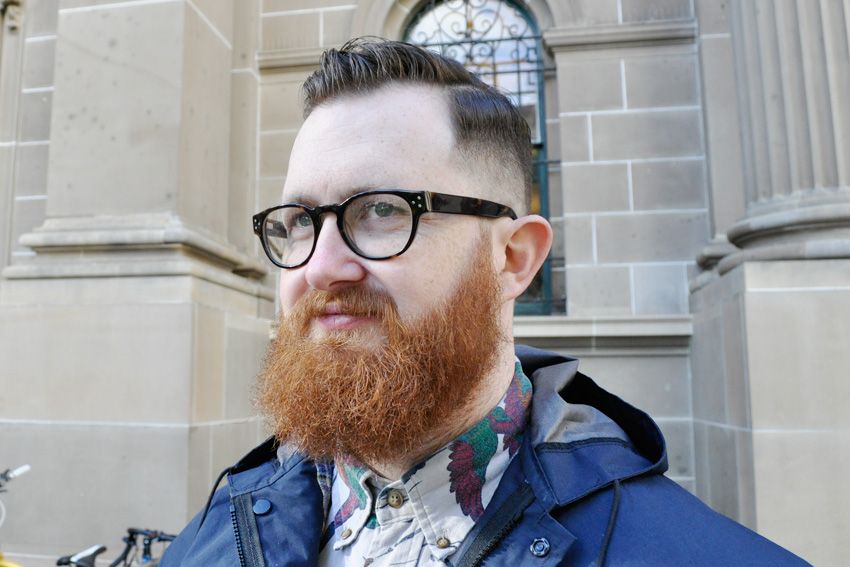 Being married to a blogger has its perks, Henry got these glasses for free thanks to a voucher I received in the mail unexpectedly from Specsavers early last year. It came just after I had already bought new glasses at Specsavers so I didn't need new frames but Henry was due for a pair. So yay for being able to share the blogger freebies (I checked with the PR to see if it was ok first).
Specs
Specsavers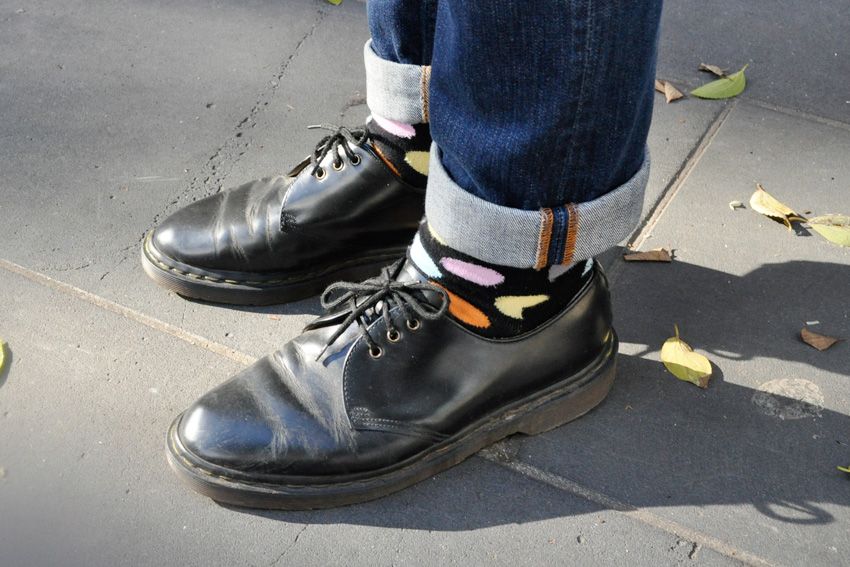 These Happy Socks were also free, I got them in a fashion week gift bag one year. Gotta love that kind of gift bag. Henry was super excited to find these Dr Martens at Savers on the weekend as they were exactly what he had been looking for and in his size no less. We missed Savers so much living in Sydney, even if it's more expensive than it used to be it still is as fun as ever to hunt through the massive stores for that perfect piece.
Polka dot socks
Happy Socks
Dr Martens
Savers
$50 (similar
here
)
Shop Henry's Look!!!