I never had a school uniform growing up, my primary school and both my high schools were inner city public schools without uniforms for whatever reason. I remember the only rule at my high school was you had to wear shoes and one day I somehow forgot mine. You see in the early morning rush I would put my shoes on in the car to save time, but on this particular morning I got out of the car at the school gate sans shoes and only realised my mistake as my mum's car was driving round the corner. This was in the time before mobile phones so there was no way to get in touch with my mum so I just had to get on with my day as best I could and hope no one noticed. Of course that didn't work, everyone noticed and pointed until a teacher made me go through the filthy lost property box to find a pair of shoes that could work for the day. Luckily I found some unworn thongs (flip flops) that were a few sizes too small but could do for a day. You can guess I never forgot my shoes after that! Not having a uniform I used to look at the other kids on the tram in their matching school uniforms and feel sorry for them. There I was in my 90s 'grunger' outfit consisting of red flared pants with faux fur triangles, a tie-dye purple slip skirt over the top of the pants and a vintage diy cropped band t-shirt with my midriff exposed. Converse all stars were my sneakers of choice (I had metallic pink ones) and my hair would be full of an assortment of rainbow butterfly clips and hair mascara. A tattoo chocker and an armful of glitter bangles would complete my look. Essentially my outfit was the exact opposite of a boring ol' uniform but part of me thought the uniforms were rather cute, especially the pinafore dresses of a local private school. So when I saw this cute pink love heart print pinafore dress on ASOS I immediately bought it and put together a look which is in part school uniform inspired - a kawaii school uniform if you will.
Outfit details
Pinafore dress
River Island from ASOS
T-shirt
ASOS (now sold out but
similar here
)
Killer Pyphon bangle
Eat Me Do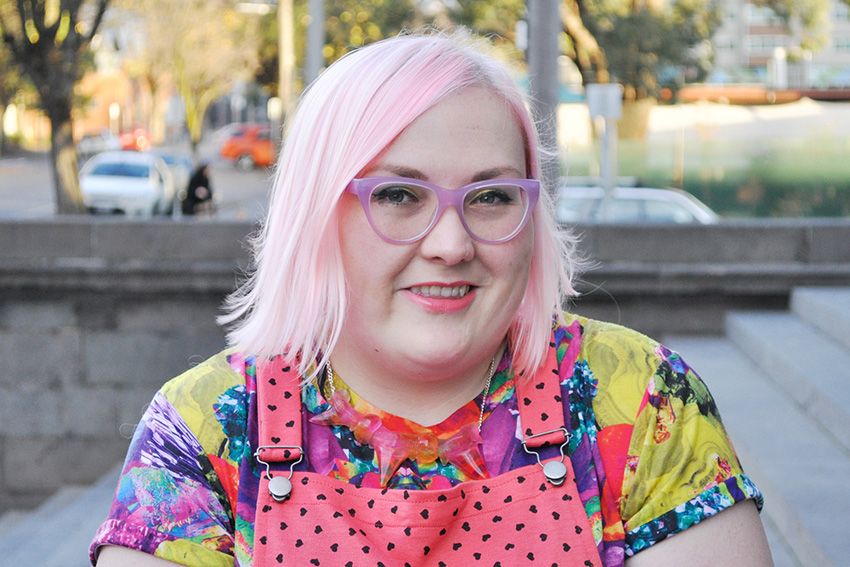 Specs
Bespecd Minsk in Lilac
PROMO CODE: FRIENDS25 to get 25% OFF at the checkout on any
Bespecd
frames. Offer expires the July 1 2013.
Necklace
Symantha Rose
(available at
Lenko
)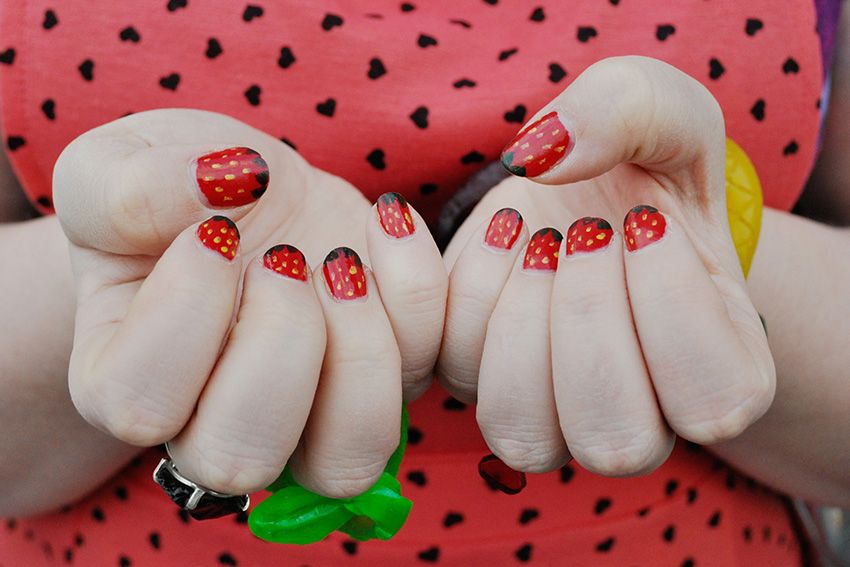 Nail art
Strawberry nails by
Critter Claws
(who are doing a pop-up shop at the
Rose Street Artist market
in Fitzroy next weekend)
Snake ring
Eat Me Do
(I bought it at their recent launch at
Lenko
)
This iridescent paper bag clutch was sent to me from Fashiondacci for my birthday and I love it! I wore this bag with my kawaii school uniform look as I love how it reminds my of a paper lunch bag, I thought it was very fitting.
Iridescent paper bag clutch
Fashiondacci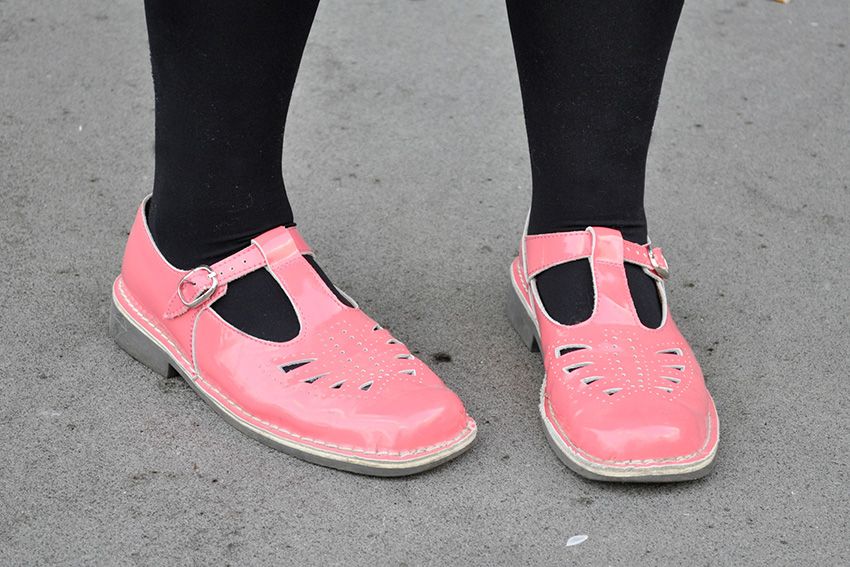 On the weekend I bought my second pair of these colourful school uniform shoes (in purple and for 50% off), this pink pair was my first and I realised I've never blogged them before. In Australia these t-bar style shoes are the shoe of choice for most school uniforms in both primary and secondary school, of course only in brown, black or navy not pink or purple. I fell in love with these colourful ones as soon as I saw them at iShoes on Brunswick Street in Fitzroy over a year ago, I have no idea why it's taken me so long to blog them. I love reworking traditional styles of clothing in unexpected ways.
Pink school shoes
iShoes
Shop the look!!!