Tonight I was lucky enough to be invited to the opening of the new
Melissa
flagship store in Sydney Central Mall in Pitt Street. I've been a fan of Melissa shoes for a long, long time, buying my first pair in Tokyo many years ago. My love of all things jelly on my feet has been well documented on this here blog so I was excited to see the new store and the new collection in person. Can't say that I was disappointed I walked away with an awesome pair of red flatforms which will be blogged soon enough. As it was the opening of a Melissa store I of course wore my fave pair of pink Melissa jelly flats which conveniently matched my new H&M x Martin Maison Margiela pink foil candy clutch that I was lucky to find on ebay for only double the retail price. I had friends stationed around the world in H&M cities trying to locate one for me when the collection dropped but it sold out so fast it looked like I was going to miss out. Of course ebay was full of them, which was disappointing as the sellers were obviously trying to cash in but then it worked out great for those of us living in countries that don't have H&M stores (yet). I love it so much!
Outfit details
Biker jacket
Vintage
Pop art tee
CO. by Cotton On
Purple foil pleat skir
t River Island from
ASOS
Flower headband
DIY
tutorial here
Neon pink necklace
Gift from Kurt of Melbourne boutique
Fashiondacci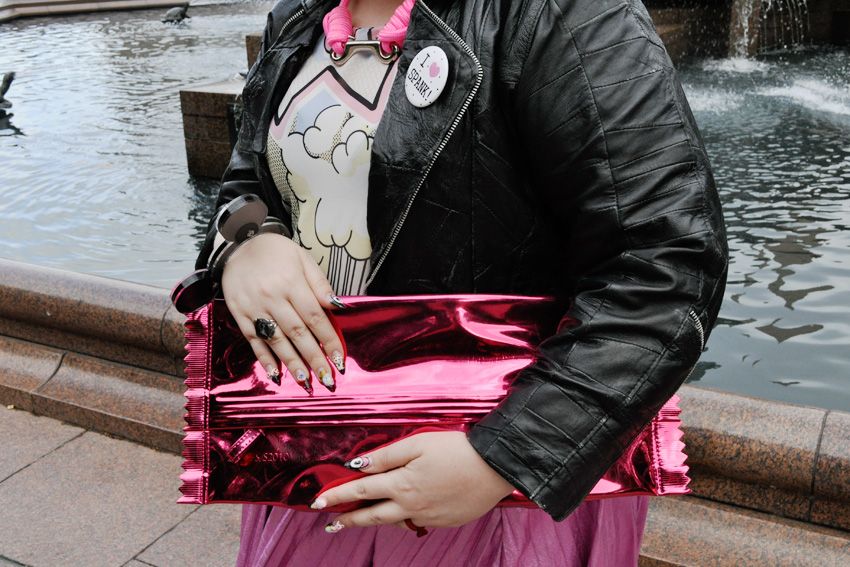 Foil candy clutch
H&M x Martin Maison Margiela via ebay
I heart Spank badge
Gift from
Spank!
in Tokyo
Mickey Mouse bangle
by +ADEEN NYC from
ESTATEofMIND
in Surry Hills
Harajuku nail art
Clara H Nails
in Melbourne
What is it with tights and collecting dog hair?
Pink jelly flats
Melissa Aranha's
Get the look!!!