Penthouse Mouse
is by far my favourite event on the
LMFF
calendar. Taking place in abandoned warehouse spaces each year that the team at
Moth Design
work their magic on to create an event that is a mix of installation art and fashion. This year PHM went back to its roots in Fitzroy, in a huge old warehouse that was perfect for the event. It always amazes me how they find the spaces each year, really how do they do it? The space is also open from now until Thursday 8th March as a retail space with designers selling their AW collections in the
False Economy Store
.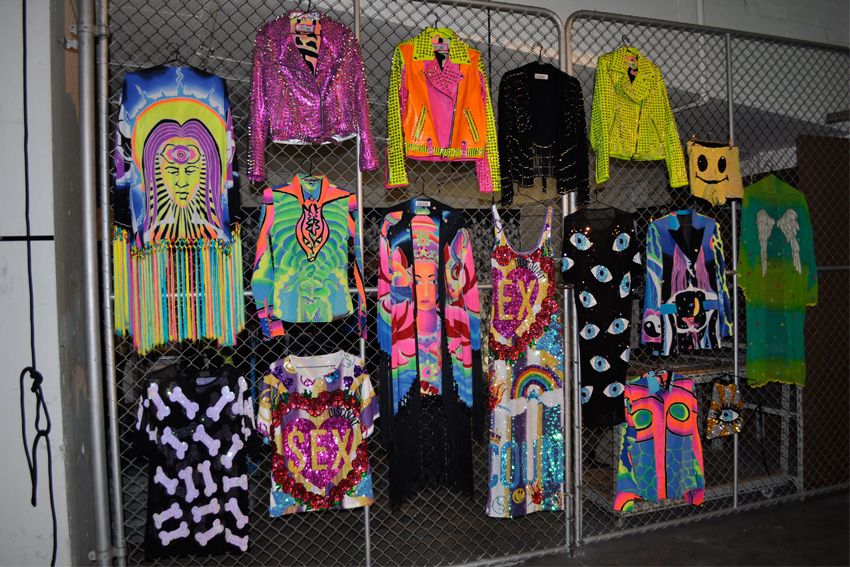 New pieces by
DI$COUNT
who are keeping their new ARTI$ANAL collection under wraps till their
Midmouse Runway
show at PHM on Friday. It is going to be amazing from the snippets they have told me.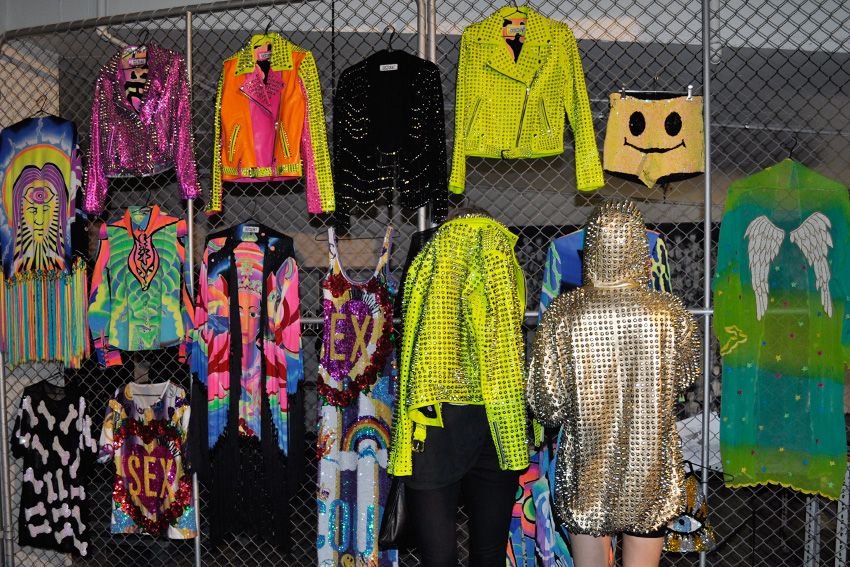 Cami and Nadia from DI$COUNT.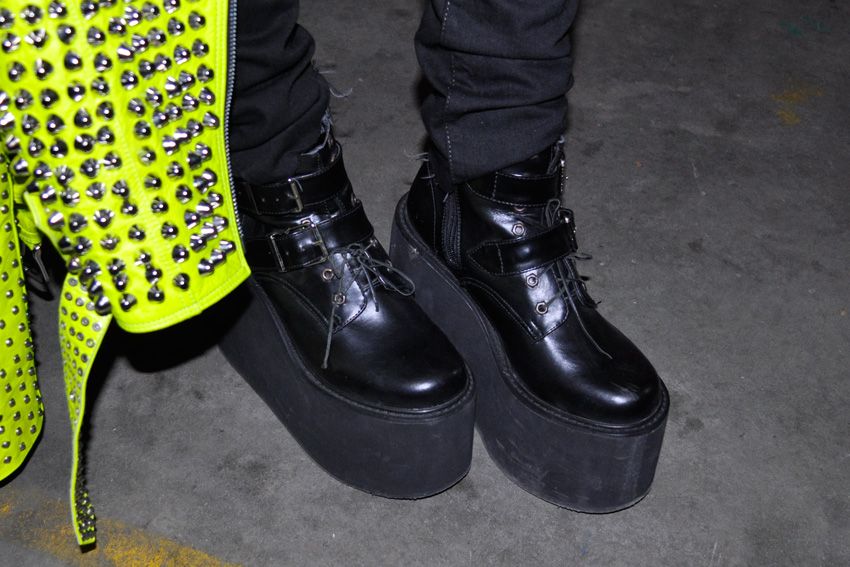 Nadia's hot shoes and studded DI$COUNT jacket.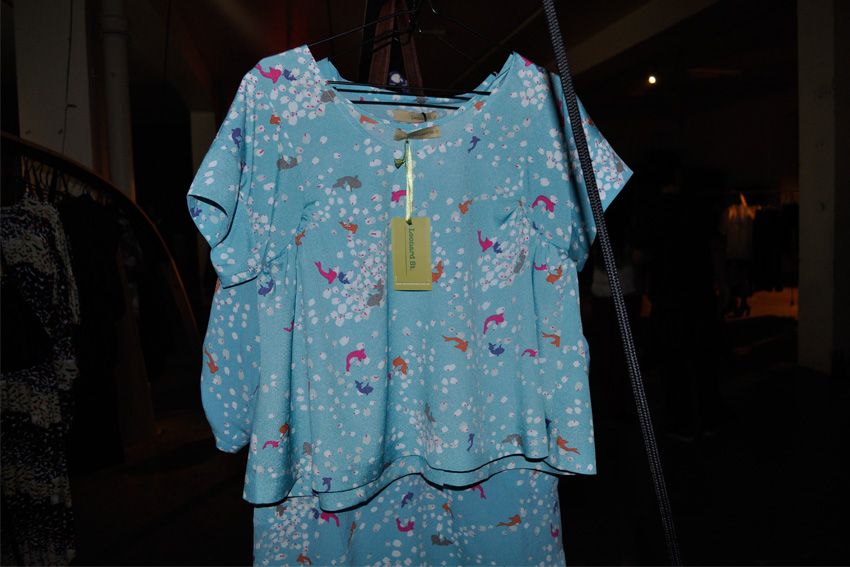 Leonard St's
pretty prints.
Above
always have the best installations at PHM and this year was no exception with this sheer cubby house.
Inside was their AW collection which features a lot of sheer pieces.
Pat and Greta from
Comeback Kid
dj'ing.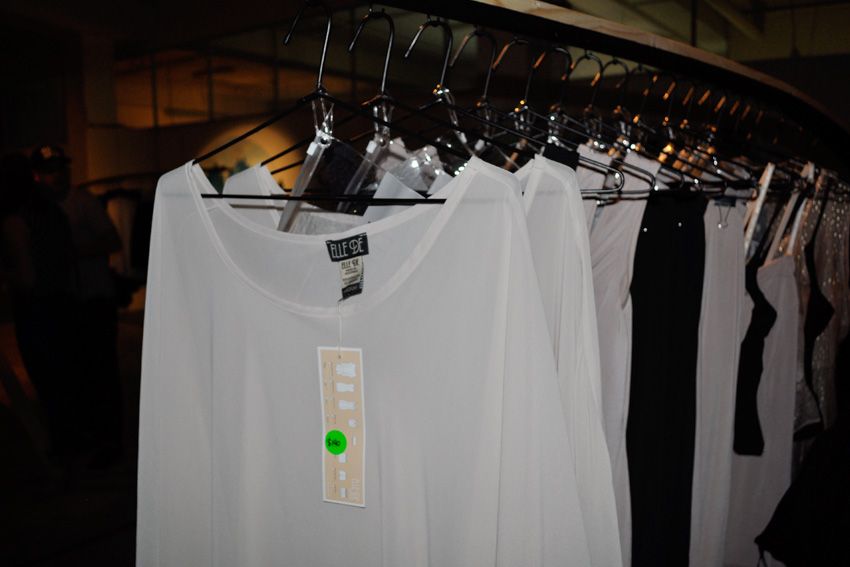 Elle De by Limedrop
, Limedrop's new intimates collection. Clea, the designer behind the label, told me that the collection which features mini bike shorts, cami's and bandeau tops, came about after their pop up store in Melbourne Central. Customers wanted to know how to wear the sheer pieces in their main collection so Elle De was born to fill that gap.
My talented friend Heather from
H by Heahter
and her bf Dan who was on masterchef!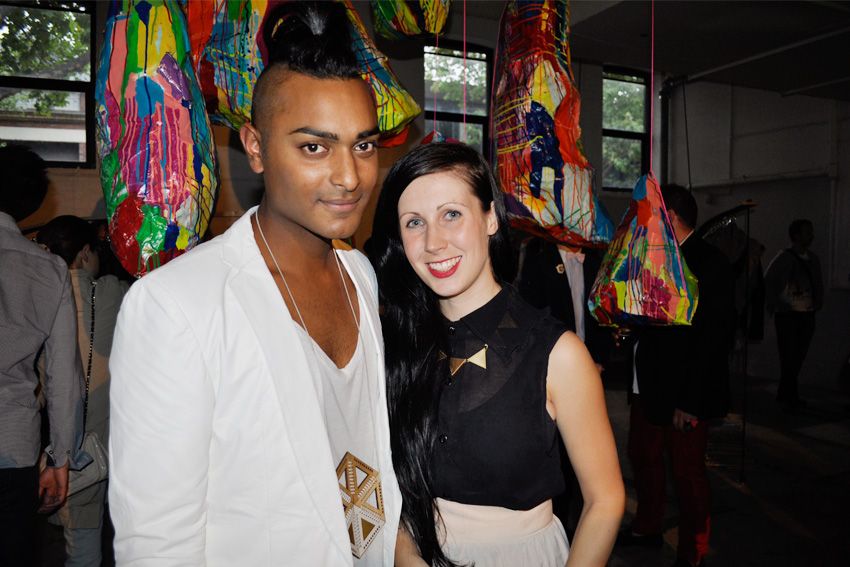 Brahman from jewellery label
Elgar & Lyle
and his business partner Keegan from fashion label
Margery Daw
.
Cami from DI$COUNT's jacket is just so awesome.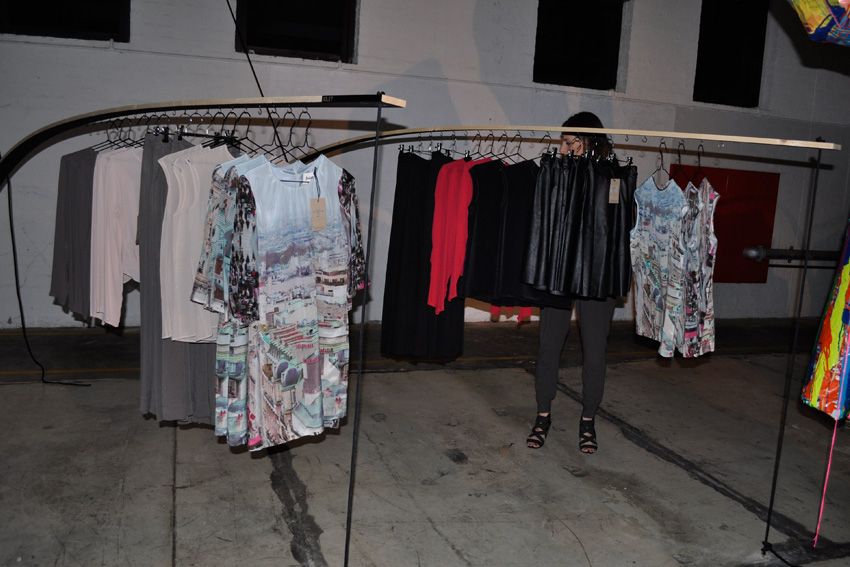 Jolet's
city print pieces.
Fashion Journal
editor Leah and my sister Ebony.
Jac and Kasia from
Upper Left Arm
in their garden installation.
ULA make the best jumpers.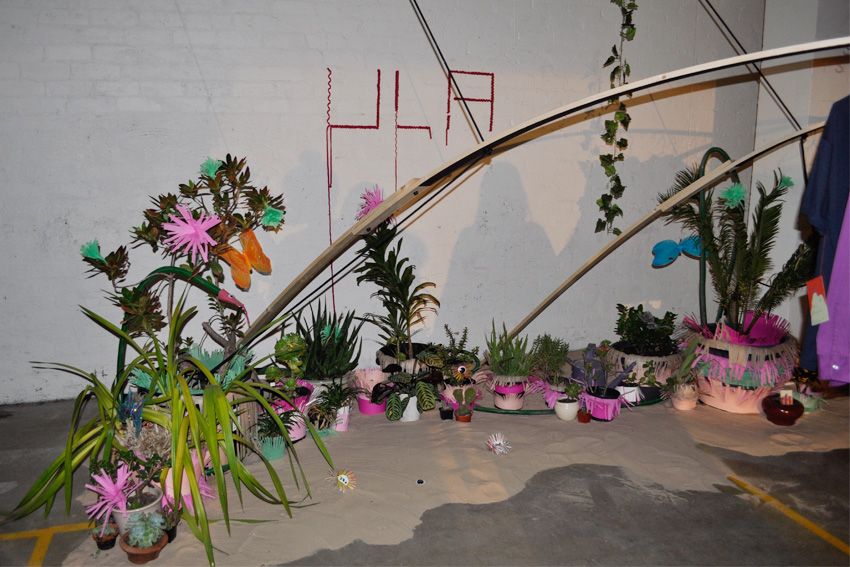 Kasia's cool platform kicks.
Estelle from
Estelle Dévé
jewellery and my old friend Tony who is bringing back the tracksuit.
Estelle Dévé
's new jewellery collection. I love the necklace hanging in the middle.
Hamish Munro's
new neon jewellery
The amazing Margaret from Sex And The City corporate rave room art piece.
The room was fitted out like an office with pictures of Miranda up and loud rave music playing while performers dressed in suits rave danced. It was one of the most popular things on the night with a huge crowd watching on.
My friend Aden in his amazing neon pocket shirt. We decided to break through the crowd and dance with the suits in the rave room.
So much sweaty fun!
A-freaking-mazing!!!
James from
Swallow Glitter
wearing a DI$COUNT jacket. I love how in Sydney what I wear is considered out there but back home in Melbourne my clothes are just so ordinary when compared to these two. Feeling so inspired right now, want to bring more crazy back to Sydney with me.
Gavin and Becky from up and coming Melbourne label
Neo Dia
whose collections just keep getting better and better.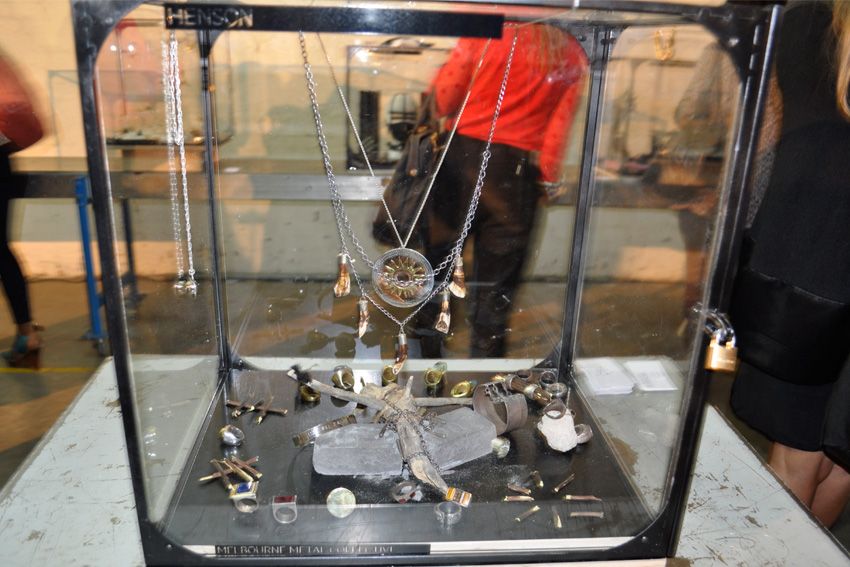 Ever popular Melbourne label
Henson
's proved why his pieces are so popular with this jewellery display.
J.K Kirk
leather and hair pieces.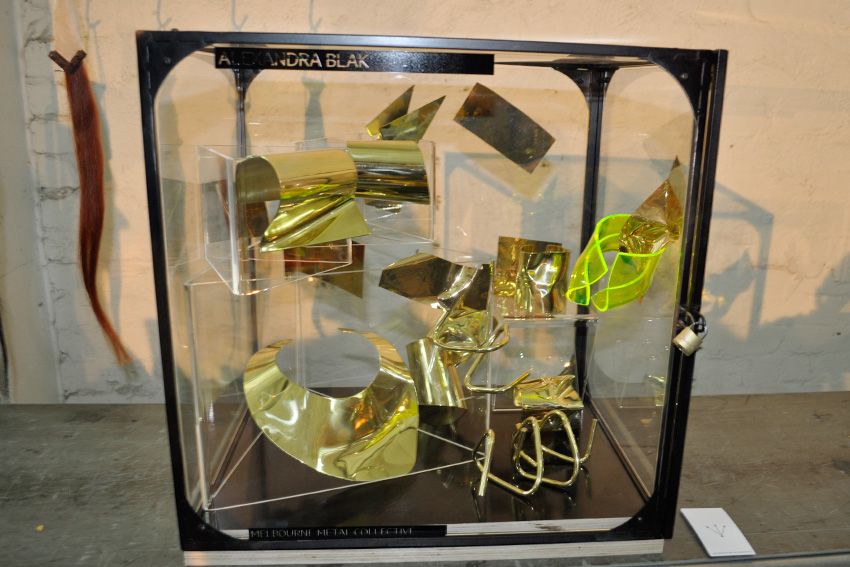 Alexandra Blak
's new collection is moving away from the neon she is known for and into gold cuffs and collars.
Drawn & Quartered
has really expanded upon his collection since I
visited his studio last September
. So many beautiful pieces, he needs to be stocked in Sydney ASAP.
Alicia from
Sea of Ghotsts
, Jake from
Drawn & Quartered
, Clea from
Limedrop
and Jamie from
Oh Jamie
.
Trimapee
do Melbourne black so well.
Michael Pham from
Tiny cafe
and Alex from
Alpha60
.
The ever fabulous Emman in a Mugler metal bra and belt and Vlad is finally home from his European fashion school exchange, with blue hair and a Versace for H&M shirt no less. Love these two boys so much.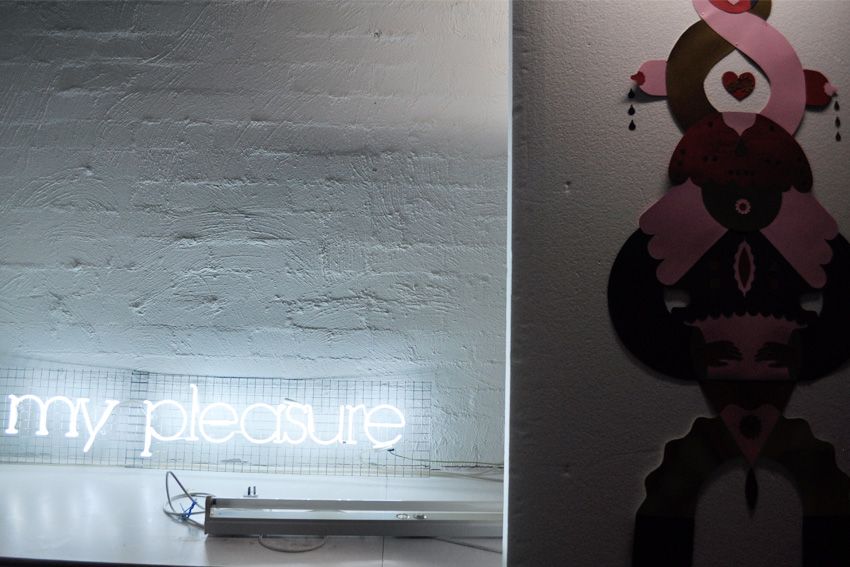 Style Zilla
Australian fashion icon Jenny Bannister.
Sexy legs, how could I not photograph you?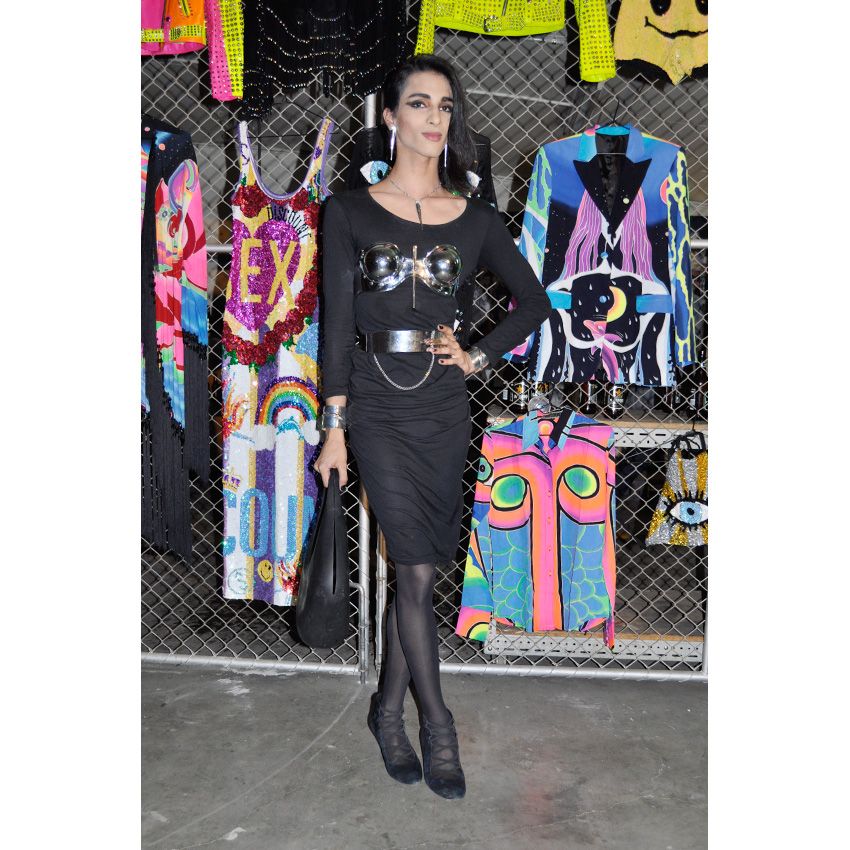 Emman's epic Mugler outfit.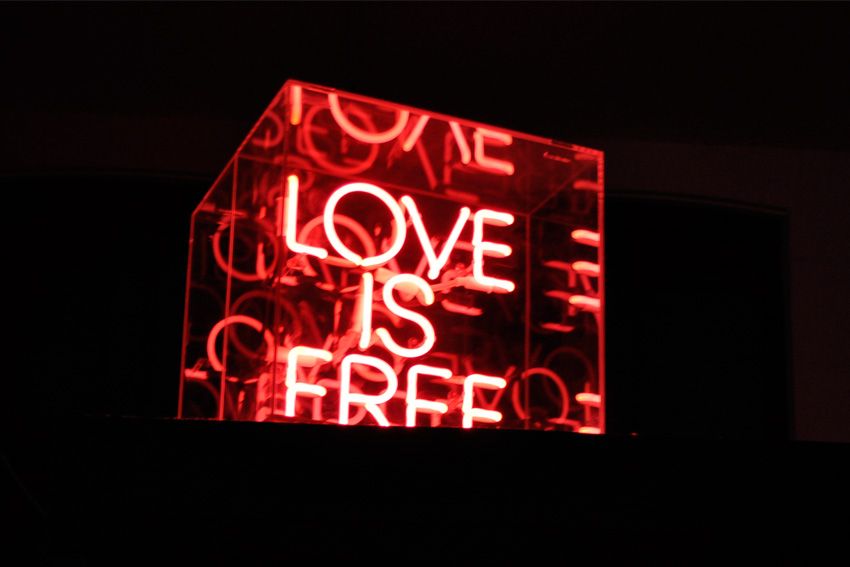 The Penthouse Mouse False Economy Store is open NOW till Thursday 8th March
221 Kerr Street, Fitzroy. Open 12-4pm daily.
Penthouse Mouse Midmouse Runway tickets are still available.
Friday 9th March. Tickets are $15 + bf.
Show 1
(7:30pm) Featuring:Leonard Street, Autonomy, The Social Studio, Kings of Carnaby, Bento, Upper Left Arm.
BUY SHOW 1 TICKETS HERE
Show 2
(9:30pm) Featuring:Alistair Trung, DI$COUNT, Trimapee, Where Lovers Lie, Raggatt, Neo Dia, above.
BUY SHOW 2 TICKETS HERE
Hopefully see you there, its going to be an amazing show xoxo