Due to my knee injury I'm not going to be able to wear heels for the foreseeable future, and maybe never again. My knee is at risk of dislocating again and again due to my ligaments being damaged on top of being hyper flexible, yes folks, my leg below the knee can move to the left and to the right as well as to the front and to the back. As I never ever want to go through the pain of dislocation again I'm doing everything I can to prevent it from happening, and this means putting a stop to wearing my favourite shoes. So now I'm searching for some interesting flats to make the transition to fashion purgatory that little bit less torturous.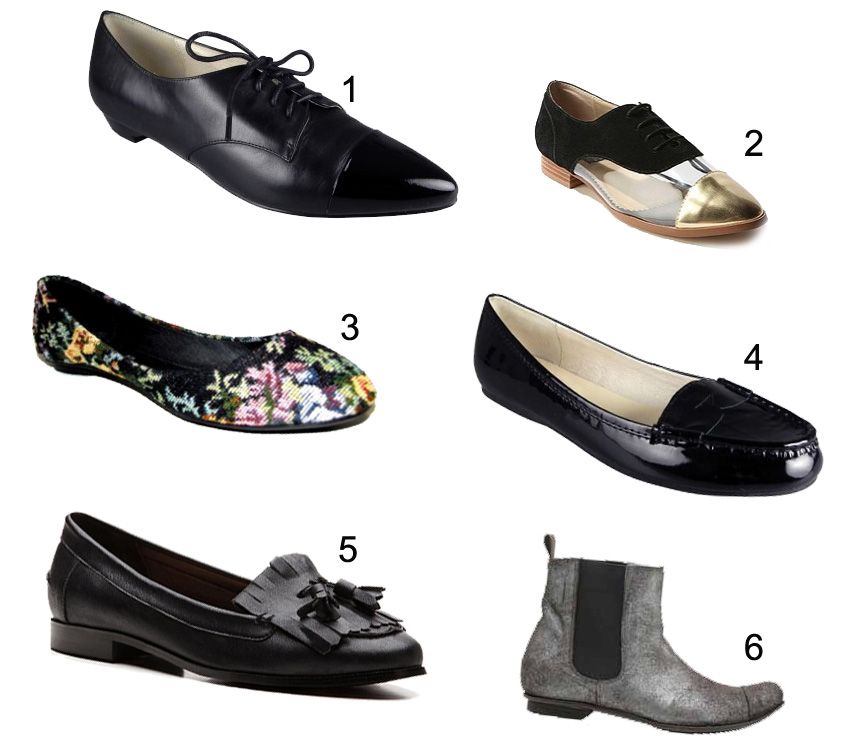 01:
Wittner Fabienne $139.95
A classic men's oxford style pointy flat, a style I turn to every winter. I like the twist with the patent toe, but I think I want a full patent pair which I am yet to find.
02:
Denna & Ozzy Lucite Oxford $49.00
I love the see through element, it gives the shoe a fun and unique edge which should make up for them not being heels at a fashion event. I'm just not sure how comfortable the plastic will be.
03:
Mollini Bolter $69.95
I planned on buying the wedge version of these shoes as I love the fabric, but seeing as I cant this flat pair could suffice. The embroided fabric reminds me of Christopher Kane's last collection, or Mary Katrantzou's recently shown AW 11-12 collection.
04:
Wittner Zane $129.95
Seemingly super comfortable loafers in my fave patent leather. I just don't know if I'm a loafer type of girl.
05:
Sportsgirl Audrey Loafer $69.95
Another pair of loafers, this time with the full grandma style fringing and toggles. Am I prepared to Nana up?
06:
Beau Coups Flicker Tmoro Shimmer
I love Beau Coups wedges, but alas can no longer walk in them if I were to buy a pair, so this is the next best thing. An awesome pair of silver shimmery boots which are sure to make a statement.
Do you know a good brand or designer for statement flats?