In all my years as a fashion blogger I don't think I have ever blogged back and side shots of my outfits. That has meant when there are awesome details on the back of my looks you haven't been able to see them. Well I finally decided to be "brave" and share my least favourite angles with you, all in the name of showcasing fashion!
Traditional front on shot of my fabulous new dress from
Gorman
. I am a big Gorman lover, maybe even the biggest! It's definitely my favourite label to shop and style from and I think Lisa Gorman is an absolute gem in the Australian fashion industry with her passion for environmental design without creating hemp sacks. Her whimsical collections and lookbooks are eagerly devoured by me every season, and I always look forward to her runway shows. As soon as I saw this dress in store (and sitting on the sale rack no less) I knew I had to have it. I think I bought it for $230 (ummm I told Henry it was $70 shhhh) which is such a bargain for such a classic piece with a twist. Today I'm wearing it with:
Black floppy hat: I finally found one on
ebay
$45
Chain Necklace:
Fun Accessories
$39.95 Love the changing colours on the chain.
Black backpack:
Fun Accessories
$29.95 from their one off collection, where you can find unique sample pieces for a bargain!
Leggings: Kinji Harajuku $9
Khaki Clogs:
Wittner
$149.95 I am still loving these babies to death!
Here is a side shot so you can see just how awesome my outfit is.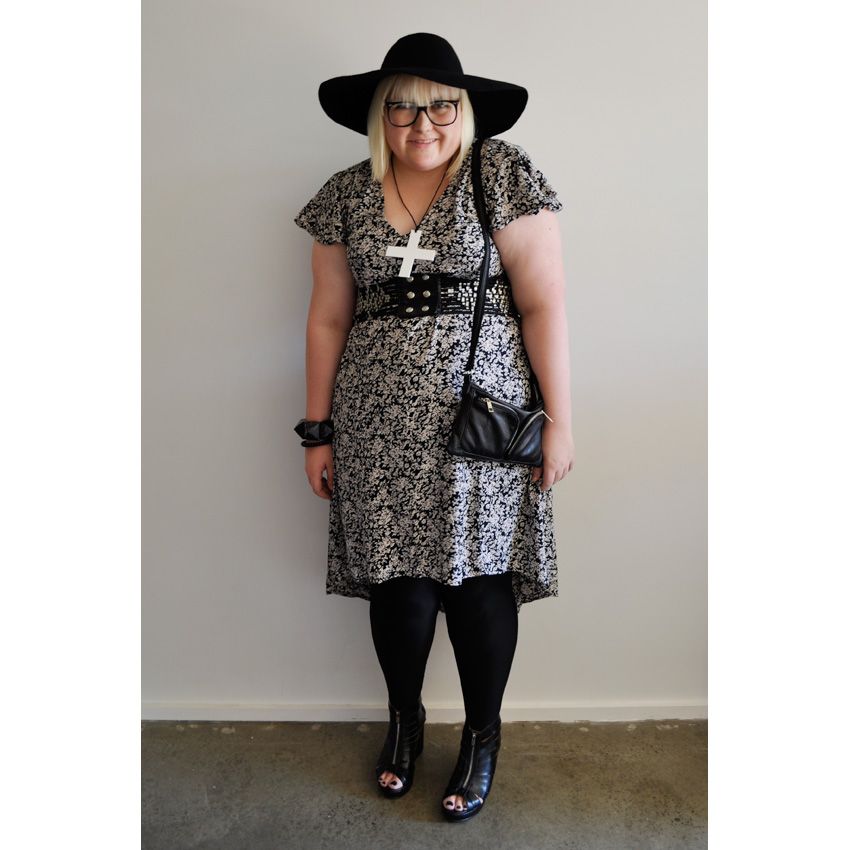 Another normal front on shot. This time my 1st buy from the
ASOS
Curve collection. I'm obsessed with "mullet" dresses at the moment (short at the front long at the back) and had been stalking this dress online for ages till it went on sale. Its a little too big in the bust (newsflash: not all curvy girls are busty !) its also baggy in the waist as well so I need to wear a belt with it no matter what, but for $25 on sale plus postage you can't complain. I'm wearing it with:
Black Floppy hat: as above
White cross necklace: A gift from the crazy Mimi and Peppi of
More to Love
from Finland who were at the YFF conference in NYC. Its by the winner of Finish Project Runway who is friends with the girls.
Belt: Tokyo $40
Bangle: Elke Kramer, gift.
Black bag with silver zips:
Fun Accessories
$29.95 The perfect sized bag, exactly what I've been looking for on my
twitter
for weeks!
Black Wedges:
Nu+Nan
$89.95 My best purchase ever, so mad about these booties.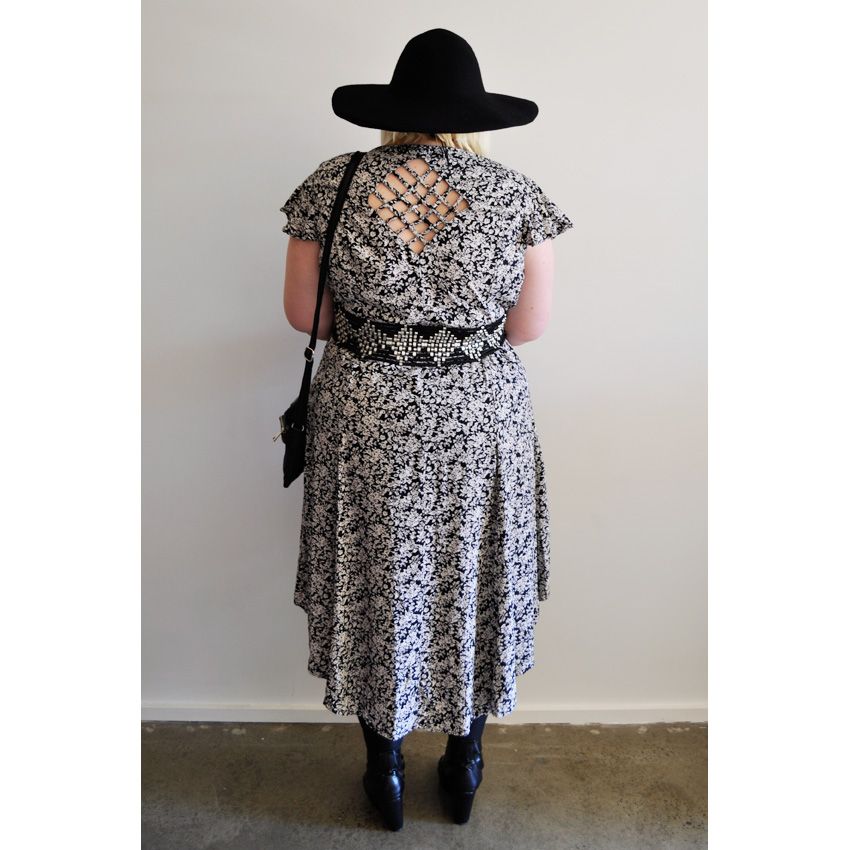 Back shot. I love the cut out detailing near the neckline and how the dress becomes a maxi from the back.
So there you go, I showed you my least favourite angles and it wasn't so bad. What do you think of my new looks? Love em or hate em let me know xoxo