Cathy Yuen
Using laser cut (new technology) to push the boundaries of clothing design.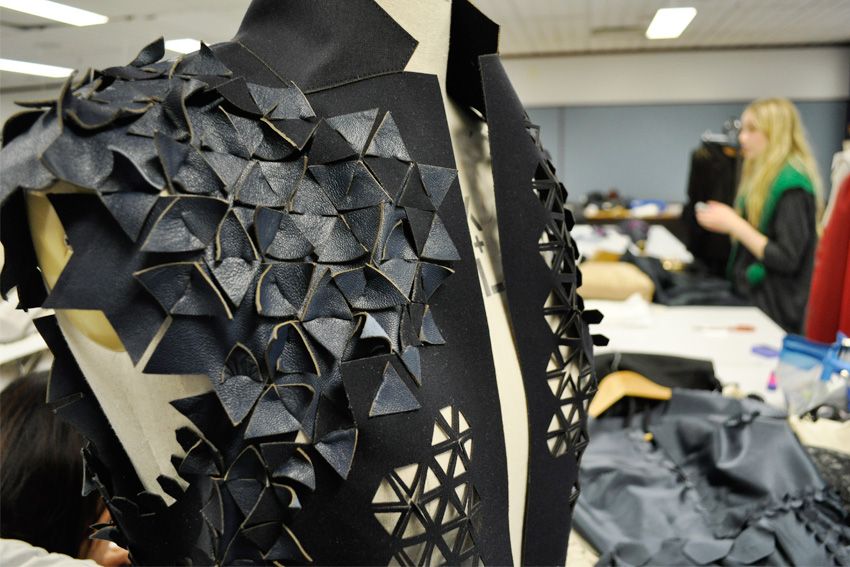 Cathy's work is inspired by Architecture. The 3D forms and cut outs remind me of Federation Square but also the cut outs remind me of stained glass windows in a church.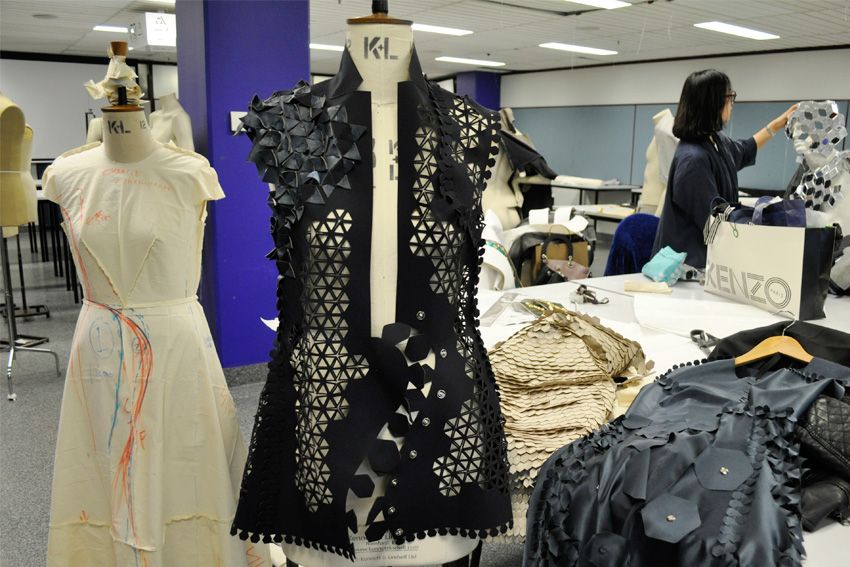 Cathy was working on a new toile when I visited which you can see has the same curved shape as the front piece.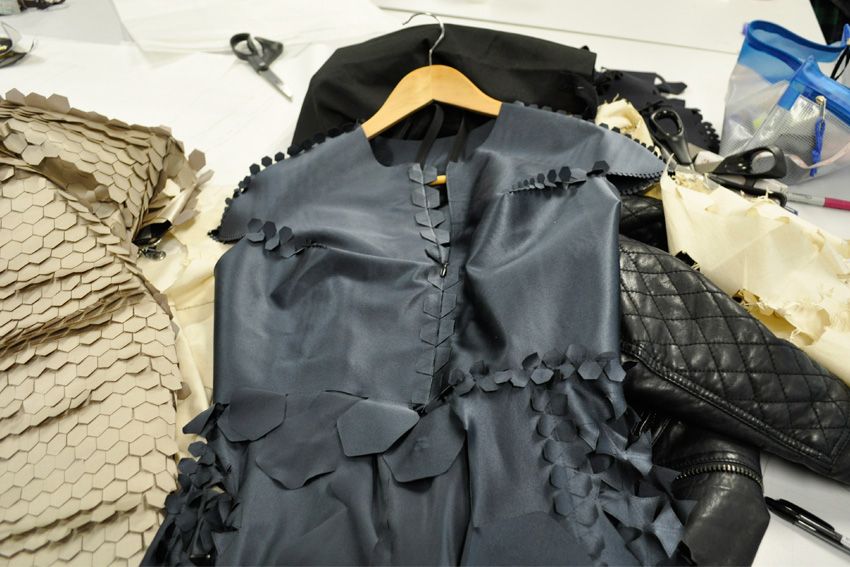 Finished pieces from Cathy's graduate collection - they quality of the finish of her work is amazing.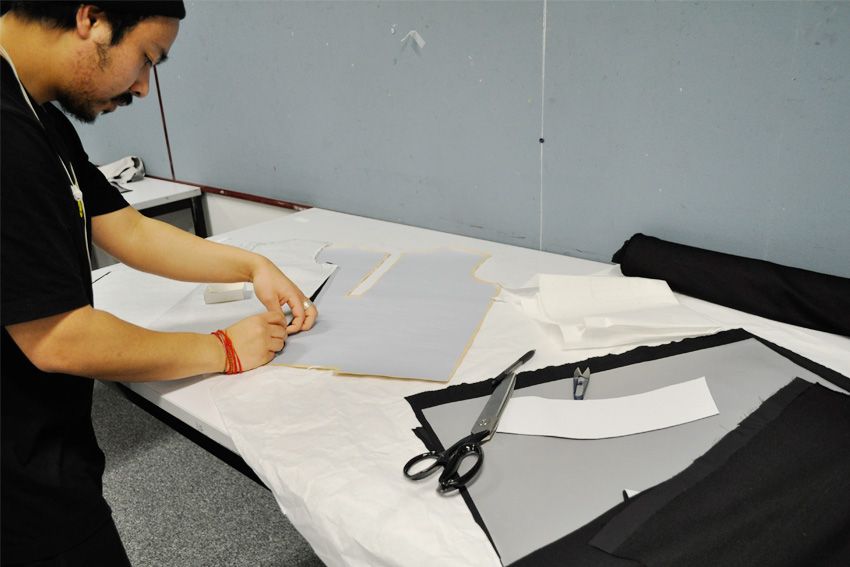 Dara Ing
Dara's graduate collection is LED powered menswear using reflective materials.
Dara collaborated with RMIT Industrial Design student Dan Vaugh to create his LED menswear skirt.
Jack Leeson
Jack's collection uses lustrous blues inspired by the ocean.
When I stopped by he was cutting out new pattern pieces. He said this was 'boring cutting' and apparently for fashion design students there is also interesting cutting - you learn something new every day.
Using felting, ironing on to seams to blend fabric together, Jack has been able to create this beautiful texture.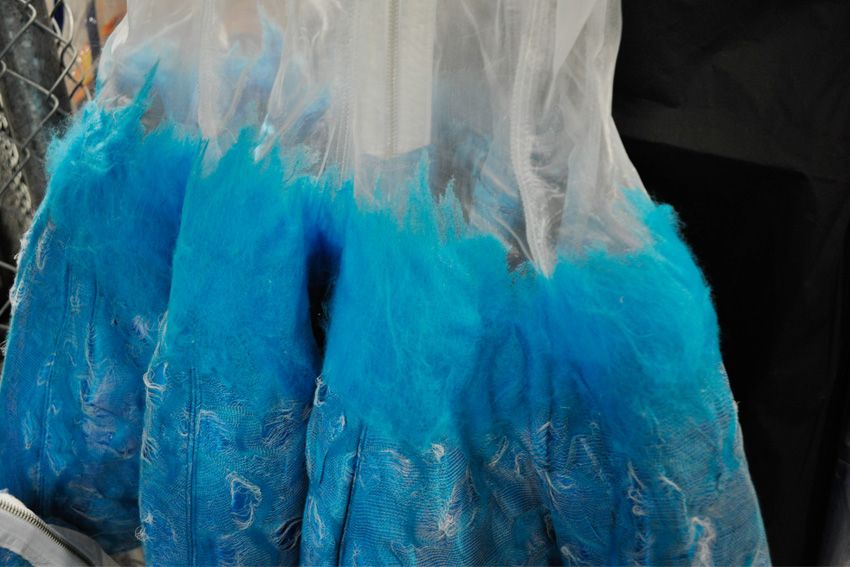 Molly Younger
This piece in Molly's graduate collection was made using a mould of a body and then latex and pain is applied to give it form and texture.
Other pieces in her collection are screen printed.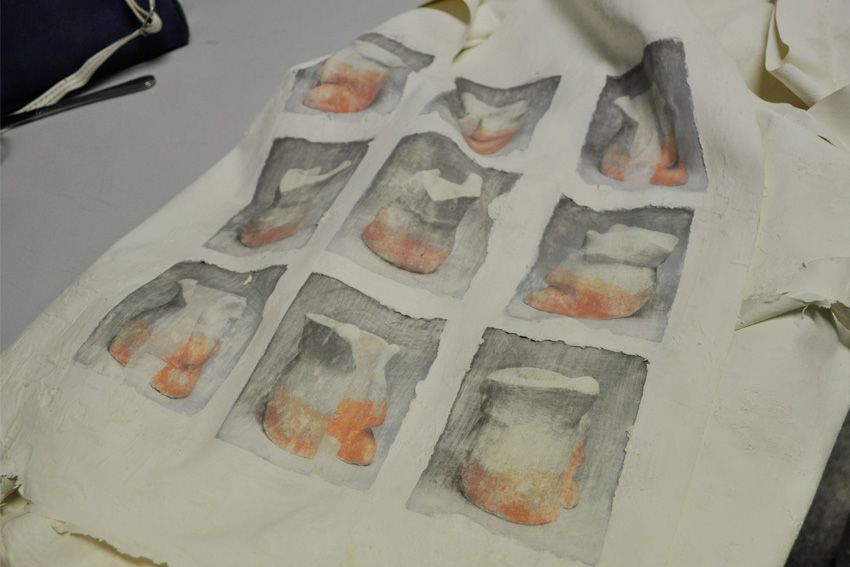 Screen print of the mould.
The latex and pain create interesting texture.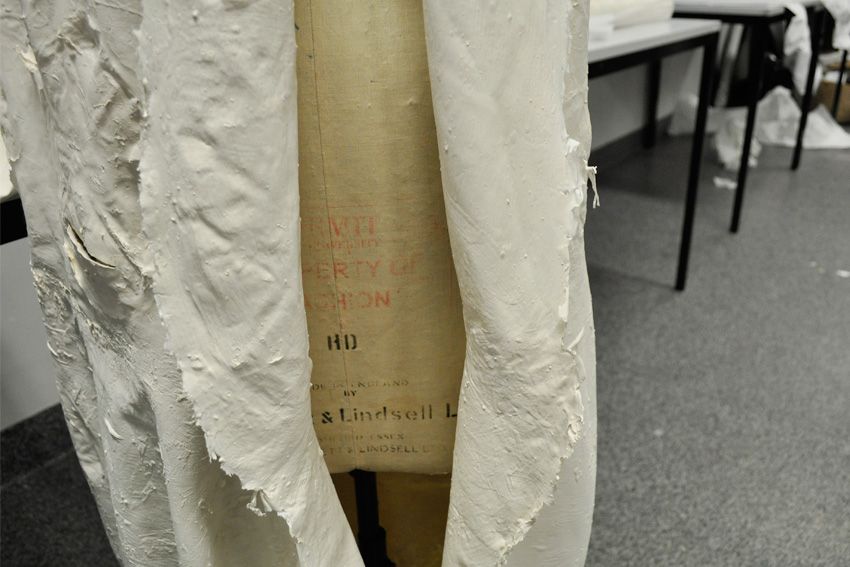 Raw unfinished edges add to the texture.
Hope you enjoyed part 2 of my exclusive look behind the scenes at the RMIT Fashion graduating class of 2013.
Have you got your MSFW tickets yet? Check out the full program here
MSFW 31 Aug - 8 Sept 2013 RMIT
Buy tickets for the student show to see these looks and more walk the runway
Student Runway 1 Sunday 1st Sept 6pm
I also have an exciting announcement to make, I'm a panellist on
Super Size Me? A forum on size and consumer demand
as part of MSFW. Along with
Mel Campbell
, author of 'Out of Shape: debunking myths on fashion and fit' and other esteemed guests we will be addressing sizing, fit and diversity. What's normal in sizing? Is this a problem, and if so how are your favourite labels addressing it? Are you a satisfied consumer? Ask questions, share your experiences, and discover what is 'the new normal' in sizing.
When
Tuesday 3rd September 6:30pm - 7:30pm
Where
Holmesglen Institute of TAFE 332 ST KILDA Road Melbourne 3004 Room 4.05
FREE!!! Hope to see you there xoxo