MSFW
is upon us and the first shows on my schedule were the emerging designer student shows. Always the highlight of my week for pure creativity and innovation, this year was no exception. Student Runway 1 showcased the graduating class of RMIT while Student Runway 2 presented students from other key Melbourne fashion schools showing at MSFW for the first time. Those schools were the Melbourne School of Fashion, Kangan Institute, Box Hill Institute and Whitehouse. Choosing just a few students to highlight in this blog post was hard, with so much talent on show I ended up taking over 1000 photos but have cut it back just to those who stood out to me on the night.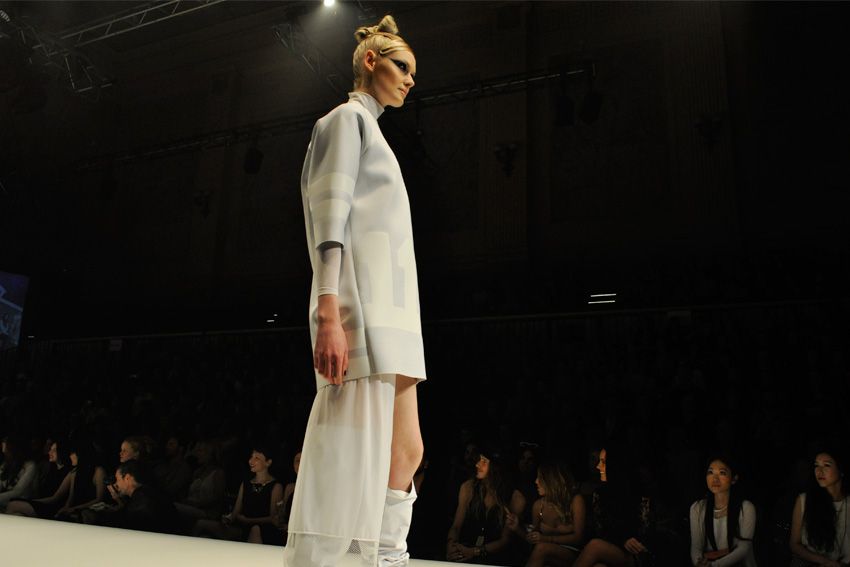 Ella Mcilvena - RMIT
I saw a few pieces of this collection being worn by students at the Walter Van Beirendonck exhibition opening a few weeks back. A friend from Tokyo actually bought a piece after seeing it on my blog - which is awesome for the student and I think says a lot about the appeal of this trend driven collection. Sporty neoprene in boxy shapes with numbering, layering and sheer pieces, I love and want it all.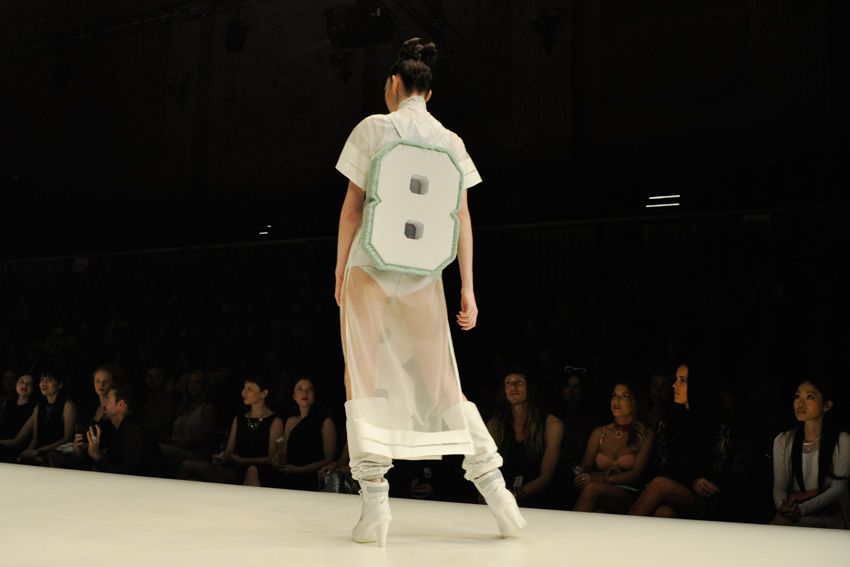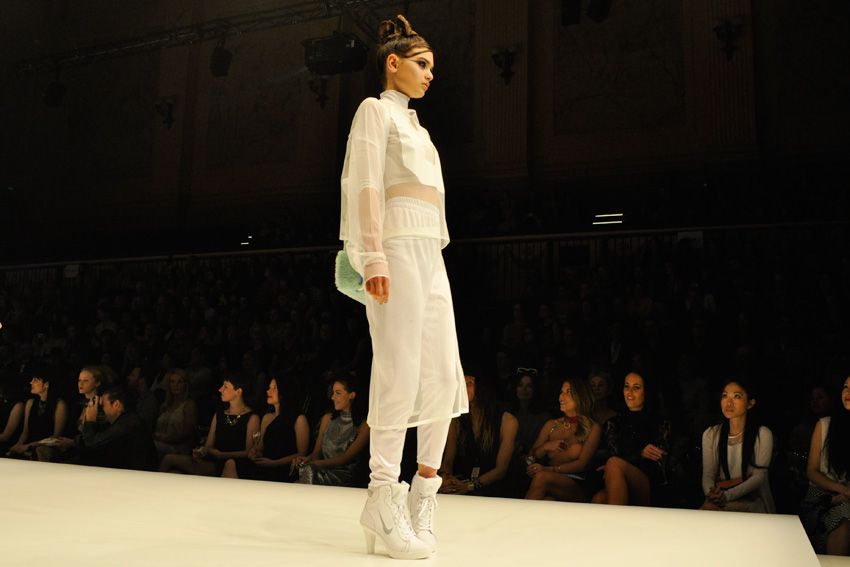 Lucy Rosenberg - RMIT
Lucy was one of the students I visited last week as she was finishing her collection. Her fetishization of food collection was just made for the runway with it's bright colours and the prints stand out.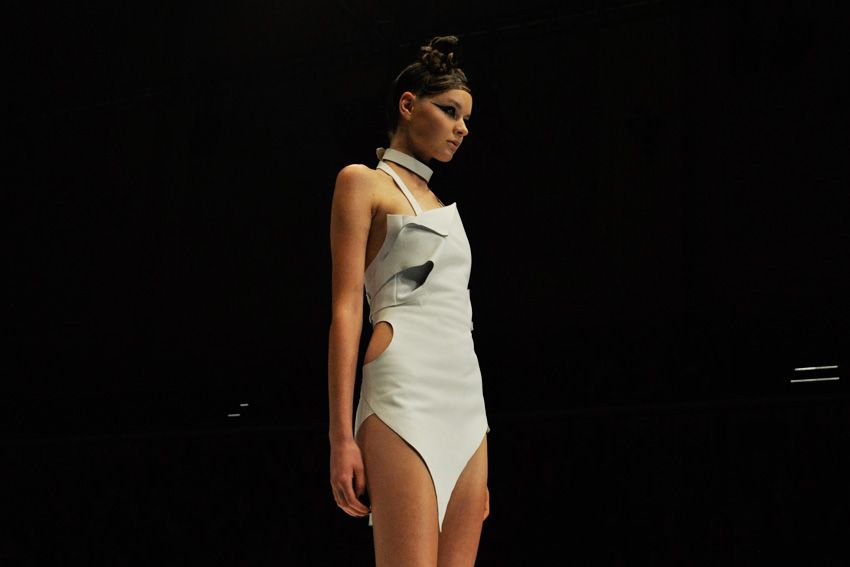 Johanna Howe - RMIT
Architectual lingerie.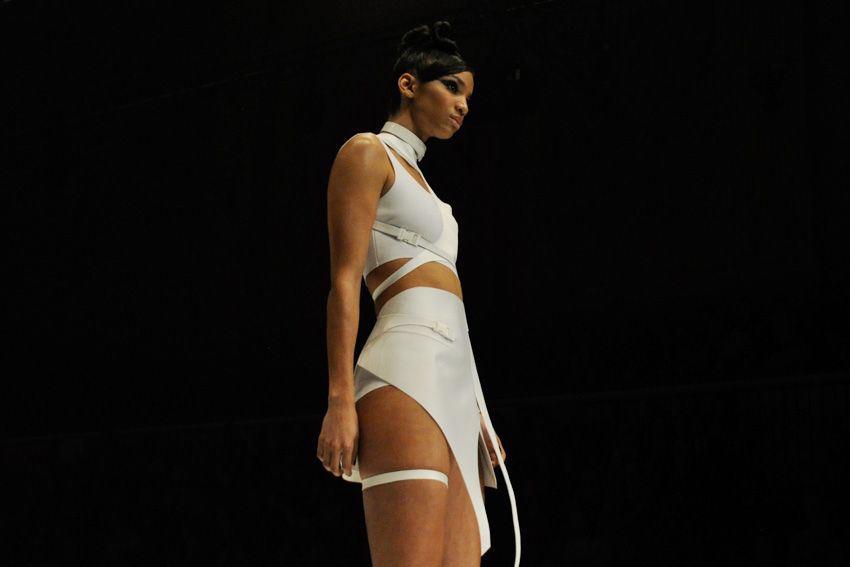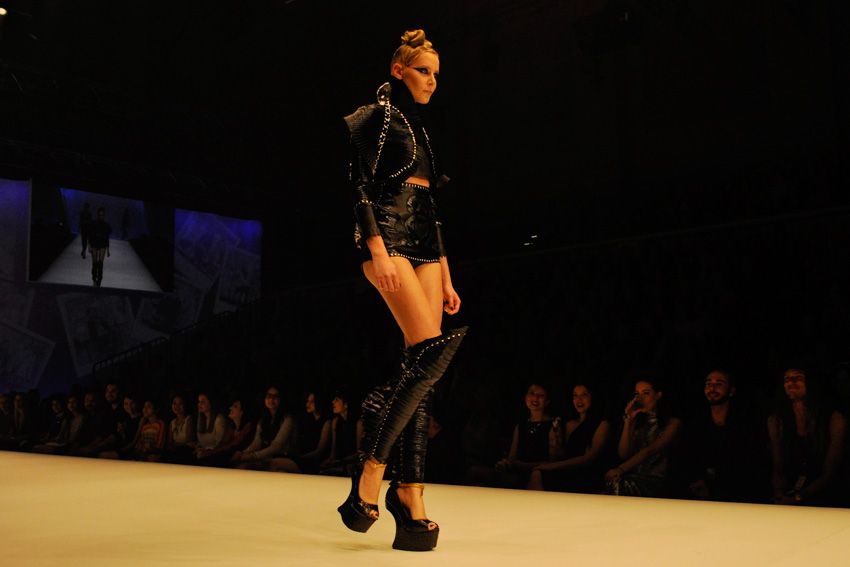 Tyrone Susman - RMIT
More fetish inspired pieces from RMIT - I wonder what's in the water over there? Lots of studs and leather.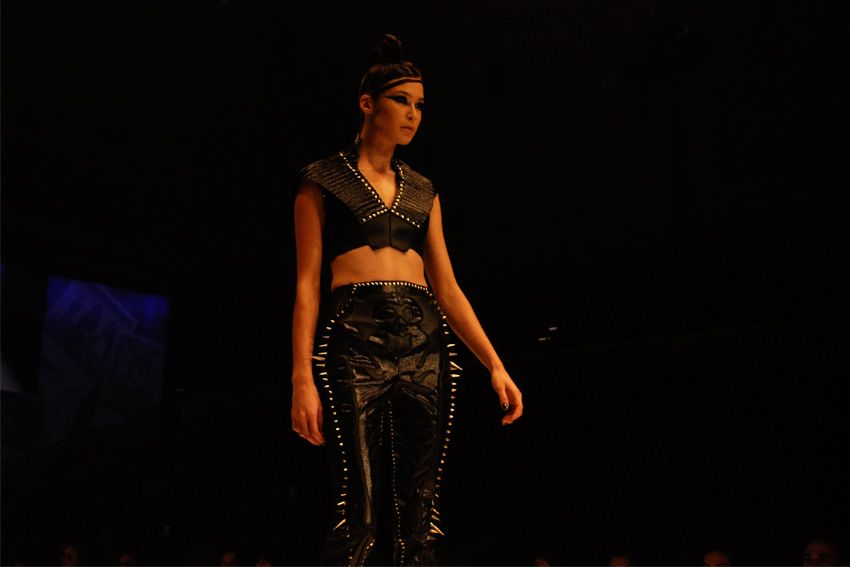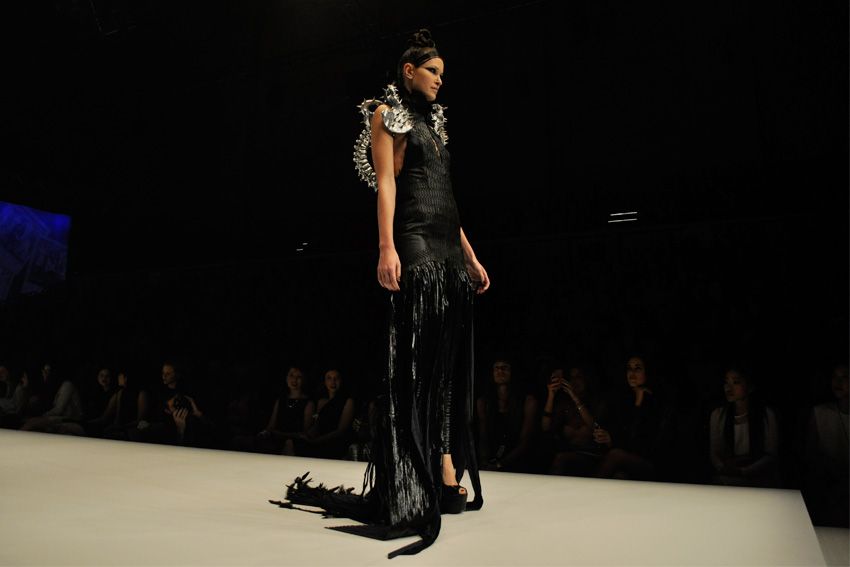 The skeleton formation on the back of this dress was amazing.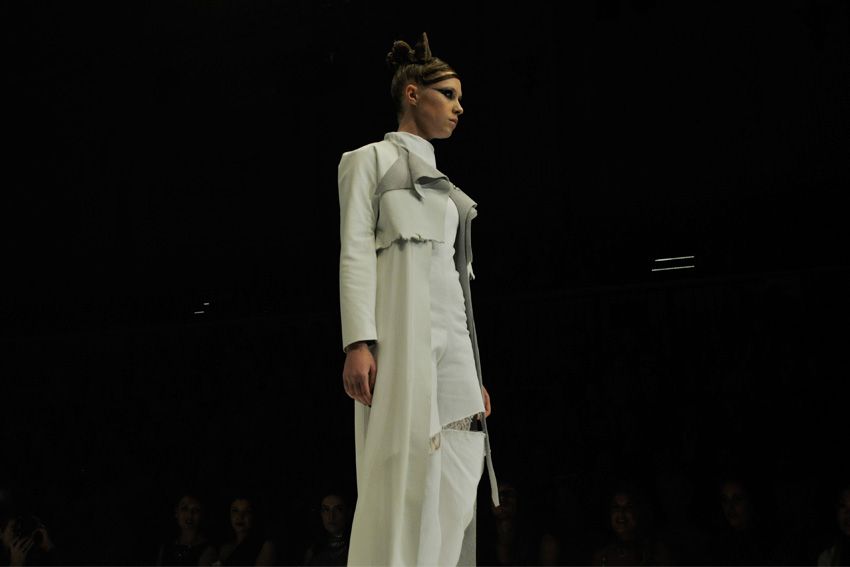 Lauren Cray - RMIT
Architectural deconstructed white.
Alexander Batsis - RMIT
Alexander's collection fused fabric together to create the shape and texture and to make the forms.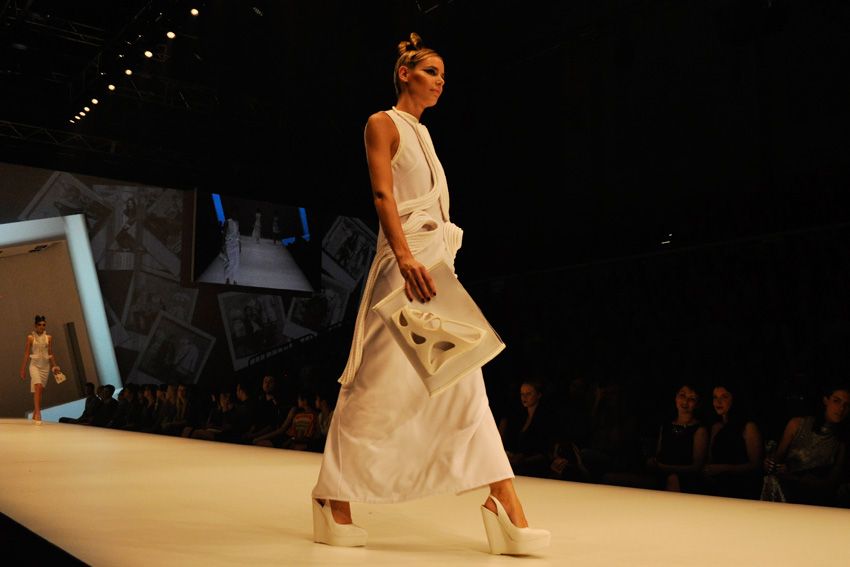 Gabrielle Brown - RMIT
Layered white with interesting rope detail and shoe bag accessories.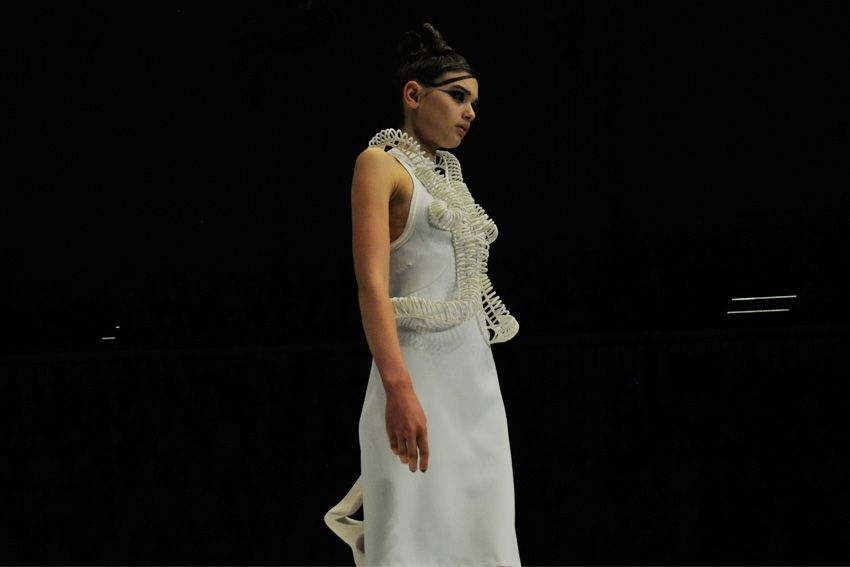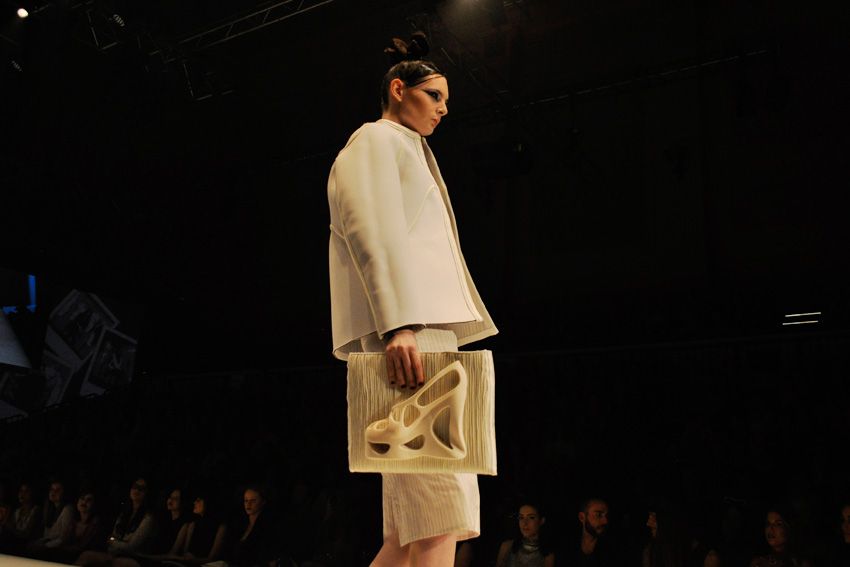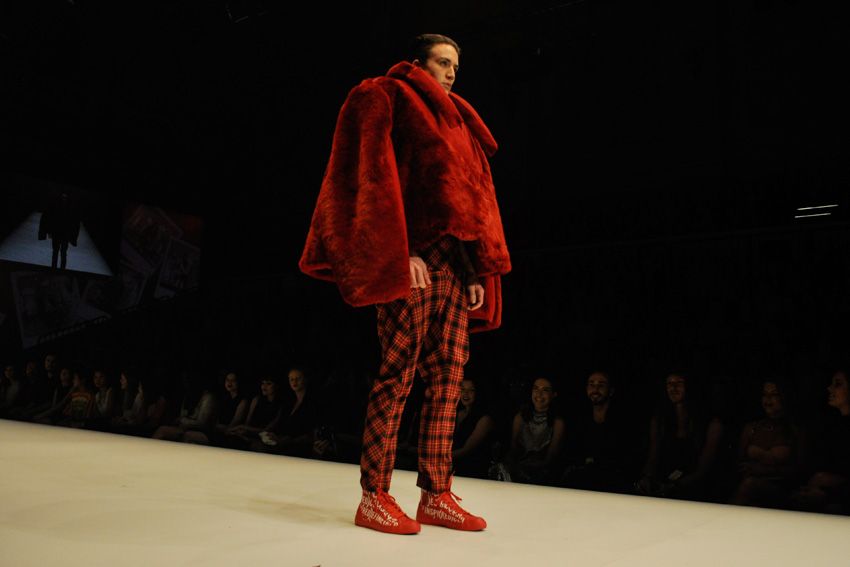 Chin Hau Tay - RMIT
Another student who I visited last week, Chin's teddy bear inspired menswear collection got the biggest cheer from the crowd on the night. Such a fun tongue in cheek runway ready collection.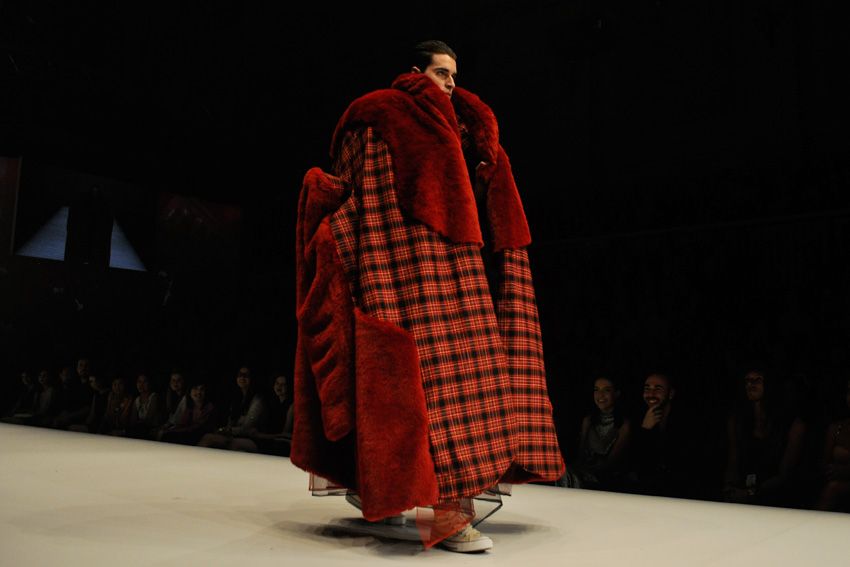 Esther Gauntlett - RMIT
Paint or latex splatters added texture and changed the way the dress moved when walking down the runway.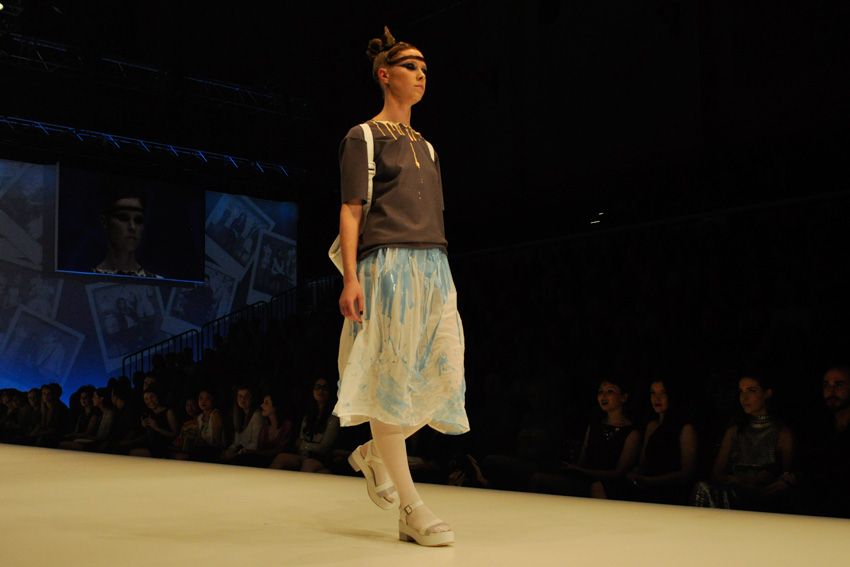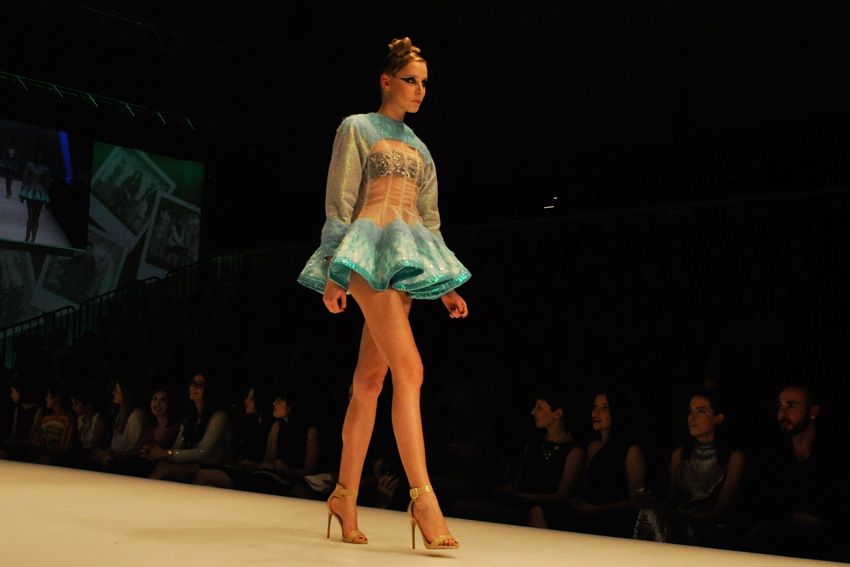 Jack Leeson - RMIT
Jack's bright collection looks just as good on the runway as I thought it would when I visited him last week. The bright blue really stood out.
Alanna Barca - RMIT
The detail wasn't lost with Alanna's work on the runway.
Talisa Trantino - RMIT
The texture was clear with Talisa's work.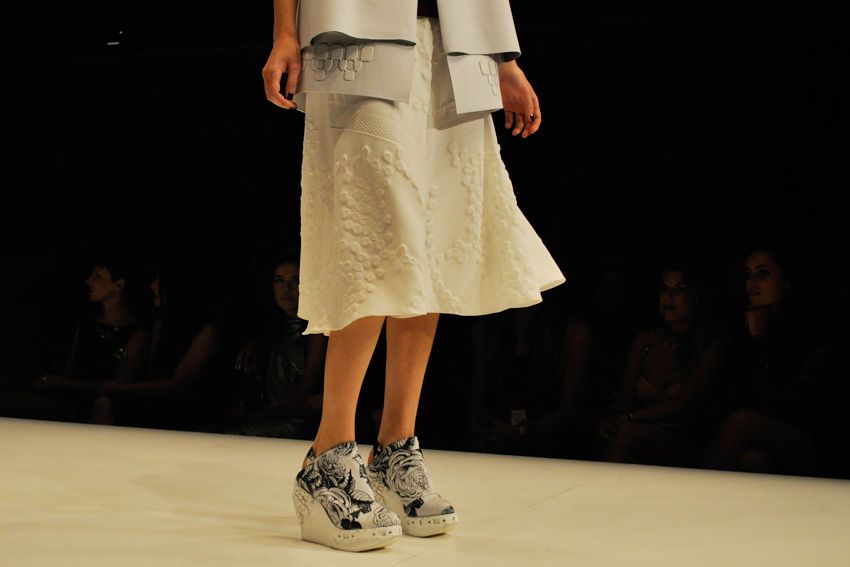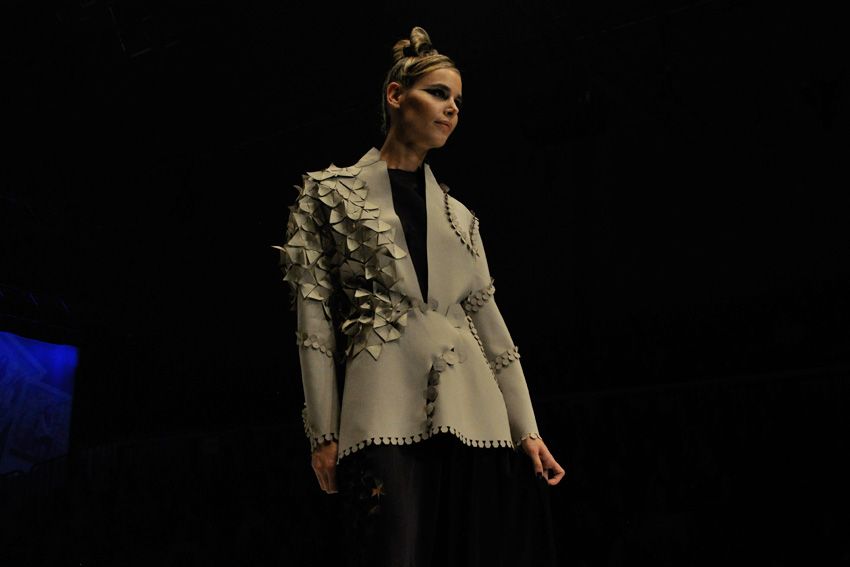 Cathy Yuen - RMIT
Cathy's workman ship was evident in her collection.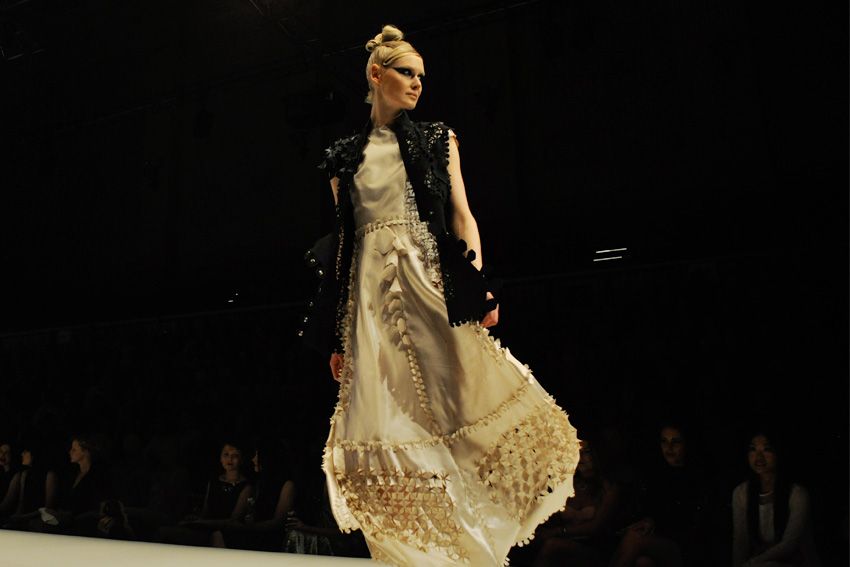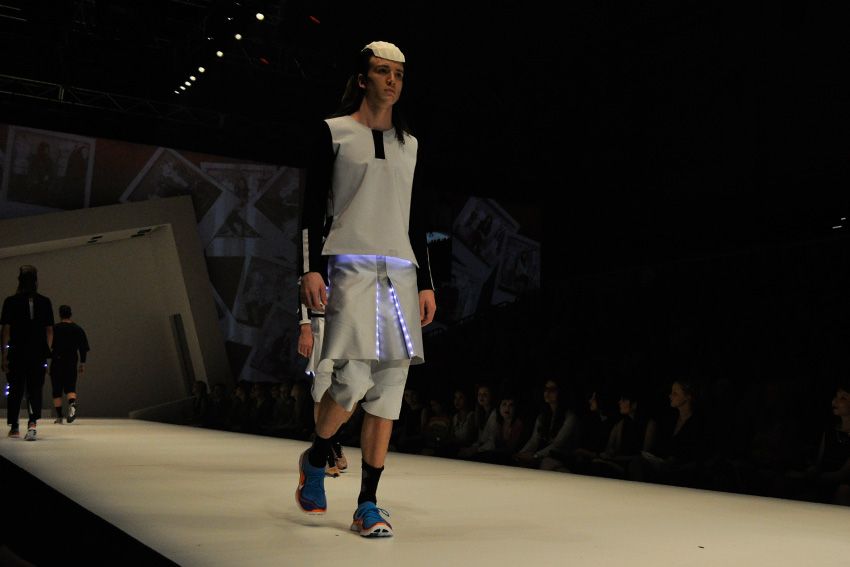 Dara Ing - RMIT
The LED lights on Dara's pieces in action.
Brandon Smith - Melbourne School of Fashion
Bold shapes.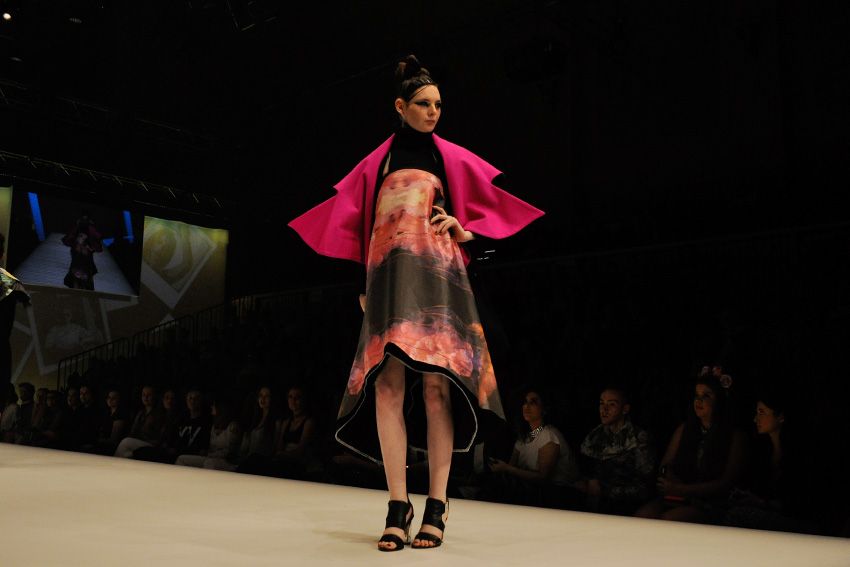 Laura Petruccelli - Kangan Institute
Amazing use of colour and print.
Neville Antoinette - Kangan Institute
Bridal meets sci-fi.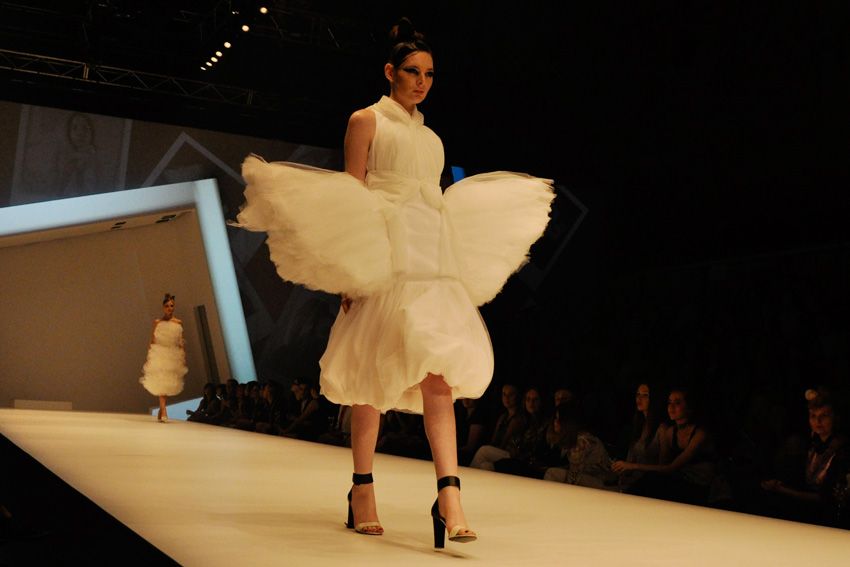 Susie Paull - Melbourne School of Fashion
One of my favourite pieces of the night, the tulle wings had everyone front row gasping at the beauty.
Eleni Nott - Whitehouse
Tongue in cheek lettering - split printed just where the lower half of the dress has a split.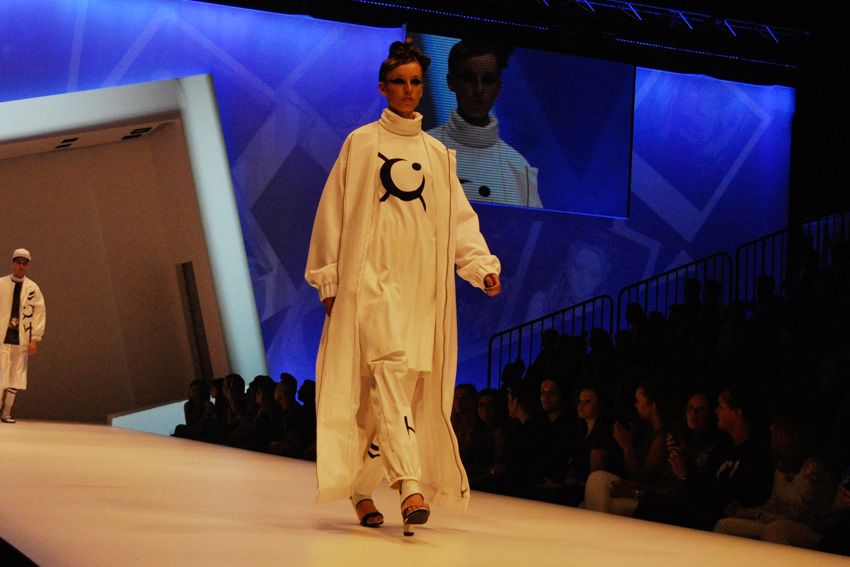 Alex Jon Hansen - Whitehouse
This collection was the most trend driven of the night, I could see all pieces working on the streets of Tokyo right now. I love the layers and silhouette - long and boxy with leggings. The prints against the white really pop.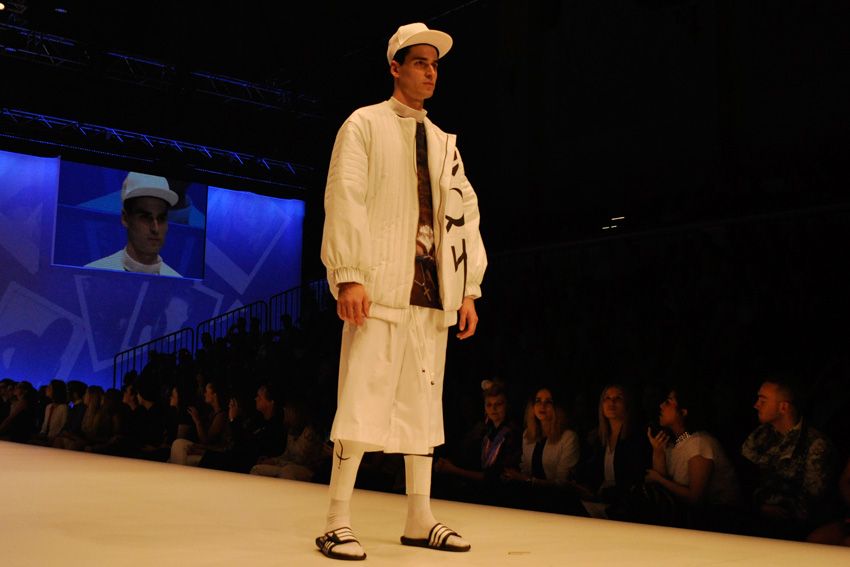 Sporty slides, otherwise known as bathroom slippers, are the shoe of the moment here in Melbourne.
Below, thanks to MSFW's youtube channel you can view all the students work from both shows!