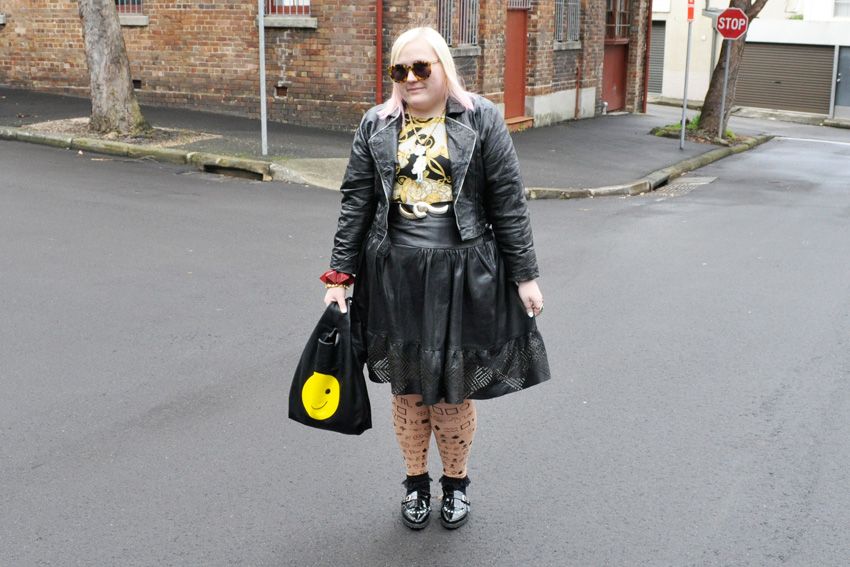 This is a lot of black on black for me right now, you may have noticed recently my wardrobe has been ultra colourful. I wanted my new vintage yellow scarf/chain print top from my favourite vintage store in Harajuku to stand out in my outfit so I thought pairing it back with black would help achieve that and I think it did. Happily I discovered some tattoo tights in my sock drawer (more on those later) and put the outfit together with my new favourite skirt. My new leather skirt is by independent Australian plus size size label
17 Sundays
. The laser cut detail along the hem had so many
compliments, people are drawn to it. I love that more and more plus size labels are starting up and designing pieces that are unique, its exciting to wear a plus size piece and have it receive compliments from the straight sized fashionistas at Surry Hills markets.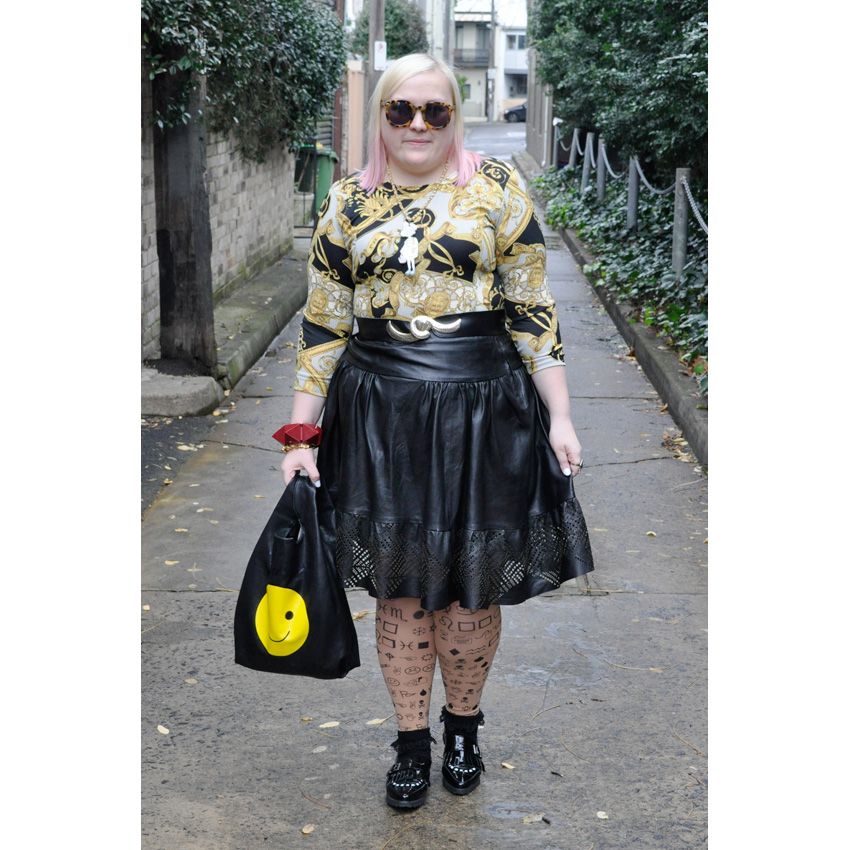 I was reminded of these tights by a commentor on my previous post who asked if I had bought any of the popular tattoo tights that every girl in Harajuku is wearing whilst I was in Tokyo last month. Well no I didn't as I thought they wouldn't fit me, but I did remember that I bought this pair of wingding tattoo tights in Melbourne late last year for $2 to use in a shoot and then promptly forgot about them until this morning. I didn't think they would fit me as they are one size fits all (and they didn't, at least not at first). I simply snipped the toe off so they became footless tights and voila they fit and I can get in on the tattoo tight trend.
Scarf print top
Vintage from Kinji Harajuku
Leather biker jacket
Red Cross Three 5 Nine King boutique opshop in Newtown for $30 (similar can be found at
ASOS
)
Leather skirt
17 Sundays Too Shy Laser Cut leather skirt
Belt
Vintage from Camberwell market
Smiley face bag
Clear It in Newtown
Pink dip dye hair
Brilliant Silver Rose
Sunglases
Karen Walker Super Duper's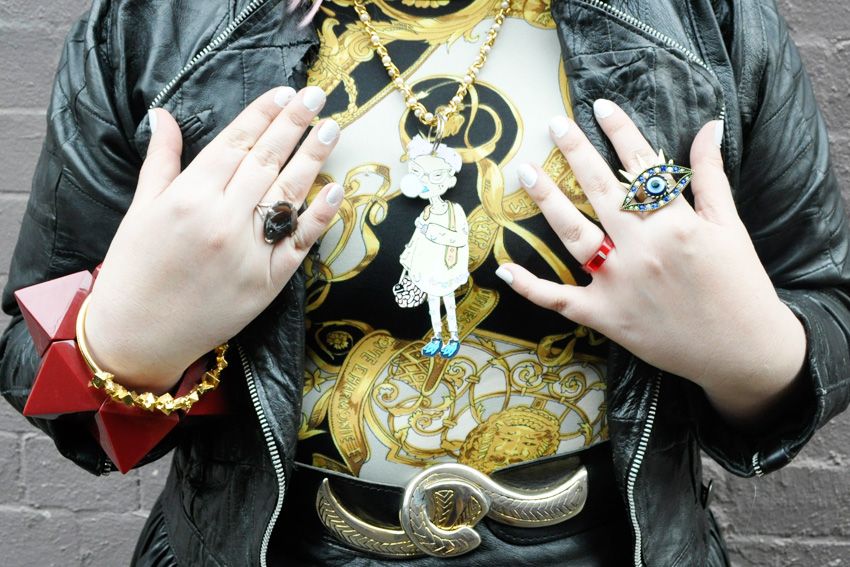 Finally a close up shot of the necklace Brandon from
Lactose Intoler-Art
gifted me when we caught up in Tokyo last month. Big things are brewing for that boy, I'm so happy and excited to be one of the first to wear his creations, he is just so talented.
Gold bangle
Elke Kramer
Red bangle
Estele Deve
Crystal ring
Corky Saint Clair
Necklace
Lactose Intoler-Art
Red ring
MOMA NYC
Eye ring
Gift from Henry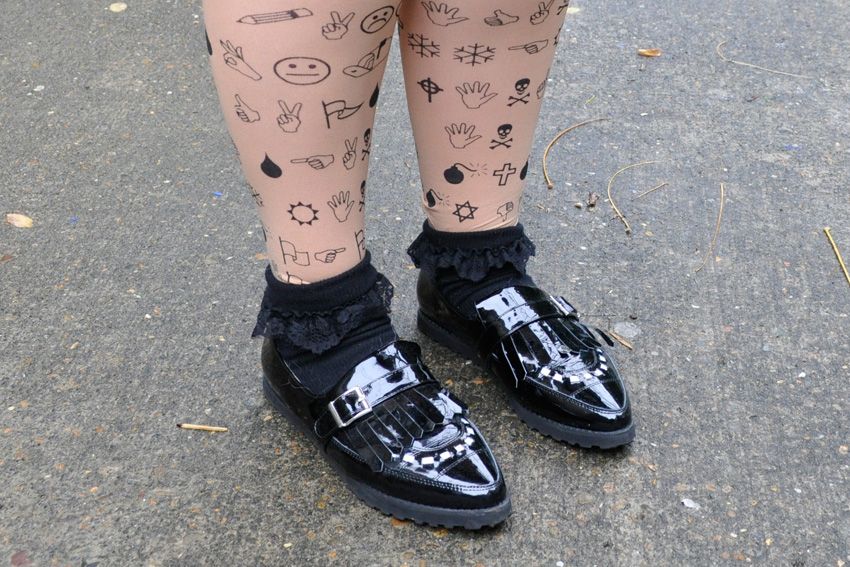 These shoes are proving to be my new favourites, I wear them daily right now. They were kindly sent to me by the team at
Shooii.com
, a new Australian owned online shoe store with unique shoes galore. I must say the packaging the shoes come in is especially cute, you can tell a lot of thought has gone into every aspect of the store, from the easy to navigate website right down to the shoe box. Check them out x
Wingdings Tattoo tights
Episode in Melbourne for $2 late last year
Black lace frill socks
Paddys Market $5
Black patent creeper style shoes
Sunday Chaos from Shooii