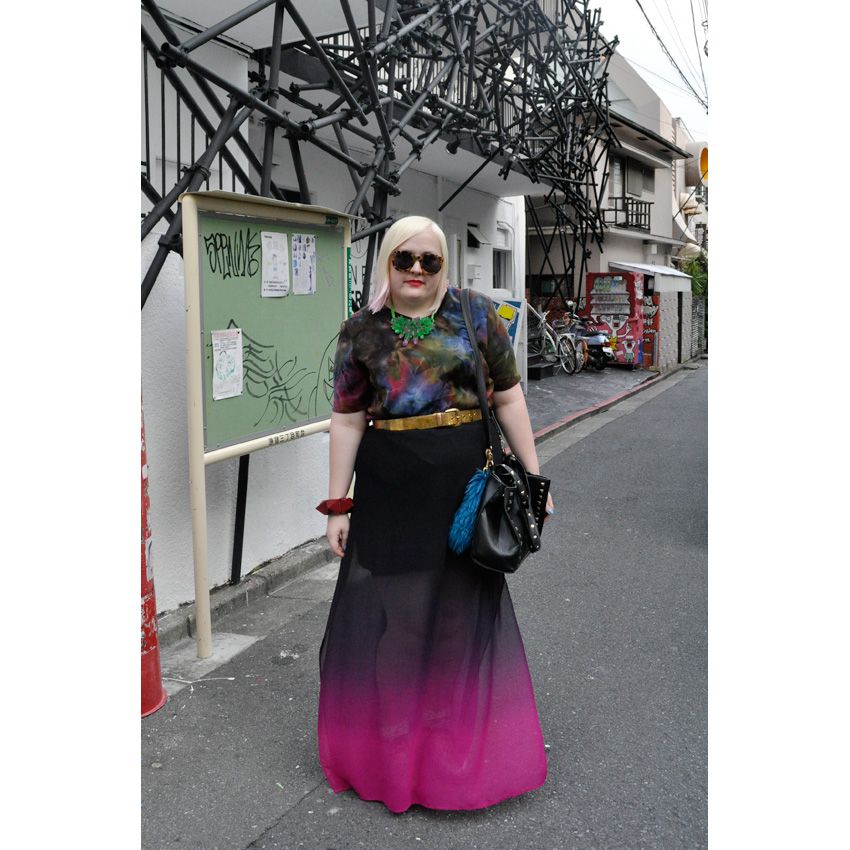 I was sad to see that the infamous Design Festa Gallery in Harajuku had been made under and painted plain white. It was such an icon before, bright red with that crazy art work all over it, but after speaking to the gallery staff about why they made the change, so that the work inside the gallery would stand out more, I understood. To me what was special about this gallery was that it wasn't just another white cube. Oh well, at least my colourful outfit stood out next to it.
Outfit Details
Blouse
Vintage from an opshop in Blackburn
Skirt
City Chic
Gold belt
Vintage from a curvy clothes swap
Bag
from a Sydney Chinatown boutique
Faux fur key chain
Deadly Ponies
Bangle
Elke Kramer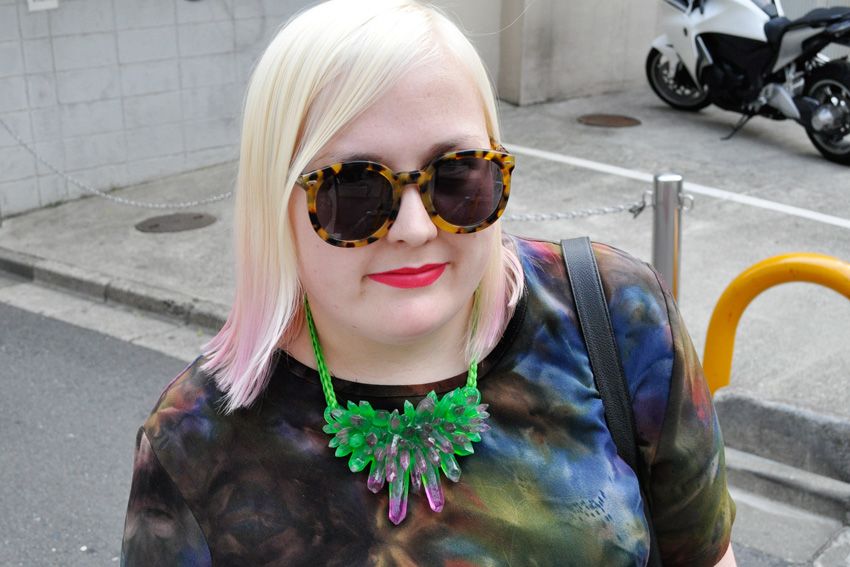 The necklace I'm wearing was my birthday pressie from Henry this year, I freaking love it!
Necklace
Kate Rohde
Sunnies
Karen Walker Super Duper's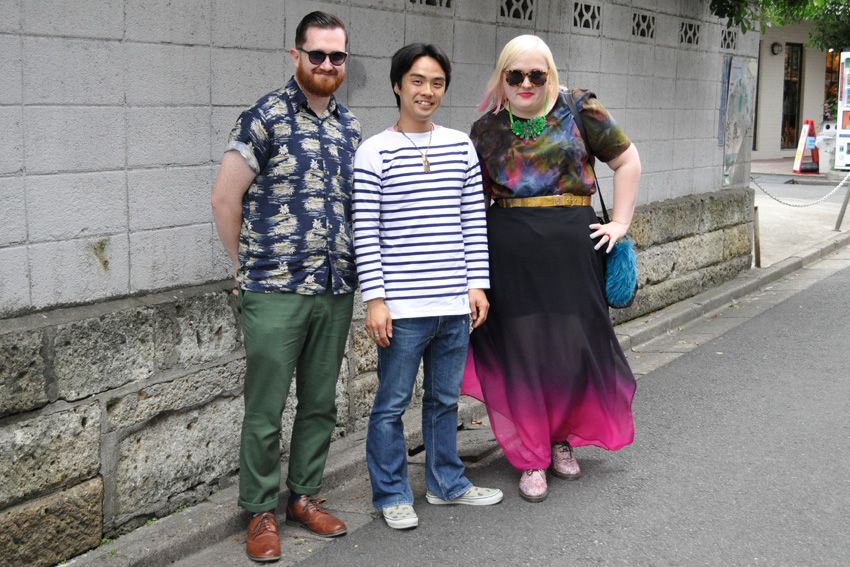 Our friend Toshi took us out to Daikanyama for lunch and some shopping. Its always nice to catch up with Toshi who has a keen passion for fashion, having worked on a mathematical formula for predicting street fashion trends at university. Oh and before I forget, a
s people have asked about Henry's outfit details, here they are:
Green Chino's
Vanishing Elephant
Shirt
Comeback Kid
vintage Hawaiian shirt
Ivy Place
in Daikanyama. Part of the
Daikanyama T-Site
retail complex which also features an amazing book store and bar with vintage Japanese magazines from the early twentieth century.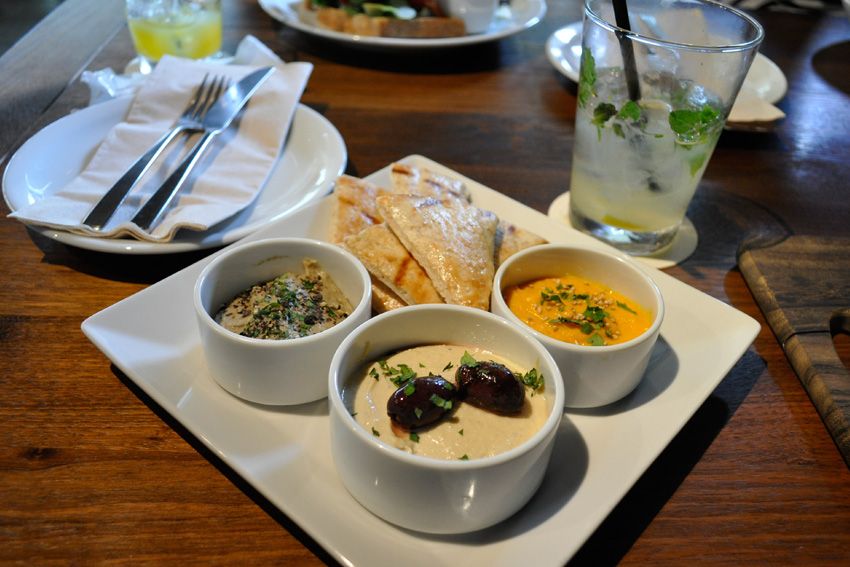 Ivy Place is where I had the yummiest western style meal I've ever had in Japan, mmmmm so good.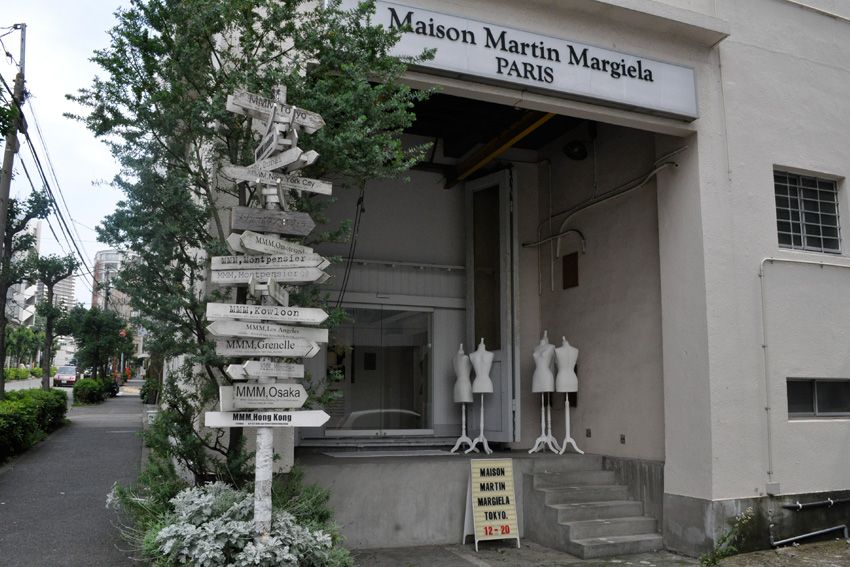 My first visit to the Maison Martin Margiela store in Daikanyama.
Inside it is all black and white, there is even a black and white vending machine (although it dispenses regular colourfully packaged drinks which I tested to find out). The cinema was showing runway footage from the recent collections.
A tabi boot candle for Y210,00.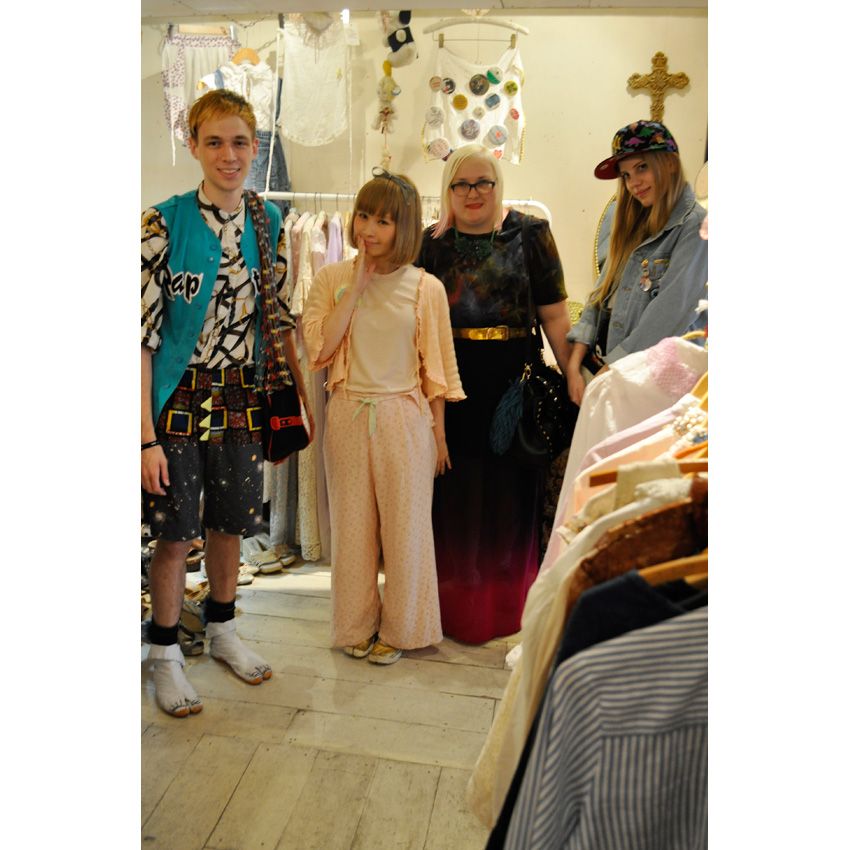 We met up with
Brandon
again and did some shopping in Harajuku. We took some photos with Ari, the owner of The Virgin Mary in Harajuku, she used to own Cult Party in Koenji which is how I know her. The Virgin Mary is similar to her old store, with its twisted remade vintage and a focus on creams tones and lace.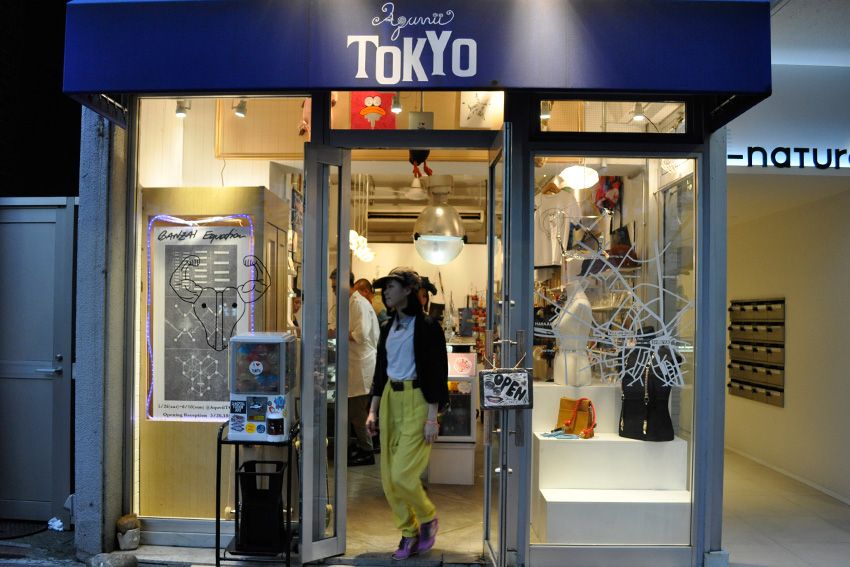 The reason we met up with Brandon was to head to our friend Yoruko's opening for his label
Banzai
at Aquvii in Shibuya.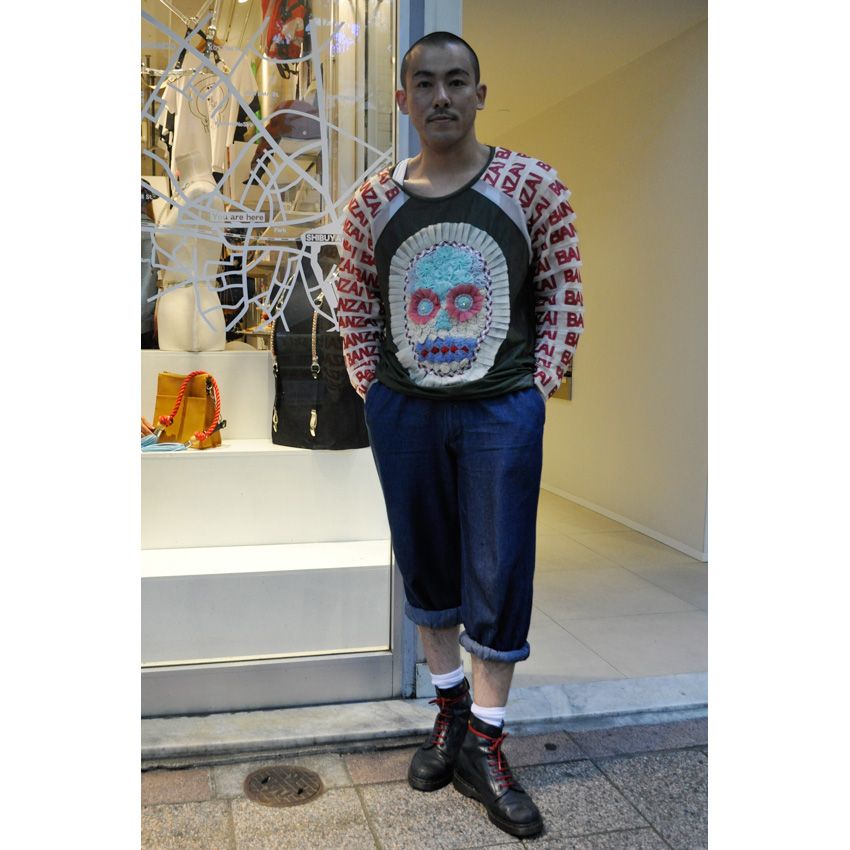 I've been friends with Yoruko for years, back when he was known as Yohei. Its so good to see his label Banzai doing so well, he always spoke of wanting to launch his own label and now he finally has and I am so happy for him. He is wearing an awesome Banzai top from his first collection.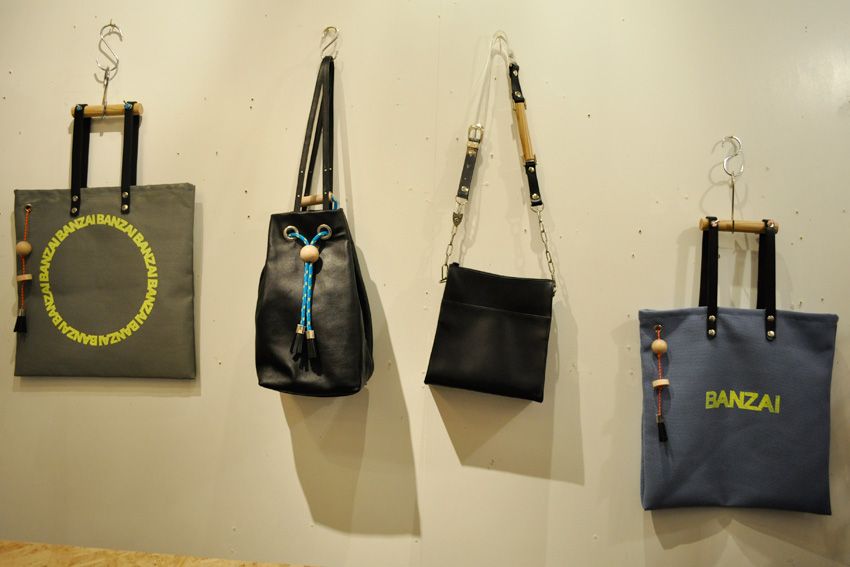 The launch was for his current collection 'equation' by Banzai of bags, belts and harnesses. He will be launching his new collection of clothing at a later stage. The bags all have the signature Banzai touches of bespoke hardware and fittings, from rope to tassels and chain the bags have been seen on all the Tokyo street snap stars of late.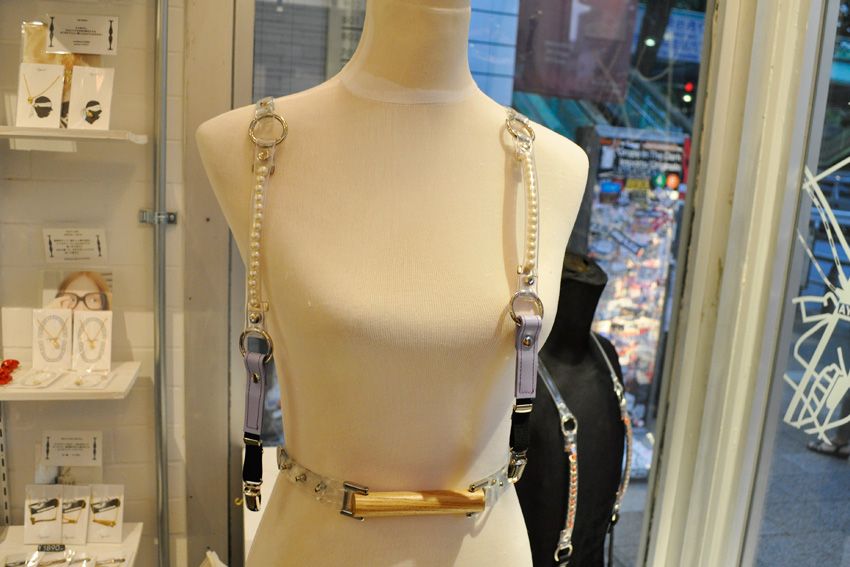 The Harnesses are sure to be popular, with their customisable colour ways you can create your perfect piece. Pearls, leather, rope, wood plastic, studs and chain, so many options.
The seemingly endless choices in colours and styles.
Yoruku Banzai
is stocked at
ilil
,
Wut Berlin
and
Aquvii
in Tokyo. Can be found in the UK and online at
Primitive London
.