Hot tip: Do not have a photographer take outfit photos of you with them standing below you on a hill...or you get a whole lotta fat face as evidenced above. Fat face aside this outfit was cute for a day of slumming in Surry Hills with a friend up from Melbourne, took her to Kawa cafe and the Incu warehouse sale, fun times.
Outfit details
Polkadot Blouse
Vintage from
Hunter Gatherer
Melbourne
Skirt
Vintage from Surry Hills market for $5
Belt
Vintage from Camberwell market for $10 many years ago (I wear this so much, its cost per wear value must be .0005 cents by now)
Sunnies
My Karen Walkers from
eyegoodies
Necklace
Make Believe resin flower necklace...I need more jewellery guys, I wear this every other day and have done so for years now. Actually Bryan Boy mentioned it at MBFWA the other week where I was wearing it as we both have the same necklace after he met my friends the designers back in 2009 at Melbourne Spring Fashion Week. Bryan was like "no way I love that piece, I've since lost mine". So yeah it is awesome but I do need to move on I think. You can read more about my crazy week hanging with
Bryan Boy in 2009 at Melbourne Spring Fashion Week
. Jebus I'm old.
Bag
Chinatown $55
Bangle
My good ol'
Elke Kramer
piece, another staple in my wardrobe.
Crystal ring
Corky Saint Clair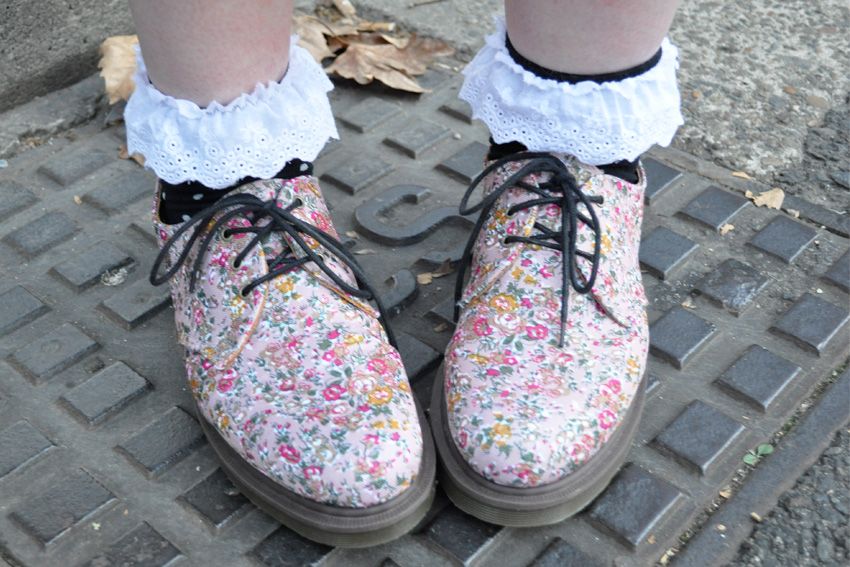 Polkadot Socks
Sportsgirl
$10
Floral Doc Martens
from
Doc Martens