This pleated black maxi skirt has fast become a favourite in my wardrobe.
My Size
kindly sent it to me to review a couple of weeks ago, and I've practically lived in it ever since. My only issue with the skirt is its a little big, I could have gone down one or even two sizes. As I have never shopped at My Size before I wasn't familiar with their sizing you see, but belting it works for me. Yes I could have exchanged it, but I'm lazy when it comes to things like that and also I loved the skirt so much I wanted to wear it then and there and not have to wait. Regardless no one seems to notice and instead I just get complement after complement when wearing it out and about, in fact yesterday in the city three different people ran after me to ask about it. Does this happen to anyone else? Seriously every time I go out someone asks me where at least one thing I'm wearing is from...I've never asked a stranger such a question or felt compelled to do so (well except for when I'm taking street style photos, then I ask them where every single item is from, haha) Anyway I don't actually mind, ask away.
Outfit Details
Leopard jumper
A
Savers
find from a few years ago
Black maxi skirt
My Size
Belt
Vintage from Camberwell Market
Necklace
H by Heather Lighton
'Tessie' necklace
Tote
DI$COUNT
Loafers
Sportsgirl
Lace frill socks
$5 cheapies
Umbrella
Japan
Specs
New Osiris specs from
Specsavers
Whats a Fashion Hayley outfit post without a shot of my cute frilly lace socks and shoes? Its my thing guyz!
My awesome
H by Heather Lighton
'Tessie' necklace up close. For some reason this piece reminds me of Pebbles from The Flinstones, which is why I teamed it with my leopard print jumper.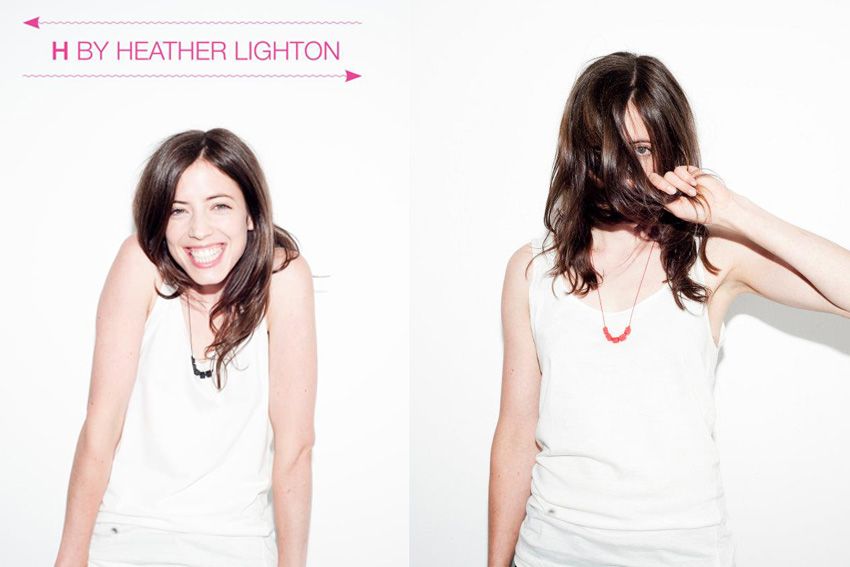 WIN
My super talented slashy friend (photographer/jewellery designer/cool Melbourne babe) Heather has taken Melbourne by storm with her super cute and affordable (only $39) hand crafted beaded necklaces,
H by Heather Lighton
. Heather's so talented she even shot the lookbook herself (mad skills right there!) Stocked at
Kids in Berlin
and
Corky Saint Clair
in Melb with an ever growing list of stockists Heather has kindly offered one of my readers the chance to
WIN
their very own necklace!!! The winner can choose from the 18 different colour combo's on offer, all named after Heather's friends.
To enter
please like the
H by Heather Lighton facebook page
, leaving a comment on her wall and copy+paste that comment back on this blog post, easy!
Competition closes
Wednesday 29th Feb at 5pm AEST.
Competition open
worldwide!!!
Good luck, xoxo