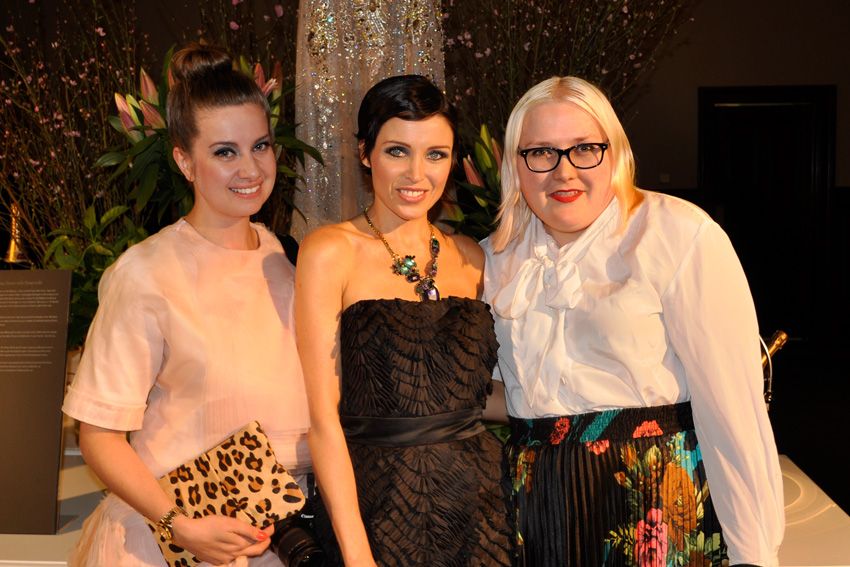 Lady Melbourne
, Danni Minogue and me at the pre show VIP bar.
Old pals Tutu Crazy, stylist Connel Chiang and Lady Melbourne.
Current season Project Runway Australia peeps Craig and Matcho.
Designer Yeojin Bae and Lady M looking beautiful.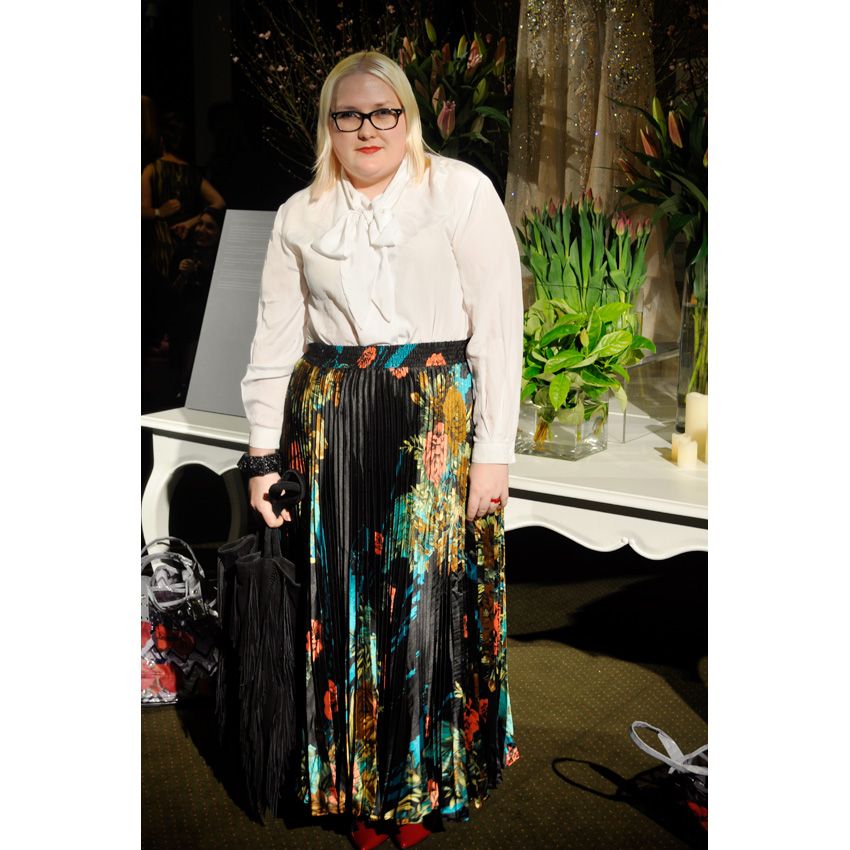 I wore:
Blouse
Vintage pussy bow blouse from Savers years ago $3
Skirt
Cheapo number bought at Ginger Tree in Little Collins Street that day for $39
Shoes
Shoobiz Dimitri red winklepickers
from
ShoesSales.com.au
$89.95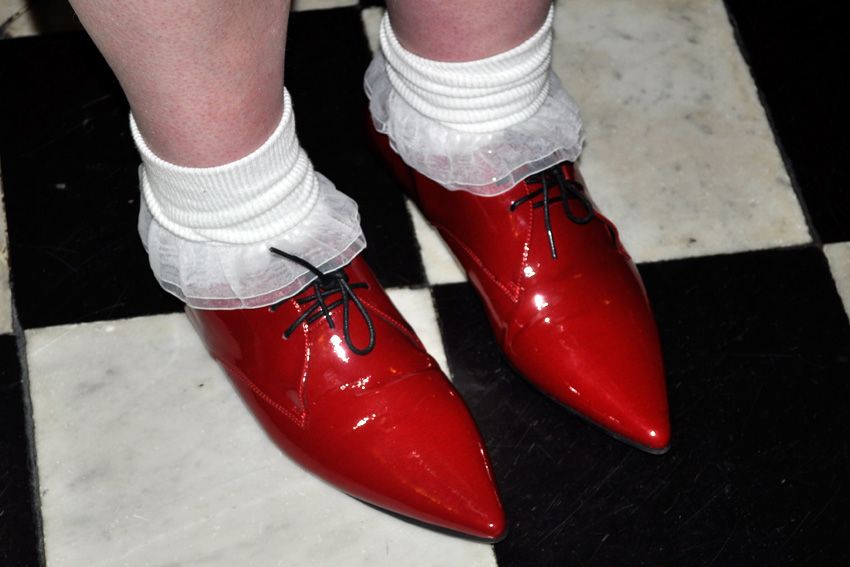 I love these shoes so much, and before you comment yes they are 100% vegan, no leather at all so they get a huge tick from me.
Its always exciting to see what Emman, Johnny and the boy from
Swallow Glitter
wear. Nothing like this exists in Sydney.
I love the DIY re-make attitude of Melbourne, its very much where my heart is.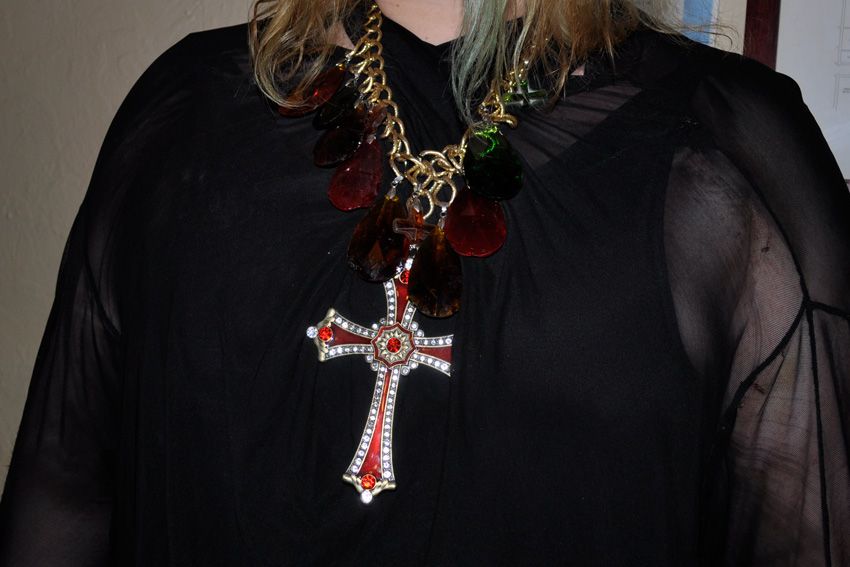 Amazing customised necklace.
Aviary by Phillip Adams' BalletLab. Millinery by Richard Nylon and costumes by Toni Maticevski.
Christine.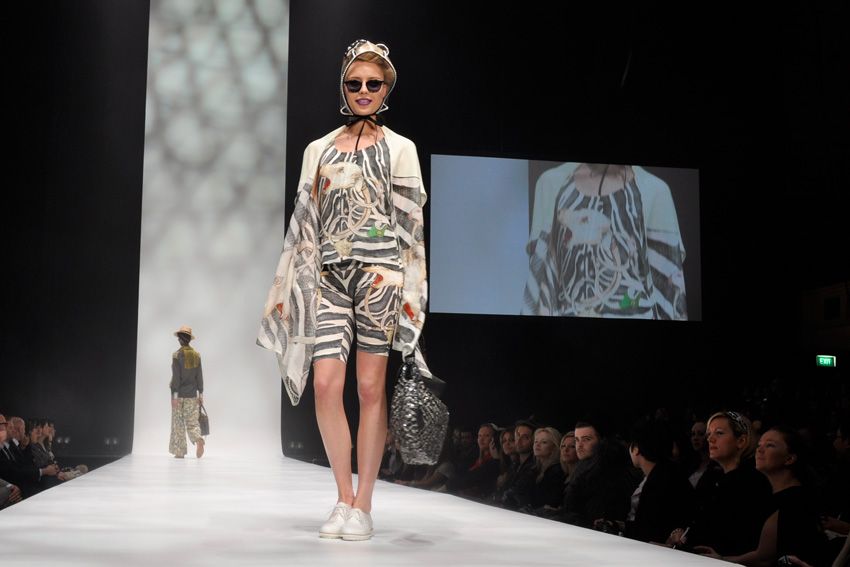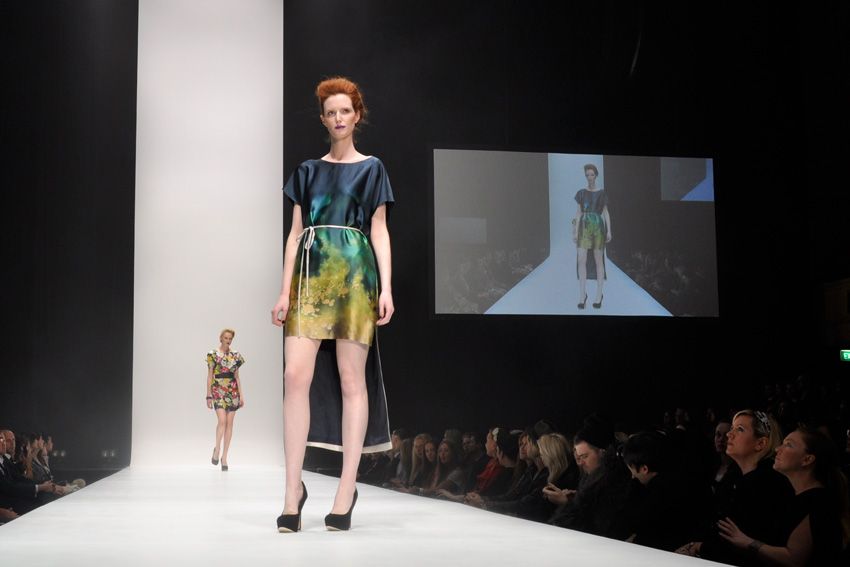 Nicolangela.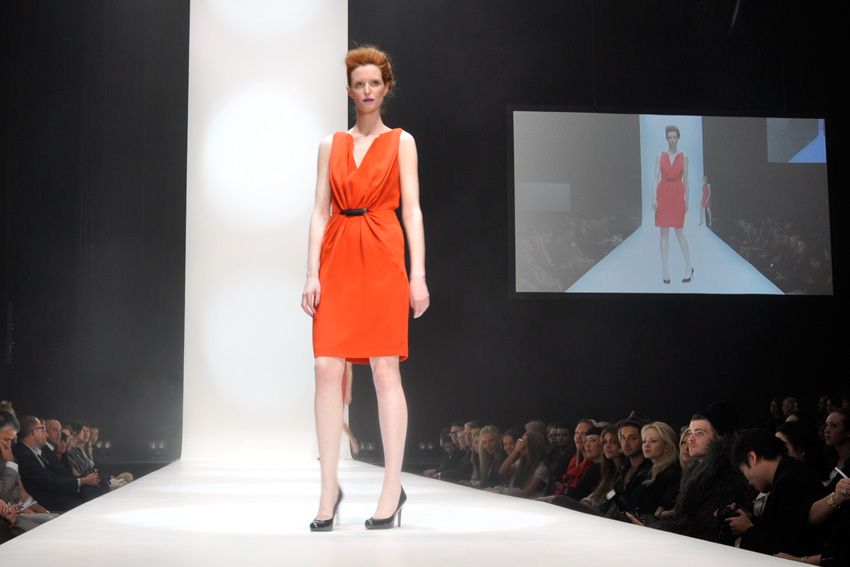 Arthur Galan AG.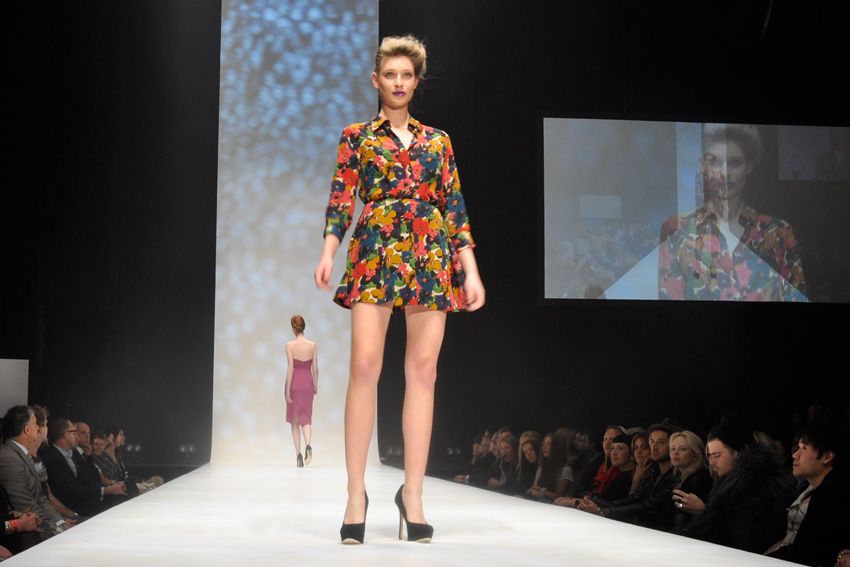 Yeojin Bae.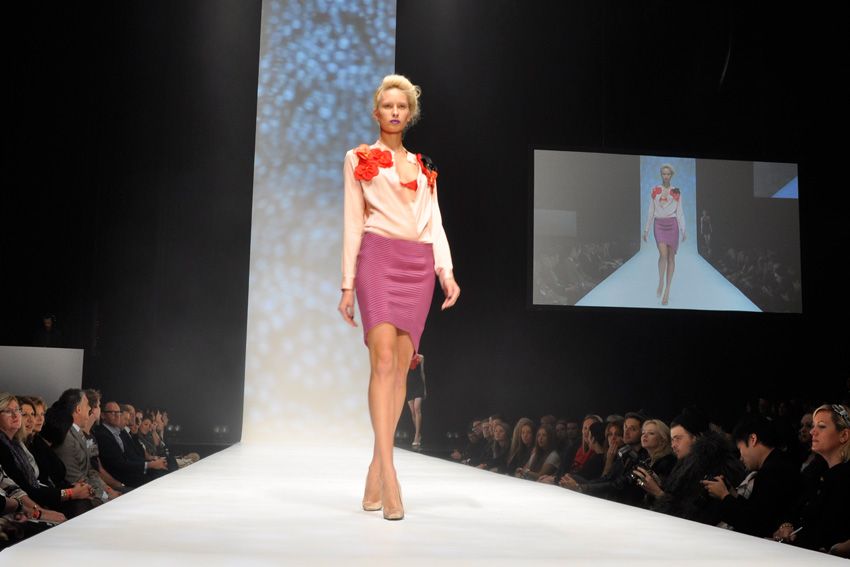 Dom Bagnato.
Thurley.
Gwendolynne.
Aurelio Costarella.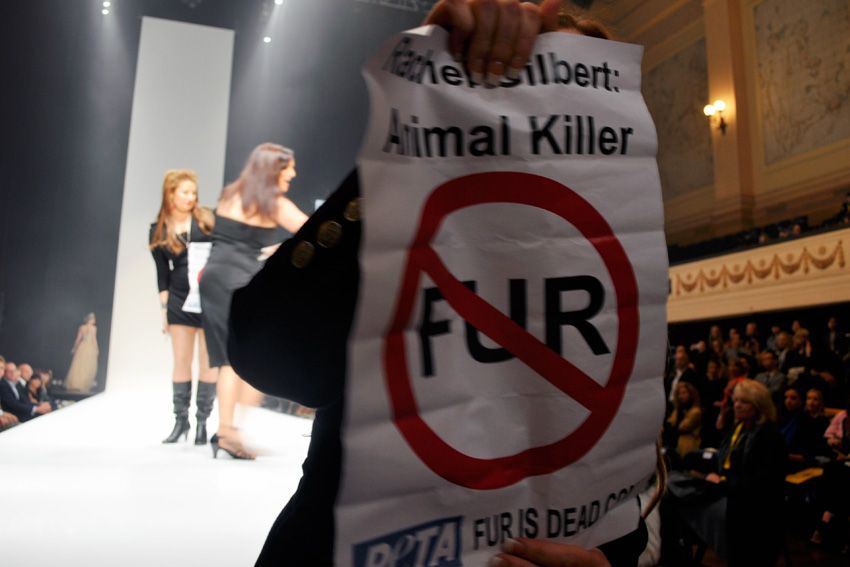 In lieu of Rachel Gilbert's collection I bring you snaps of the PETA protesters who gatecrashed mid runway. Whilst the Rachel Gilbert pieces on show didn't feature fur, Rachel Gilbert has used fur in her collection and PETA is pissed off.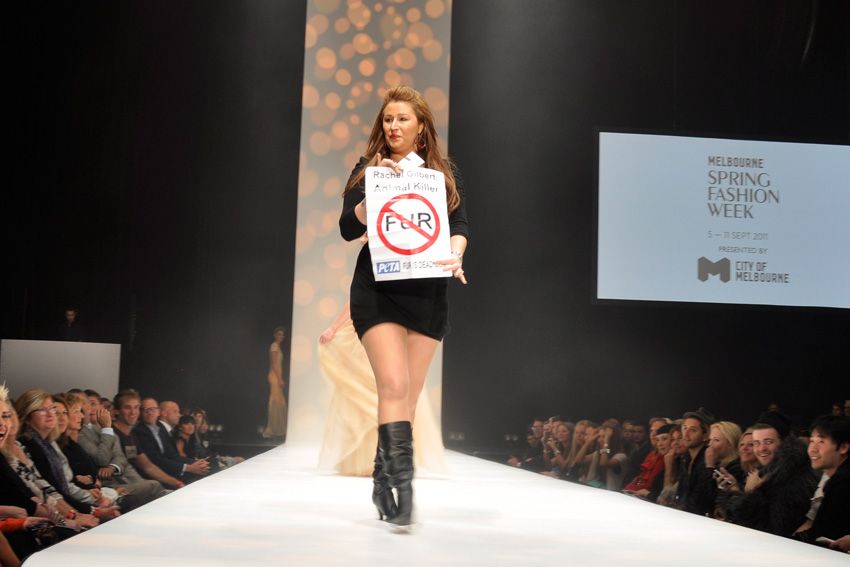 They walked up and down the runway shouting "Fur is Dead" over and over, stopping the show while security worked out a way to end the protest peacefully. Audience members booed and front row fashion identities yelled out insults to the protesters, saying things like "your shoes are leather", "get off the stage fat pigs" and . Fashionising's Daniel P Dykes tweeted "No slim girls PETA?"
WHAT
is with the comments on their appearance? I understand the shoes comments as often when arguing for or against fur the issue of leather is brought up, but to clarify about the boots in question I spoke to the protesters after the show and they are 100% vegan boots (as were all their shoes). BUT the comments on their appearance is seriously embarrassing and makes me cringe at the industry I work in. Respected fashion designers yelling out "fat pigs" to people, who as the MSFW organising body stated, have a right to peacefully protest, makes me seriously question everything.
The protesters pointed out an audience member wearing fur, she was lucky they didn't have their famous red paint with them.
The majority of comments being yelled around during the protest were based on the argument that the protesters were wearing leather (which they weren't). Leather is more often than not a byproduct of the meat industry, which is a hugely regulated industry with measures in place to ensure a humane end to the animals life (at least in this country). Yes the animal is still dead, but the thinking is at least you are using the whole animal and nothing goes to waste. I am a vegetarian who doesn't eat meat (including seafood) but I eat dairy and eggs when inside something (a cake for instance) but not directly by drinking milk or having a hard boiled egg...its very particular. I have been a vegetarian for 17 years. I do not expect nor want everyone in the world to have the same views as me, I just want to have respect for both sides of the argument and to be able to share my thoughts. Recently I have been thinking more and more about going the full hog and becoming vegan, but what holds me back is the difficulties in everyday life when so many things have animal products in them. Take beer for instance, did you know that fish gills are used in the filtering process? Or even milk, have you thought about why cows are lactating all the time? Milk is a byproduct of the veal industry as in order to produce milk a cow needs to calve, so many people balk at the idea of eating veal but they drink milk. Essentially this whole conversation can go round and round in circles and there is no clear cut right or wrong, other than the idea that the animals should be treated humanly in both life and death, I'm pretty sure everyone can agree on that. That is why fur is singled out over leather, as the fur industry is hugely unregulated and the life and death of the animal is often painful with the end of their life involving being skinned alive in order to protect the fur. I am against fur for that reason, and also because here in Australia fur is completely unnecessary, the weather here doesn't get cold enough to warrant a fur coat and fur trimmings are (personally) just an excessive abuse of power. My opinion may not be popular, but it is mine and I have consistently spoken about these issues on my blog. I buy/wear leather shoes and belts very very occasionally as sometimes my love of fashion overtakes my moral values because hey, I'm human and don't always remember to check the materials! I think I'm doing pretty well though, but yes I have friends who wear fur and leather (lots who freaking love the stuff) and sometimes I get photographed with goats at parties even though I'm totally not into animals being treated as props (even if they're trained to do so). In the end it comes down to individual choice and you have the right to wear, eat and say what you like, but you do have the responsibility to make informed decisions.