Last week in Sydney, the night before I flew to Melbourne, Diesel held an amazingly thematically designed party to launch their SS11/12 collection. The collection and its accompanying campaign imagery is titled
"Diesel Island"
with the citizens of the island fed up with the fucked up world, decamping to an island to be free, getting bored of the freedom and then making their own constitution (which turns out to be boring too) coming up with motto's such as the sign above "We prevent terrorist attacks by not pissing them off". A lot of thought has obviously gone into the story and it certainly made for a great night.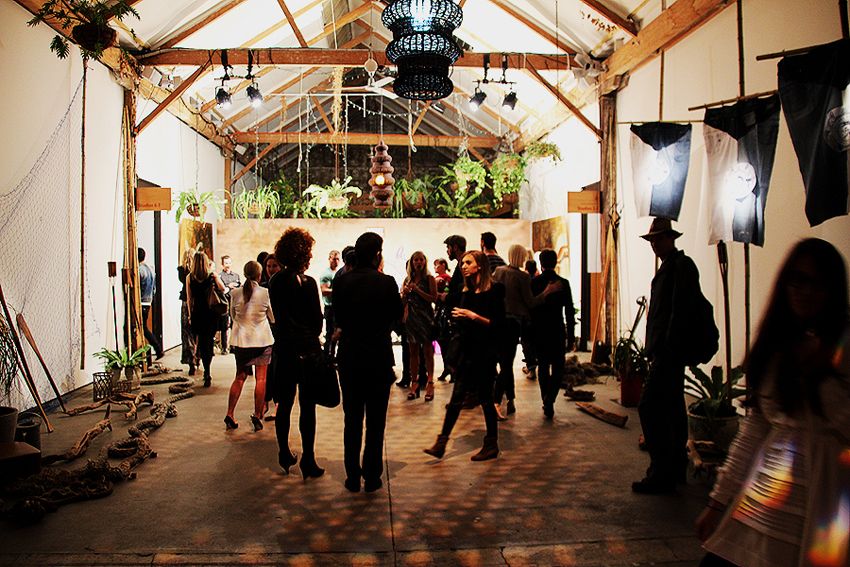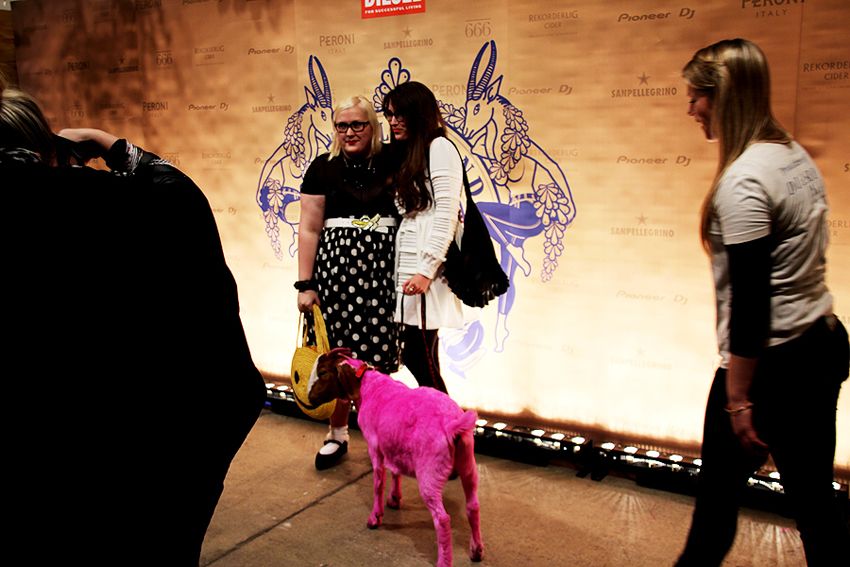 I'm not too sure about the use of live animals for events, especially after reading Jonathan Safran Foer's On Eating Animals and knowing how scared they must be. Hasn't anyone learnt from the infamous
Ksubi Dove
incident? The goat was only there for the first hour for photos, but yeah dyed pink, taken to a loud scary event...not exactly a goats normal night.
Being greeted by pillow fight ready citizens of the island.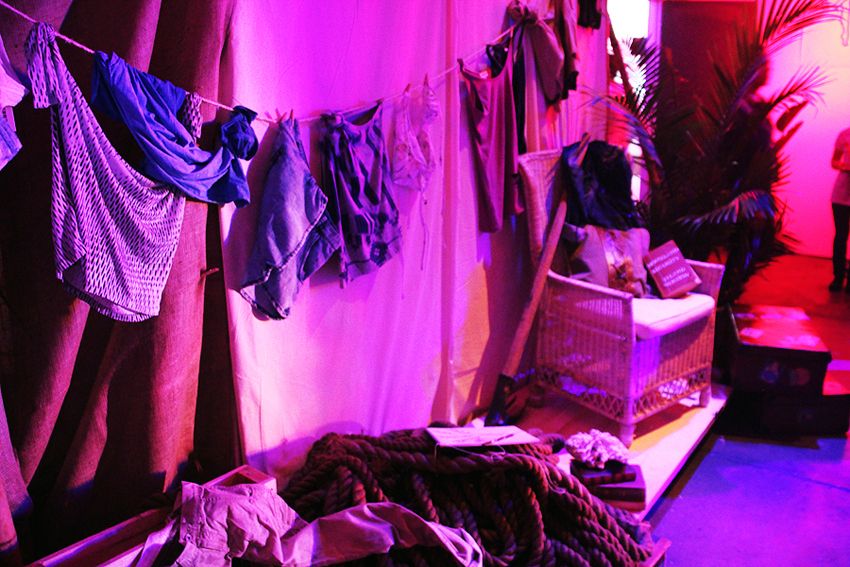 Yummy cocktails.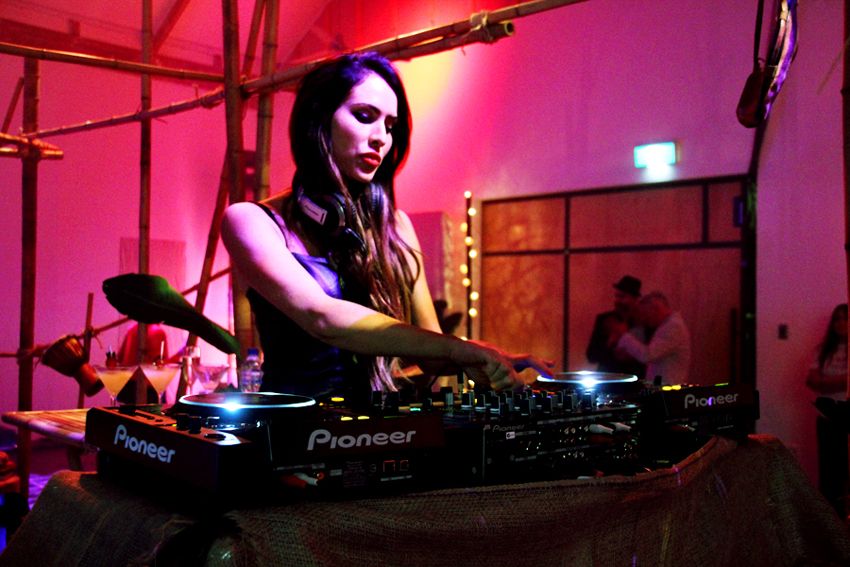 Someone famous's daughter dj-ing. Ok, just checked and apparently this is Rolling Stone member Keith Richards's daughter Alexan­dra Richards.
I felt like I was at Disneyland in the Swiss Family Robinson treehouse.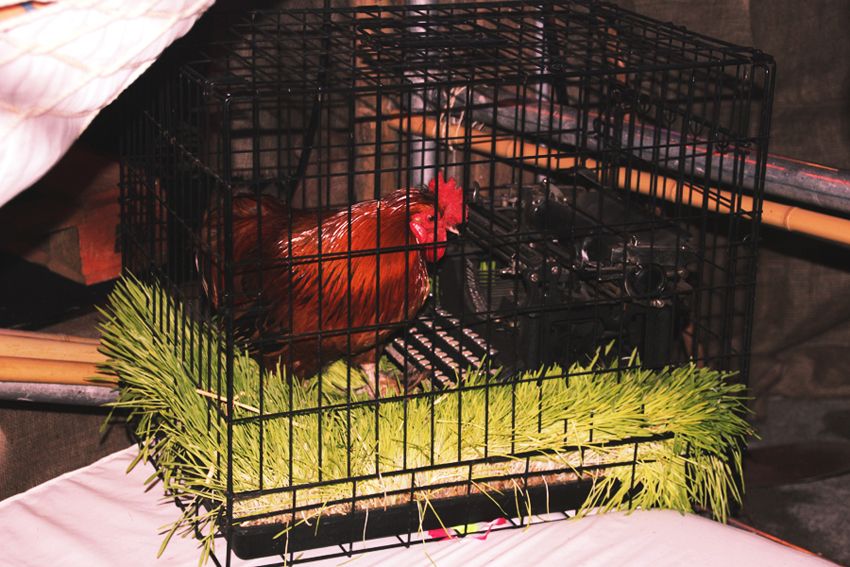 Again, I felt bad for the poor Rooster.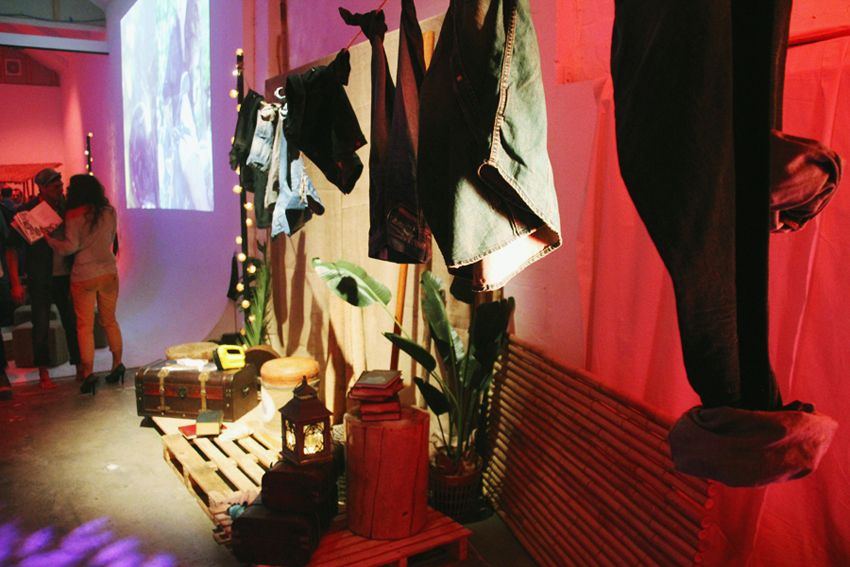 Male models Gadir and Luca.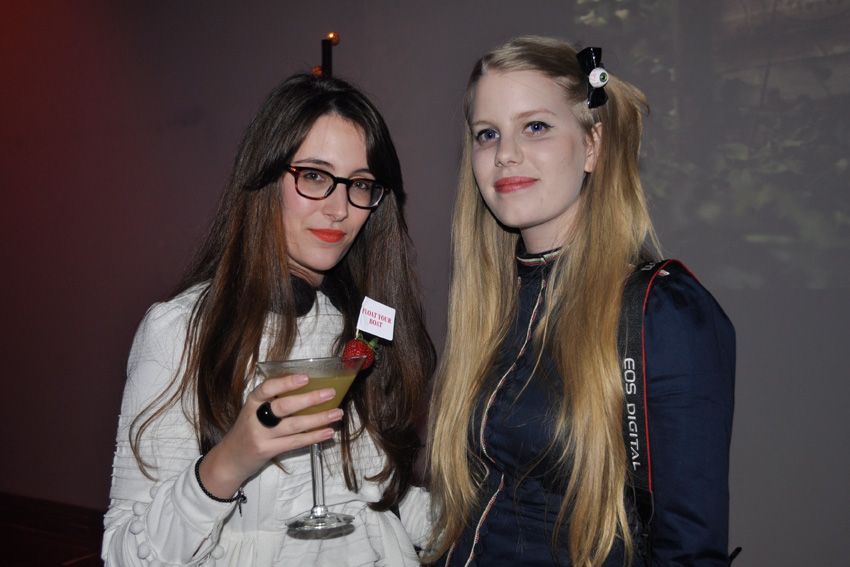 Leah the editor of
Fashion Journal
was in Sydney for the party and my lovely assistant/friend Sofie from
The Milk Club
who was my +1 for the event, much more fun than taking my hubby.
Phoenix Keating
and
Byron Spencer
, the it boys of the Sydney fashion scene.
Gadir's fabulous accessory, he got the toy soldier at Chapel Street Bazaar.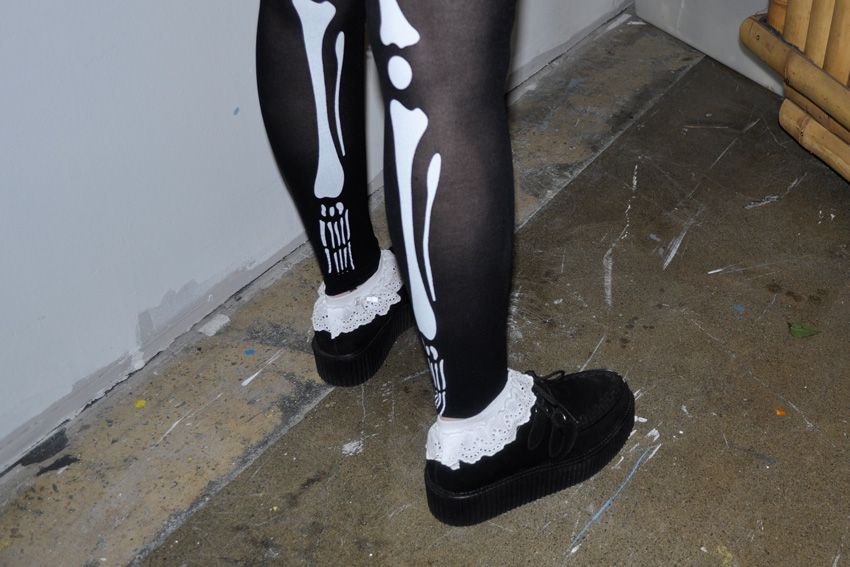 Sofie's awesome tights, socks and creepers combo.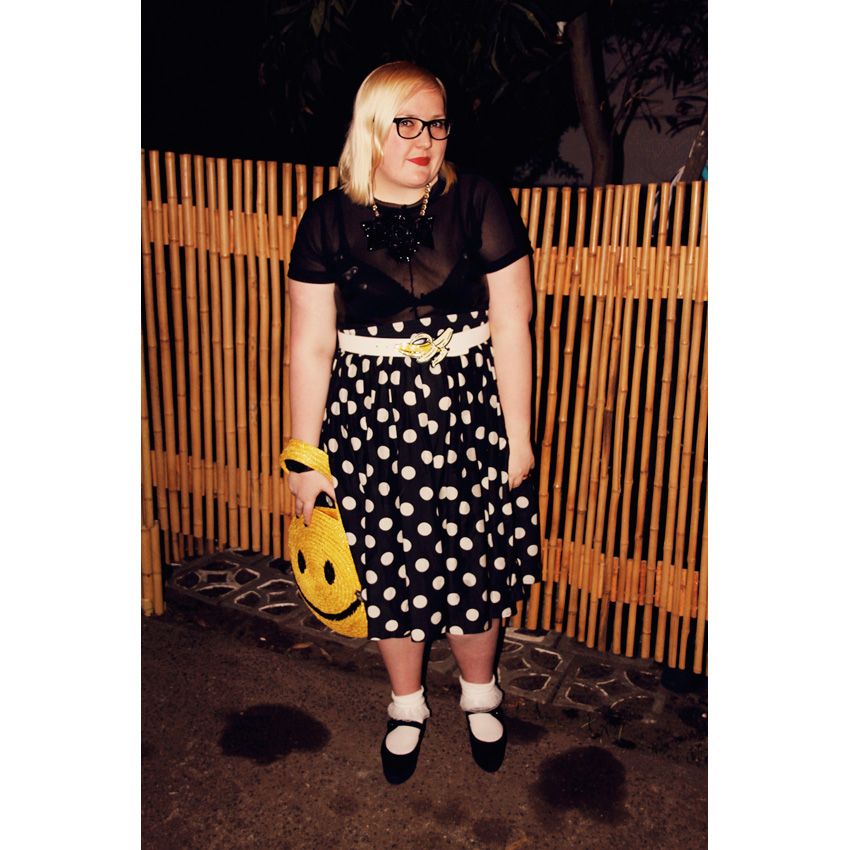 What I wore:
Tee Dimepiece sheer hands t-shirt
Skirt Gorman $150 new season on sale for one day only at The Strand Arcade last week
Socks American Apparel $14
Mary-Jane Creeper's Sportsgirl on sale for $13
Necklace Make Believe gift
Bracelet Elke Kramer gift
Ring MoMA design store in NYC $10
Bag
vintage from Thank You Mart in Tokyo $3.90
Belt
Ebay find $6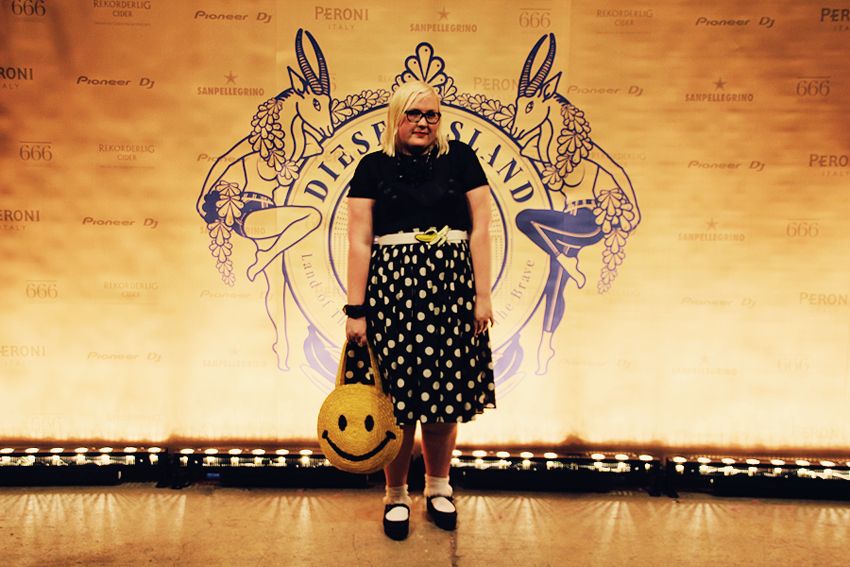 This necklace always gets me a lot of attention, people are drawn to it.
I have had this bag for years, its been on my blog every now and then when I'm in a smiley face bag kinda mood.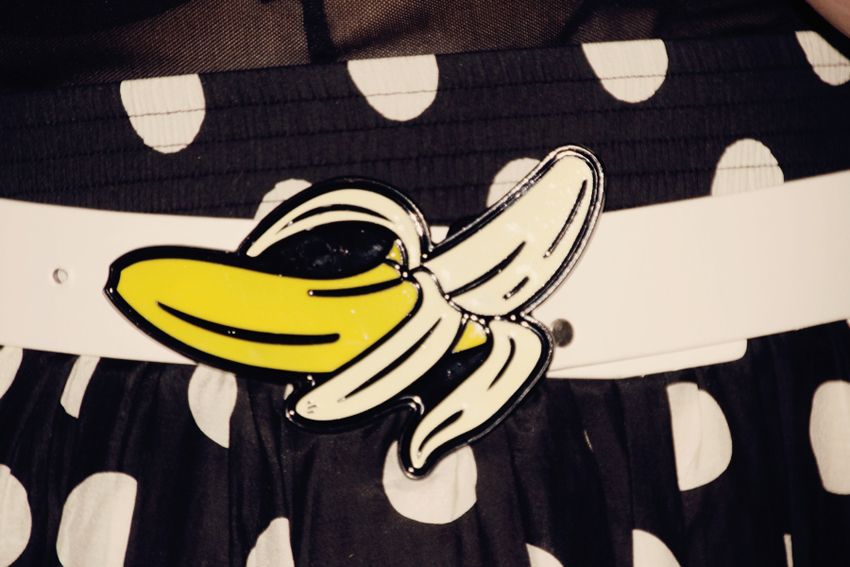 I found this belt on ebay, not too sure about the white belt itself but love the banana buckle.
Still loving these mary-jane somewhat controversial creepers (a previous commenter reckons they're not creepers, but hey I'm just going by what the Sportsgirl box said).
In closing I want to say I had a lot of fun, it really was a great event, but please wont someone think of the animals? They didn't seem distressed and I'm by no means an expert, but I just don't feel right about it especially after seeing it go so wrong once before.
Photos by Sofie from The Milk Club and me.