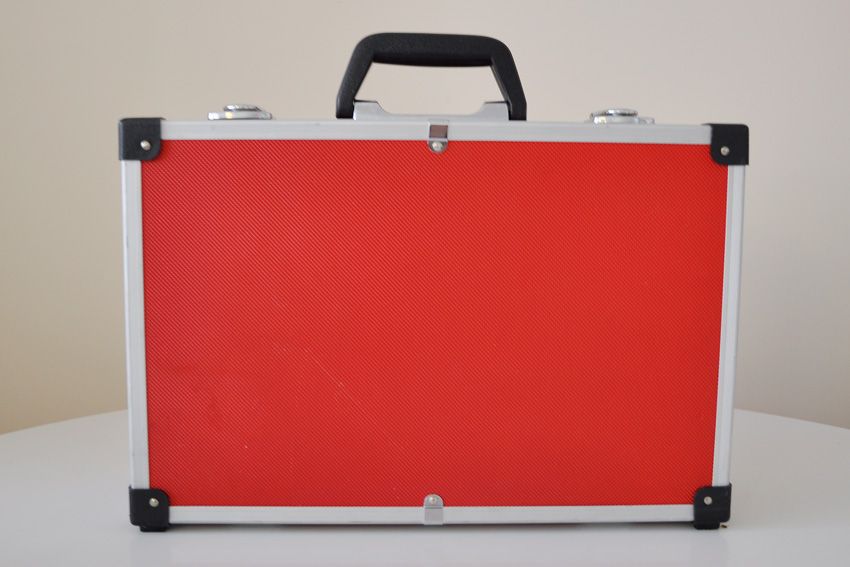 We have all seen those "what's in my bag" posts around the place and I thought it might be interesting to share with you something a bit different, what exactly goes into my styling kit. If your not sure what a styling kit is, basically its a tool kit of useful items a stylist brings with them to a shoot. Every stylist is different, but essentially most kits will contain at least double sided tape, bull dog clips and scissors. I'm going to show you what I bring with me on set.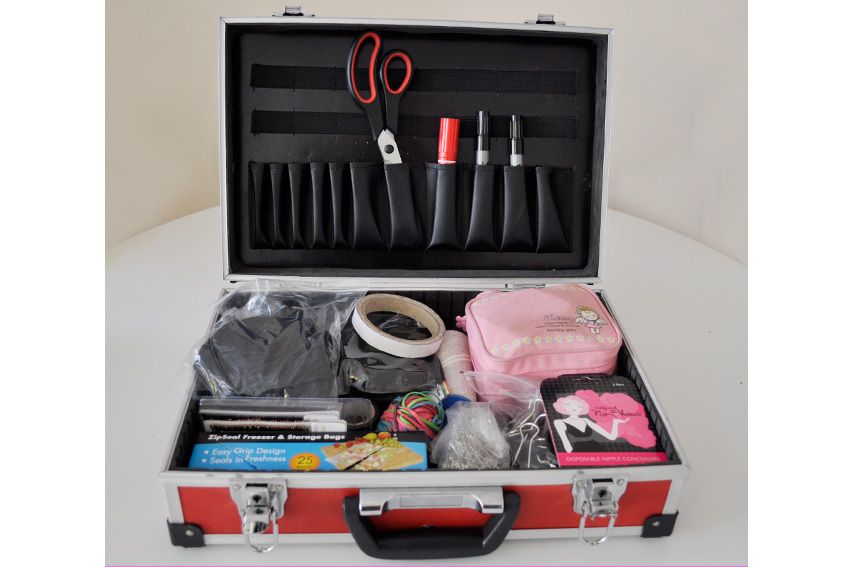 Organised chaos. I am looking for a better box with more compartments that is ideally on wheels, but for now this red metal box will do. I bought it at
Arthur Daley's
in Melbourne for about $25.
From Left to Right:
Sewing kit:
I have a set of sewing needles and threads in different colours as well as a few other bits and bobs like extra buttons and an unpicker just in case.
Bobby pins:
I find these are the most requested item on shoots, someone always needs just one more, so I have these on hand in both dark and light colours for those moments.
Zip lock plastic bags:
These come in handy for so many reasons. I use them to hold shop tags as we remove them from clothes so as not to misplace any, I use them to keep models jewellery together so as not to loose pieces, I use them to store things inside my kit. Basically I use them a lot.
Black Markers:
Great for labelling things as we go.
Lint roller:
I prefer these sticky lint rollers to the more traditional ones as I find these remove more hair and lint and do it faster too!
Ball of rubber bands:
Great for adjusting belts, necklaces, clothing. Also good for grouping things together.
Shoulder Pads:
For those times when the shoulder needs that oomph.
Double Sided tape:
For those times when you need something to sit just so, or to protect modesty when required.
Black Electrical tape:
Shoes need to be taped on the bottom of the sole to protect the shoes from wear and tear.
Hollywood no shows:
aka nipple concealers. For modesty.
Scissors:
Pretty self explanatory really.
Safety pins:
Useful for adjusting clothing and jewellery and also for "punking" up a look.
Bulldog clips:
Again for adjusting clothing and jewellery to fit. I like to bring a variety of sizes.
Fragrance free wipes:
Not only useful for models to remove their make-up but also good for keeping things clean on set.
More shoulder pads:
A different style to the other pair, these are more sharp.
Black crop top:
I like to use this under see through garments as I like the line it gives.
Black bike shorts:
by
Voodoo Hosiery
, always handy to have on set to add the something extra to a look.
So that's what goes into my styling kit. Some of this might be a bit "no shit, Sherlock" but hopefully this post gives you some insight into the job. xoxo