Day one of RAFW 2011 came and went in a blur of standing in lines as shows were delayed and then the euphoria of finally seeing an anticipated show which then proceeds to move you the way you knew it would. Favourites thus far are Arnsdorf and Subfusco, a resounding trend coming from within the shows for SS11/12 are a palette of white or fuchsia shift dresses teamed with flats. More on the shows and what the people attending wore will be up soon over at
On The Streets of Sydney.com
.
For my day one look I went with a classic black and silver combination. My new ASOS dress with its scalloped and sheer sleeves spices up the classic black shift making it fashion week worthy. Essentially that was the base and I just accessorised to match the dress, finally getting the chance to wear my new
Jennifer Loiselle
statement necklace. Here are the full outfit details:
Dress
ASOS
$50 (sold out)
Belt
Tokyo $90
Hat
Ebay $19
Bag
Love and Luck
Lawless large satchel $320
Necklace
Jennifer Loiselle
acrylic necklace $106
Tights
We love colors
gift
Flats
ASOS
shiny flats with stirrups $19 (sold out)
Bangle
Elke Kramer gift
Ring
MOMA NYC gift
I love how bold this
Jennifer Loiselle
necklace is, people kept wanting to touch it all day.
My nail polish is a newbie from Sportsgirl which I painted before deciding to wear black.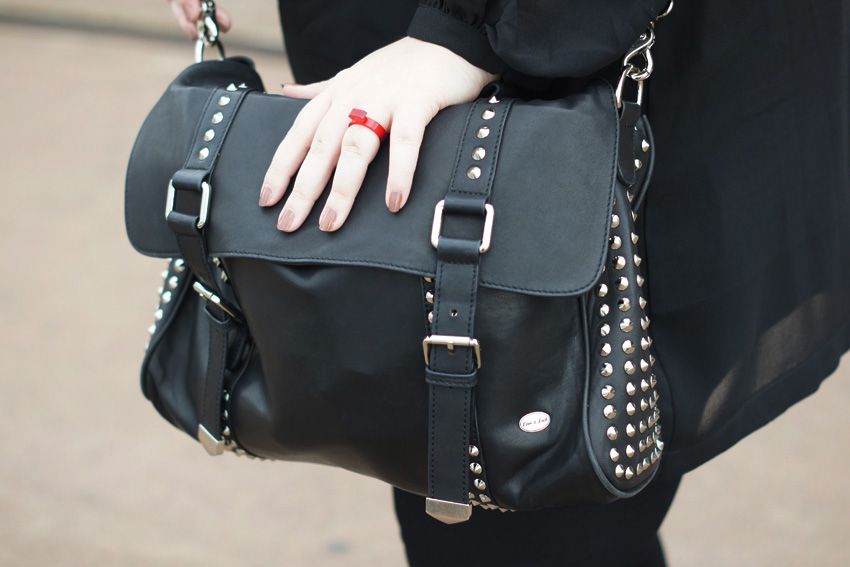 My
Love and Luck
satchel fits so much its like Mary Poppins carpet bag, even my huge digital slr can squeeze inside.
I love the stirrups with the silver hardware on these new shoes. Interesting flats all the way since my knee injury.
Photos thanks to Vanessa Low from
The Monday Issue