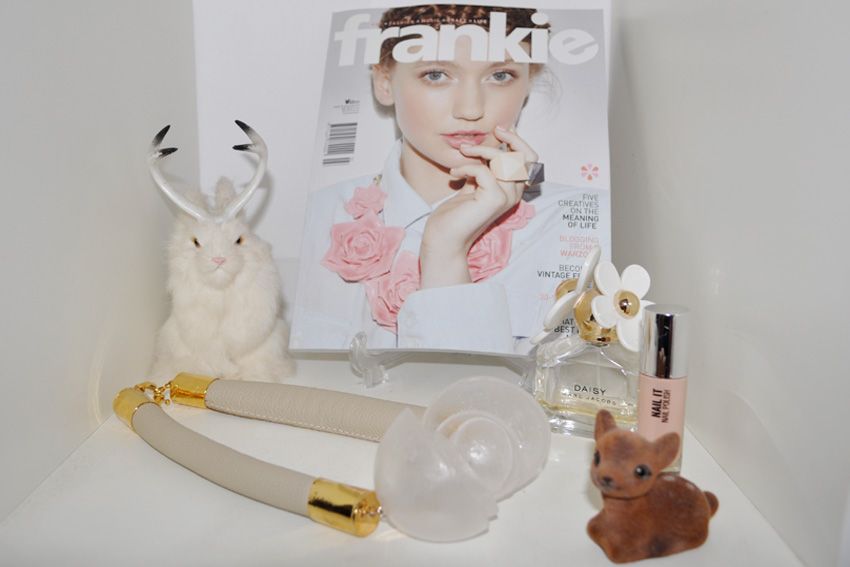 Fred the Jackalope, Estelle Dévé
Somni necklace, Daisy by Marc Jacobs perfume, Sportsgirl Nail It nail polish in Nude, deer figurine from Nara in Japan.
Are you the
Frankie
girl? You love baking cupcakes, vintage shopping and collecting cute figurines. You prefer supporting local handmade design over international brands and you dream of the day your illustrations are featured in the monthly poster.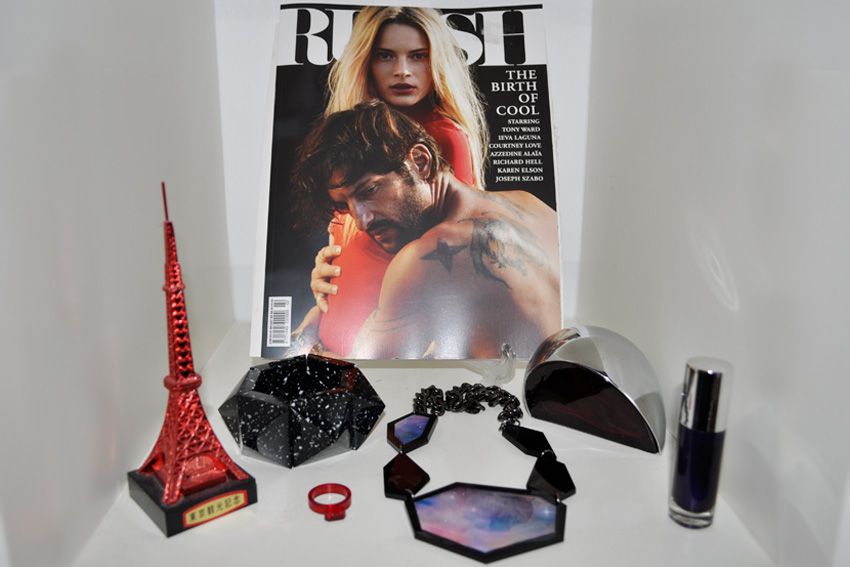 Tokyo Tower, Elke Kramer resin stud bangle, red ring from the MOMA design shop in NYC, Drown Refraction necklace, Alexander McQueen Kingdom perfume, Sportsgirl Nail It nail polish in Purple Rain.
Or are you more of a
Russh
reader? You love everything Stevie Dance touches, in your eyes she can do no wrong from wetsuits teamed with Christopher Kane to splashing yellow paint all over a Lover dress. Your style is more cutting edge than cute, in fact if anyone were to call you cute you would show them the finger, you're just that type of girl.
Black Petal to the Metal necklace by Make Believe, Squirrel lamp from Corky Saint Clair, Blush Amour #46 nail polish, Aesop Geranium Leaf Body Balm, YSL Baby Doll perfume.
Lastly, are you a
Lula
lover from way back? You have collected every issue and have them proudly displayed on your bookshelf next to your squirrel lamp, which is oh so Lula. You would never dream of tearing out the pages of the magazine as its like a piece of art so you have photocopied all your favourite editorials and pasted them all over your walls along with your artistic polaroids and hand written poetry.
Mag Nation
is not only my favourite store (hello I am a big magazine junkie) but they also offer
Magazine Subscriptions
and have kindly offered to give a subscription away to one of my lucky readers.
All you have to do is comment bellow and tell me which magazine you are and why from the above three, then I will use random.org to choose the winning comment. Easy.
Competition is open to Australian residents only and will close at 5pm on the 21st of June.
Good luck xxx
COMPETITION NOW CLOSED