Cute guard dog bonsai at the entrance of the hotel I stayed at in Ikebukuro once I got sick. Yes I had to book into a hotel for a week as I felt terrible staying at my friends house getting them sick (it was a studio apartment and even though I left they unfortunately got it and have been vomiting all week, so sorry guys) and also it wasn't near a doctors office and I was too sick to catch a train to one. Lucky me had a friend who could come in their car and drive me to the hotel. It was so nice of you Toshi to do that for me. Thanks so much!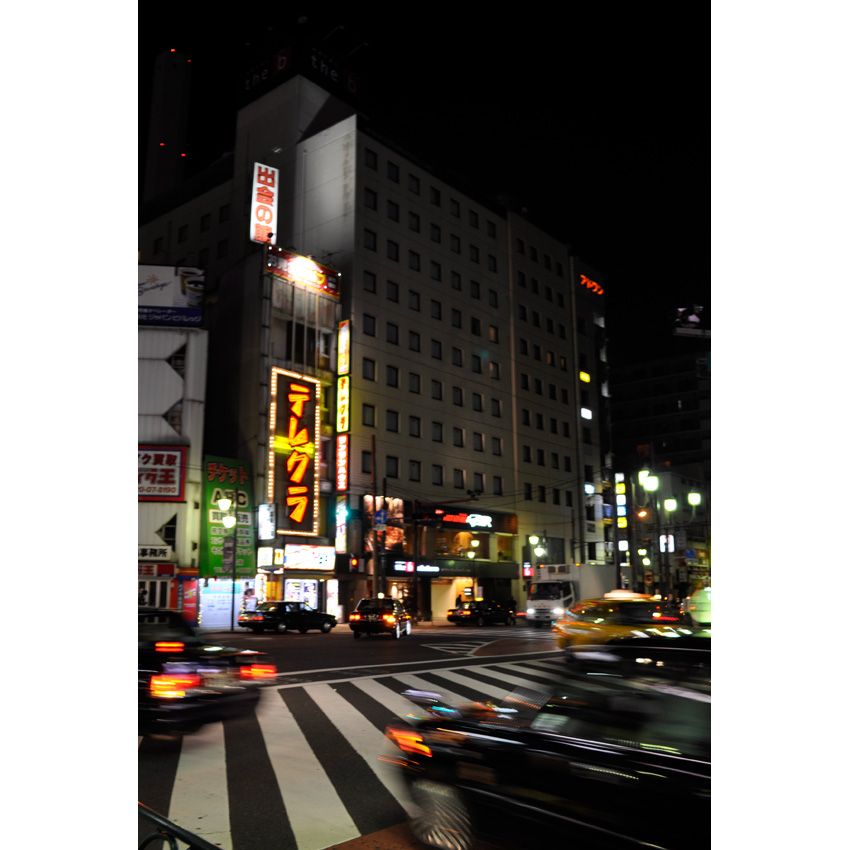 I can't recommend the B in Ikebukuro enough, it was really fabulous, so cheap but so modern and hip in a super spot.
I liked the view too.
Oh and the bidet...when your sick with, well you know what, it is great to have that gentle cleansing option, haha tmi?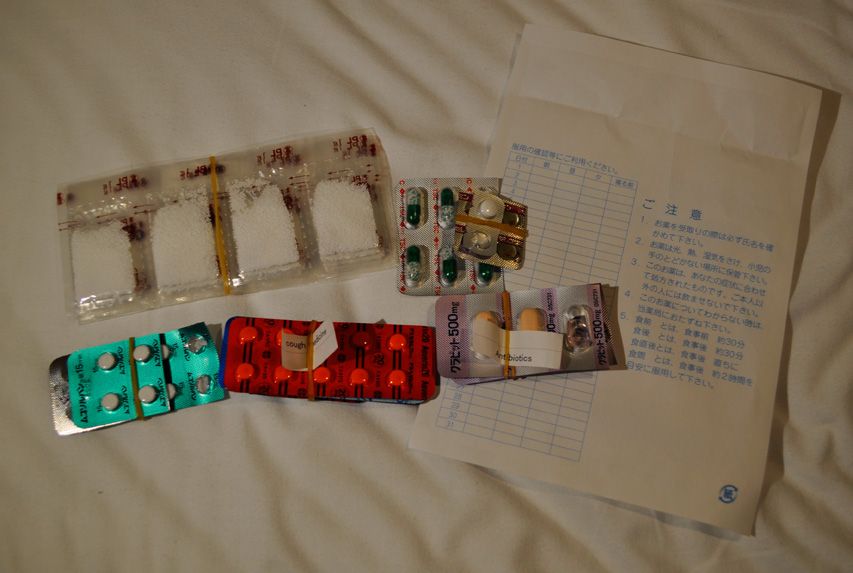 I went to the doctors, which is always a fun experience in Japan. They make you wear a face mask to stop spreading your germs for one, and also there is a nurse in the doctors office with you which seems unnecessary but Japan is famous for having unnecessary jobs which we just don't have back home (light waving men on deserted suburban streets anyone?) Anyway another thing about Japan that is weird is the amount of medicine you end up with. I came out with 7 different types of pills and some lovely (aka gross) powder medicine. It did its job however and after a week in bed I finally recovered and have been able to explore Tokyo once again.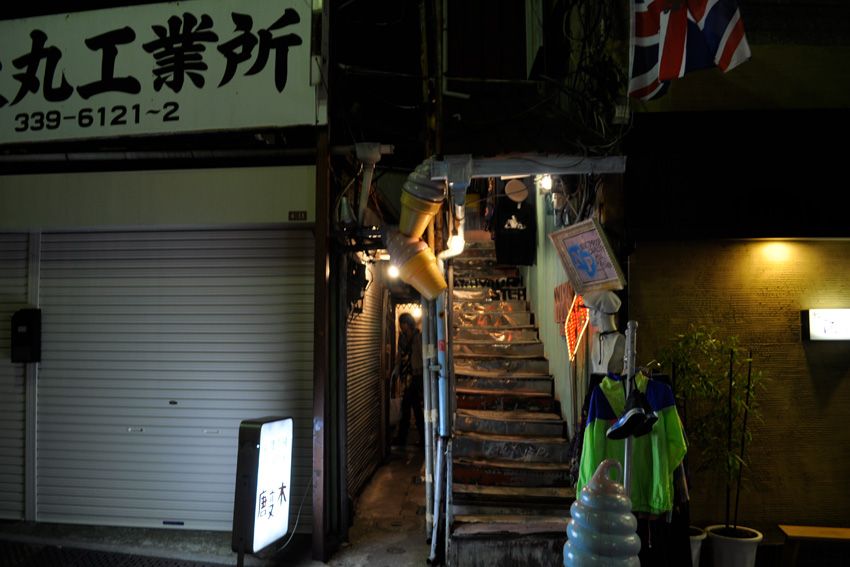 I went back to the Kite Kore building in Koenji as I was meeting a friend there for dinner. This time a secret shop was open (only open on weekends and public holidays from 3:00pm - 10:00pm) known as secret Dog. Dog is a well known vintage store in Harajuku, and this is their sister store in what I like to affectionately call the slums of Tokyo.
Down this scary path and to the left is the entrance to the store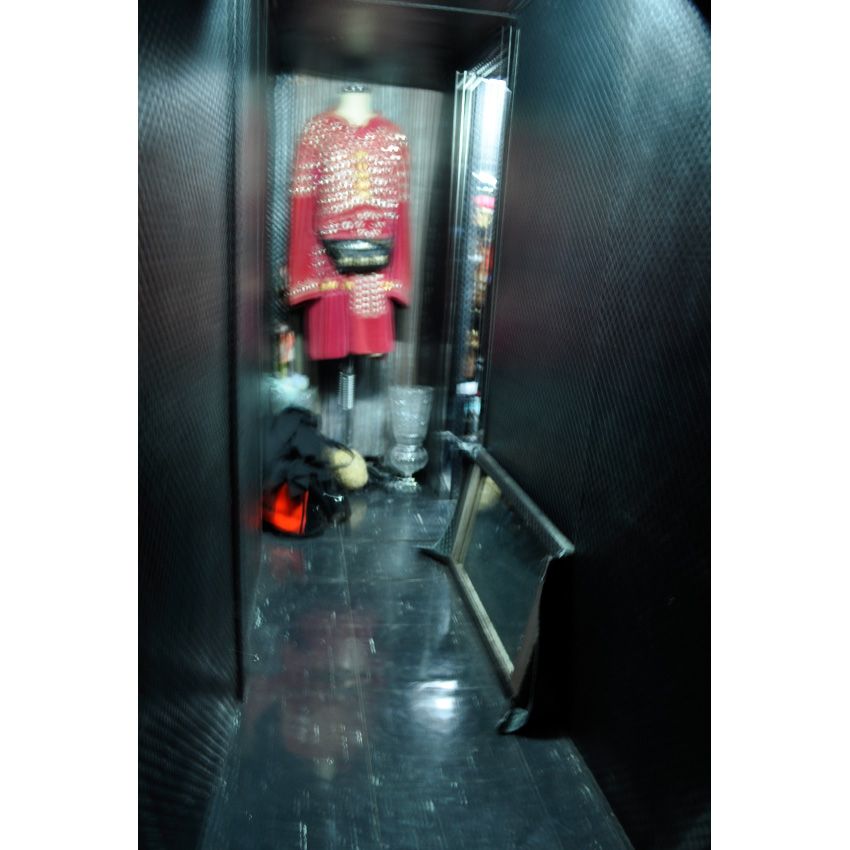 You have to duck your head and step up to get inside.
Once inside the store is about as big as a small bathroom, covered in black reflective wallpaper? it feels like your inside a womb of some kind...a fashion womb
Some more Lady Gaga news is she went and shopped up a storm at the Harajuku version of Dog, and you can see why at this Koenji version (the clothes are of a similar ilk). The clothes are all so unique and have a rebellious punk hand crafted vibe about them, especially because of the unique building it is secretly located in.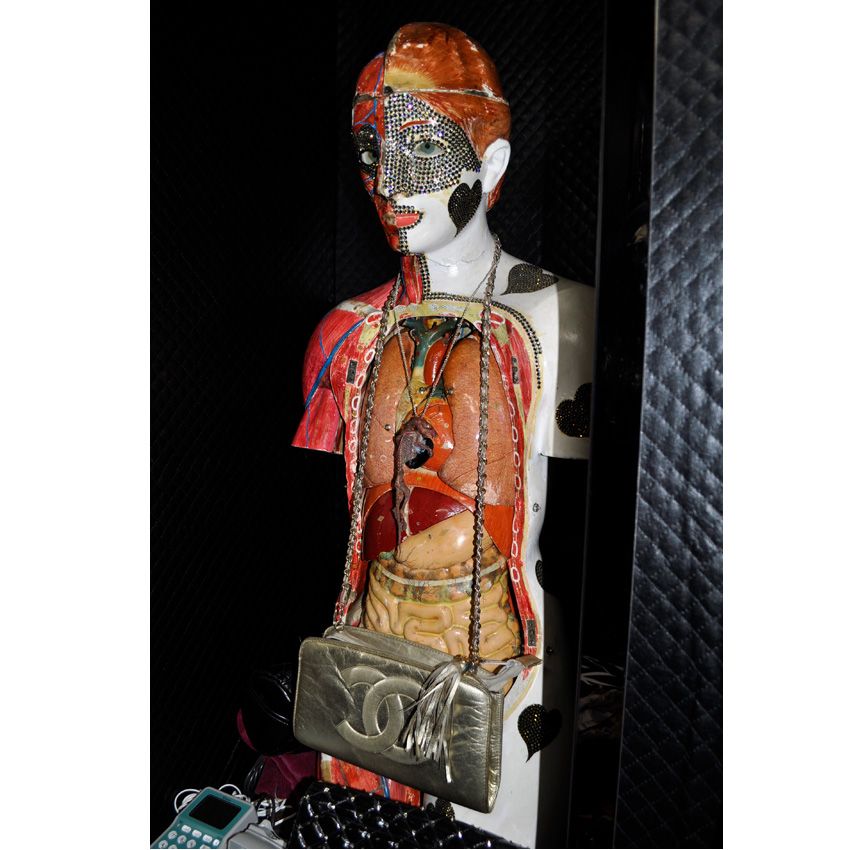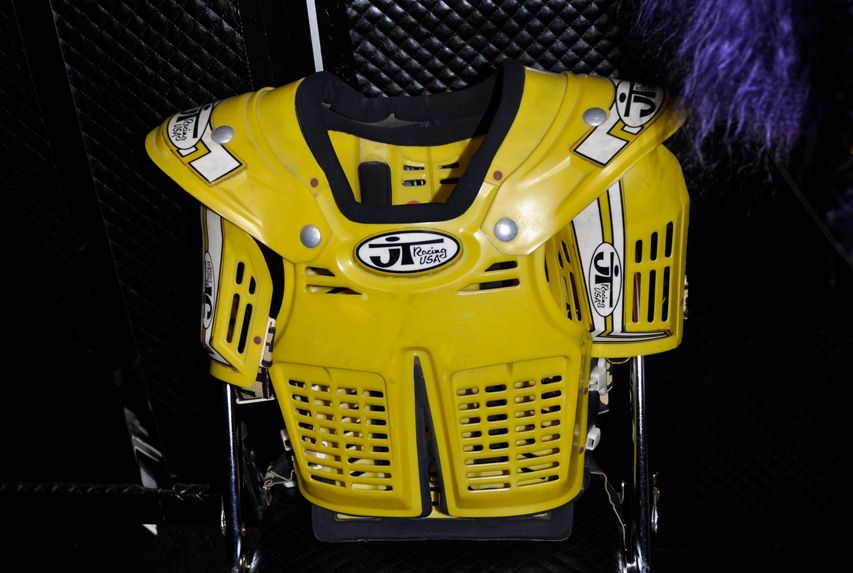 Very Nicola Formichetti Vogue Homme Nippon don't you think?
At the very end of the path is a bar. Upstairs they are building a cafe too. The Kite Kore building has it all!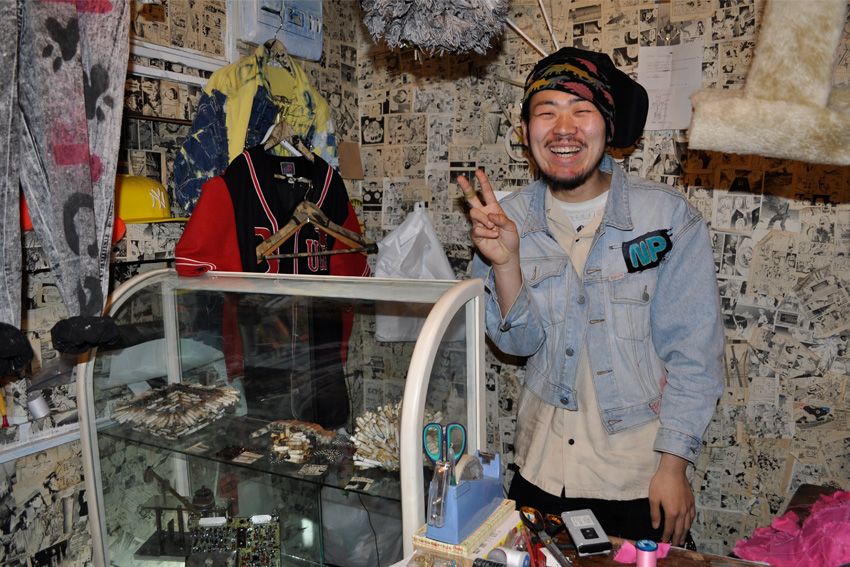 Another store in the Kite Kore building. My friend wanted to give the owner a birthday present so I went in and snapped some photos. Funnily enough she was giving him a photo book about slums in Hong Kong, perhaps to get more inspiration for new additions to the building? It is kinda a joke between them.
Lady Gaga's famous Telephone sunglasses anyone?
Hand made hats with studs.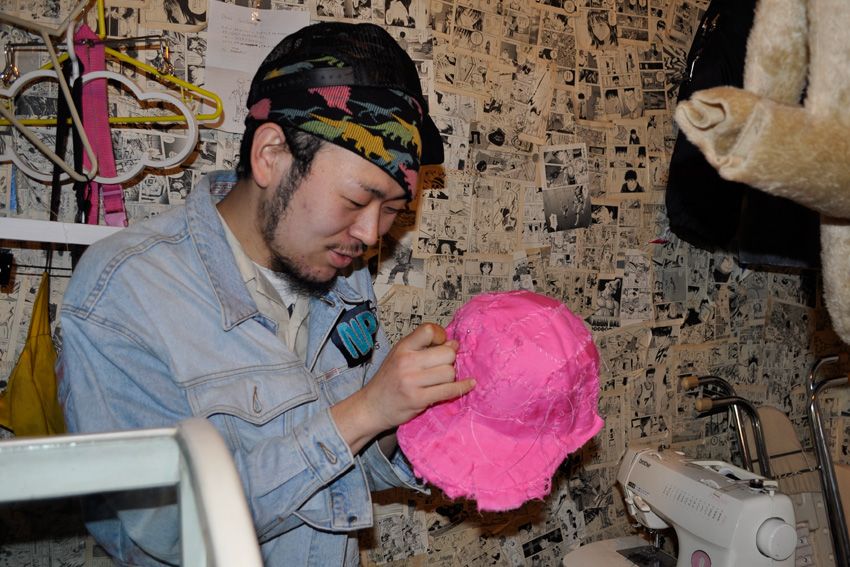 Working away. I love that everyone is busy creating, making, building every time I go to the Kite Kore building.
My dinner was with Tabuchi, who if you have read my blog for a while, will know is one of my bestest buddies in Tokyo. She is the owner of the
Spank stores
, and a
Tokyo fashion icon (appearing in magazines, on tv and has a popular blog)
, but also a really genuine down to earth gal! She is one of the hardest working people I know and I really look up to her. Recently she had a pop up store in the oioi one department store in Shinjuku, which is where I went to surprise her that I was in Tokyo early. Such a funny moment when she screamed in front of a room full of customers, hahah. Anyway as I got sick this was our first time to properly catch up. Koshiro joined us at the izakaya in Koenji.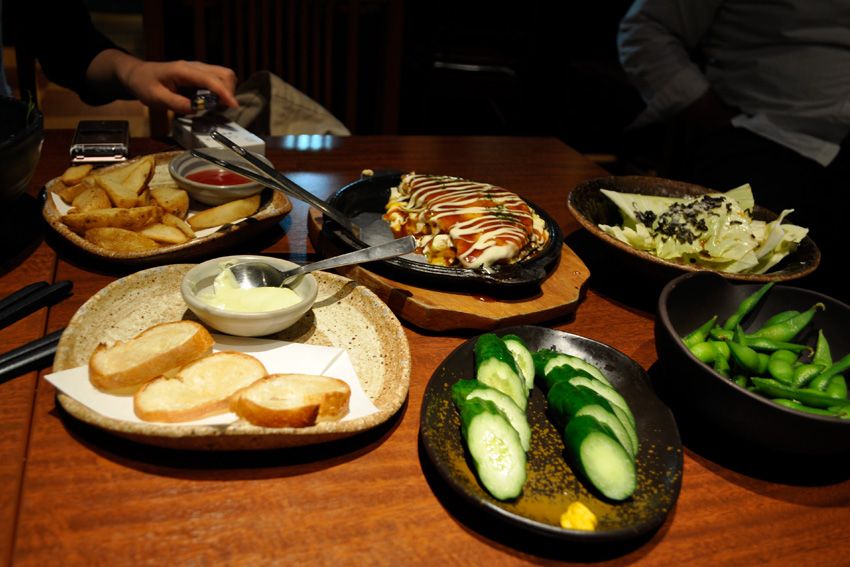 Where we shared plates of vegetarian food (who knew raw cabbage and seaweed could be so yum?) and many glasses of umeshu soda.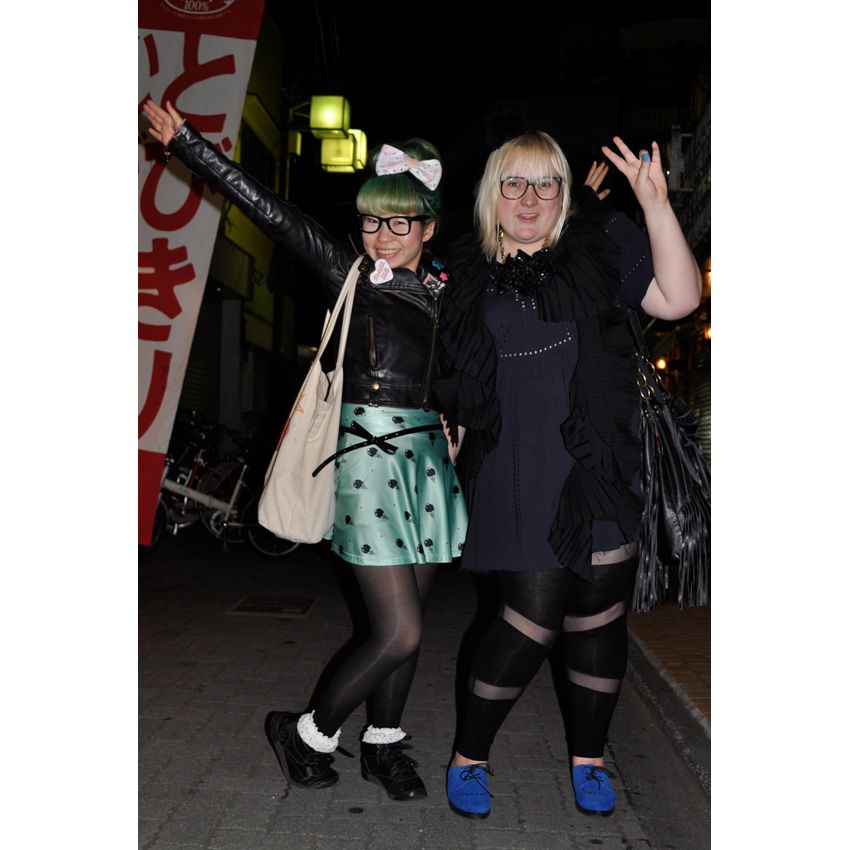 A quick fashion snap. Tabuchi wears all Spank, including a brand new line of lycra skirts which were introduced this week. They can be worn 2 ways, as a boob tube dress or as a skirt, pretty awesome.
I wore:
Dress:
TV
from Alice Euphemia $300
Scarf:
Alpha 60
gift
Leggings: ASOS $40
Blue creepers: Nasty Gal $110
Pom pom: I made
Necklace:
Make Believe
gift
Blue nail polish: Sportsgirl $7.95
Now for the exciting part. My mum and sister arrived on Friday night. It is my mums FIRST time overseas and she is LOVING it. She keeps saying it is like being at the Royal Melbourne Show as a kid, the crowds, the lights, the excitement. For those readers not from Australia the show is a big once a year HUGE carnival with rides, showbags, animals and events. Kinda like a country fair but for a city? Every major city in Australia has one.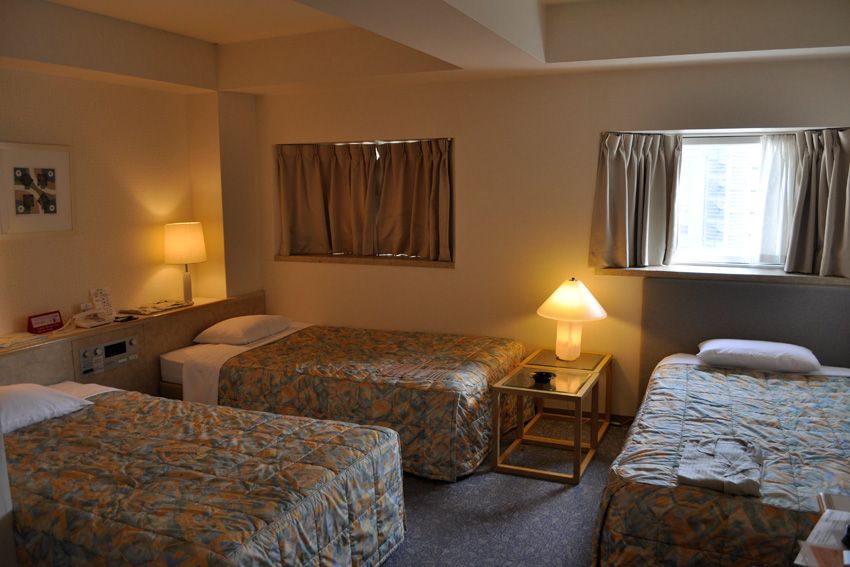 We are now staying in Shinjuku, sharing a 3 bed hotel room. So far surprisingly there has only been 1 fight!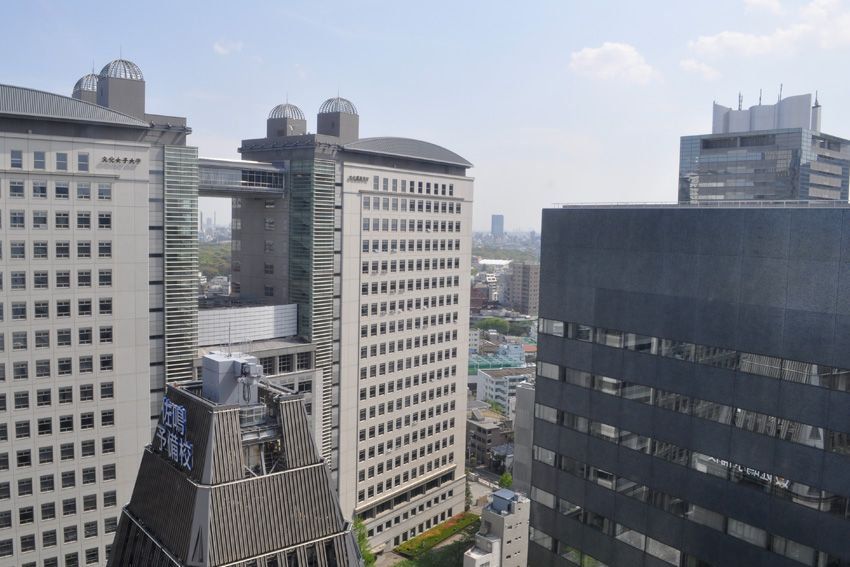 I like our view.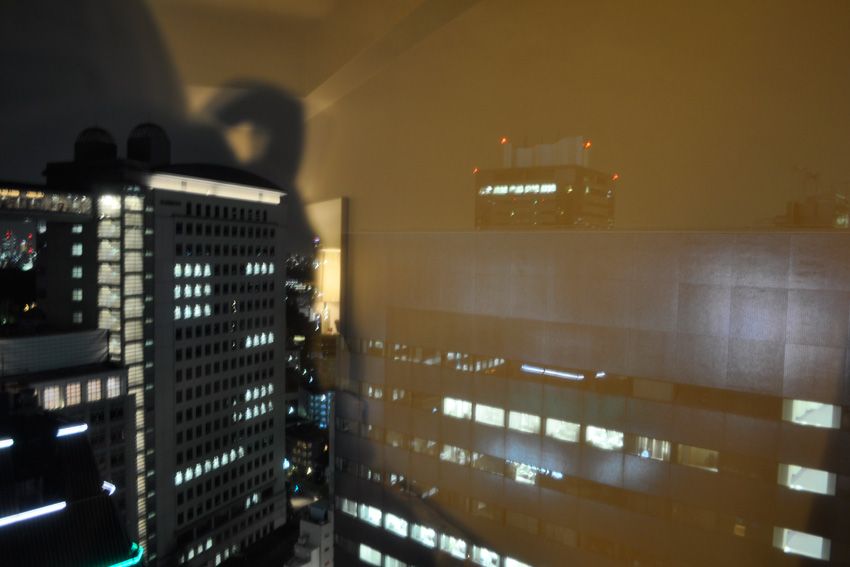 Especially at night.
We are right around the corner from my old work, which is the building with the white blank sign above it. That sign used to say Nova, which as you probably know went bankrupt just as I left Japan. As I worked here I know this part of town well. Right down to the maze of underground walkways and Shinjuku station's famous 87 different exits. We will never get lost.
So far I have only bought magazines, including the Marc by Marc Jacobs e-mook which came with authentic mbmj mirror, fash washer and make-up bag all for $12! An e-mook is a catalogue plus gift that is popular to buy in Japan. They have them for loads of brands. I also bought my friend Daisuke from
Drop Snaps
magazine Lassie Paper which has some amazing editorials as does Palm, Fudge and So-En magazines. Expect scans when I get home.
This is for you
Nadia
. A popular shop in Harajuku named after you, haha. Don't be down my love you are an AMAZINGLY TALENTED DESIGNER! Soon there will be shops all over the world with your name inside them!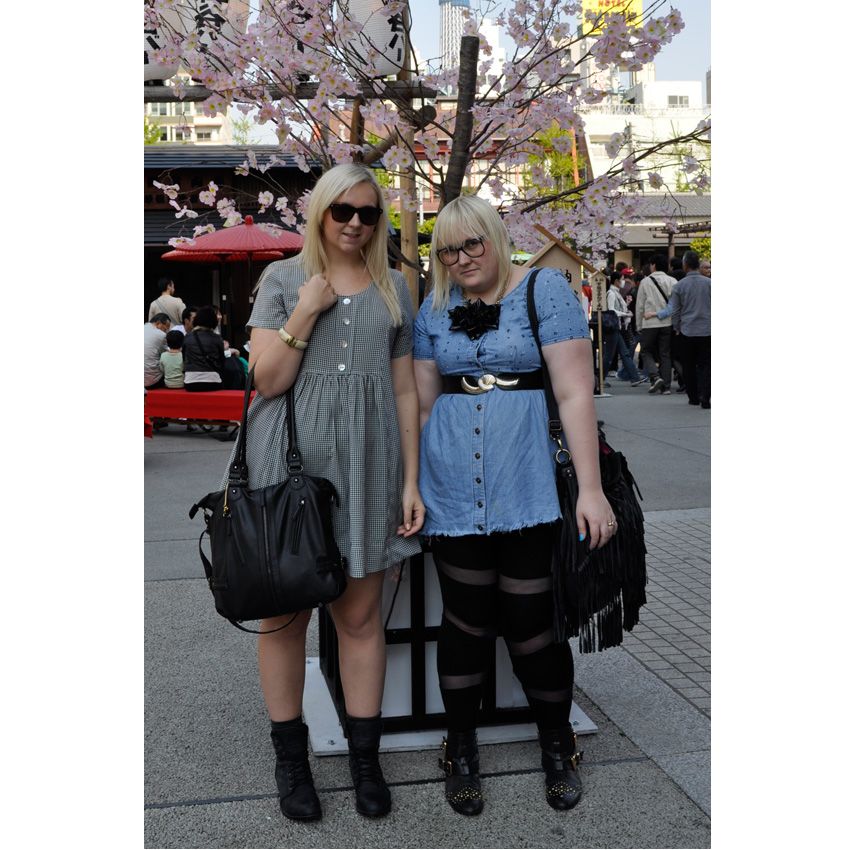 Bonus outfit post for y'all.
Ebony wears:
Dress: Used to be mine from Savers (I customised it too)
Bag: Sportsgirl $40
Boots: Santini $140
Raybans: gift
Bangle: Diva $7
Nail polish: Sportsgirl $7.95
I wore:
Dress: Savers $8 and I customised it
Leggings: ASOS $40
Boots: Forever New $119.95
Bag: gift from my mum
Necklace:
Make Believe
gift
Belt: Camberwell Market $10
Nail polish: Sportsgirl $7.95