I'm not sure if you guys know this yet, but not only do I take street photos for
Melbourne Street Fashion.com
, but I also snap away for
Sportsgirl
and
Melbourne's GPO
. It really is a great life, shooting the well dressed ladies and men of Melbourne, especially as it's something that I have done since I was 16, just now I get paid for it. That is nearly 10 years of taking street photos. My subjects often remark how fun a job it must be, and it really is. I love it, not just for the photography side of things, but for really knowing what people wear, getting up close and seeing trends develop and evolve right in front of my eyes, and lens. Here are some recent faves.
Melbourne's GPO street style photos
What attracted me to the 1st girl was her sheer blouse, which is a trend I'm seeing around the traps a fair bit but this girl styled it so well, not trashy at all which it can sometimes be. The demure styling of such an overtly sexy top and the cute hat and patterned shorts are all winners in my book. The 2nd girl in the blue jumpsuit really stood out in the sea of black. The bold cobalt blue, the very SJP exposed black bra and the studded bag all work so well together.
Sportsgirl street style photos
I was really feeling the 1st girls socks and sandals combo, its a look I'm seeing reappear with a vengeance since its last foray into the fashion world around 07/08. The khaki green skirt made her look very jungle girl meets army in combat meets cute and girly if that makes sense. The 2nd girl is Kirsten, my lovely model for
The Vine
. I bumped into her looking amazing as per usual so had to snap this photo. Kirsten knows how to layer and use texture to make her all black look transcend the Melbourne stereotype into the high fashion arena.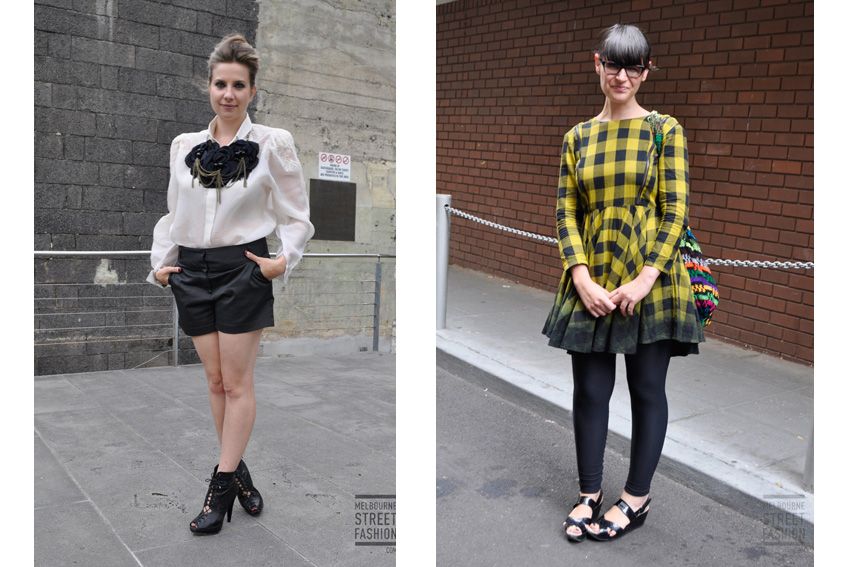 Melbourne Street Fashion.com photos
I spent a lot of time with
Lady Melbourne
at LMFF and this outfit really stood out for me as the best outfit of the whole week by anyone! The simplicity and boldness of the black and white teamed with the extreme statement necklace added that edge to her normal vintage styling making the look a more modern take on ladylike elegance. The 2nd girls dress made me stop dead in my tracks, I had to photograph it or else. Thankfully she said yes so we can now all bask in its greatness. As she was in a rush I didn't ask who it was by, can anyone tell me? I must try to track it down.