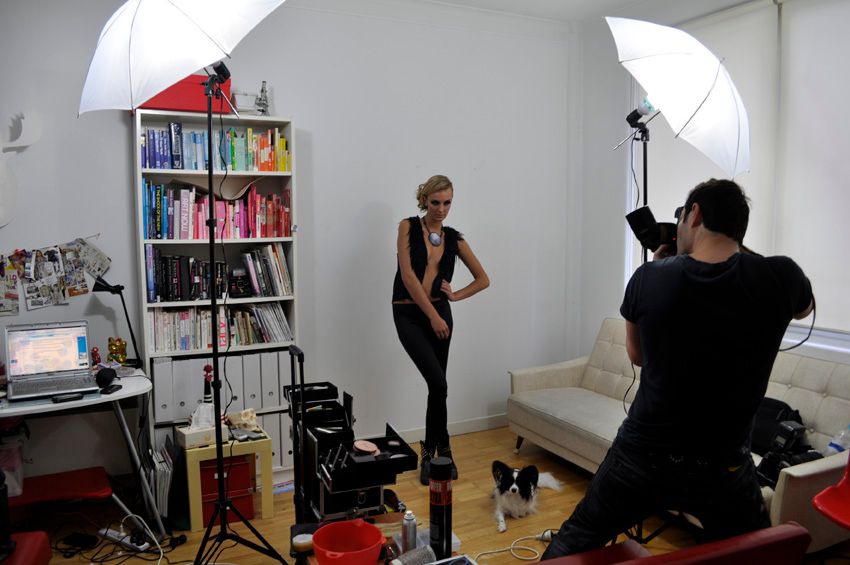 Just about every week my house is turned upside down and into a photographic studio for some shoot or another. This shoot was a very special one and this photo is so funny to me, look at Hachi loving all the attention on him, when actually we are just working around him, drowning in the mess of household items mixed with photoshoot clutter. I think he looks forward to shoots because he gets lots of treats and cuddles, especially at this particular shoot as Alicia, from
Alegorie
,
Drink Me Alice
,
Sea Of Ghosts
and now
Drown
(I dare you to say all that out loud real fast) adores him. The reason this shoot was so special? It was for the lookbook of Alicia's amazing new jewellery collection
Drown
. I have been watching on the sidelines as Alicia began her process from initial ideas to prototypes, eagerly awaiting the day it was finally ready to be launched. When she showed me the first prototype last year I was instantly in love with her vision and knew it would cement her position as an extremely talented designer, especially as she has already won the 2threads accessories designer of the year award in 2008. This new range showcases who she is as a designer and just how far she has come too.
I was honoured to be asked to style the lookbook. It was more a collaborative task as it was Alicia's baby, those pieces are truly pieces of herself. After a couple of nervous breakdowns, near disasters and then a magical midnight miracle we finally had a beautiful lookbook.
With the styling the main point was the jewellery had to be the main focus, we wanted it to be shown directly on skin with no clothing lines blocking the pieces but also no nudity. As the pieces sit quite low this proved to be most problematic aspect of the shoot. One night I had a brainwave and voila feather vest idea which then lead to intense feather watch on the day of the shoot. Those things are right buggers, constantly moving about.
View the full collection
here
. The pieces are available to pre-order
here
.
Styling: by me
Photography:
Victor Lewith
Hair & Makeup:
Jessica Bell
Model:
Caroline P
Jewellery:
Drown