Trimapee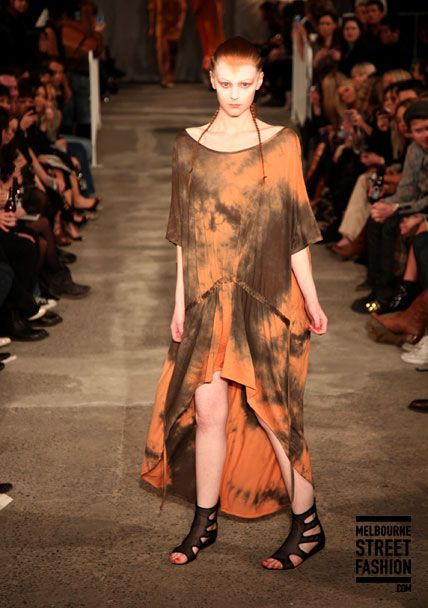 Hello tie dye and orange, a big trend for this Summer! How nice would this dress be at the beach? Plus I love the gladiator sandals, I wonder if they are for sale at the Trimapee store too?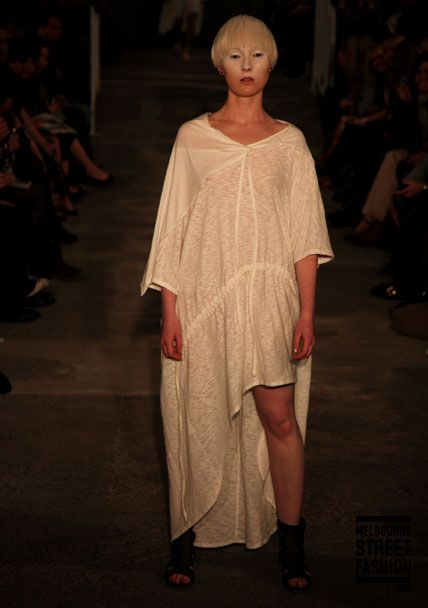 My friend Jess modeled (I helped out with the "street casting", I sent along everyone I know from shooting street style and so many people got picked! yay) and I loved this long drapey white dress.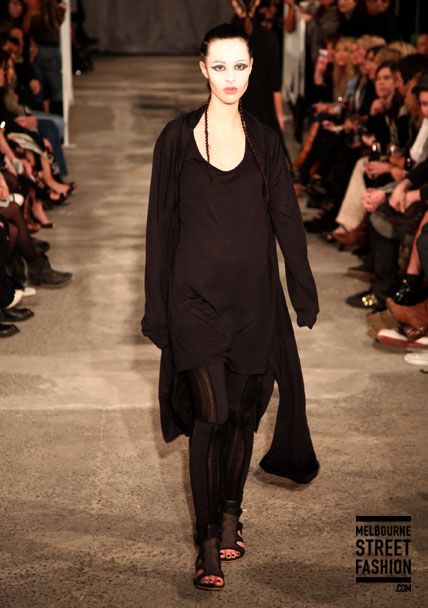 Layered drapey black, so Melbourne. I love it.
Hello cutout dress, I really love you, will you be mine?
My love of all things fringed and macramé continues. This top??? is amazing!
RMIT Grad show
My faveourite show every year to see innovative amazing clothes. I love seeing what the talented students come up with, and this year they came up with some amazing crazy things!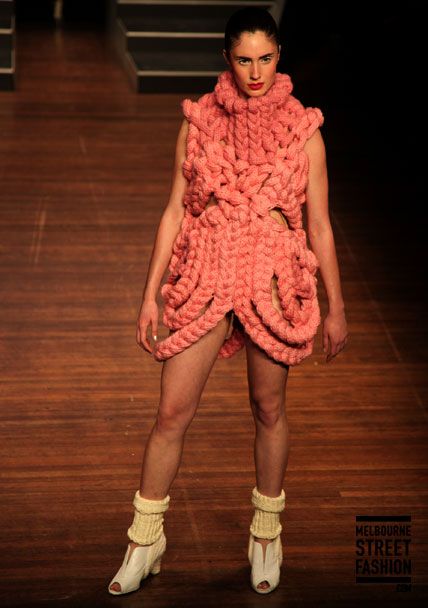 Rosalindynata Gunawan
As you know I love wool, macramé and texture. This dress is all that and more, its pink too! So amazing.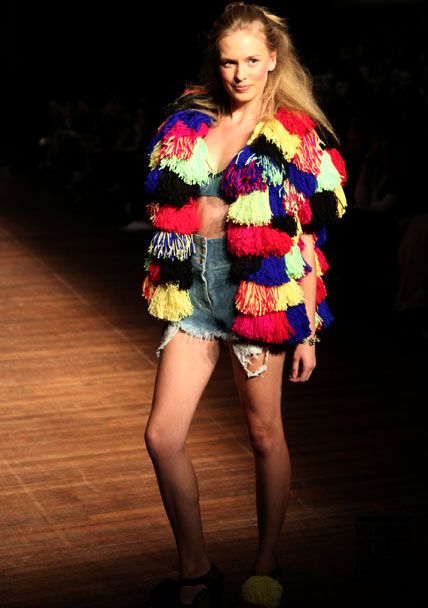 Natalie Bortolotto
Pom pom jacket, enough said!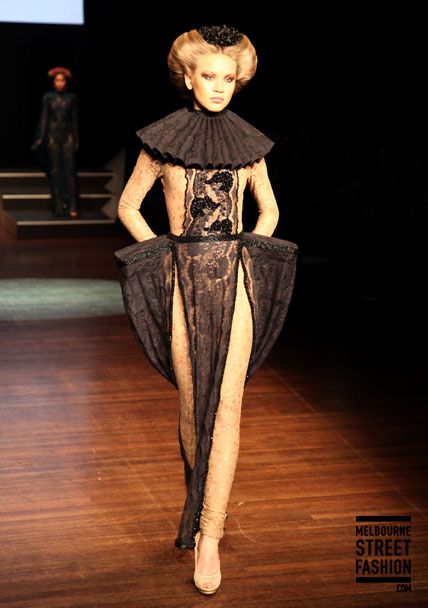 Christina Livaditis
Costume Drama.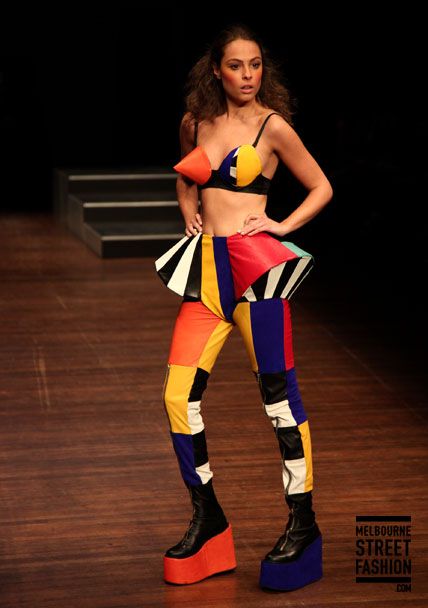 Nadia Napreychikov
Wowzers! If you follow Nadia's blog,
Foxy Man
, then you would have seen part of this outfit before, as her Triumph Inspiration Award lingerie piece. I love that its been reconfigured here and totally works with the rest of her grad collection.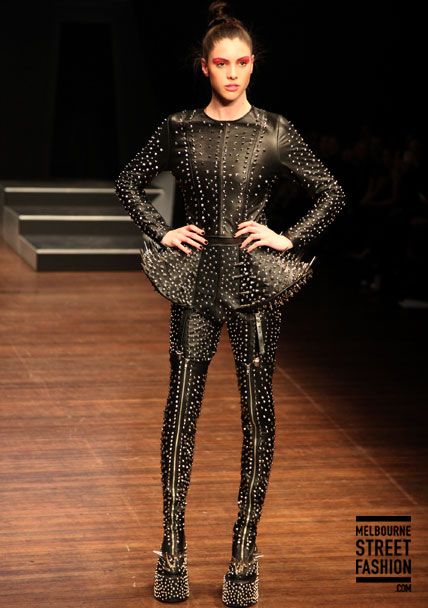 Nadia Napreychikov
The stand out piece from the night. As it came out you could hear the audience collectively gasp, and then everyone burst into applause. It really was that breath taking. The studs sparkled in the lights, looking almost like crystals. It really was magical. I'm so proud of Nadia. She deserves all the applause and press, she worked so hard on this collection, and it shows!
Antipodium
.
MSFW is a retail event, so most of the clothes we have seen at RAFW and some are even available at stores right now. However that being said, seeing the show in person, as I sadly didn't make it to RAFW, made me fall in love with the pieces all over again!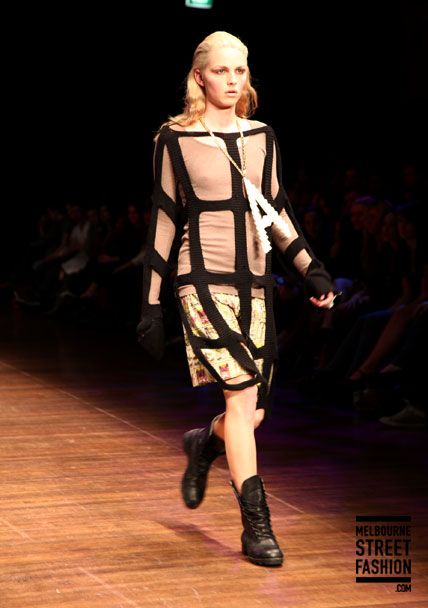 Andrej, you had everyone around me fooled that you were a girl but I set them straight. I love this black cut out cage dress thing.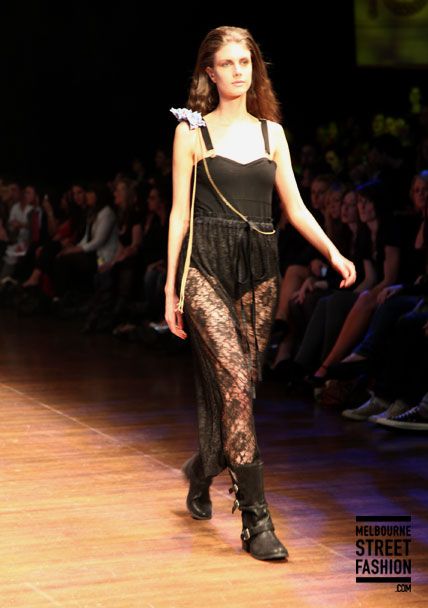 Make Believe
necklaces, oh how I love thee.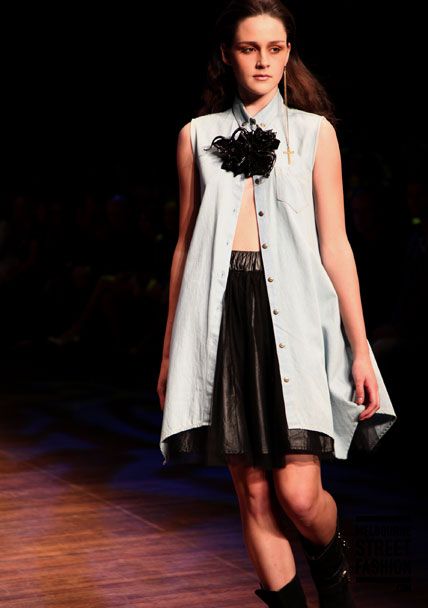 TV
Again, have already seen the collection at RAFW, but seeing it in person only confirmed how much I love/need some of these pieces.
The dress that has sadly been
copied
. Monika and Ingrid don't deserve that to happen to them at all. Boo to Sunnygirl for making a blatant copy and boo to Shop til You Drop magazine for publicising the FAKE!
I die everytime I see this dress. Black fringe on mesh = death by fashion!
The absolute best moment, when they all walked out, arms spread, in my favourite dress of their collection, the TV "logo" dress.
FAT
collection
New season stock from the Fat stores.
Birthday suit
, by the
Kingpins
, a Sydney based art collective who I've loved for years. Their video art was my major inspiration back when I was in art school, as I loved their take on cheesy pop and r'n'b. Now their fashion inspires me, as I love clothes that scream with creativity. I hate fashion that takes itself too seriously, its meant to be fun.
Bugger, I can't for the life of me remember the name of this new label/line by
PAM
.Does anyone know? I love their sweet yet still rock n roll babydoll dresses.
Alpha60
Melbourne's favourite label impressed me with their signature cuts, prints and fabrication techniques.
Love the digital print here.
This dress is likely to become a sell out, I can just see so many Melbournites wearing it. Plus I LOVE the skull necklace. I wonder if that is going to be produced and for sale too?
Pleats please.
What were your faves of the week?