Outfit details:
Romance was Born cape: $220
Tie dye t-shirt: Henry's so Free
Skirt: Savers $3
Leggings: Kinji Harajuku $9
Black patent oxfors: Dimmey's $9
Geometric necklace: Lola & Bailey from
Alegorie
$49
Belt: $50 from Japan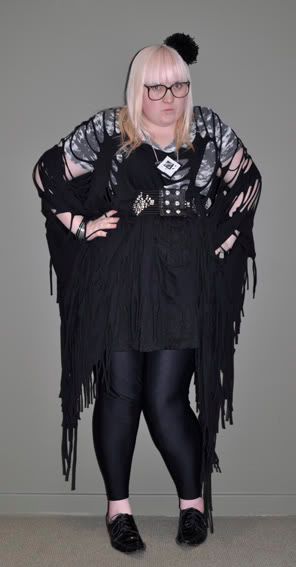 I wish my outfit post photos were better. They are always a rush job, at night after Henry finishes work before he gets too grumpy to take the photos. Hence the awful flash photography. Anyway here is my lovely birthday present from Henry, the Romance was Born snowflake cape. Finally got around to photographing me wearing it. Or rather it wearing me. It's just so long and large, and it really does look best when my arms are up in the air, so when I wear it I always try to make large gestures with my hands, haha. You can't always enter a room in an exaggerated way, but this cape makes me feel like a performer entering the stage and I act accordingly. To be honest it looks much better on the models I have styled wearing it, but that isn't going to deter me from putting it on. Working out what to wear underneath is a problem however, but I have found the perfect solution: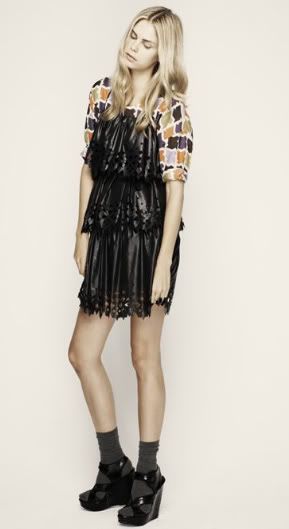 This amazing Gorman dress is on sale right now for only $100 down from $450. I have been asking Henry for the money, seeing if I can do some chores or something (geez louise I need a job) but sadly he hates the dress and won't give me the dosh for it. I'll come up with something though, as I am madly in love with it. $100 isn't even that much bloody money. I have never been jobless for so long, I've always been the one with the job in the relationship. Its so hard to not have my "economic freedom", its like being 8 years old again. I have a few things in the works though so hopefully something comes through and I can pay my own way from now on.