I am such a Project Runway Australia fan. Look at me, I even changed my uni degree's so that I could study where it was filmed (not 100% true as the course was perfect for me, but there was a part of me that really did just want to go to Whitehouse because of Project Runway). I have never watched the American version, so this is only the second series of PR for me to watch. I love Henry Roth (and have now shared a lift with him, stood beside him at the cafe next to uni but sadly never spoken to him except to say excuse me) and Kristy Hinze (who I never saw as they film her spots over at the ABC studios, only occasionally did she come to uni, and on those days we would all gossip trying to locate her). This season's contestants look amazing, but I still love the first seasons stars (Petrova honey, you will always be number one fave)
My favourite this season is Anthony Capon. Hailing from my home city, Melbourne (why have I never seen him around, he isn't hard to miss now is he? I'm sure in time I will meet him though, seems to be the way with me as I met my 3 favourites from last year, Petrova, Oren and Lui) His personal style is similar to my own, black, textural with elements of crazy fun. His dress this episode was the most interesting in terms of shape and texture, he seemed to be the only designer doing something different to what is already out there.
On runway day he wore this AMAZING floral neck piece that I am going to try to replicate ASAP. I'm obsessed with flowers right now, but using them in unusual interesting ways. I saw this amazing giant black fake flower at ClearIt on Brunwsick Street by Alannah Hill on the weekend and was so tempted to buy it. Unfortunatly it was $50, but I'm not kidding you, it was HUGE, like the size of a wok, and with floppy petals almost like fringing. I would wear it on my head or have like 10 around my neck in an ideal world where I have a job.
Just look at the flowers.
His final dress. This is a bad angle, but it was amazing. The draping, the cut and the asymetrical lines, not to mention that textured print, to die for.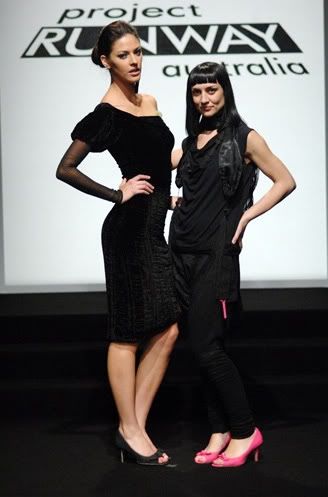 Another contestant to look out for is Ivana Stipicic. Her resume is very impresive, having studied in Italy and worked for Costume National. Her dress was probably the most on trend and well made. I can't wait to see what she comes up with next.
In other news you may have noticed a new banner on my side bar.
I'm now contributing over at
GXYsearch's blog
.
GXYsearch
is a fashion recruitment agency who I think for myself and my readers are a useful bunch of people to know. They have insiders knowledge of the industry and how to get in and do what you want to do. I recommend checking out their
website,
facebook group
and
Twitter
. Also please feel free to comment on their blog and ask any questions or suggest topics to talk about.