These crazy arse flares at the
Sportsgirl
sale by
Maurie and Eve
? Down from $150 to only $65...looked pretty awesome on but are maybe a bit too hippy-ish? I'm leaning towards yes but want to know your opinion. Maybe if they were a little cheaper? There were 2 pairs left in my size at the Bourke Street store...maybe I should go back in the morning cos I did love them on so very much.
In other news a photo of me in the Romance was Born cape will come tomorrow as have had no time with my photographer (aka Henry) all week. I think these flares and the cape will work so well together...but then I will be bordering on crazy yeti hippy with pom poms and pink hair. OMG how good will that all look???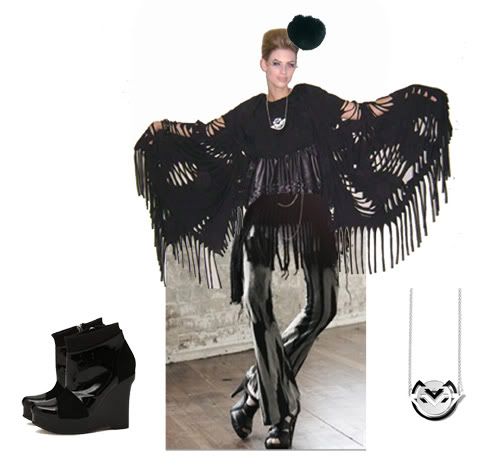 Wow I am so getting the leggings now. Like my bad photoshopping? That is the actual Romance Was Born cape I bought, modelled by the beautiful J J from a behind the scenes photo at that
shoot I did
a while back (got the images back recently, A.M.A.Z.I.N.G with a capital A, can't wait to show you) which upon returning to Fat I missed terribly and convinced Henry to buy it for my birthday. I am also finally buying the Lola&Bailey necklace, my mum gave me the money for it for my birthday, yay thanks mum! Just need to get the Tristian Blair shoes and then all my dreams will have come true.
So what do you think of the flares? yay or nay???