All of these have featured on my blog recently but I just can't get them out of my head.
I'm still dreaming about this Lola&Bailey necklace, from
Alegorie
. I've borrowed it for two shoots so far, and I wore it around the house trying to convince Henry to buy it for me. Being back at uni sucks, I never have any money so Henry is like my "dad" in that I always have to beg him for money to go out, see a movie, get a tram ticket etc. I need an allowance. Or a job. There are no 1 or 2 days a week jobs at all right now.
Another piece I borrowed for a shoot is this leather cage top by
Es-Trella
which I love and have so many ideas for.
Make Believe
Petal to the Metal necklace as featured in the current issue of Vogue. Adore this piece.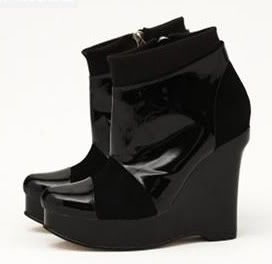 Tristian Blair shoes available from
Lady
. No way could I ever walk in them as I'm heel intolerant so if I bought them they would be my "sit down dinner shoes" and I would go to dinner and just sit down and stare at my feet all night.
Also really want to do this with my hair, which I've wanted to do long before Lady Gaga perfected the look. I do love me some Lady Gaga though, her look is so me, but with more money and a better figure.
I found an online tutorial of how to make a hair bow. Its in Japanese but its easy to understand.
I've had no time to photograph the RWB cape. I will do it on the weekend. Sorry everyone.