I only check your blog when I need a self esteem boost and once again, it's worked a treat so thanks!
The only thing trashier than Lady Gaga is possibly you. I cannot comprehend how someone as stylish as Kat George could consider being in close proximity to you, unless to make herself look better in comparison. Which I doubt she would. She seems lovely.
Maybe I shall send her a copy of this, as it will no doubt never reach your comments page after you've read it. And I am not shadowingd myself under a veil of anonymity- I just dont have a blog account.
Most importantly H, you should really watch what you say in public places, particularly when people you try to suck up to are nearby! Doesn't reflect well at all, does it?
Shame the facehunter or sartorialist never featured you.
Ta-ta for now!
Anonymous
Gotta love cyber bullies. Especially jealous ones.
First of all
Kat is my friend who just so happens to think I am stylish. If what you actually mean is that I'm fat and therefore can't be stylish or beautiful I'll beg to differ with you, as would a lot of my readers, friends and husband.
Secondly
I love Lady Gaga and I love trashiness so that's actually a complement.
Thirdly
I have no idea what your talking about when you say I'm bad mouthing people in public. That doesn't sound like me, and I certainly don't suck up to anyone as far as I'm aware.
Last of all
I never actually expected to be photographed by the beauty police, Yvan or Scott, as what they are looking for is traditionally beautiful (read skinny) women in expensive outfits (in Yvan's case its mostly women he wants to f@#k). I have however been photographed by street photographers who are interested in style alone, such as Phil Oh from
streetpeeper.com
(will be on the site soon) and Daisuke from
Drop Snap
and Rei Shito from
Style from Tokyo
(formerly from Fruits)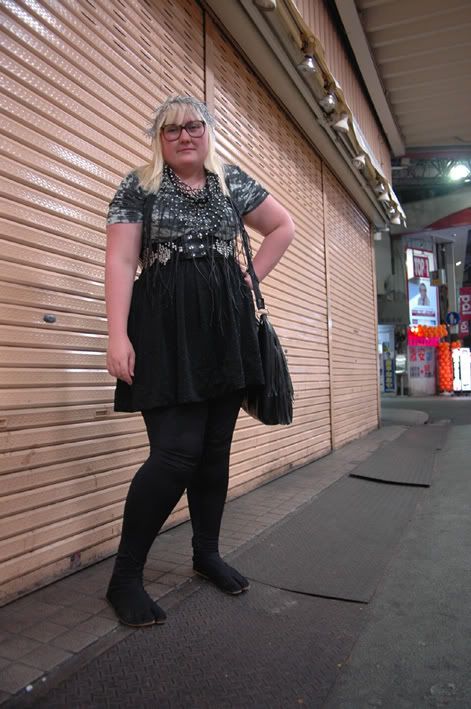 Not to mention recently being drawn by the talented
Montgomery Today
So yeah, some people do think I'm stylish. It's not a great loss to me if you think otherwise, but there is no need for all that hate and jealousy.