Phil Oh, from
Street Peeper
was in town this week and it was the first time for me to meet him. He is so lovely, one the nicest street photographers I have met! And I have now met quite a few hey? Yvan from
Face Hunter
, Rei formally from FRUiTS and now
Style from Tokyo
, Scott from
The Sartorialist
, Garance from
Garance Dore
, Daisuke from
Drop Snap
and Gallermic from
The Fashion Ramone
who I miss so much, living with him in Tokyo was so fun and I really miss his blog, but he is also no longer in Tokyo. Gah feeling sad again. Tokyo will never be the same without him.
Anyway, I got side tracked there for a minute. My point was I hung out with Phil while he was down. We just talked fashion, the difference between Melbourne, Sydney and the rest of the world in terms of style and brands, oh and about
Susie Bubble
(well at least I asked him a million questions about her, obsessed stalker much???). We also went "shooting together" and he would ask them something like "are those shoes Marni?" and I would be like "don't even ask that, no they are not Marni we are in Australia, they are from Savers!!!" lolz. Honestly though I think that is the thing that kills the street photographers who come from o/s when they are here, no one is in labels. Like maybe a few here and there but not to the same extent that they are in London, New York, Paris etc where these guys usually shoot. That is why they always seem to struggle at first, working out what is actually good style without it being all about the label. People in Melbourne seem to mainly wear Op shop and local Australian designer. At least that is what I have noticed after taking hundreds of photos and asking where all their clothes are from.
Anyway remember I said Phil was nice? Guess what he managed to get me? The AMAZING
Alpha 60
pleat scarf I have wanted forever and ever (just ask
Yvan
, he knows all about me wanting this scarf, when I twittered that I got it he twittered back "finally" lolz, tell me about it!)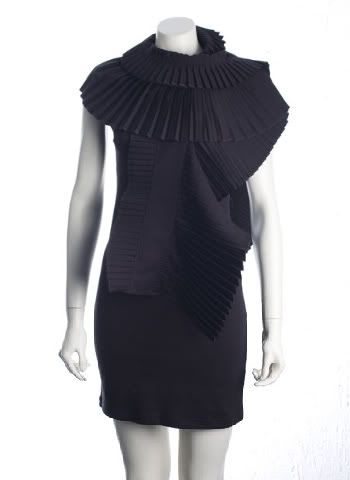 Love love love this scarf.
Here I am in all my scarf glory. People all day kept asking me if I was a designer, which was funny. I was just wearing all black plus my new amazing Alpha60 scarf. What is it with all black that screams designer?
Yesterday was such a weird and eventful day. I don't think I can really express how crazy it was. So much is going on, I have a new shoot I'm styling so I had meetings all morning about that, then the search for clothes was on. I met up with
Kat
for lunch which was so nice, haven't seen her in ages. Then I went shopping with my friend Olivia from Uni, which turned into meeting an artist who was having a show in a crazy amazing uber designed apartment in a laneway in the city. I really should have taken photos of how designed this apartment was but there was a bookshelf that was actually a door to the bedroom and a commercial looking kitchen that apparently people from Master Chef cooked on for the exhibition opening.
Here is me,
William
the artist and Olivia. Their photos will soon be up on
Melbourne Street Fashion.com
because they are so stylish.
Later on we all went to Matt and Milo's amazing wedding themed 10 year anniversary party.
How amazing do they look?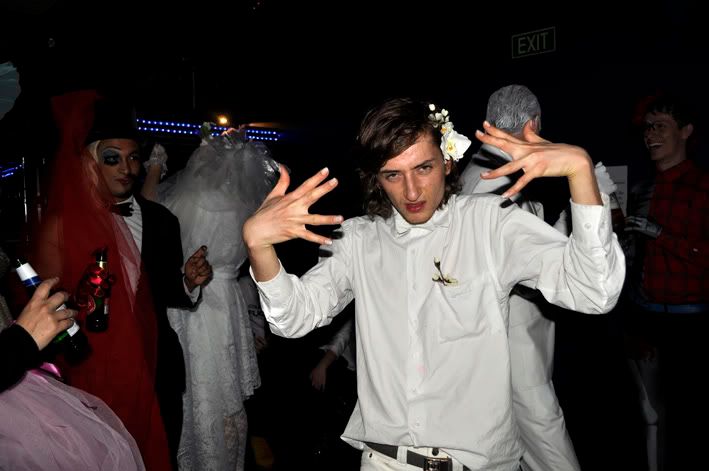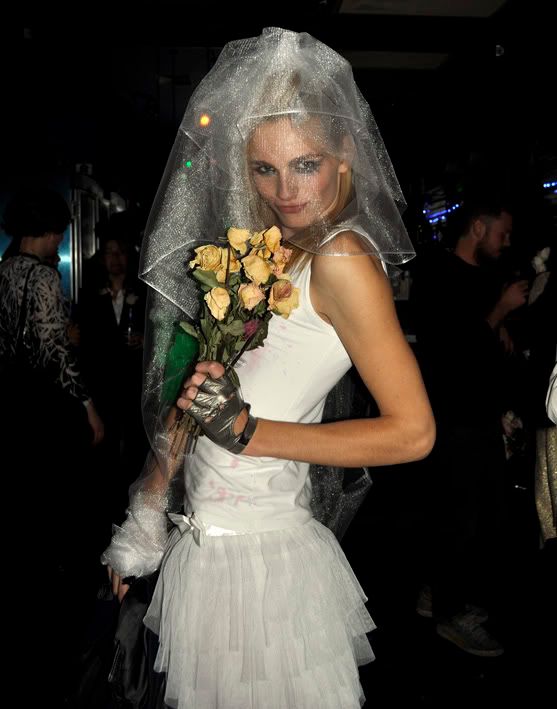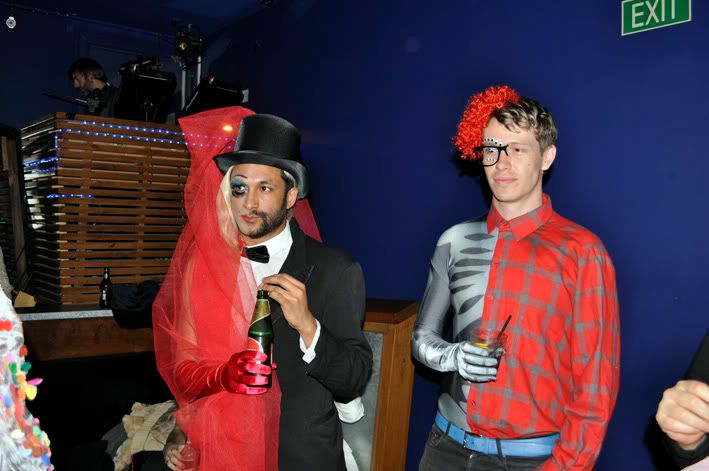 I loved Ryan's half girl half man outfit soooo much. When I was a kid I always used to draw half men half women...is that normal?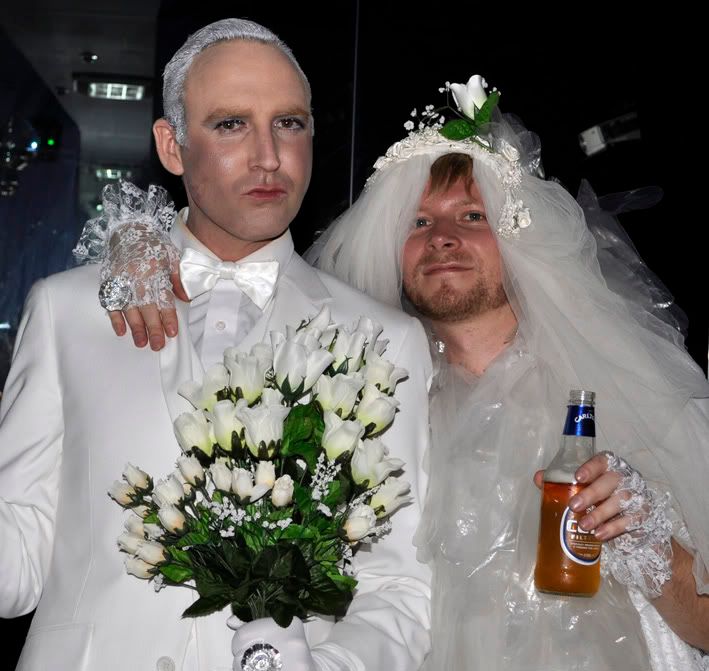 The happy couple.
There were so many amazing outfits, I wish I got photos of everyone. I regretfully didn't dress up apart from wearing a veil with my regular day clothes, so I officially let "Fashion Hayley" down...whatever that means, lolz.