Love the cage dress.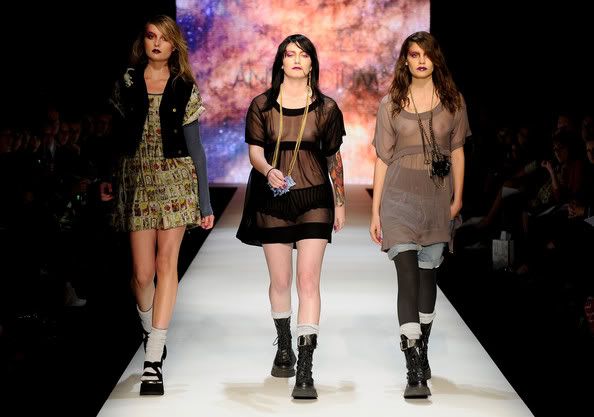 Love the use of "real models". Apparently they were giving the crowd some attitude too. Sooooo wish I was there!
Tu-tu-rrific
Amazing necklace. Rats plus heaps of chain = yes please!
The talk of the town at RAFW (so I hear as I was unable to attend) was the amazingly styled
Antipodium
collection. Designed by the talented Geoffrey J Finch with the styling by none other than the lovely (sometimes, lol, in taxis his personality suddenly changes) Ryan Lobo from
pages digital
who was the half girl/half boy in my last post about Matt's wedding. The famed tampon Jewellery was made by Ebony and Amber who I happen to know from when we all lived in Tokyo at the same time! They make up the team at
Make Believe
, a used clothing online store and jewellery design studio that is seriously going places, they were interviewed by VOGUE and I saw a blurb about them in yesterday's newspaper! So excited for these girls.
Currently only the
Petal to the Metal
necklaces are available, but they are working on more styles as we speak. This necklace looked so good on the runway, I may just need to get myself one.
To keep up to date on their amazing journey you can read the
Make Believe blog
. I hope to catch up with these girls soon, I so need to head to Sydney...apparently I am a gay icon over there?