The NEW issue of Attitude magazine is out. You can get it
online
OR in print in Australia at fashion boutiques or wherever you pick up your street press.
Isn't the cover AMAZING? I really love the styling of this issue, every page is an inspiration.
Another reason to check out the new issue is I have written an article for the mag about my fave fash photography blogs/sites.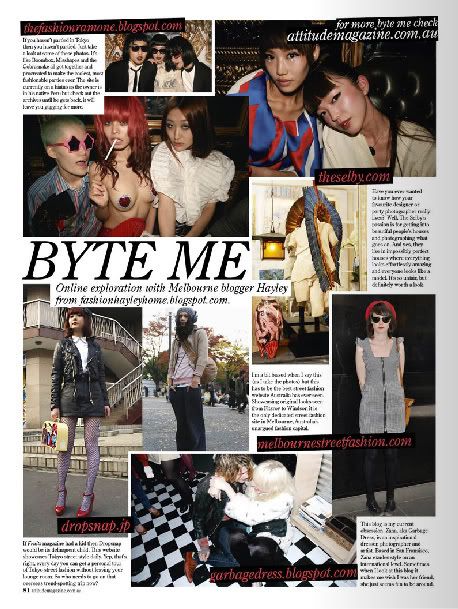 I'm beyond happy with how it all turned out, the page looks amazing. Sourcing all images was a nightmare, but I did it even with my internet shaped! Its on the
2nd last page
btw.
So now I am a published writer, which is 100% unexpected but at the same time such a dream come true. Still working out what exactly I want to do with my life, but I am a total mag addict (I brought home 10 magazines from Japan, and then when I landed I bought Shop till you Drop, Russh, Frankie and Yen...I actually cried when I saw them on the stands I was that excited by them...yes I am crazy) so a career in magazines is pretty much my dream. This blog was never meant to be well writen (and its not) its just a place for my ideas, projects and inspirations kinda like a visual diary. So hopefully with these other places to write my writing will improve on here too? Practice makes perfect yeah?
I actually took a copy of issue 61 of Attitude to Japan with me (sorta working on something over there) to show people/designers/boutique owners and everyone was beyond amazed at the quality for a FREE magazine. Apparently Japan has virtually no street press, and if they did it wouldn't be of the same standard. A Japan update will happen tomorrow after my first day of Uni (so nervous).
Oh GUESS WHAT? Russh Japan has folded. I saw it on the stands when I first arrived but didn't buy it because the fashion shoots were exactly the same as what was in the Aussie mag. However by the end of my trip I was like I need 1 for my records (yes....records) and went off looking for it. My Japanese friend Toshi came with me (he is also a mag addict) but every store didnt have it, so we finally asked and yeah they said it closed an all issues were gone now. Sad. It was the first Australian title to be exported O/S, but I guess it was a bad time for a launch, with Japan already a saturated magazine market, not to mention the current economic situation. I've heard rumours of Russh Australia maybe folding too, which I really hope doesn't happen as its one of my favourite magazines (Yen and Frankie are a bit too twee and girly for me) The current issue is dead set amazing, I am in love with the Jethro shoot (I will scan images later).
Anyway, I'm back in Australia as of a few hours ago and I need to sleep.