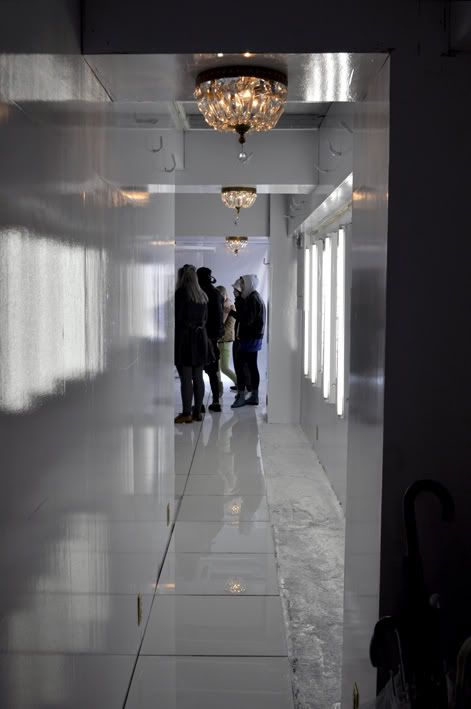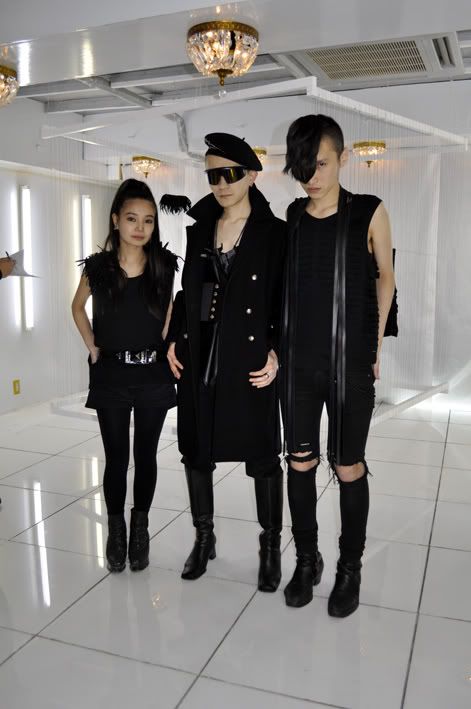 Emiko, Leo and Takeshi (otherwise known as Bizarre)
Emiko Sato and Takeshi Kitazawa, formally of uber hip Tokyo store Candy, ultra amazing dj group called Sex (who dj'd at my wedding) and cute couple have now added another notch to their talented belts, an impressive debut 5 piece collection called
DRESSEDUNDRESSED
. The launch happened at the newly opened 6th floor Trump Showroom in Shibuya, a very impressive space, more minimal than the now
famous
over mirror'd, chandelier'd and deer head'd club Trump Room on the 3rd floor of the same building.
The collection is an all black extravaganza that will be right at home...back home in Melbourne. They use black vinyl FRINGING to great effect on most of the pieces, which made me hypoventalate a great deal, because as you all know I am in
LOVE with fringing
right now! If I had a shop this is the type of label I would stock, innovative, original and amazing designs with an edge. The label will be stocked at
ilil
and
Candy
so far, but I'm hoping to see their stuff down under where the local hipsters will just eat it all up I'm sure.
In other news there is a small interview with me over at
A New Muse
and I have put a few street photos of Tokyo up at
Streetpeeper
.
I leave tomorrow, so a full Japan update will have to wait till I'm back home, I have no time right now and there is so much to say and so many photos to edit. I have had the best time, but I can't wait to see Henry and Hachiko again (and my mum).