According to all my friends in Tokyo, FRUiTS is over, because why buy a magazine when you can see it all on the net for FREE at
Dropsnap
. Plus Dropsnap has other great content such as blogs, articles and party photos. There is more to see than just street fashion. Plus everyone loves Daisuke, the guy behind the photos. He is beyond sweet.
Anyway I am finally up on Dropsnap. This photo was taken at my goodbye drinks last Saturday night and since then I've been checking every day to see when I will be there, lol. Daisuke actually emailed me to say I'm up. Yay, thank you Daisuke.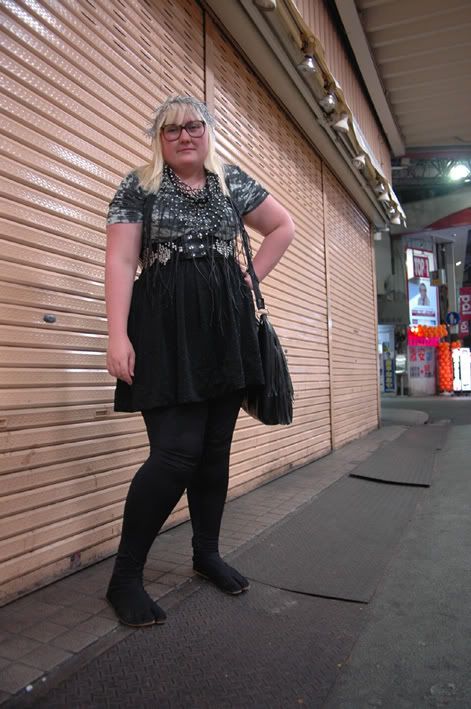 What I am wearing (some of which I forgot to write down for dropsnap, oops):
Headband:
I made it (well in that I bought it at Clegs fabric store and tied it around my head)
T-shirt:
Henry's. He saw a photo of me in it while I was away and was like "I've been looking for that all week". I think he got it at Clear It on Brunswick Street.
Belt:
Zara, Tokyo, Y3900 which in Aussie dollar now is about $80, but for my way of thinking as I think in terms of living there still (can't help it) its about $40. I like that idea more, lol.
Necklace:
Savers $3
Skirt:
Savers $3
Leggings:
Kinji Harajuku $7
Shoes:
Tabi I bought at a workmens store in Shinjuku for only Y1000, so $20 Aus or about $10 in Japanese living terms. My Japanese friends call Y1000 10 bucks, as a joke, but that's what it is really.
Bag:
7 Angels $16
Other questions asked:
What is your favourite shop?
Spank
What is your favourite brand?
Alpha60 (which isn't exactly true, just wanted to put something Australian there, should have put Romance was Born)
Who is your hairdresser?
My mother (she used to be a hairdresser, now is a laywer/caretaker for my grandfather, but yeah she cuts and colours my hair still, the only time me and my sister have ever been to hairdressers is in Japan)
Any special message?
I love Tokyo.
Check out Dropsnap