There are so many photos.
Disneyland: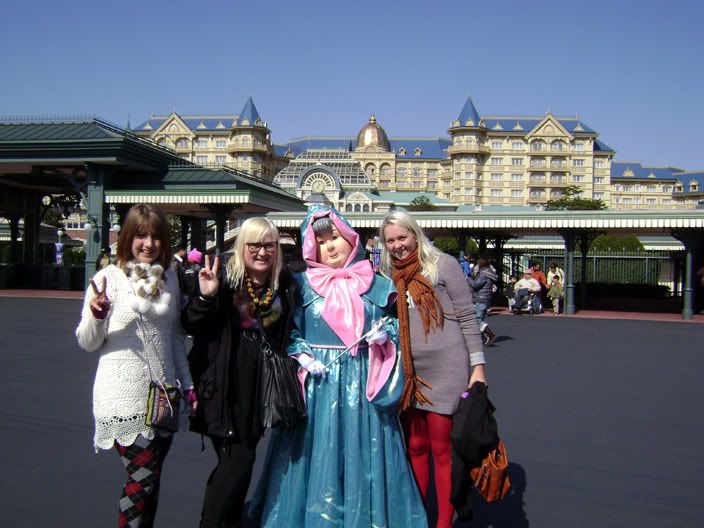 Emily, Me, some character and Ebony.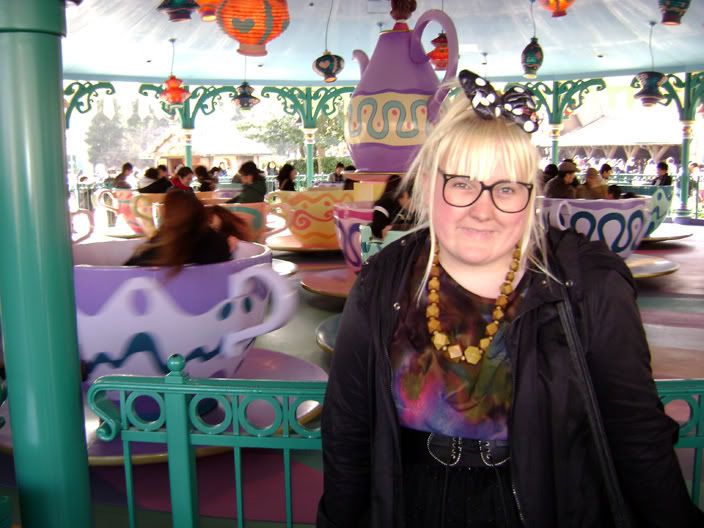 I bought a bow this time, I normally buy Minnie Mouse ears. I also look like a 4 year old in this photo, so happy. OH and guess what? I got RECOGNISED from my blog in TOKYO Disneyland! Crazy right???
Big Thounder Mountain broke down while we were in line. We got a free pass to go to the front of a line at any other ride of out choice, but it would have been nice to have been able to ride this.
Vanity Party: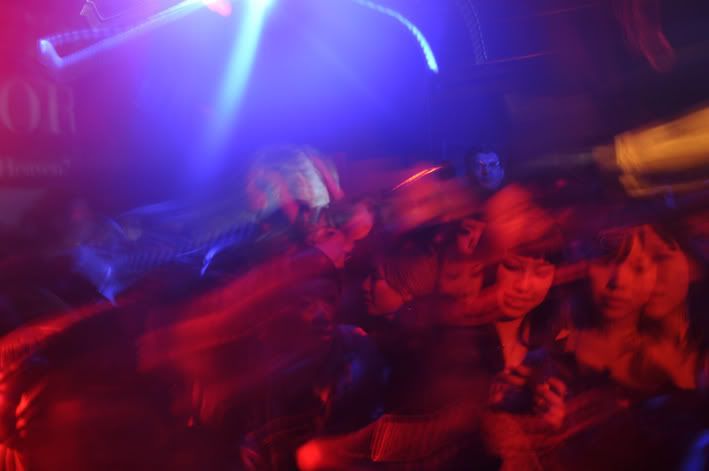 Pierre playing keyboard in his band Gimme Um
Maya, me and Yuki. I wore fake eyelashes, its looks pretty amazing!
Vegetarian Izakaya:
Toshi's "Sensei" (lecturer) and Toshi shouted us to this meal. Thanks guys. The lecturer teaches Math's and as Toshi is doing his masters, researching street fashion (um he studies computer science and is making an amazing website, but its all secret right now, can't explain anymore than that), the lecturer came up with a mathematical equation to predict fashion trends as part of Toshi's work. Yep maths is useful! It can help predict fashion trends. They both came to Australia last year, but only Toshi made it to Melbourne. That is how I met him. Remember
this post
?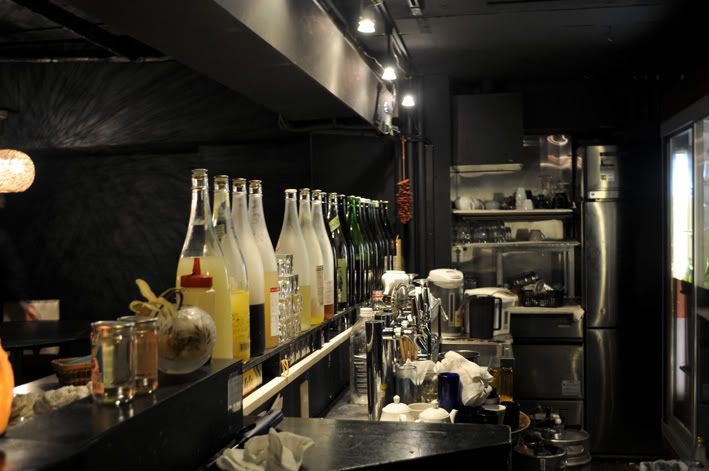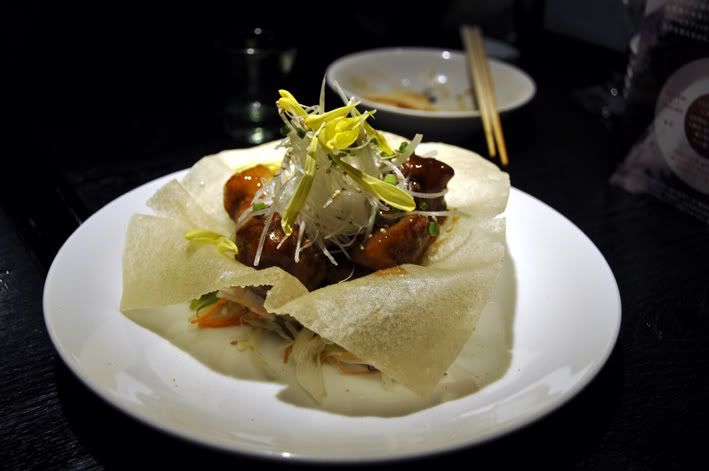 Oishi vegetarian Japanese food. Not sure what it is though...but it was super Oishi (yum!)
Sleep over at Maya's house:
Maya and me.
Super girly house. This is what I woke up to that night I got so drunk I don't remember how I got back to Maya's. It was so trippy to wake up in this ultra pink barbie dream home.
Fucca Fucca Crepe shop in Koenji:
I love Japanese style Crepes!
Taco Bourbon in Koenji:
Avocado veggie taco. So bloody yum! My sisters favourite place to eat in Japan. She wanted it every day. Lucky we lived just 1 block away. We were there so often that on our last visit they gave as a present each. Thanks Taco Bourbon guys!
Design Festa Gallery in Harajuku.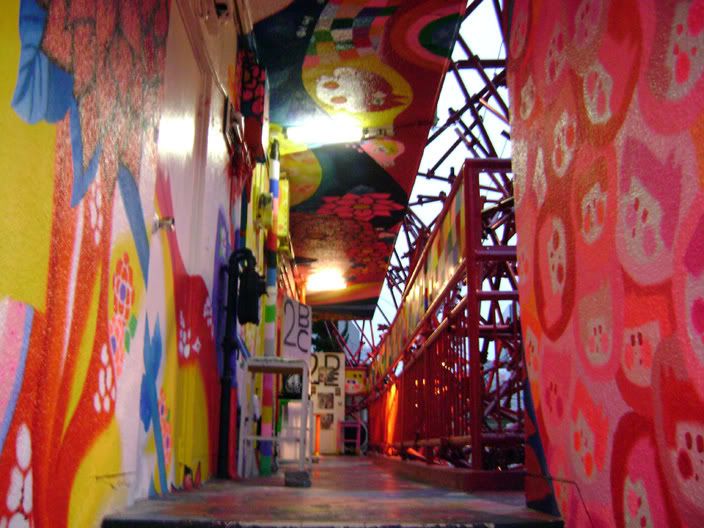 I wore my new shoes. So comfy.
Akhihabara:
Ebs wanted to go to a maid cafe. Your not allowed to take photos of the maids however. So this is me in "Electric town", where you can buy electronic goods, anime figurines and cos play costumes.
Wut Berlin:
Why was the dollar so bad?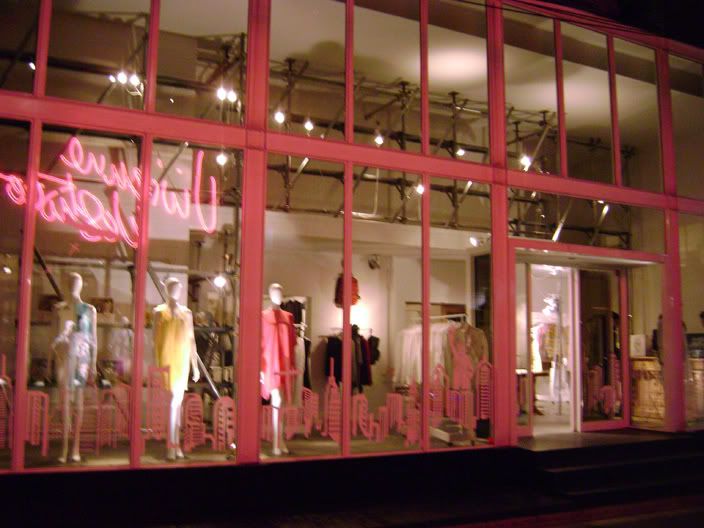 This shop used to be a restaurant, the restaurant where Henry proposed! Oh well things change.
I bumped into a friend from Melbourne in Shimo Kitazawa. Crazy right?
Me and Benedict in Shimo. Still can't believe I bumped into him. He was getting last minute gifts for people back home at Lush...he works at Lush here in Melb...why get gifts there? Lol. I also bumped into Alastair from Melbourne Street Fashion's housemate and all his friends who I met on New Years Eve at this party, and then again one day in Shinjuku, and they happened to be friends with Henry's sister's ex bf who was also there. Small world.
Ebony wore this one day in Tokyo (all the days are jumbled together now):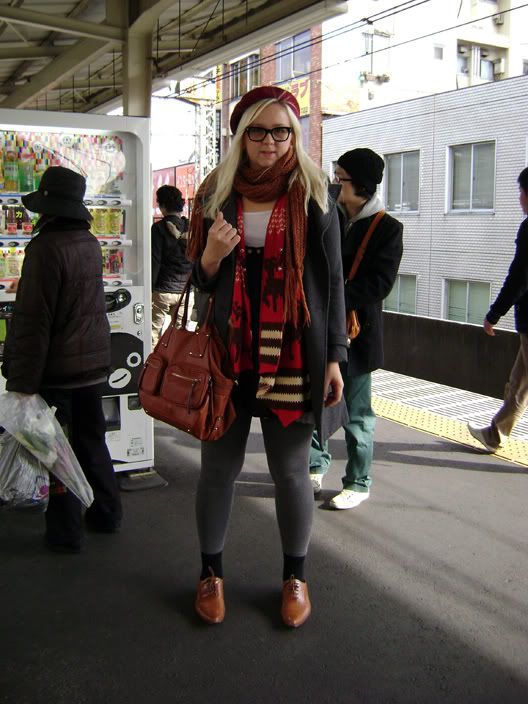 The brown shoes are mine. The leggings are from Uniqlo and the red top is from a shop in Koenji. The red beret is from Paris Kids in Harajuku.
Ebony's Goodbye Karaoke Party! (she left 2 days before me)
Do you notice her hair colour? She got it dyed grey at this 24 hour hairdresser in Shibuya.
On my last day in Tokyo it snowed. It also was the day I decided to check out the view. Doh!
Super nice shop staff at popular shop Galaxxxy. They have a photo of me on their
blog
.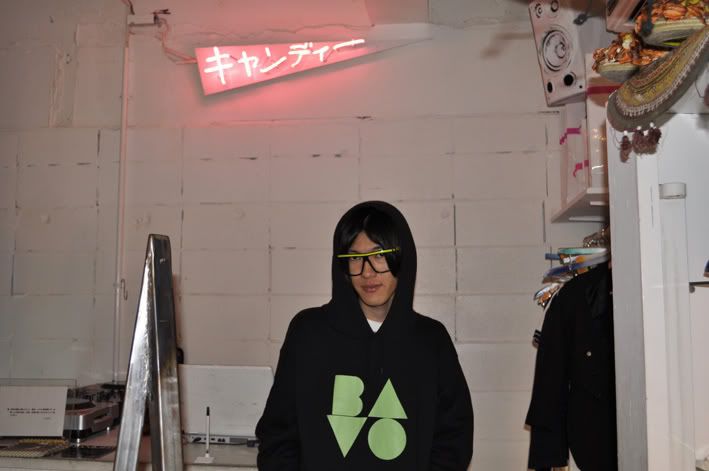 Uber cool shop Candy. I always forget his name, but he is so nice, he paid for a taxi for me and my sister. I wish I had a better memory with names.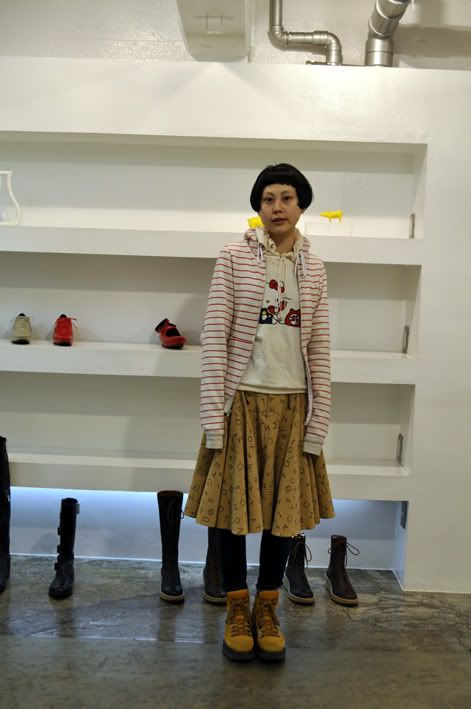 Yama at Tokyo Bopper.
The owner of Marios Left Tanker and Igalliano who works there. First time I've seen Igalliano not in a wig!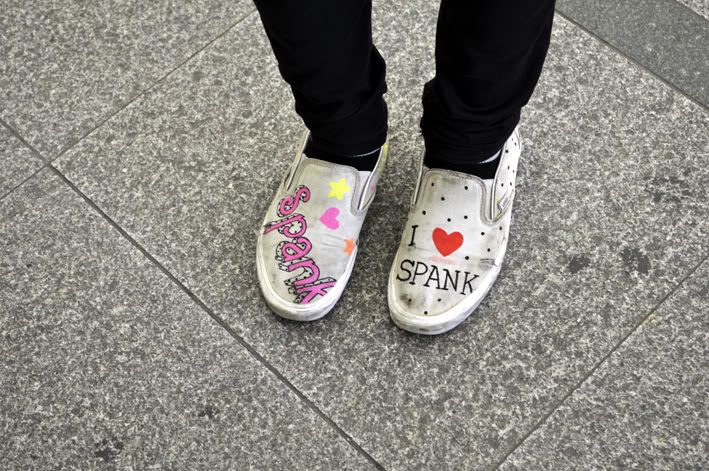 Max really does love Spank!
My goodbye party at an Izakaya in Koenji (an izakaya is like a Japanese pub). Daisuke from Drop Snap, Tabuchi, Koshiro and Max.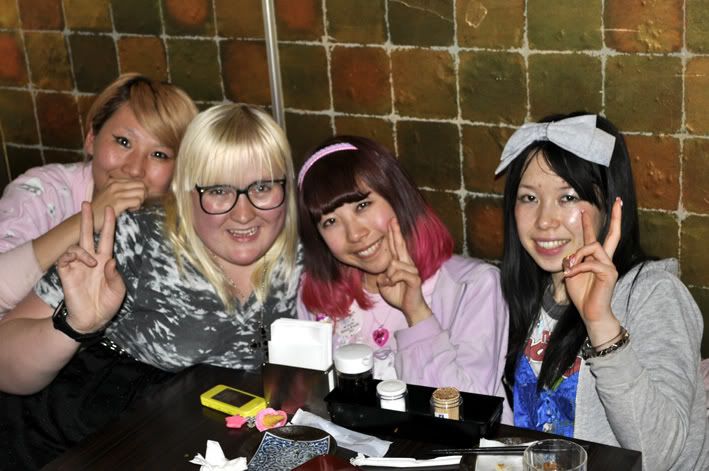 Maya, Me, Eri and Yuki.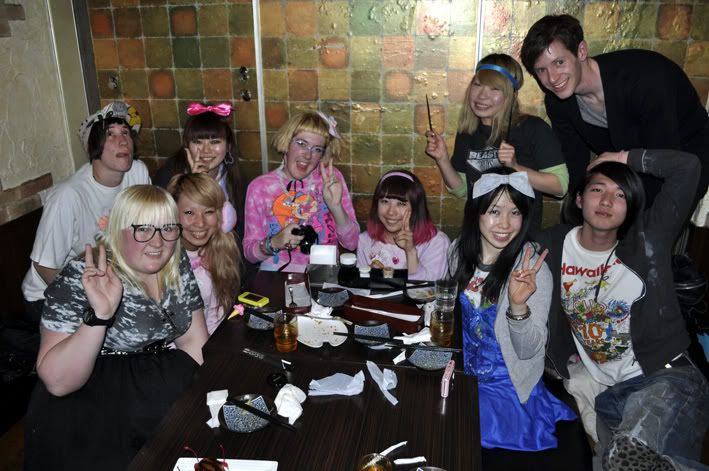 The two western girls are Rah Rah and Sheila from Sydney. I bumped into them all the time around Tokyo (again with bumping into people, so crazy in such a big city). I think Rah Rah reads my blog and contacted me that she will be in Tokyo at the same time as me (it could have just been Myspace though?) we are friends with some of the same people too. It was nice to have people to speak English with. We ended up sitting in the street till 4am drinking beer and talking on my last night, just us three. So fun. A policeman rode his bike past us a few times stareing us down though. We weren't doing anything wrong (drinking in public is legal in Japan!).
A few of us went to Karaoke after the Izakaya.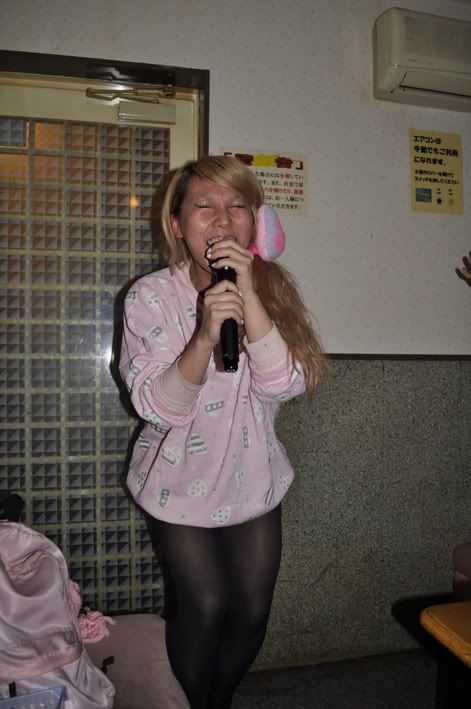 Maya is so funny. She really screams when she sings. So loud, but so fun!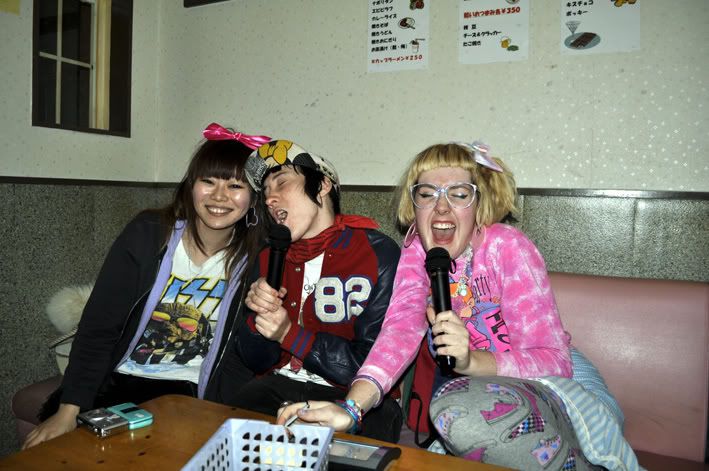 Asami, Sheila and Rah Rah sing their hearts out.
Ok so that's all the photos. Guess what? I don't feel sad any more about not living in Tokyo. Well that's not 100% true, I would love to live there again, but I did learn something. If I was still there I would still be teaching English. I met a lot of people who are still teaching English and sure, they go to amazing parties, but really, so what? When they go back to their home countries they have to start again. Teaching English doesn't really lead to any career, especially as with teaching English in Japan you don't need qualifications, but back home you do. I am so excited about all my opportunities here in Melbourne, if I was still in Tokyo this would not be happening. Uni is amazing (Charlie Brown the designer gave us a talk on my 1st day! It was mostly about her recent trip to LA and how expensive her hotel was, but still it was interesting) and I have some exciting work ahead of me. In Tokyo I met a Melbourne couple who don't teach English, they work in design. They did it the right way around, they went over when their careers here were settled and they could get interesting jobs in Tokyo. That is my new plan. I will not live in Tokyo if it means I have to teach English. It should only be a 1 year thing, staying longer is kind of sad because really your life is on hold. I'm so glad I came to this realisation.
Another funny thing is just before I got to Japan a couple from Australia went into the Spank shop and spoke to Tabuchi and said they went there because of "Hayley's famous blog". Lol. Tabuchi showed me a photo of them. They were both wearing Romance Was Born. Thanks to who ever you are. Tabuchi was very impressed with me being famous, I had to explain that its not really true at all. So funny though.
Tabuchi was very very busy the whole time we were there. The reason was she was part of a new temporary store by Fruits magazine in Shinjuku. The store is called
Fruits Mix
. I couldn't take photos but please have a look at this site. It was really cool. But poor Tabuchi slept at most 1 hour a night. Crazy. Japanese people are such hard workers! (major generalisation there)
I had a great time, but its so nice to be home in a comfy bed with a shower that actually goes over my head! I will post again soon with photos of all the magazines and clothes I bought (not much really, stupid dollar!)