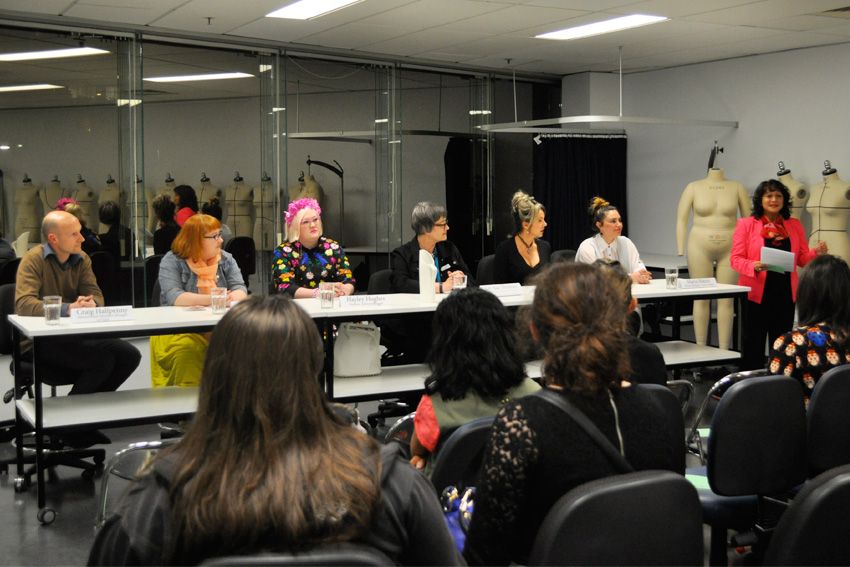 Last night as part of Melbourne Spring Fashion Week I spoke on the Super Size Me forum on size and consumer demand. On the panel with me was Craig Halfpenny - National Retail Operations Manager at My Size, Mel Campbell - author of
Out of Shape
(which I recommend you buy if you have any interest in this topic - it's a great read!), Dr. Sue Thomas - Leader
Bachelor of Fashion Apparel Engineering and Design at Holmesglen
(a new course in Melbourne specialising in garment construction and pattern making), Judy Green - consumer, tv model, and adventurer, Maria Hatzis - Retail Manager at Nicola Waite GPO. It was a lively and often passionate discussion with members of the audience joining in.
Some key points from the discussion
Size can be an emotional topic for women but not so much for men (although this is debatable).
Why can men shop by their actual measurements - a 32 inch waist for example, while women shop with arbitrary sizes with no relation to measurements which differ store to store.
The retail experience in itself is important in order for you to find the right fit. The staff should know their products and be able to direct the customer to the right size or styles in the store that will suit them and their body shapes.
The reason this is important is sizes vary so much between stores. Stores actually target their sizes to their customers, so for example the sizes at My Size run a little bigger than the national average as that is who their customer is - which raised points about vanity sizing.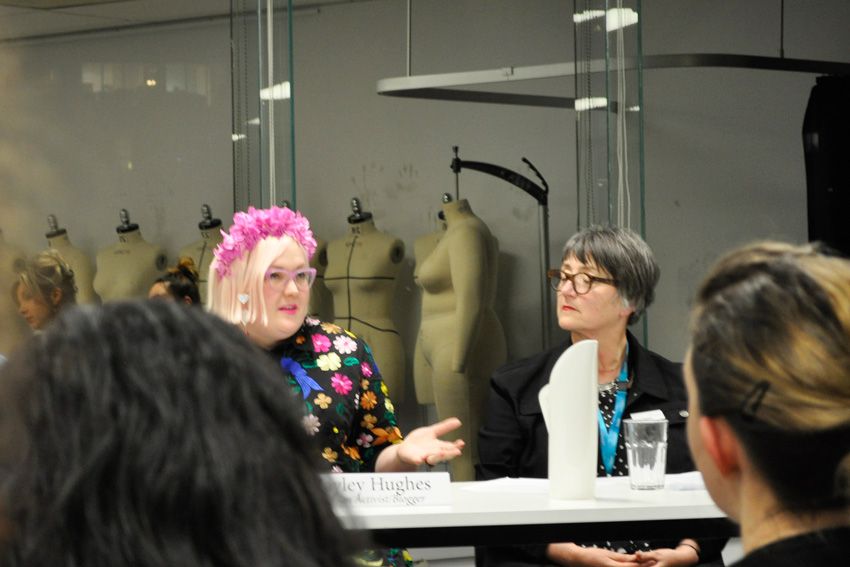 I spoke about how the internet has opened up the way I shop - for the better. With access to so many brands and labels from around the world I have so many more options than when I was a teenager and My Size was the only plus size store I knew about (City Chic wasn't around till I was in my mid twenties). This led on to a discussion about plus size options often being matronly and made for the mature woman in mind. As a teenager this frustrated me to no end as I just couldn't find fashionable youth driven clothes made to fit me. We also discussed fit and how it differs to size - I spoke about how as a plus size woman if a piece of clothing I like gets on my body I buy it regardless of it's size because I know I can make it work. Fit has a different meaning to me than my straight sized friends who have so many more options when it comes to clothes.
Outfit time. In the spirit of the discussion I decided to wear a dress I had a little trouble with in terms of size. I originally bought the size 18 in this dress from the ASOS Curve line as I am normally an 18 in ASOS's main line. Well, the 18 was way too small when it arrived so I returned it and went up two sizes to a size 22 as the 18 was so small I didn't think the size 20 would work either. Well the size 22 is a little too big, but not in a noticeable way and I actually like the smock like style on me so I'm happy with my choice, but if you're after a more fitted style then I would recommend just going up the one size in this particular piece. This is why a good returns policy is essential if you want my online shopping dollars, I love how easy ASOS's is now - especially with the same day courier pick up service (which I used this time).
Outfit details
Dress
ASOS
Flower crown
Lady Petrova
Tights
Sonsee
Glasses
Bespecd Minsk frames in Lilac
Pastel pink jelly heels
Juju Babes
Holographic heart glasses
chain
Not Lost Boutique
Pastel purple chain bracelet
House of Baulch
Lady Petrova
has some beautiful flower crowns in at the moment. I couldn't resist this hot pink number.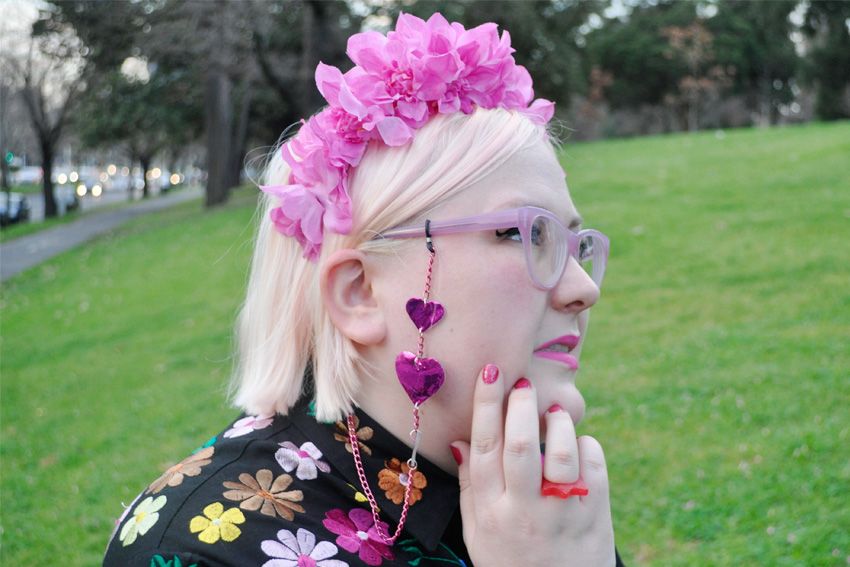 I got the handmade Holographic heart glasses chain from
Not Lost Boutique
during my recent trip to Adelaide. I can't wait to share more about that trip with you once fashion week is over as I had so much fun.
I picked up that new red ring whilst in Adelaide too, not sure of the designer but I bought it from a cute boutique on trendy Queen Street for only $20.
I still can't get enough of my jelly heels.
Shop the look!!!