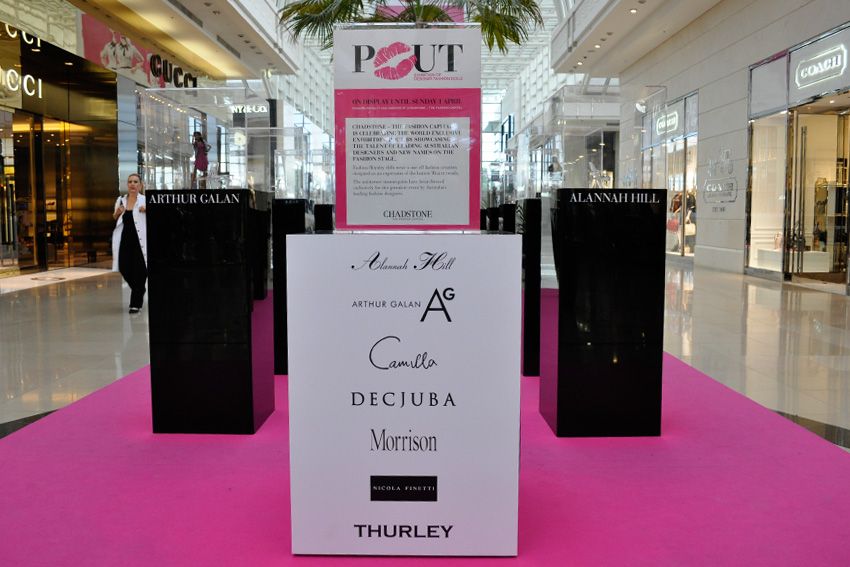 Yesterday I went to see
POUT - An Exhibition of Designer Dolls
at Chadstone which is part of the LMFF Cultural program. Why did I go to Chaddy to see some dolls you may be thinking? Well because I was one of the designers asked to create a doll for the exhibition. Yes that's right, amongst some of Australia's biggest names in fashion like Alannah Hill, Camilla Franks and Arthur Galan is little old me.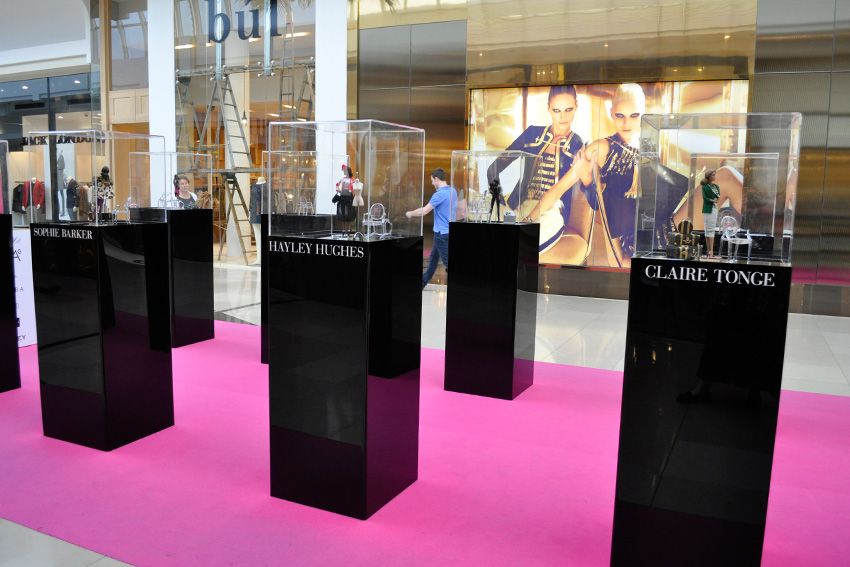 Look you can see my name on a plinth, in front of the Gucci store! I had no idea it was going to be exhibited like this, total freak out moment.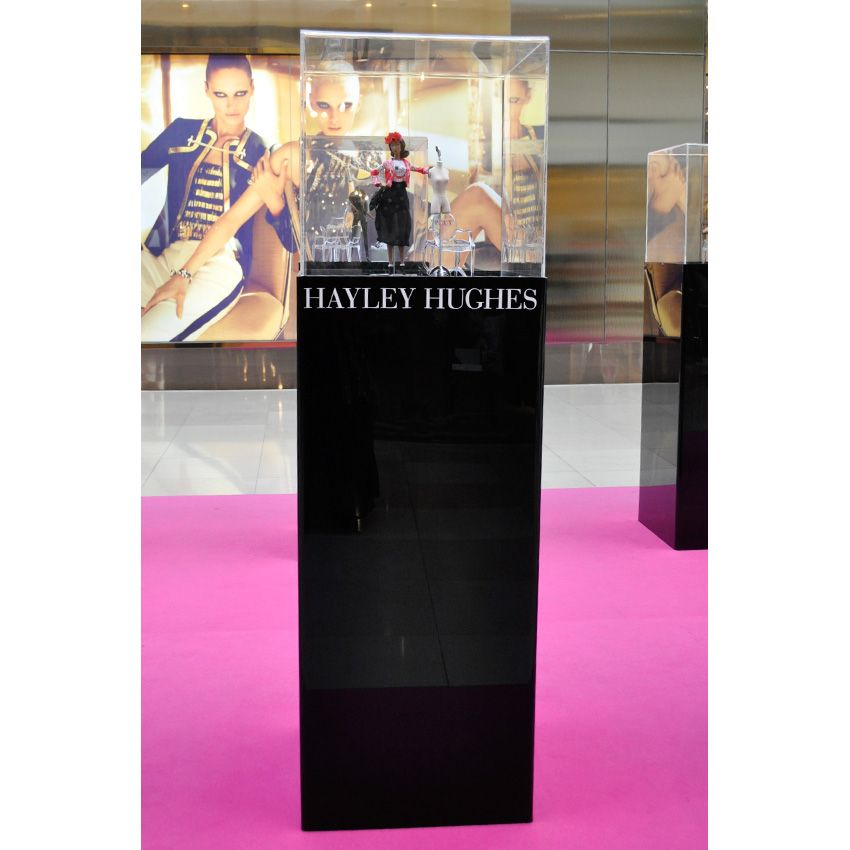 The exhibition has been on show since the 5th of March, but because of my hectic fashion week schedule I was only finally free to check it out yesterday. Talk about mind being blown. My mum (who helped me sew my creation) was nearly in tears, especially as my doll is on exhibition with one from Alannah Hill (although hers was away for a photoshoot the day we went down so I didn't get to see it). The reason for this is when I was a teenager I was the biggest Alannah Hill fan, I even asked for her autograph at Camberwell Market when I saw her one Sunday. I also wore an Alannah Hill dress to me year 12 formal which my mum helped me choose.
Here I am posing with my doll with my freak out face on. We only had two days to design and make the outfit but you would never know (unless you look too closely at some of the finishes, guys making clothes for a doll is really really fiddly!)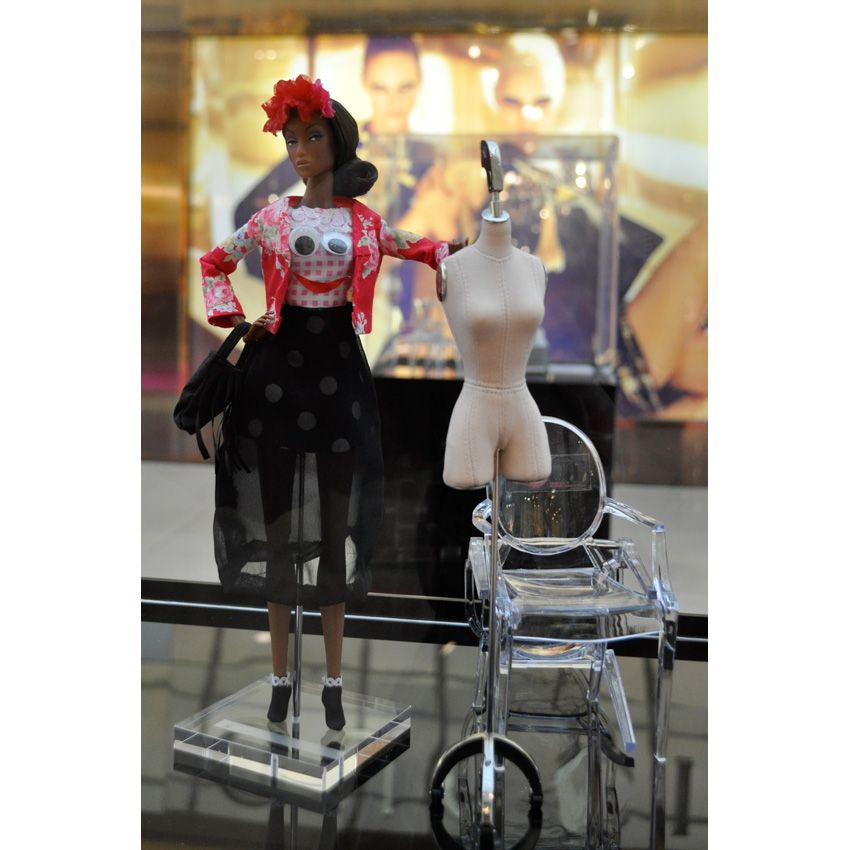 Here you can see my creation. I was obviously inspired by Harajuku (I mean when am I not?).
My inspiration information, explaining the reasoning behind my doll.
Arthur Galan's doll.
Nicola Finetti's doll.
Before sending off my doll to the people at Chadstone I snapped these photos so you could see the full look (I had a 5pm deadline on Friday 2nd March, finished it at about 3pm, remember we only had two days to do this). Pink Gingham blouse with a lace peter pan collar and kawaii smiley face detail. Black and white polka dot a-line skirt with a black sheer maxi skirt overlay. Black with white lace frill socks. I would have loved her to wear some flatfrom's but Barbie shoes were too small (she isn't a Barbie, she is a high end Fashion Doll by Integrity Toys). The oriental print blazer is referencing traditional Japanese Kimono's. She has a black fringed bag as that's my favourite style and is wearing a floral headband to finish her look. Super Kawaii ne?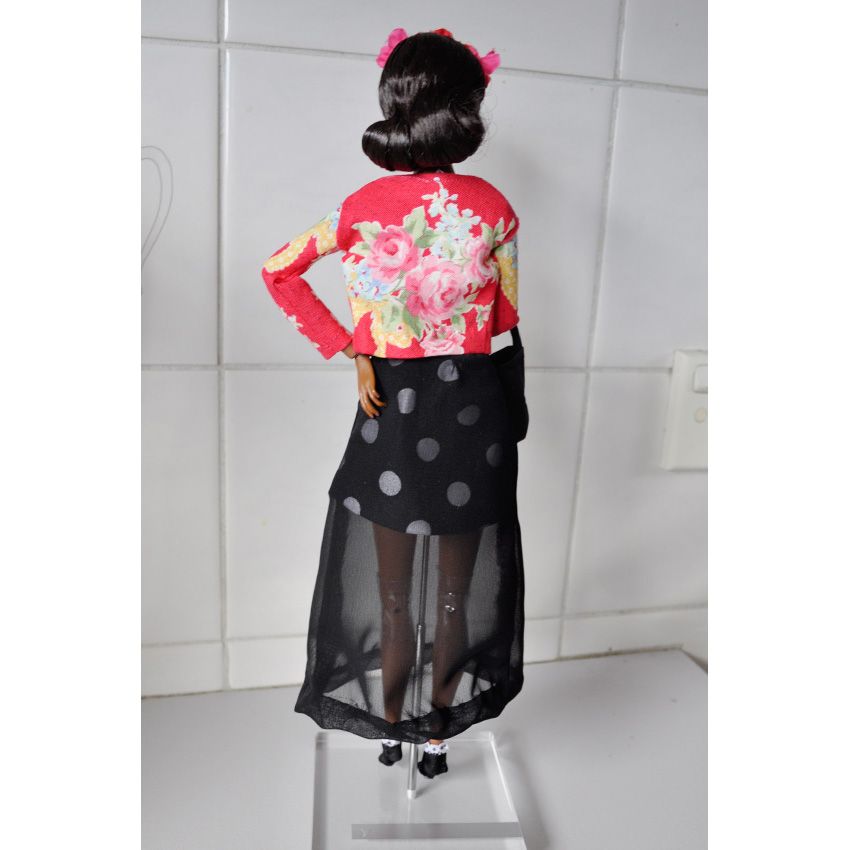 The back of the blazer with that amazing print.
OMG never make socks for dolls, so difficult, had to sew the lace on while she was wearing them otherwise I could no longer get them on her. Talk about difficult.
POUT - An Exhibition of Designer Dolls
is on now at Chadstone until the 1st of April.