A few years ago Melbourne's Federation Square hosted a temporary version of Perth's infamous environmentally friendly restaurant
Greenhouse
and
I loved it and blogged it
. Sydney recently hosted a temporary version too, but like all hip restaurants in Sydney it was impossible to get a table so I missed out on a chance to go. Well last night here in Perth I was able to visit the original and the best, and boy was it amazing.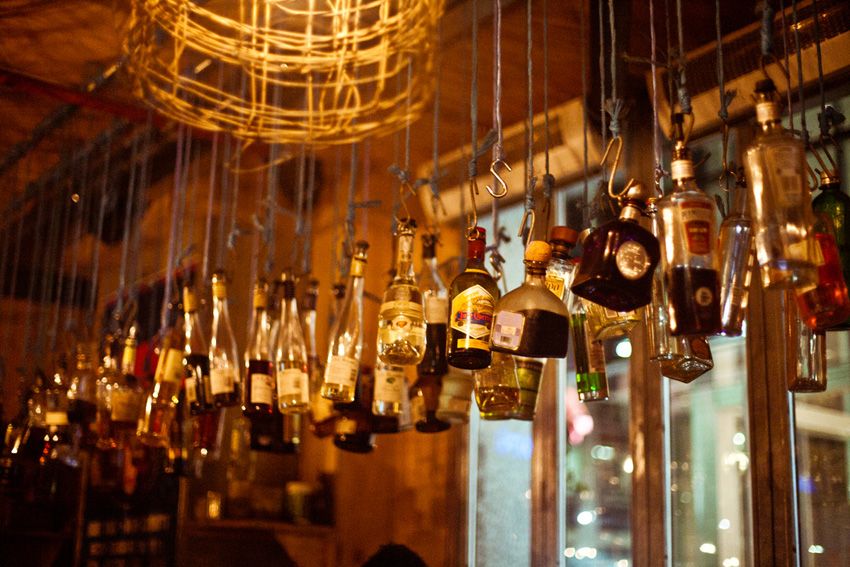 The decor was amazing, re-using materials in such interesting and inventive ways.
This desert was the best desert I have ever eaten that wasn't chocolate (which if you know me is saying something, as normally I only like chocolate deserts!) Everyone needs to try this yoghurt parfait, orange blossom jelly and persimmon concoction, it is mind blowing.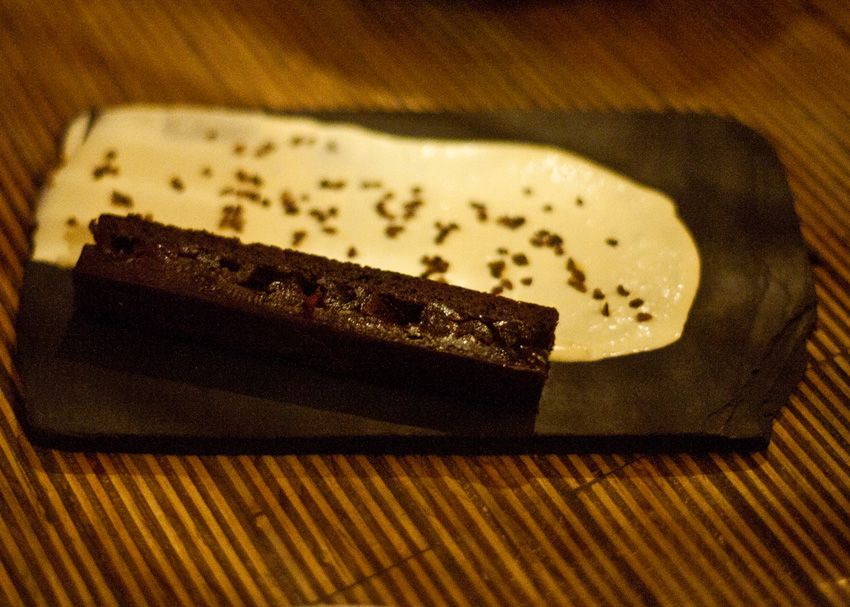 This chocolate, cherry and coconut log was good too, but for the first time ever the chocolate desert was not my favourite. We shared the two deserts between five of us and it was more than enough after our excellent tapas style vegetarian sharing meal of delicious haloumi, eggplant, olives, tahini and heirloom carrot plates that we didn't get a chance to photograph as they didn't last long enough on our table. FYI Greenhouse isn't a vegetarian restaurant but they do have a lot of vego options which was great.
I have been staying at Emma from
Dropstitch's
house since I arrived in Perth and its been so much fun, when I move onto my hotel I'm going to miss her so much. Yesterday we went and got ourselves shellac manicures at
Le Beau day spa
(so cheap only $30) above you can see Emma's beautiful coral nails, her first ever manicure.
I chose white, which apparently was the first time the salon had used the white for anything other than the tips in a French manicure. This was my second ever manicure, my first happening whilst in Melbourne, another shellac colour which lasted more than two weeks before I got bored and decided to change it up for the
Perth Fashion Festival
(which I'm in town for). I think I am addicted to shellac now, I love how long it lasts, I never saw the point of manicures before but now with this long lasting shellac its all hello new beauty routine. I just wish that there were more options with the colours, but apparently there are some new ones coming out soon.
Jewellery info
Bangle
Elke Kramer
gift
Red ring
MOMA Design Store NYC
$12
Black crystal ring
Corky Saint Clair
$110
Necklace
Man The Label
gift
I went to dinner with Emma's lovely friends who are also part of Emma's creative agency here in Perth,
All of the above creative
which covers stylists, photographers and make-up artists. From left to right you have me, Rebecca, Emma, Maevana and Libby. A super talented and nice bunch of girls, there is something in the water here (other than clarified waste water) that makes everyone so nice!
Outfit Details
Red blazer
Vintage from my recent trip to
Savers
Brunswick for $7.99
Red maxi dress
Vintage from that same trip to Brunswick
Savers
for $9.99
Leggings
Gisela Ramierz
during her 50% off sale for $40 (the sale has two more days hurry!!!)
Socks
American Apparel
$14
Sandals
Melissa Aranha flock jelly sandals $65 from
Monk House Design
Bag
Discount
Tote bag gift
Emma from Dropstitch's (in the middle) Outfit Details
Tee
Limedrop emerald print tee from
Pigeonhole
Skirt
Polka dot skirt from
Gorman
(yes its the same one I own)
Clogs
Zanita for
Funkis
♫
Lady in red
♫
As I mentioned I'm currently in Perth for the
Perth Fashion Festival
which is looking to be an amazing week of non stop events. I'm really looking forward to exploring what's going on in Perth and bringing you the best of Perth fashion. From the ReStyle event that supports op shopping to the glamorous Aurelio Costarella opening night extravaganza and everything in between I'll blogging daily during the festival. Expect lots of great street style, runway photos and designer interviews. xoxo
All photos in this post by
Libby Edwards
.