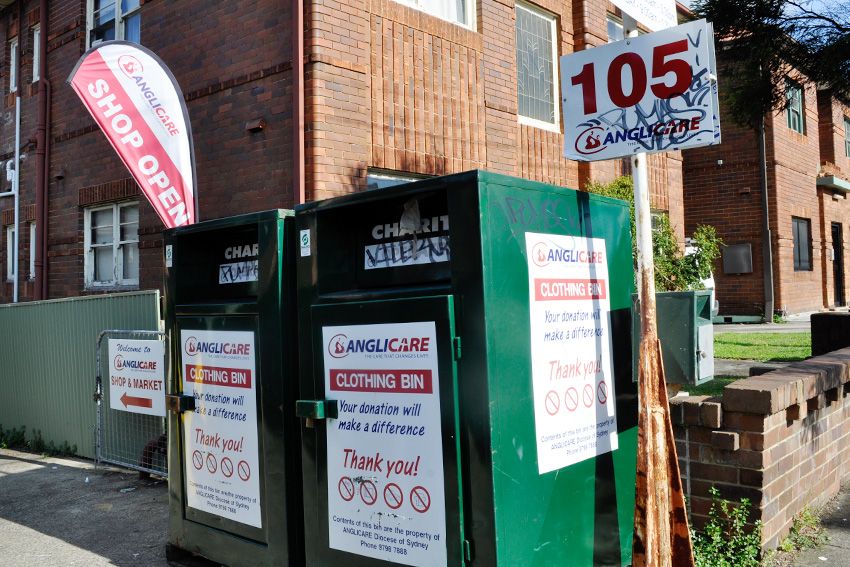 The thing I miss most about Melbourne is knowing where best op shops are. Ok, maybe not the thing I miss
most
, but you get what I mean. Well on the weekend I discovered what is possibly the best op shop in the WORLD right here in Sydney. Its the op shop that trumps all others in its magical cheapness as you do not pay per item but you pay just $8 per kilo. So where and what is this magical op shop of awesomeness? Its the Anglicare sorting factory shop and market in Summer Hill, just near the station.
Summer Hill Anglicare
Address105 Carlton Crescent, Summer Hill.
Open Mon-Fri 9am-3.30pm, Sat 9am-1.30pm. Closed Sun.
Cost $8 per kilo.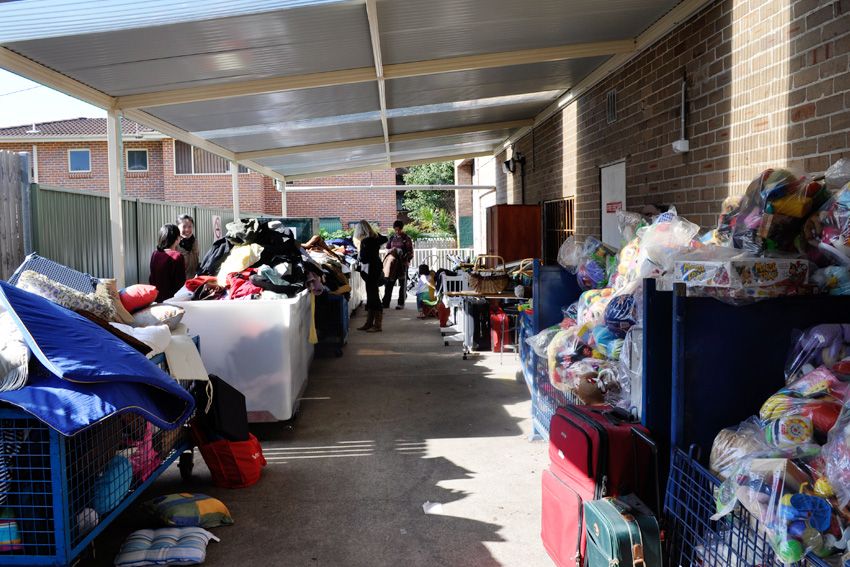 The reason its so cheap is because it is the sorting depot for Anglicare's op shops, which means everything is a big unsorted mess that you have to sort through. Those white tubs are full of unsorted op shop goodness and grossness and its your job to scrounge through them hunting for whatever it is you desire.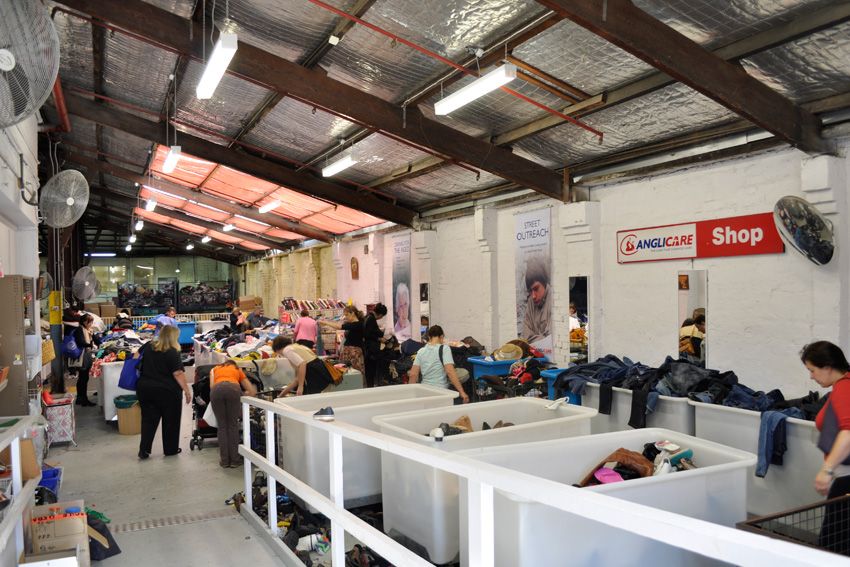 The place is huge, and you have to compete with other hunters in a way that is not unlike a pack of lions fighting over the last piece of meat on a freshly killed zebra, well something like that anyway. If your an unseasoned op shopper this may be a little daunting, but having been to a few Savers 50% off sale days in my time I felt right at home, pushing and shoving with the best of them. I was just so happy to be at a real op shop. I find when I ask locals about their favourite op shops they list what I would call vintage stores, the likes of which you would be lucky to find a loose button for $8, let alone the five pieces we left Anglicare with (total score!!!).In my search for op shops in Sydney that weren't vintage stores I found this comprehensive website
opshop.org
which lists op shops by location and also by organisation, which is where I learnt that Sydney has only a measly 114 op shops compared to Melbourne's vast 332. What Sydney lacks in city central op shops it does make up for in country op shops worthy of a road trip, but as a car less lass who relies on public transport such a trip sadly ain't happening any time soon. So that is why the Summer Hill Anglicare op shop is such a godsend, I get my fix and can train it there and back. So now comes the big reveal, what we bought.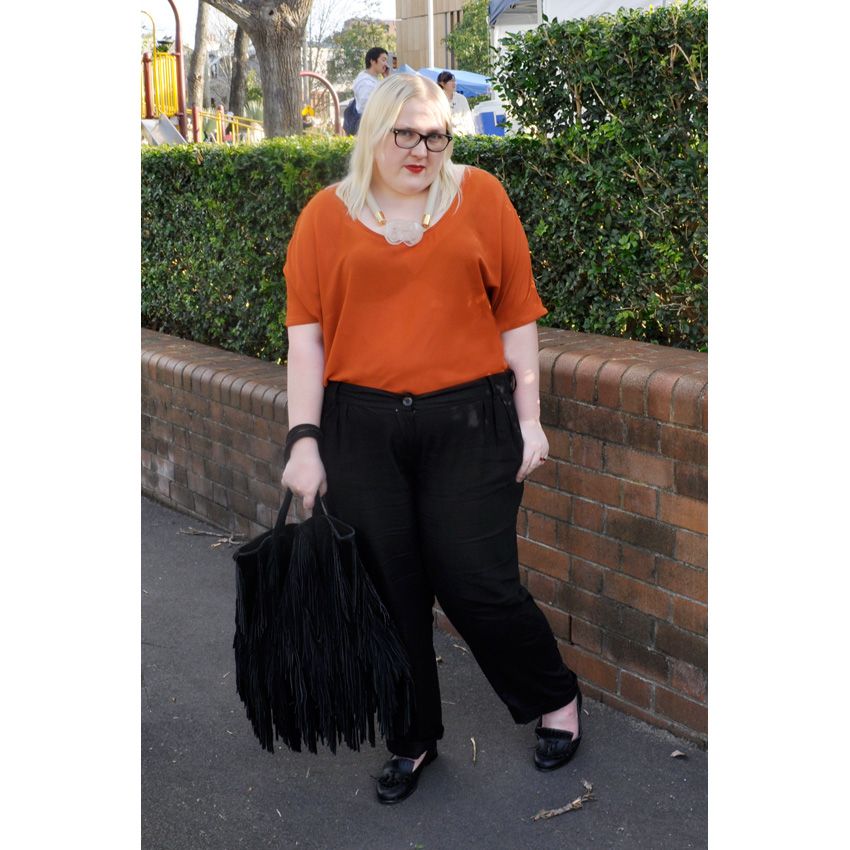 The first piece is the delightfully burnt orangey-brown blouse I'm wearing with my new ASOS chinos. The blouse is exactly what I've been looking for, like really truly I've been searching every online store from here to Timbuktu trying to find such a top, cannae believe I got it for $1.60!!! The chinos are from ASOS and I'm not too sure about them, sure they're mighty comfy, but not too sure they suit me. I originally ordered a pair in camel that were a little more high waisted but was advised that style had sold out whilst my order processed so was directed to these. I think they make me look really short and stumpy.
Blouse Summer Hill Anglicare $1.60
Chinos
ASOS Curve
on clearence for $30
Necklace
Estelle Dévé
, gift
Loafers Sportsgirl on sale for $39.95
Bag
Sporsgirl
Fringe Bag $99.95
Red Lipstick
Mac
Russian Red $36
Another item on my wish list was a brown shirt. My sister owns a similar shirt which I borrowed on my last trip home to team with my sheer
City Chic
maxi dress and I've been on the look out ever since as I loved the outfit. Again can't believe I find such a perfect one for one dollar freaking sixty!!!
Shirt Summer Hill Anglicare $1.60
Loafers Sportsgirl on sale for $39.95
Red Lipstick
Mac
Russian Red $36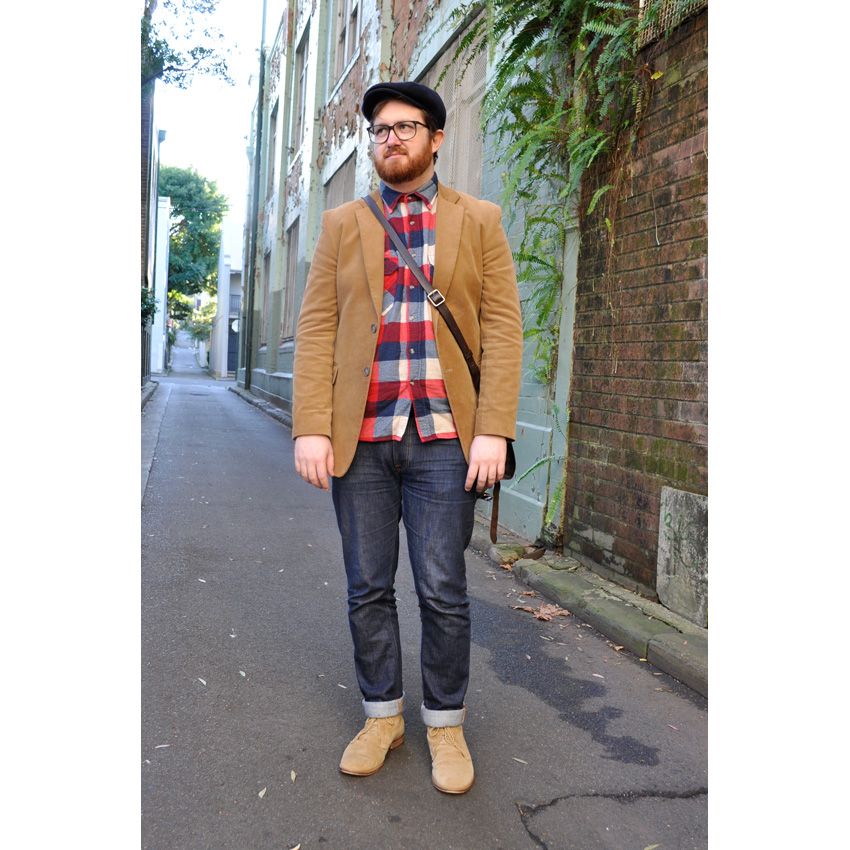 Henry didn't miss out on bargains either, snapping up this delish brown cord blazer for another unreal $1.60. He too had been searching for something similar for months without much luck and he plans to customise it with adorable dark brown leather elbow patches to update it a little (if we can just find where to buy them?).
Hat
He has had it forever and doesn't know where he got it but maybe Japan
Blazer
Summer Hill Anglicare $1.60
Shirt
Kmart
$5
Jeans
That Store
$200ish and not sure of brand (Updated, they are
Nudie jeans
)
Bag
Savers
$5
Desert Boots
ASOS
$45
I wish Henry would allow me to blog his outfits more often, or even start a blog himself, as I think he can share some unique shopping tips on how to dress well for less for men. For instance last night at Kmart he bought a striped polo shirt in bold blue and black stripes that just scream Prada for only $9. The lesson is don't dismiss Dimmeys, Kmart, BigW and Target guys out there as they have bargains galore and if you style the pieces well you won't look bogan-chic at all, unless that's your thing, then hey go for it. xoxo