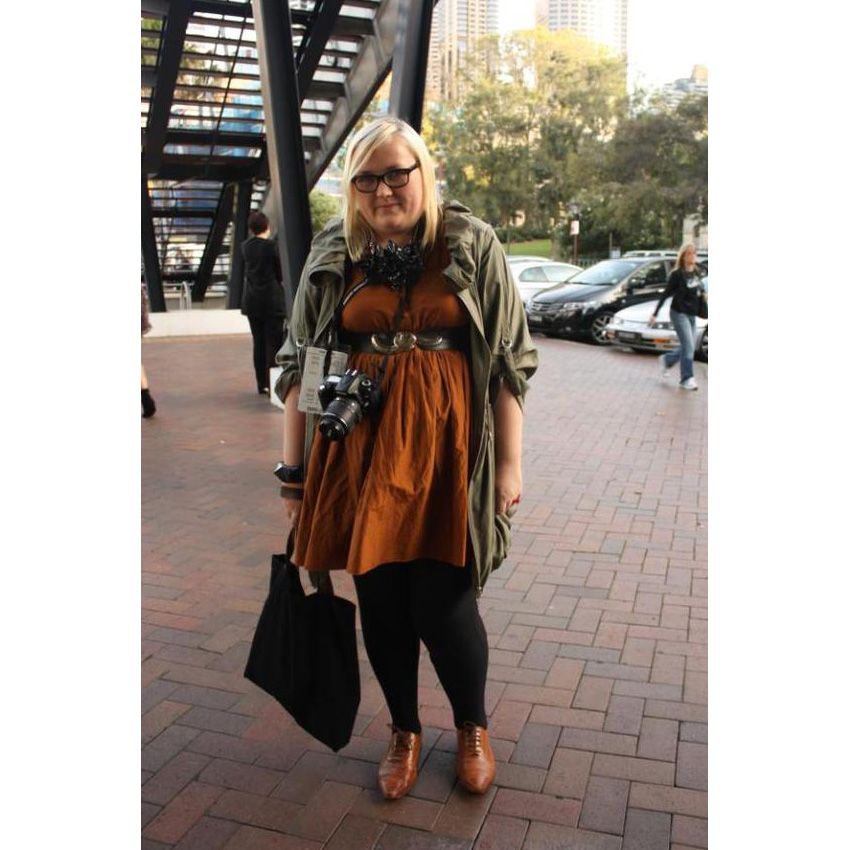 Fashion week began with my ambitious plan of taking daily outfit photos for this here blog and concentrating on managing the daily content over at
On The Streets of Sydney.com
. Well by day 3 of fashion week I was too exhausted to remember to snap an outfit photo hence my blogging absence. But thank god for the street photographers hanging out front of the OPT, without whom this outfit will have been forgotten in the never nevers of my brain. This street snap was taken by LeBlackBook.com's street style photographer who managed to make me look half decent when I felt like crap.
Dress
Gorman
$199
Parka
Forever New gift from my sister
Necklace
Make Believe
gift from the designers
Belt
Vintage from Camberwell market $10
Tights
We love colors
gift from designers
Oxfords
Mens shoes from Aboh shoes on Brunswick Street in Fitzroy $65
Bag
Alpha60
gift from designers
Seemingly I get a lot of gifts from designers, I do believe I was wearing 90% of all designer gifts I have ever received in the one outfit. At least I'm honest with you yeah? I've always shown the price of my items to show that looking good doesn't have to cost a bomb.
Now back to fashion week. I decided that as I am essentially lazy but also really busy I just don't have the time to photograph every show and then edit all those photos. So I have decided to do a round up of my RAFW highlights in the one post of the shows that I just
had
to snap away at because they were just that breathtaking.
Josh Goot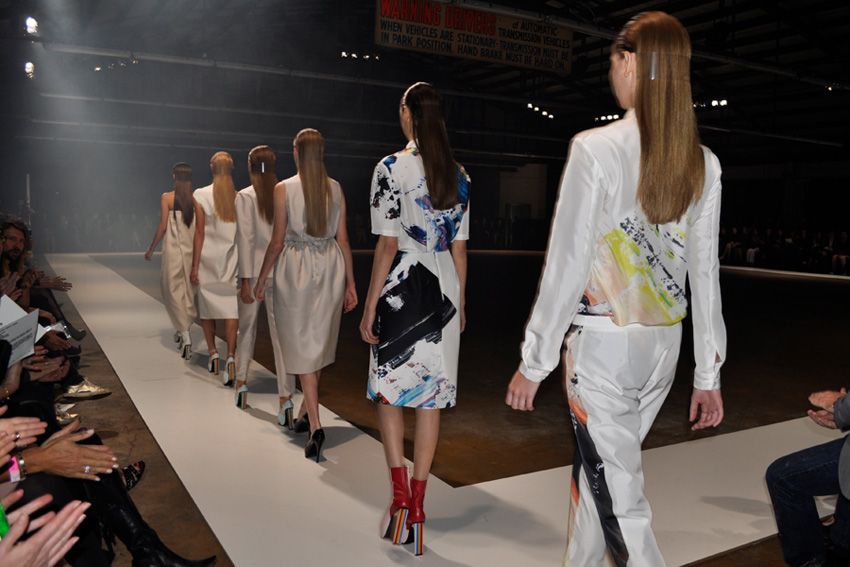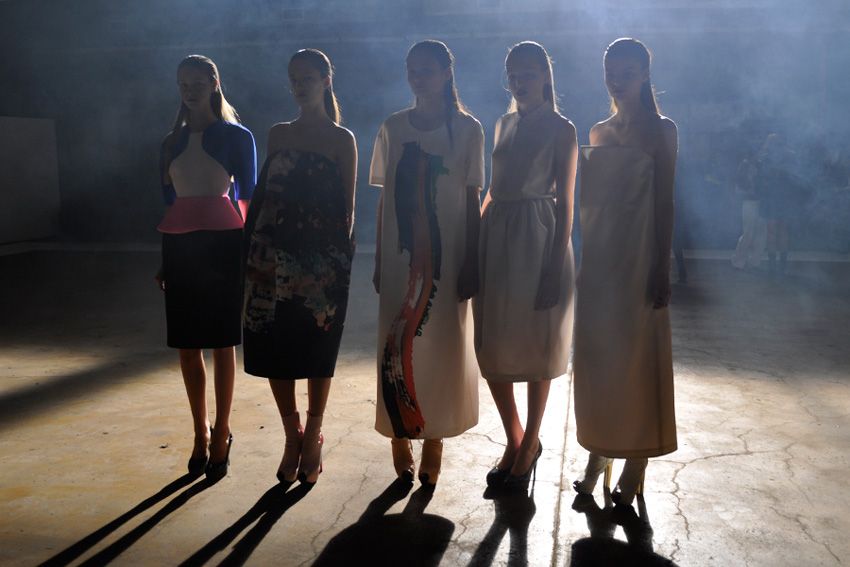 As you can probably see from the photos, the setting for the Josh Goot show was breath taking (literally, as you had to climb up eight flights of stairs to get inside). An old car park in what I've been told is East Sydney (taking the fashion week bus really disorientates you) the runway was set up as a giant square with rows of seating around the space. The anticipation was paramount, and as I was already on a high from realising that the day was actually me and Henry's four year wedding anniversary moments before arriving at the venue (we both forgot so that makes it ok) its fair to say I was deliriously happy at the thought of what I was about to witness. And boy, did we witness a fashion moment that night, pure history making dresses in the juiciest colours and with prints that only a genius like Goot could create. The best show of the week for me by far.
Alistair Trung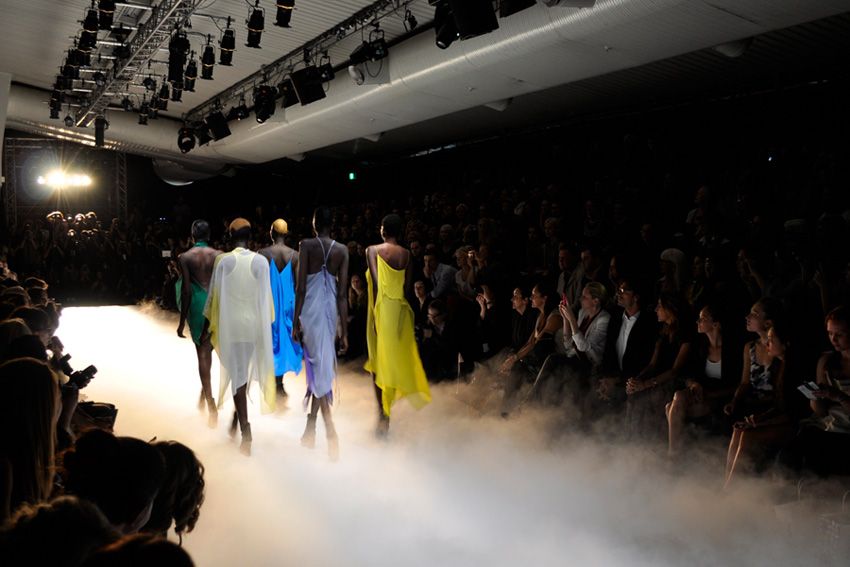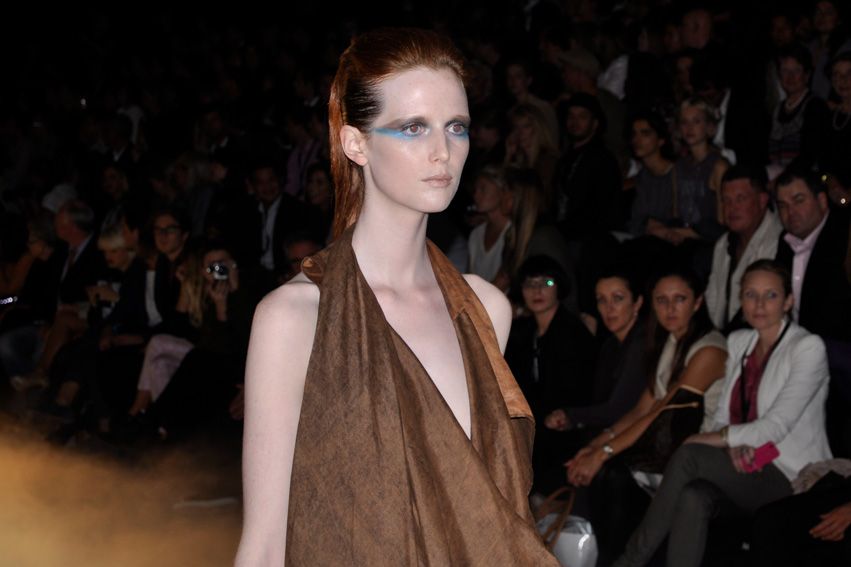 Another great fashion moment was the Alistair Trung show. A very moving soundtrack delivered look after look of perfect draping, the only complaint would be the shows length, some editing of looks wouldn't go astray in the future as while the moments were grand, as every draped dress came out seemingly similar to the last people did start to fidget in their seats.
Bloggers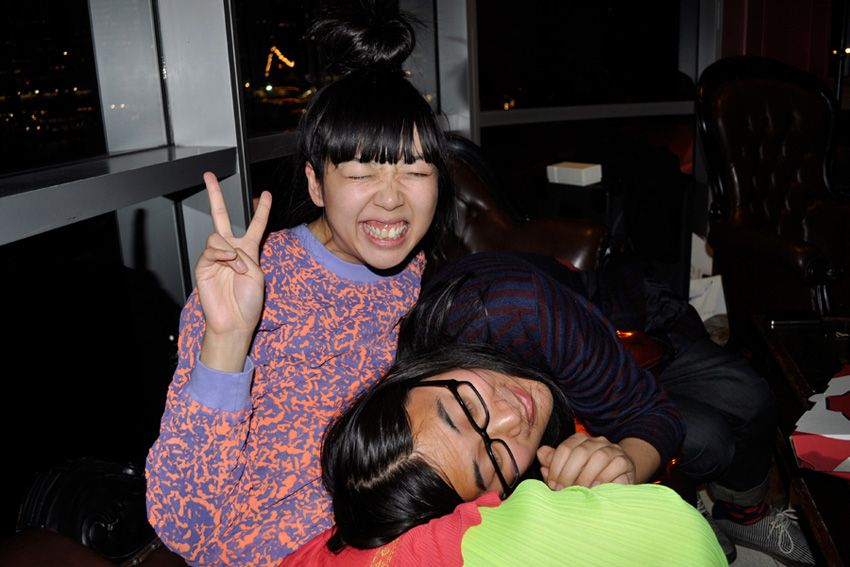 Seeing Phil Oh is always a delight (as he pointed out we have now caught up in three continents now), and finally meeting Susie Bubble was the highlight of the week. Susie is the reason I changed the focus on my blog five years ago from a travel diary to a fashion blog and what it is today. I admire her work so much, and seeing her daily outfits always brought a smile to my face. Excitingly Susie is going to Tokyo this year so I was able to offer her some tips on my fave city, can't wait to see what she posts from there.
Limedrop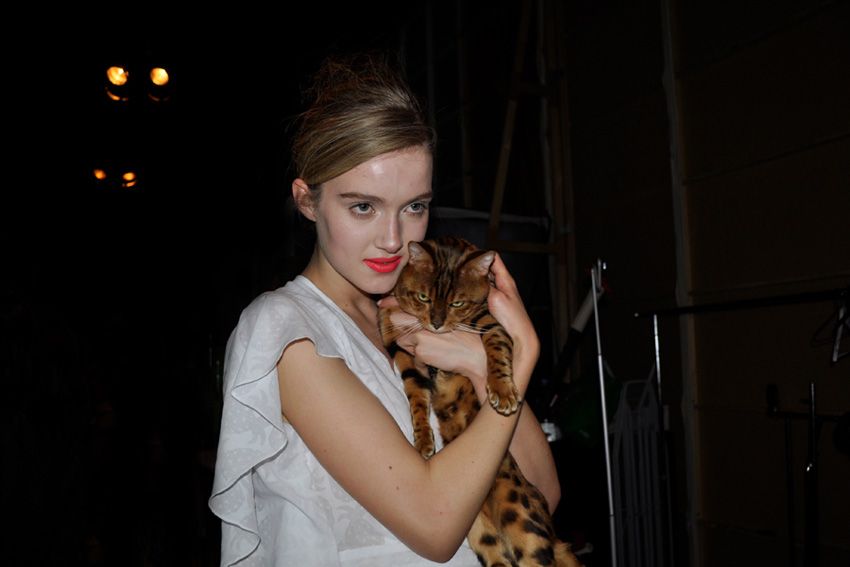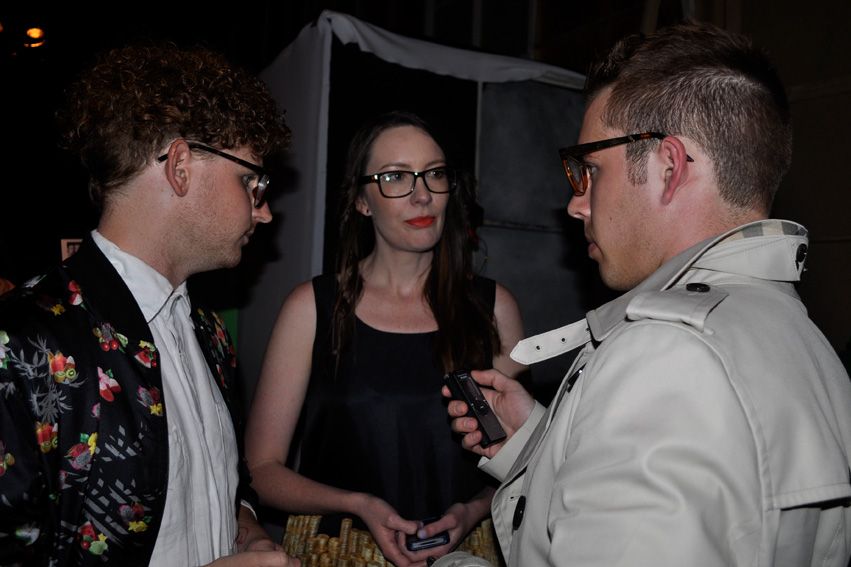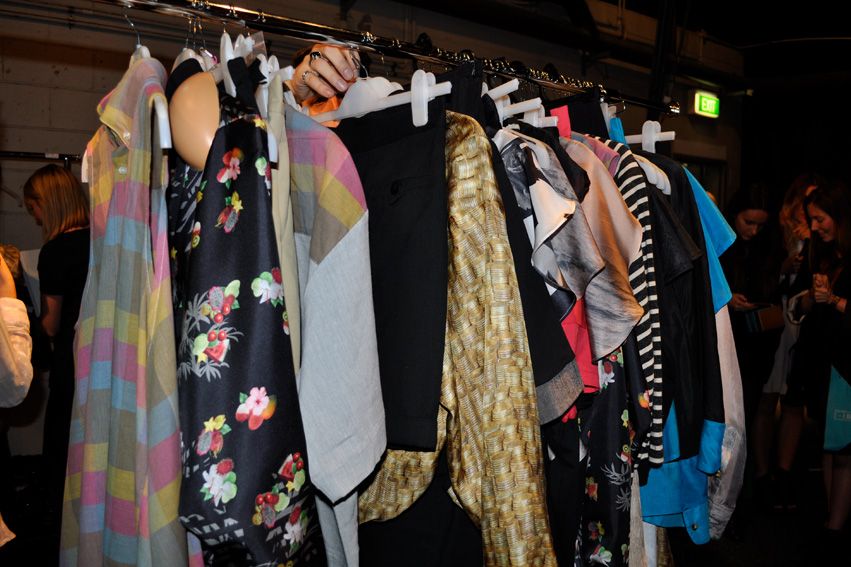 My seat at Limedrop wasn't crash hot so no runway snaps from me. Normally I would just hang in the photographers pit or kneel in the aisle, but due to my knee I'm not agile enough to maneuver about to get the perfect snap. So backstage I headed to greet Nathan and Clea and snap the rack to show you the amazing prints they have created for SS11/12. How good is the cat snap? The goodie bags had cat food inside them, amazing.
More Bloggers
Another highlight was hanging out with old friends Yvan aka Facehunter and Clea from Limedrop. Fun times at after parties.
Stolen Girlfriends Club
The shoes at Stolen Girlfriends Club have inspired my search for a higher platform creeper which I do believe my knee could handle.
Jamie Lee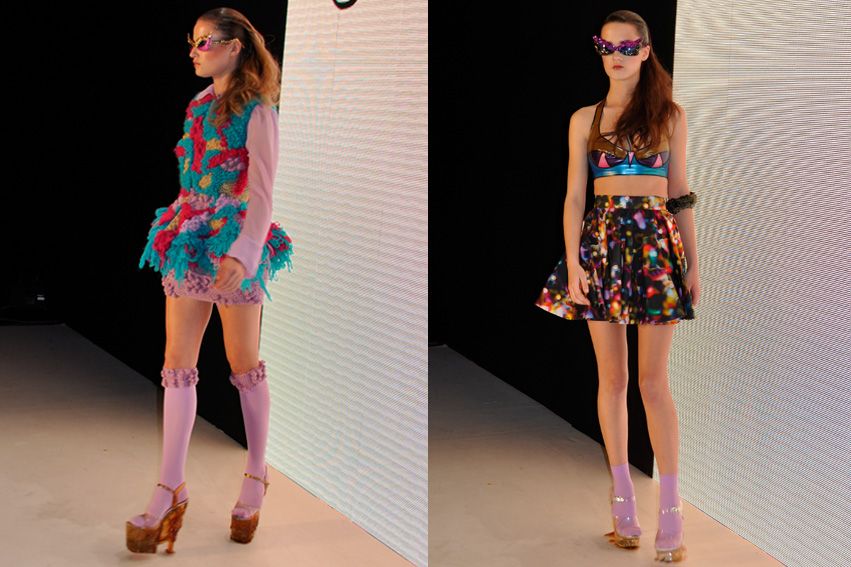 Finally meeting Jamie Lee, the designer behind the label of the same name.I first discovered Jamie thanks to the Sydney boutique Capital L, and have maintained a facebook friendship ever since (Jamie is based in Perth). Her colourful collection was the highlight of the New Generation shows, such a fun new comer, one to watch for sure.