Andie Macdowell and Melissa George. Oh the celeb factor was out in full force at Alex Perry's "Red Carpet Runway", but with an event name like that what else would you expect?
In the pink Amber Renae from Project Runway season 2 and seated next to her with leopard booties is Paula Joye former magazine editor come
blogger
.
The best venue by far during this years LMFF, the grand old arches inside the Royal Exhibition Centre are the perfect backdrop for a glamourous fashion show. Too bad that from my 2nd row seat I couldn't actually take photos of the clothes themselves, unless you like a lot of head with your shot. Normally I would move about but my knee hinders any agile ability I once had. So you will have to take my word for it, or rather Alex Perry's, the clothes looked "expensive".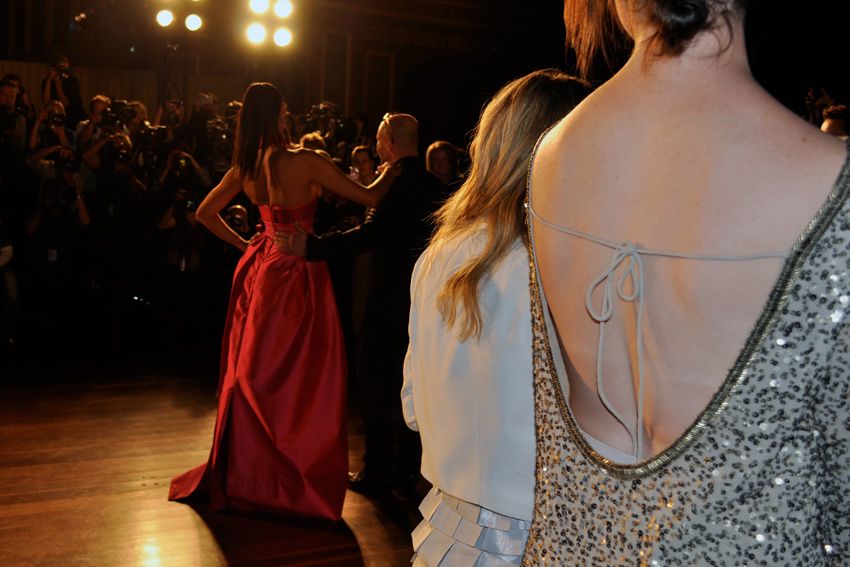 The man of the hour himself doing his victory lap with a slimmed down Megan Gale (maybe because of her recent break up?). Oh and the backs of two stars from Neighbours, in the white Valentina Novakovic who plays Natasha "Tash" Willaims and in the gold Ashleigh Brewer who plays Kate Nash, whose character on the show dates an actor who was in Henry's class at high school (yep that would be Scott McGregor). I'm probably being brave and possibly even naive to admit this, but I watch Neighbours every night, and if I miss an episode all I can say is thank god for catch up TV online.