Sponsored by Nuffnang
Friday night in Sydney, under a veil of mystery and excitement Target Australia announced its latest international designer collaboration. Lucky me, I was invited to attend the event, which was held at (according to our water taxi driver) the mansion that Hugh Jackman rents out when he is in town (for a rumoured $35,000 a week!), which of course had its own pier, pool and view of the harbour bridge. Only in Sydney.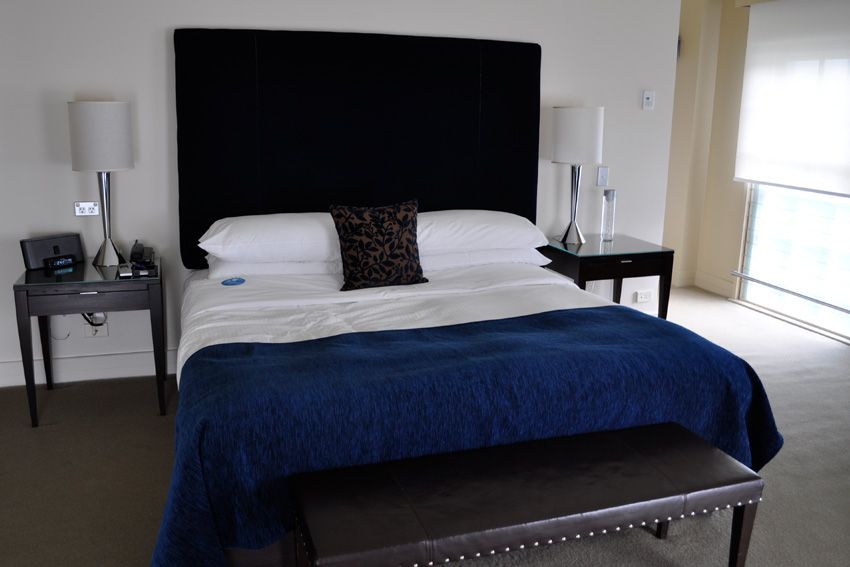 I was put up at the 5 star
Blue Sydney
hotel, a chic designer hotel located in an old 1930's wool shed situated on a pier with views of the harbour. The same building that Russell Crowe lives in. I can get used to this kind of luxury.
Our water taxi. This part was very scary in high heels, climbing down a ladder backwards! All worth it though for the views that were to come.
This is the 1st grey and cloudy day I have seen since moving up here, but the view from the boat was still amazing.
My new best friend Emma, from
Dropstitch
, and I in our matching Make Believe necklaces with some boats and the harbour bridge in the background once we arrived at the mansion.
Doesn't this setting remind you an episode of Gossip Girl or the OC. So glamorous.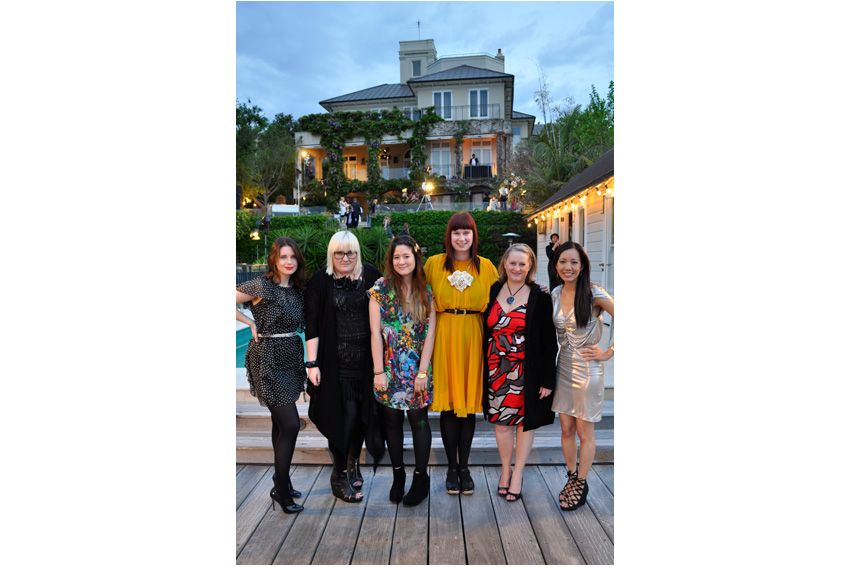 All of us invited bloggers from left to right Sarah from
Style Melbourne
, Me, Emily from
Little Black Book
, Emma from
Dropstitch
, Sam from
Sassisam
and Karen from
Karen Cheng's Fashion and Life
.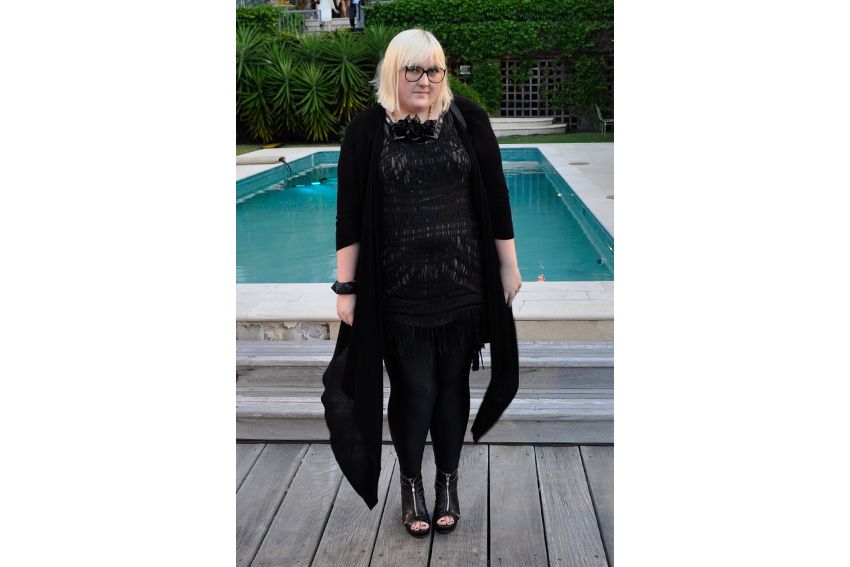 My outfit for the night, representing Melbourne Style. The dress under my City Chic macrame piece is actually something I bought while in NYC recently. I want to show you guys it without the layer over the top. The black cardigan was a bargain buy at a sample sale recently.
The models started to mozy about in the little vignette's set up for them to pose in. At this stage we still had no idea who the designer was so the guessing game began, is it Ralph Lauren, Michael Kors? We all felt that we had seen a similar collection as a resort collection by a big designer, we just couldn't place who.
The beading on this shift dress is just spectacular. I couldn't stop photographing it.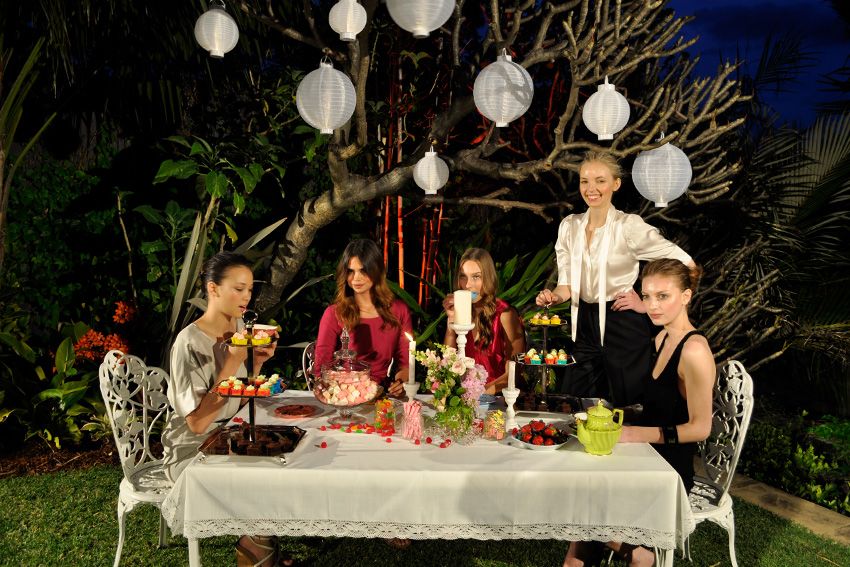 The tea party setting, with my fave model Samantha Harris pretty in pink. I yelled out, Samantha, remember me? I assisted on the TV look book shoot, she nodded and continued on with her modelling like "man who is this crazy person" haha.
The view of the party, pool and harbour bridge with a cruise ship going bast from the balcony.
Sarah, from Style Melbourne, and I, being Melbournites were very excited to see the singer from the ad for "Sails on the bay" perform. You can download the song
here
.
Time for the announcement, the designer is
Stella McCartney
.
Its a much more sophisticated and grown up collection than the 1st Target Australia and Stella McCartney collaboration. The capsule collection ranges in price from $20 to $299.95 and comes in sizes 6 to 16 meaning I can actually buy some of the pieces.
My two favourite pieces are the black lace dress and the off white ribbon tie dress pictured above.
Here are the look book images of said dresses. The black lace dress is $199 and the off white dress is $149. I am definitely trying both on as soon as they drop into stores on the 29th of October.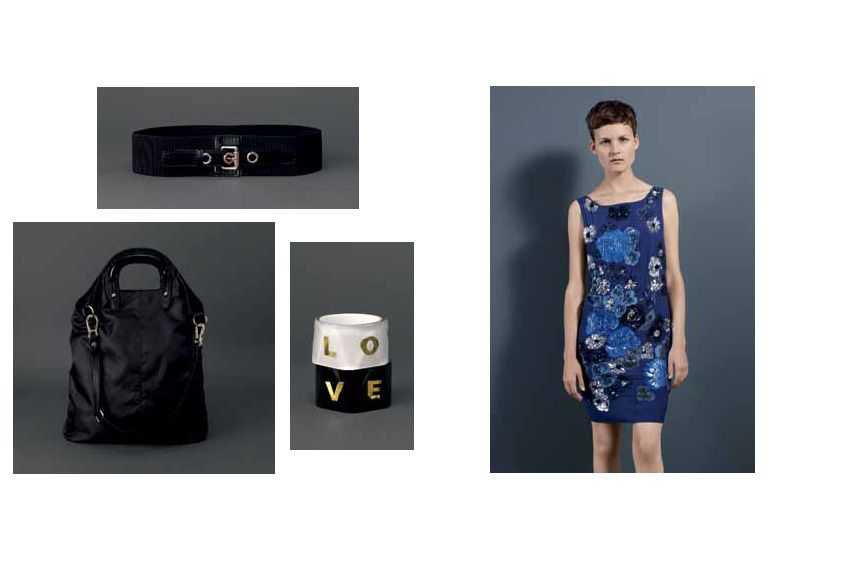 Hopefully I can find these other favourites too. The black belt is $39 and such a classic shape that it will come in handy for so many looks. For some reason I am really drawn to the Nylon version of the tote bag $99, I think its because I'm really digging 90's minimalism at the moment and that fabrication reminds me so much of what was big back then. The bangles are too cute not to pick up and are only $29. Lastly here is that beautiful beaded shift which is only $249, which for the level of work that has gone into it is quite amazing. Stella McCartney approved all the fittings and fabric's of the collection so you know that what you are getting is good quality but also ethically sound. Stella's stance against animal cruelty is a cause close to my heart as you all know, and an event where the entire menu was vegetarian is such a rare treat and surprise (Stella approved the menu) and then to add to that is the quality and beauty of what is essentially an all vegan capsule collection. Vegan clothing doesn't have to mean a hemp sack dress any more.
I was so excited to meet one of my heroes, Jenny Kee, whose previous collaboration with Target I have
blogged about
. I actually own a few pieces from that collection, my favourite being the vase that I spoke of in that post. Jenny was such a delight to speak to, she is still as enthusiastic and passionate about the fashion industry and art as she was back in the 1960's and 70's when she was living in swinging London and then retuning home to change the face of the Australian fashion industry. She is a true Australian icon. We spoke of art, art school, her step sons band
Old man River
, and how blogging is a similar movement to what was happening in her time. I really appreciated her saying that.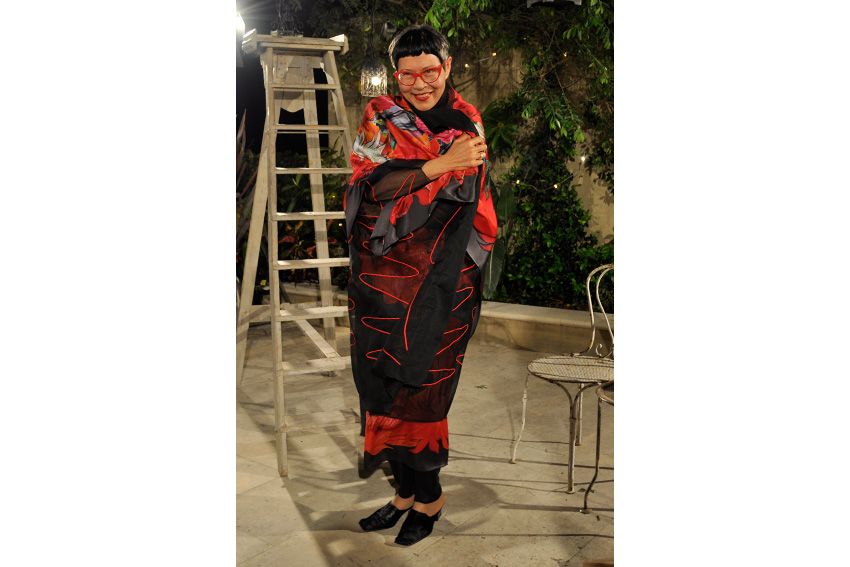 Here Jenny is wrapping herself in her 1st silk scarf for 20 years. She painted her waratah's, of which she has 2000 in her garden. Such a beautiful piece.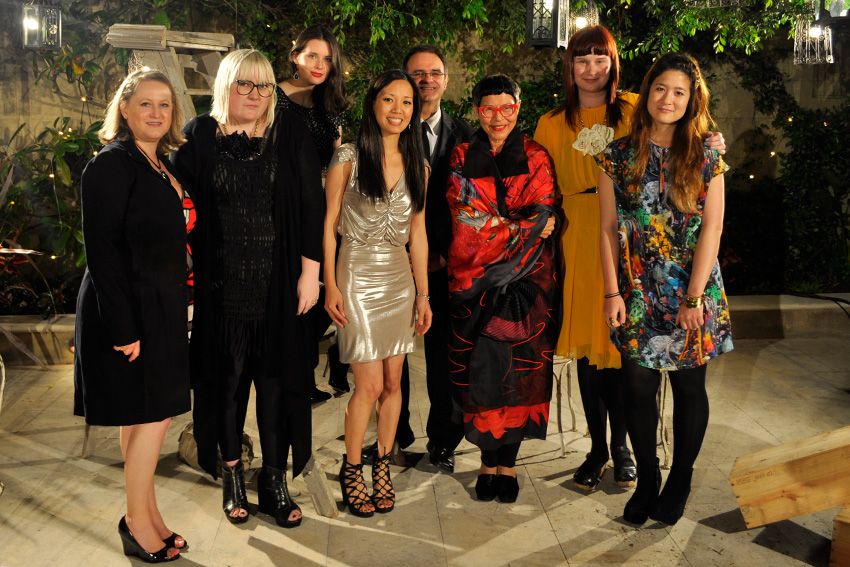 All of us bloggers with Jenny Kee and Murray the GM of Target in the background.
Lastly, a photo of me with Kerri Anne, who I guess is Australia's version of Oprah for those of you reading this from afar. She was so nice about letting me take a photo with her, and so beautiful in person. A great way to end a fantastic evening.
You can check out the full look book and keep up to date with any goss about the collection at the
Designers for Target website
. Also on the site is a great
competition
on offer for you to win the chance to shop the collection before it hits stores with a $1500 Target gift card, such an awesome prize but it gets even better. There are going to be 2 winners per state and each winner gets to bring a friend! Enter
here
and good luck xoxo