Sponsored by Nuffnang
Bonds is an Australian icon. From the famous chesty bonds to the beloved Sarah Murdoch (nee O'Hare), bonds have a place somewhere in all our hearts here in Oz. So that's why I was excited to be asked to test out their new "Made to Share" clothing range, and not only because of bonds, but because the idea was to include Henry. He has been feeling left out while I've been gallivanting around the country (and world) getting sent packages daily while he just gets sent bills and is excited to sometimes be able to catch a train somewhere new. So yes, not only was I excited at this opportunity, to say Henry was excited too, is an understatement. I got an excited text message from him when they arrived and came home after work to find him already getting comfortable in the cute jeans look shorts and grey t-shirt.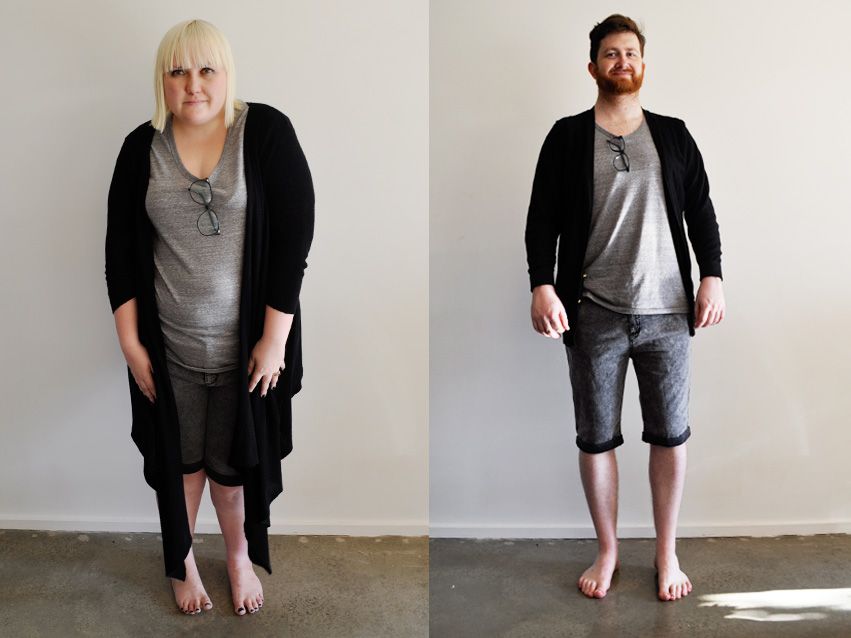 I love how the pieces look so grunge and casual and that they are truly unisex and totally share-a-ble. We are both wearing heather grey
The Crew Tee's
and distressed black
The Short's
in our casual Sunday looks.
Next we decided to each dress up the black
The Crew Tee's
in our own way.
As soon as I felt the soft texture on the white
Tanker
singlet I knew I wanted to shred it. Finding the right piece to shred is like finding the holy grail. Some pieces can take days and days to shred, but this only took me an hour. What this means is the threads are loosely woven, which is what makes the tees and singlets in this range so soft and luxurious and almost like your wearing nothing. I wore mine over the black
The Crew Tee
with my new favourite wedges.
Henry wore his black
The Crew Tee
with his cream chino's, chambray shirt and boat shoes, his current uniform of choice for both day and night.
I have good news for all of you. Thanks to Bonds I have two amazing competitions coming up. More to be revealed soon so watch this space.